AgentFire's Order Content plugin can help you get your content marketing campaign going, even when you're swamped with work (or are simply struggling with coming up with new ideas).
We talk about the importance of having a real estate content marketing strategy…

…all… the… time.
We do so because we know FIRST HAND that content marketing works ?️‍♂️. 
Most of our readers know how important it is to have a content marketing strategy. But not all of them have the time to implement it.
"I REALLY want to," we often hear. "But WHEN am I supposed to do so? I got three closings, four listing presentations, and two open houses this week alone."
Wouldn't it be great if you could have someone else take care of creating your real estate content? 
Original and affordable content at your fingertips!
Say hello to the "Order Content" tool, now available for all Spark Sites.
This feature makes it super easy to launch or maintain your content creation pipeline.
It comes especially handy when you're swamped with your responsibilities as a real estate agent, or when you're struggling to come up with new content ideas.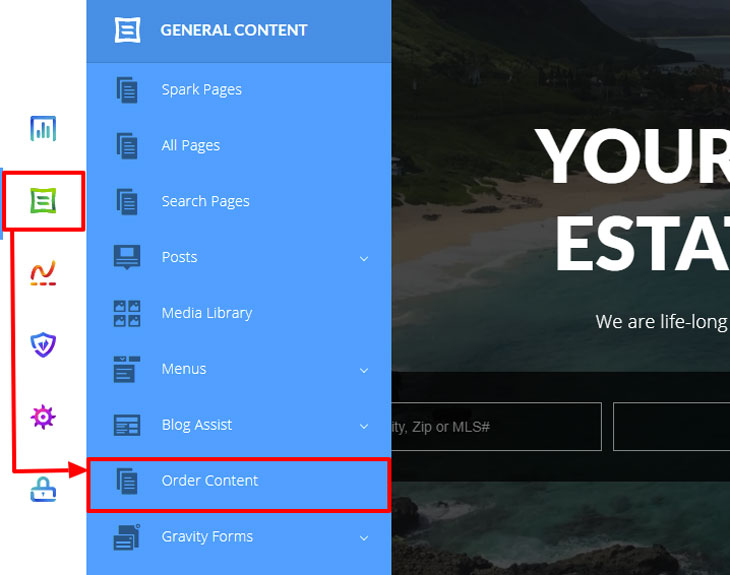 Order Content is found under the General Content tab on your Dashboard. And with just a few clicks, you'll be able to order brand new, high-quality written content from our partners at Textbroker.
All without leaving your AgentFire Spark Site!
Not only will this new tool help you boost the effectiveness of your content marketing strategy and help bring in a lot more organic traffic, but our Textbroker partners offer their services at a very affordable price ?.
How does AgentFire's Order Content tool work?
Ordering new content is extremely easy! If you can order food from Skip the Dishes or Uber Eats, you can order a new piece of content.
All you have to do is fill out a simple form regarding the type of content you need. And once you click on the "Create New Content Order" button, the order is sent to our partners at Textbroker.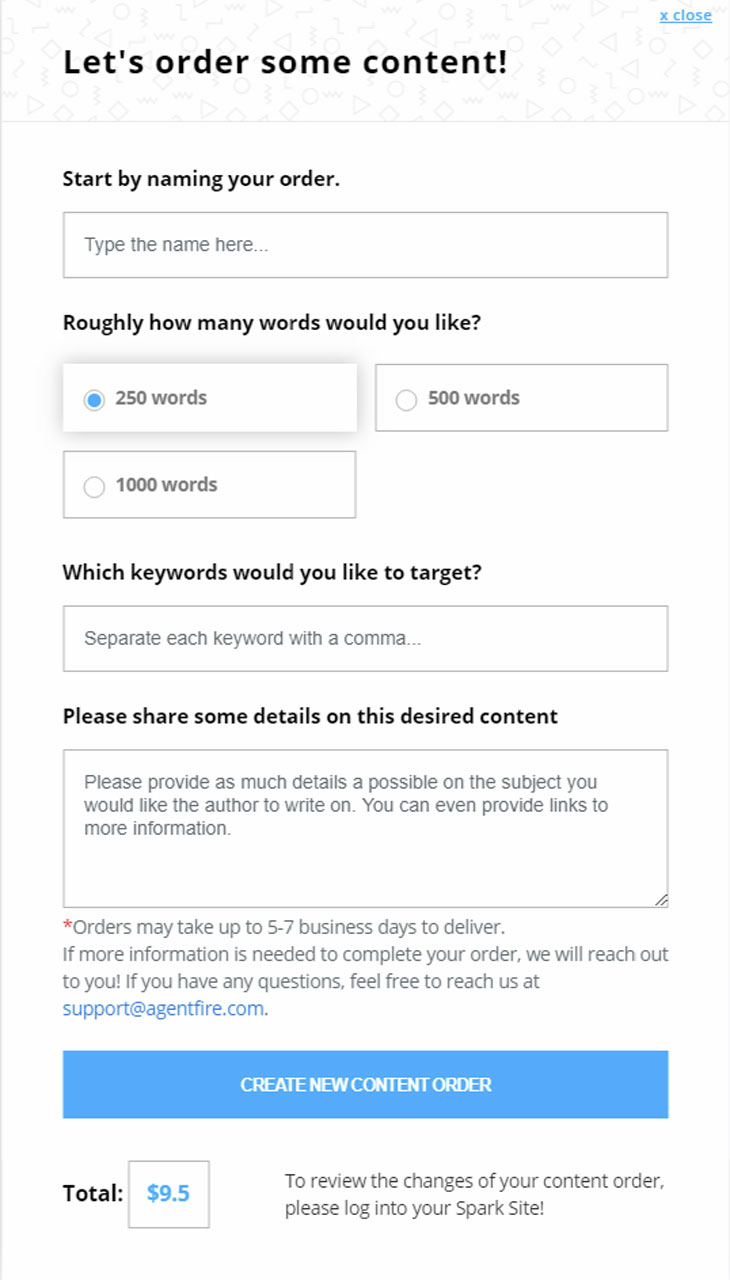 The order content form lets you choose word count, keywords you would like to target for SEO purposes and add additional details for the kind of content you want.
Once your order has been received, Texbroker will assign it to the best content writer for the job, and in 5-7 days you'll receive your brand new piece of content. 
When to use the order content tool
Our Order Content plugin gives you the option between content length at 250, 500 and 1,000 words. Not sure how many words you should choose?
Take a look at a few real-life examples:
250 words — It may not seem like a lot, but there's a lot that can be done with 250 words.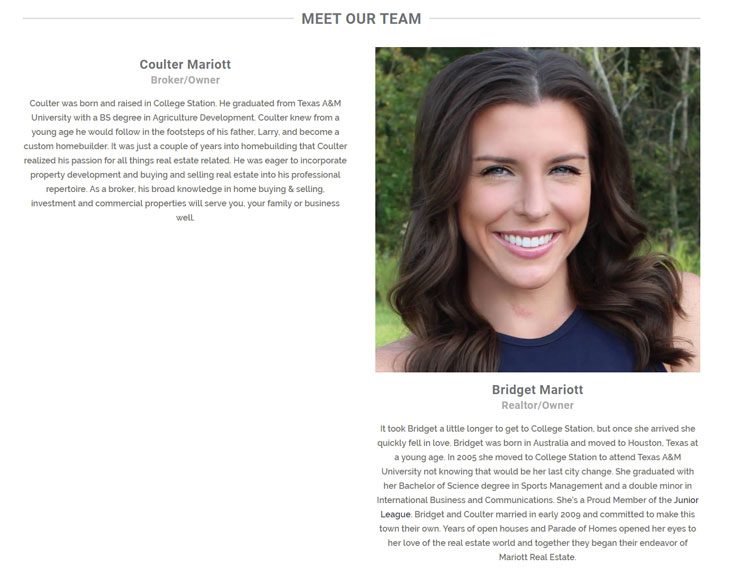 For example, Coulter and Bridget Mariott have a great About Us page. The combined word count of both profiles is less than 250 words. 
And yet, it does a great job of telling you who Coulter and Bridget are, their qualifications and why they are the right people to call for your real estate needs.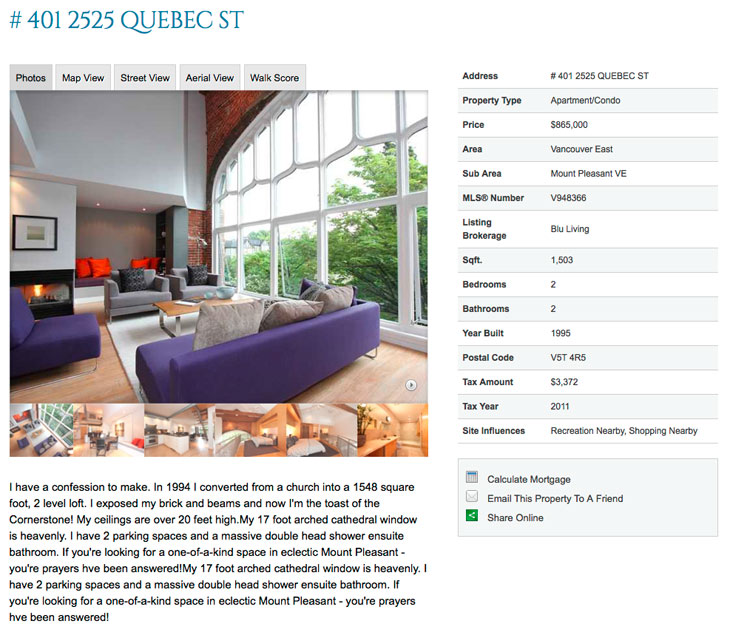 250 words is also a great choice for property descriptions. An effective property description doesn't need to be a 5-paragraph essay.
This clever listing is only 113 words in length and does an amazing job of highlighting the uniqueness of this church-turned-into-a-home property.
500 words — If you plan on publishing content regarding local events, the latest real estate market news, or simply post short educational articles about real estate concepts, 500 words is a great choice. 
For example, this story about the construction of a new Habitat For Humanity home in Nashville Tennesee stands at 402 words.
1,000 words — Textbroker's longest word count option is a great choice for a featured blog post, a tutorial, or a case study. These articles are usually more valuable and have the potential to draw the most views.
For example, this Redfin article, which covers 5 cities where millennial professionals are thriving, stands at 954 words long.
If you need additional ideas on the kind of topics you could order, make sure you check out our 72 real estate blog ideas.
Regarding additional details and keywords
Although the Textbroker writers are professionals, they can't read minds (as far as we know ?). 
On the "please share some details on this desired content" box, add as many details as possible about the content that you need. The more details you provide, the better the results will be.
For example, if you want your content to be written in the style of a blogger or website you admire, let the writers know and include a link to that blog.
If you're a real estate agent in, say, Orlando Florida, let the writers know that the content should be written with Orlandoans in mind.
Your order content form also includes a prompt for keywords. If you have some skills with search engine optimization (SEO), add the keywords you want your article to rank for. 
Texbroker's writers will make sure to include those keywords in the article in an organic and natural way.
And if you're confused about hyperlocal SEO, we have an article on the matter.
After you place your order, you can keep tabs of the Textbroker writer's progress. The order will say 'Pending' until the first draft is completed. And in 5-7 business days, you're content will be ready for your approval.
And if you're not happy with the results, revision requests are just as easy as placing orders.  Simply click the Revision icon to requests revisions from your writers.
Start leveraging the Order Content Plugin today
The Order Content plugin has the potential to revitalize your real estate content marketing strategy. It frees you to focus on responsibilities that can't be delegated while continuing to publish valuable and informative that your audience will love.
If you want to learn more about how to use the new AgentFire Content Order Plugin, you can always contact us on the Help Desk tab on your AgentFire dashboard.
So what do you think about the Order Content tool?
Do you plan on using it as part of your marketing campaign? Let us know in the comments!
If you don't have a Spark Site yet, start your free 10-day trial, or schedule a demo so that you can benefit from the Order Content feature for yourself.
And if you want to continue improving your real estate digital marketing skills with the freshest tips, subscribe to our newsletter. We publish articles like this one regularly in the morning, so you can enjoy these tips over a nice cup of coffee ☕,