We are proud to announce the new, highly requested "Unique Content" plugin. It allows you to order unique articles for your blog with just a few clicks.
As a regular reader of The Spark or an AgentFire subscriber, you've probably noticed that we talk about content marketing all the time.
And well… that's because content marketing is a proven, cost-effective method to become THE hyperlocal real estate expert within all of the unique areas in your target market.
Creating valuable content for your clients on a regular basis is time and energy well-spent, but let's be honest here… it's time-consuming!
Wouldn't it be great if you didn't have to create all of your own content? How many extra deals would you close this year if you suddenly had an assistant to help you produce high-quality, timely content that was relevant to your audience and ranked well on Google?
Well, if you're the owner of a Spark Site, you now have that assistant!
Without further adieu, say hello to Unique Content powered by Textbroker™ feature now available within all Spark Sites.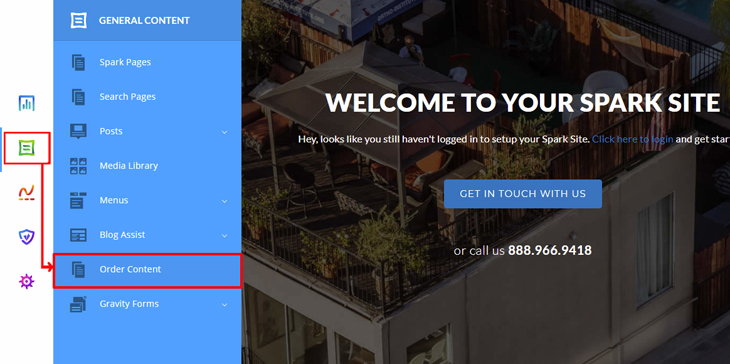 The new Unique Content feature makes it super easy to launch or maintain your content creation pipeline, even (and especially) when you're swamped with work, or simply struggling to come up with new content ideas.
With just a few clicks, you'll be able to order high-quality written content for your site, boosting the effectiveness of your content marketing strategy and organic SEO campaigns. 📈
How does AgentFire's Content Order Plugin work?
All of the content writing is handled by our partners at TextBroker.com. Together we've made ordering new content super easy for Spark Site owners. If you can order food with UberEats, you can order a new piece of content with this plugin!
And if you've never used UberEats… shame on you.
All you have to do is fill out a simple, intuitive form regarding the type of content you need.
Notice that you'll have options to choose between 'Standard' and 'Premium' content.
Our recommendation is that if you're looking for content that you plan on taking and making your own (i.e. making more hyperlocal) - you may just want to go with the 'Standard' option.
TextBroker's 'Premium Quality' option will get your order placed with the writers with the highest ratings.
In either case, the value you receive for the price you pay is really impressive.
After choosing your quality level, select the number of words your content should have:
250 words

— Typically a good length for a short listing description or your website's  "About Us" page.

Fredrik Eklund

has a great example of a concise and attention-grabbing profile.

500 words

— Appropriate length for a short, "local real estate news" type of articles (Something like

this story

from Nashville, Tennesee).

1,000 words

— Great choice for a featured blog post (For example,

this article

by Redfin is 954 words long).
Finally, specify your content category (it will probably be 'Real Estate'), list your target keywords (for SEO purposes), and share additional instructions for your article.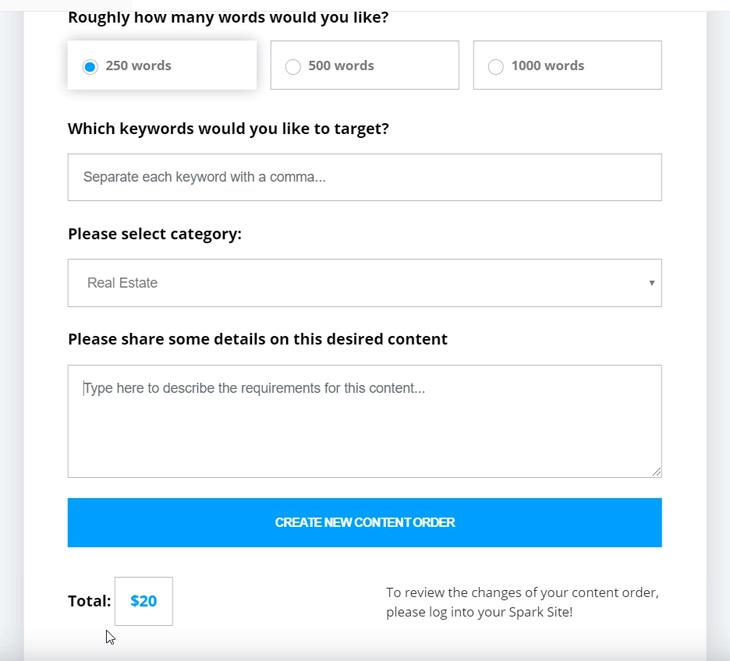 As you fill out your article's specifications, a running Total cost will show at the bottom of the page next to the blue Create New Content Order button.
After you place your order, you can keep tabs of the writer's progress. The order will say 'Pending' until the first draft is completed. And in  5-7 business days, you'll receive a brand new piece of written content.🙌
And if you're not happy with the results, revision requests are just as easy as placing orders.  Simply click the Revision icon to requests revisions from your writers:
Once you're satisfied with your new article, click the Create New Article button. This will copy the article you received, and create a new blog post draft. Then, you can use AgentFire's blogging tools to refine your newly-imported draft and get it ready for publication.
If you want to learn more about how to use the new AgentFire Content Order Plugin, you can always contact us on the Help Desk tab on your AgentFire dashboard.
Or you can watch this tutorial:
So what do you think about the news Unique Content Plugin? Pretty easy and convenient, right?
Do you plan on using it as part of your marketing campaign?
Let us know in the comments. And hey, if you don't have a Spark Site yet, start your free 10-day trial, so that you can benefit from the new Unique Content feature for yourself. 😊