Here are the 20 best real estate apps you need to generate leads, simplify your day-to-day work, and beat the competition in 2023.
Any modern, successful real estate agent will tell you: real estate apps have become essential tools to make your real estate business move smoothly and harmoniously. Real estate agents are always on the go, and your business should move with you. Specific concerns that real estate apps can solve include time tracking, scheduling, CRMs, and digital forms – at the least. Read on to learn more about the 20 best apps for real estate agents you should download now.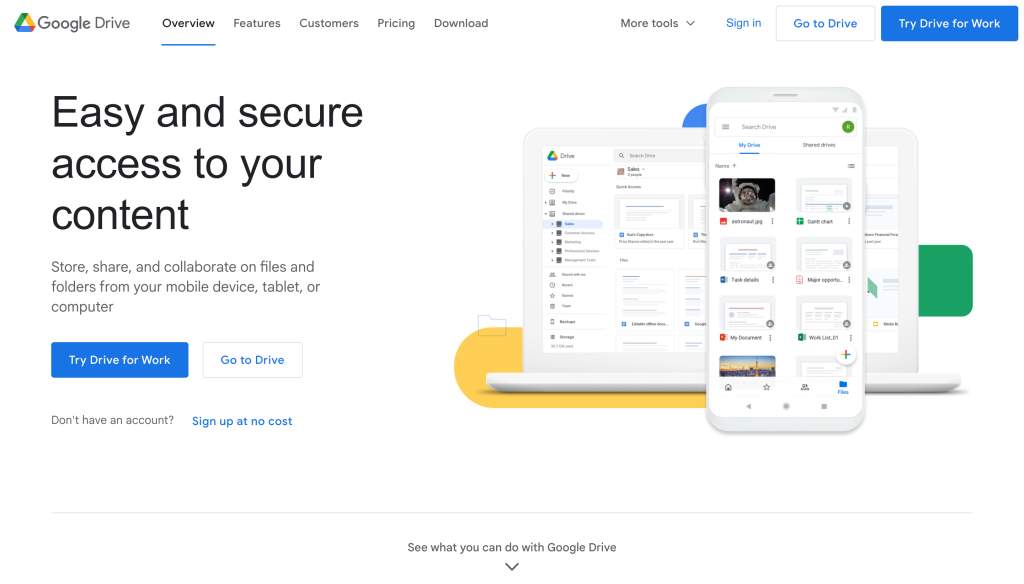 Google Drive is a real estate app essential, without question. Whether or not you are actively working in real estate, Google drive is an excellent way to organize all of the important documents in our lives. This app allows you to save multiple file types in the same place, across all of your logged-in devices. This includes Google Docs, Google Slides, Google Sheets and more. This app is one of the most diverse on the list, so let's look at it in more detail.
Protect your files
Google Drive automatically provides encrypted access and secure access to your files. Plus, because they are saved in the cloud and not on your device, you won't lose your files if something happens to your phone or computer. Dangerous files are automatically scanned and removed if they are found to have malware or viruses.
Organize Your Files
For real estate agents, we suggest starting off by organizing your files under the names of each client and then organizing property details within each client file. These files will be super easy to attach to any correspondence with a simple google link to that document.
Integrations
Want to transition a different file format into a Google doc? Google Drive integrates easily with word docs, CAD files, images and more.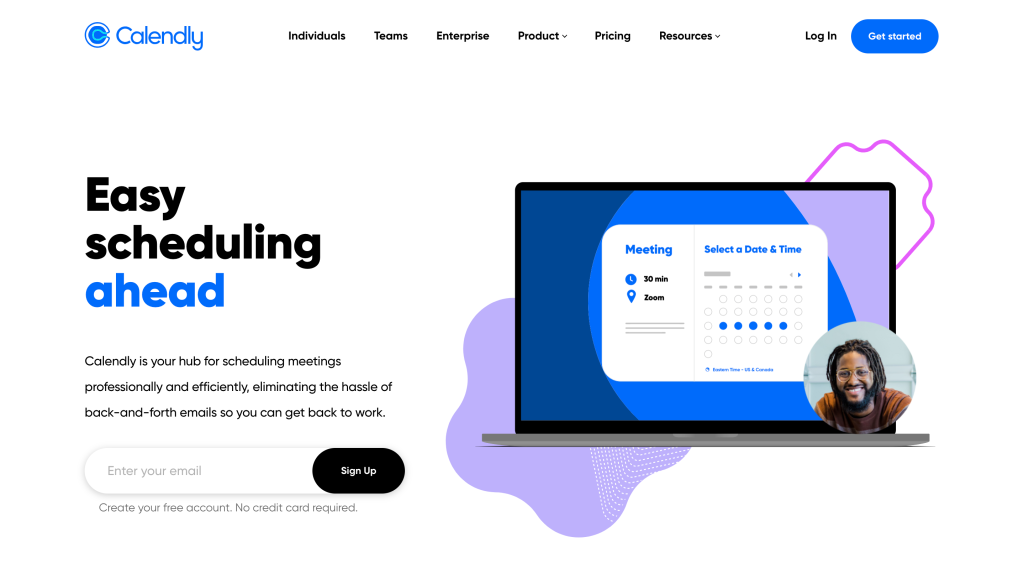 Making yourself easy to contact and find is one of the fastest ways to get ahead of your real estate competitors. Calendy is your center for organized scheduling across devices. Imagine you've integrated your Calendy calendar into your website. The Calendy app will allow you to only open the days and times that work for you, easily reschedule or cancel a meeting, and send a thank you note. There is no lengthy back-and-forth; once someone schedules a meeting with you during an open slot, it's automatically confirmed.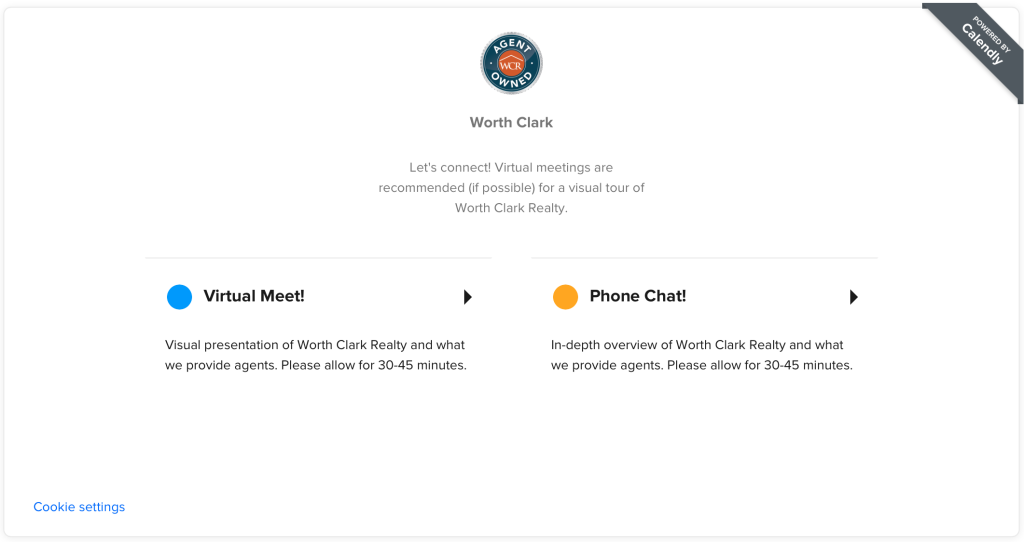 Take a look at how our client, Worth Clarke, uses the Calendy integration on his real estate website. Visitors can schedule a virtual meeting or phone chat in a simple two-step process right one their webpage. This way, agents know exactly what the client is looking for in advance and the client can select the correct meeting type depending on their needs. Speak with our web designers about how you can add Calendy to your website.
Mounds of documents are an unfortunate but necessary part of working in real estate. If you find yourself running around to get your document scanned, you need to download Turboscan now.
Simply place your phone over the document and the app will take an exact scan that can be shared as a PDF or JPEG. The app uses advanced algorithms to detect document edges and gives you the option to alter them if needed. Even without perfect lighting, you can get a clear scan by altering the shadows and setting the perfect contrast for text. 
Make the most out of this app by using it in conjunction with e-signing software, Docusign. After scanning your document in Turboscan, open the created pdf in Docusign, sign it electronically and send it off to the next signee to be completed.   
Whether you are using a tablet or mobile, Turbo scan is the most efficient way to scan and share scans on the go.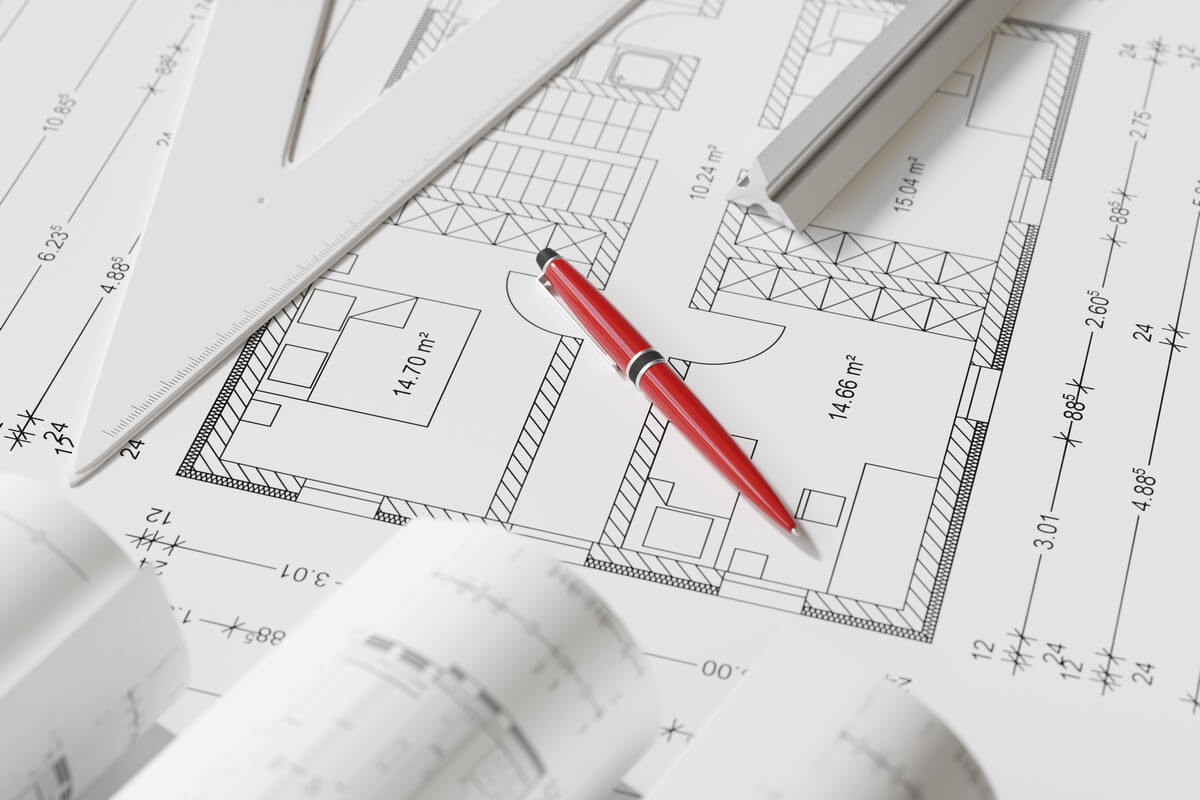 Although Magic Plan was originally built for contractors, it's a great app to give real estate agents a competitive advantage. Magic plan is a 3D app that can measure the rooms in a home and automatically generate a floor plan that you can interact with and add to. It asks that you take a picture of each corner of a room, before computing its size and estimating square footage. 
Even before a construction or inspection professional can weigh in, you can offer your clients answers to their 'dimension' questions and share high-quality images. Finally, you can virtuslly furnish the plan to give your clients an idea of how the space would look if it were "lived in".
The Zillow Mortgage app is extremely popular among clients, but it's also a great tool for agents. If you're looking for a mortgage calculator on the go, this real estate app will give you an idea of what clients can afford with customized mortgage rates from several lenders.

Next to Google Drive, QuickBooks is easily the second most diverse application on this list. It's safe to say that this is a financing essential. Within QuickBooks, you can measure and track every cent that comes and goes. It's like an accountant on the go! However, in order to make the most out of QuickBooks, you'll need to make sure that you're constantly tracking your numbers and reviewing them at least once a month. On a basic level, start by tracking your income and expenses in the app. If you have worked with other professionals during the year, you can automatically pay your payroll taxes. The QuickBook system will calculate how much you owe in taxes based on salary.
Some often unthought-of-things that we suggest real estate agents track in QuickBooks include, marketing and ad spend, office supplies, and supplemental education.

Whatever CRM you choose, it should have a mobile app available. Real estate lead generation requires consistency and updated communication. To make the most out of a CRM, you need to be able to access the program quickly and easily while you're on the road.
Not sure which CRM is right for you? Our clients love FollowUp Boss and LionDesk, but our AgentFire websites can integrate with any CRM of your choice. Book a free demo and ask us about our CRM integrations today!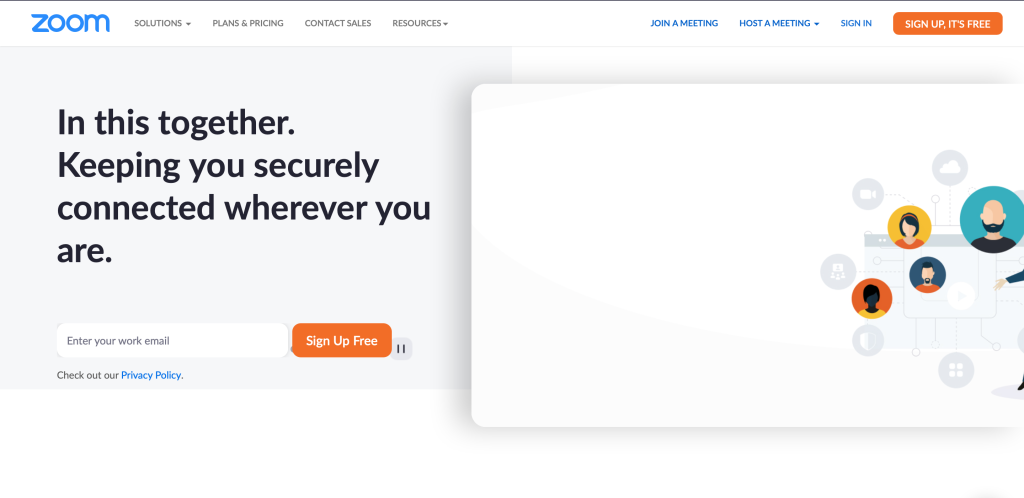 Zoom changed our lives and careers in 2020, and the success of its effects is here to stay. Tons of wasted time traveling and coordinating for in-person meetings is saved when you transition to virtual meetings. 
When it comes to choosing which meetings should be virtual as opposed to in-person, most agents start with pre-listing appointments and buyer consultations. If you can think of a meeting in which the other participants highly value convenience and speed, Zoom is a leading option. To make zoom meetings scheduling easy, add a 'schedule a zoom meeting option' to your contact page on your real estate website. You may do this through a clendy integration or another scheduling addon. Speak with our web designers to learn more about calendars and contact forms on your AgentFire website.
No graphic design apps provide as much free, valuable content for real estate agents as Canva. Within this app, use colorful, professional templates to create attention-grabbing social media posts, direct-mail, brochures, presentations and more, on the go. 
While Canva is great for throw-together graphics, we suggest leaving your logo and custom branding to the professionals. Our web designers know exactly how to build a real estate-specific brand that will make you stand out in your hyperlocal area. Learn more about our logo and branding designs here.
This Spacio and Bombomb integration is a secret weapon in successfully marketing listings and connecting with clients. Let's start by looking at BomBom.
BomBomb is a video messaging program that allows you to record, edit, and share videos quickly. The app was specially designed with the aim of increasing production, improving communication, and building deeper client relationships. Imagine a client emails you a detailed question requiring an equally detailed answer, but you are about to begin an open house. Send a BomBomb video in seconds and attach it to the email instead of wasting time writing a lengthy response.
A unique feature that makes BomBomb different from other video apps is that it consistently reevaluates the internet speed and quality of the device the video is being viewed on to show the video in the highest quality possible.
Spacio is a user-friendly marketing system for listings and open houses. With Spacio, you can seamlessly collect open house leads and market to them after the open house is finished. When you're ready to reach out to a lead, take advantage of the BomBomb integration and send a professional, personal video email.
Open Home Pro is a similar lead capturing alternative to Spacio, with a few different features. Which one you prefer will depend on your interests and user habits. Like Spacio, Open Home Pro serves to gather and market to open house leads.
However, this app allows agents to add a bit more detail about the lead if necessary (in visitor notes), which can be then referred to in ongoing communication. Open house visitors will also have the option of adding feedback, their budget and more. Plus, you can choose to send automated follow-ups through the app.
Think of Waze as Google Maps' more aware and prepared friend. Unlike other map apps, Waze is updated by the minute to reflect real-time traffic or stops. The Waze community of map editors, translators, users and carpoolers work around the clock to make each drive smoother. This means that you'll know about construction, police stops, traffic, and even potholes before you reach them. 
The ETA feature is practically made for real estate agents. It's no secret that agents sometimes run late. By sending your clients an ETA update through the app, you can let them know exactly when you expect to arrive, down to the minute. Why stress about traffic when you can plan around it?
Get Free 10 Day Trial
Want to dominate your hyperlocal real estate market? Then you need to check out AgentFire's Spark Sites.
Click the button below to learn more, and start your free 10-day trial!
3D tours are a unique feature all real estate agents should add to their listings. With Matterport, capturing any space is simple: use the app to quickly capture depth, data, and the 'look' of a space in an automated process. Your clients will love the opportunity to see and explore a space before traveling there. This will save you and your clients time in the home search process.
Your 3D virtual tour can then be shared via email, text message, Facebook, Twitter, or another social media network.
Dotloop is an extensive organizational app, and one of the best real estate apps for real estate agents. We could call Dotloop the Google Drive of transactions: collaborate on transaction documents in a secure, encrypted app just for realtors. The functions within the Dotloop app are extensive. Here are a few that make the app a real estate must-have:
Document management

eSignatures

Easy sharing

Secure storage

Backend and CRM integrations

Host in-person signing

Scan docs with your phone

Exporting text conversations

Push notifications

Convert pictures into PDFs

Task management

Compliance submission
RPR is the only app on this list that requires users to have a real estate license. Use your hyperlocal location to instantly search all properties, on and off the market at your client's request. Then, provide extra value to clients by using the app to gather valuations, tax and mortgage info, market trends, and demographics. When you're ready, you can share customized reports, notes, and video with clients in a single message. 
RPR gives agents access to information clients would be hard-pressed to find otherwise. This includes exclusive info such as tax info and mortgage history, so you can spot the deals other agents are skipping over.
Get A Free Personal Demo
Ready to revamp your real estate marketing strategy and dominate your hyperlocal area? Our expert web designers will show you how. Click the button below for a free 30-minute demo of our AgentFire Spark Sites.
If you are working within a team in any capacity, Connecteam will be a huge help. Working on a team is especially difficult in real estate, as many real estate professionals are on the go throughout the week. With connecteam keeping your team on the same track, you can simplify your daily operations and team communications. Think: easy form-filling, time tracking, simple signature-gathering and shared schedules. Plus, this app allows staff to interact on a smaller, 1:1 scale. Imagine scheduling an online training session for your marketing team, responding to a direct chat and recording employee time for payroll, all in one app.
Simply put, Palm Agent One helps agents calculate the most important and common numbers clients request. Any closing cost you can think of can be calculated quickly in Palm Agent One with a few clicks. Market-specific factors such as a state and country are considered in each calculation including buyer estimates, seller net sheets, taxes, escrow rates and more. 
With the premium version, clients are even able to condense this closing cost information into social media templates that can be shared on multiple networks.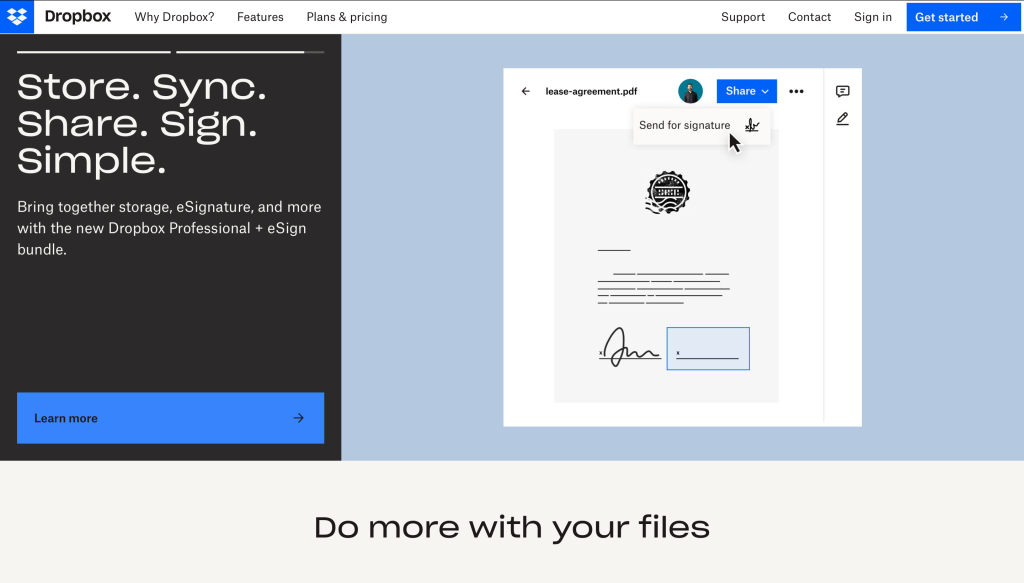 Remember USBs? Well, thanks to Dropbox you won't be needing them anymore. This application saves all of your files in your cloud, so you don't have to worry about documents being trapped on a specific device – and you can access them everywhere. 
What sets dropbox apart is its huge storage capacity. While most methods of file-sharing have a rather small file size limit of 25 megabytes, DropBox can support and share files as large as 50 gigabytes with your team in seconds. 
Additionally, getting started with DropBox is easy, and unlike other cloud software like Google Drive, you can use whichever email address you'd like. Your clients and coworkers can engage with any of the files you share with them, barrier- free and no matter who their email provider is.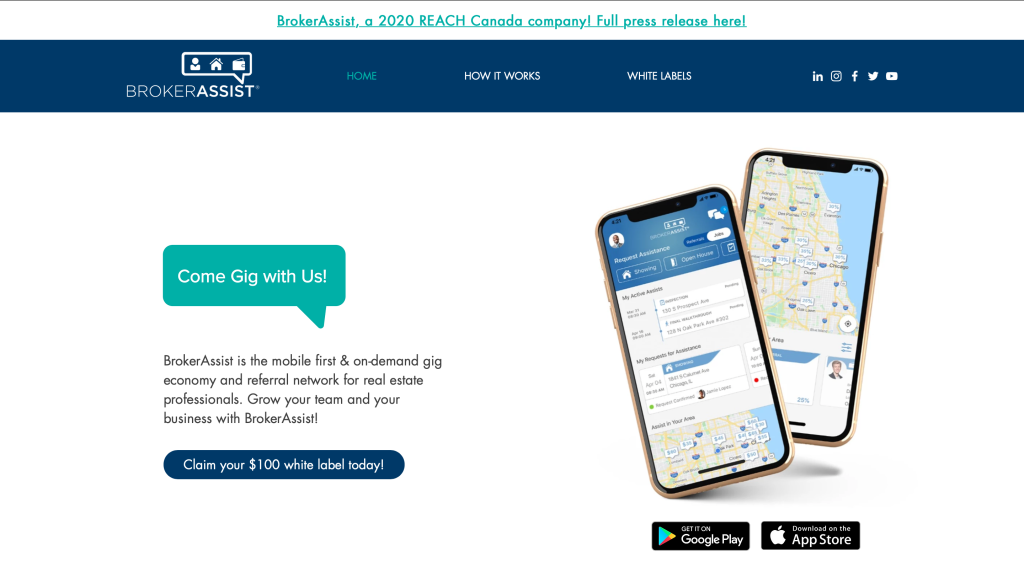 Looking to hire a reliable professional for a quick real estate gig? Broker Assist makes it easy and safe to find the help you need. How about expanding your referral network? Broker Assist can help with that too. It's a one-stop-shop for referrals and quick hires. 
Use BrokerAssist to connect with other agents and brokers and return the favor by notifying them of inbound referrals in their area – for free! Broker Assist is the first agent-to-agent referral network that doesn't take commission cuts. 
​Secondly, flip the toggle and skim the marketplace for real estate professionals to collaborate with on deal-specific tasks. 
Looking for a content-writer for your real estate website? AgentFire clients have the option of working with Textbroker to receive completed, weekly blogs that are customizable to each client. Learn more about our unique addons here.
Did you know that 40-50% of requesting buyers are unrepresented? It's getting more and more difficult for real estate agents to identify a high-quality lead with the right credentials. Forewarn makes it easy by allowing you to run an extensive background check on clients with just a phone number. 
Forewarn will search criminal backgrounds, verify asset ownership status, identify financial risks, and even provide detailed residential history. This app is particularly useful for last-minute showings when more thorough screenings are not an option. Protect your safety, time, and effort with Forewarn.
In Conclusion…
Apps are made to make our lives easier, so take advantage of them! The best apps for real estate agents are the ones that are multifunctional and simplify some of the most common stresses a real estate agent faces. 
Is there a particular area of your real estate career that could be more efficient or less intimidating? There's likely an awesome app out there to help out. We encourage you to play around with these apps and see how quickly you can simplify processes that used to baffle you – and do it on the go!
Check out this article next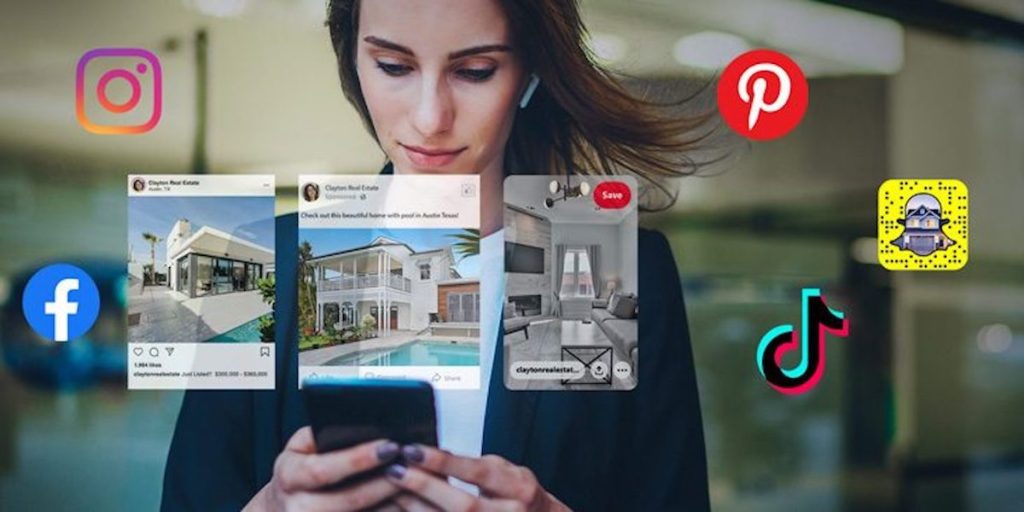 Real Estate Social Media Marketing in 2022: The Definitive Guide
Social media has completely changed the way we live our day-to-day lives. From viral memes, to instantly connecting with people around the globe in a …