Positive client relationships can make or break a real estate deal. Use these 15 real estate client relationship tips to generate referrals and more.
Most people think real estate is about property – but at its core, real estate is about people and feelings. Buying a property whether residential or commercial, is usually a well thought – out and emotional decision. It's crucial to understand your clients on a deeper level in order to give them an experience they'll remember. 
It's simple: better relationships will lead to more sales and referrals. More sales and referrals mean a more successful and productive real estate career for you. 
Here are 15 game-changing client relationship tips that you need to implement today. 
1. Practice Active Listening
It's easy to assume that when you have a large network, resources, and experience, you know better than your client. After all, you're the expert and that's why they hire you. But your clients came to you with a specific dream and vision in mind. In order to achieve exactly what your clients want, you need to listen carefully. Being an active listener is a misunderstood and often undervalued skill when it comes to client/agent relationships, so getting it right can do wonders.
Be attentive to a client's lifestyle, personality, and body language – not just the words they use. At times, it can be difficult to decipher exactly what a client wants in an email or quick phone call, but if you know more about their personality, you'll have a clearer idea. If you're unsure of something, don't hesitate to ask your client to repeat what they've said and take notes to make sure you've got it right.  
2. Manage Expectations
You're a real estate agent, not a magic genie. It's not uncommon for home sellers to drastically over estimate the value of their home or for buyers to expect to find their dream house for a quarter of the listing price. Be direct with every client (especially new clients and first-time buyers). Keep them updated on fluctuations in the real estate market in their hyperlocal area and share recent deals you've made in the area. 
AgentFire clients use our auto-generated market reports and area guides to easily keep clients consistently updated in an attractive visual format. Interested in learning more about marketing tools? 
Updating your regular marketing content such as blogs and social posts is also a great way to clearly express your perspective and what you'll be able to accomplish for your clients. Here are a few ways to keep your social content fresh and up-to-date.

3. Communicate as Often as Possible (within reason)
There may not be new developments everyday, but people don't buy a new house everyday either. Purchasing property is often such a drawn-out, long term decision that clients sit on for months before taking action. You never know when that sleepy lead will finally decide to take their big next step and start looking for a realtor to make it a reality. 
Real estate can be a marathon, so you'll need to find innovative and consistent ways to maintain top-of-mind  status. Take a look at our list of 150 marketing ideas and use a few consistently throughout the year.
4. Prioritize Purpose
If you were to ask real estate agents what their customers are looking for, most would describe the characteristics of a dream property. Yet, there is so much more to a home search than just the physical property. For example, they may want to develop beautiful memories with their expanding family in a larger home. Or maybe they are new retirees, ready to start a new phase of life without their kids and a beach-side condo is the first step in their new life. 
Understanding your client's deeper purpose will make the entire process much easier and you will be able to see the potential in properties with much more confidence and detail.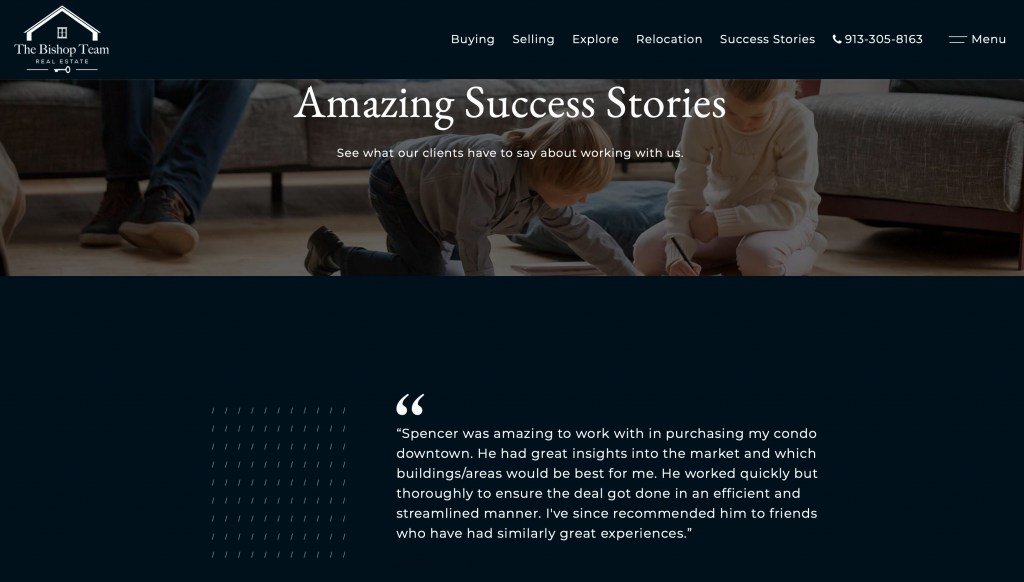 5. Focus on Expertise 
Experience builds trust. The best way to show a client that you can give them the results they want is by showing them your success with other clients! Testimonials are an incredibly effective way to prove your value and provide prospective clients with positive insight before they take the leap and choose you. Don't tuck your testimonials away, encourage past clients to send video and written reviews that can be posted on social media, your website and your Google business page. Take a look at how our clients, The Bishop team, neatly lay out their testimonials on their AgentFire website. 
If you don't have personal experience selling a particular type of property your client is looking for, focus on what your team has achieved or any comparable skills you have that will assist you in the process. 
Testimonials from review pages such as Google reviews as well as sites such as Zillow, are super simple to integrate into any page of your AgentFire website. Learn more about how to integrate Zillow reviews into your website.
6. Choose the Right Method of Communication
Sometimes the easiest way to communicate with your client is not always the best or the most effective. Written messages such as email or text can be fine for simple matters, but are misunderstood when it comes to complex and specific messages. Know when it's best to speak face-to-face or find a happy medium. Video messaging apps such as BombBomb or virtual meetings can strike a happy balance between convenient and personal communication. 
Get A Free Personal Demo
Ready to revamp your real estate marketing strategy and dominate your hyperlocal area? Our expert web designers will show you how. Click the button below for a free 30-minute demo of our AgentFire Spark Sites.
7. Be Adaptable
Expect clients to change their opinion during their home search as they navigate this big decision. Try putting yourself in their shoes and you'll understand that it's totally normal to occasionally change your initial plans. Have patience. Yes, it's frustrating when you need to re-do tons of work in order to meet new customer requests, but being adaptable and flexible is a quality you will need to retain high-quality connections in the real estate business.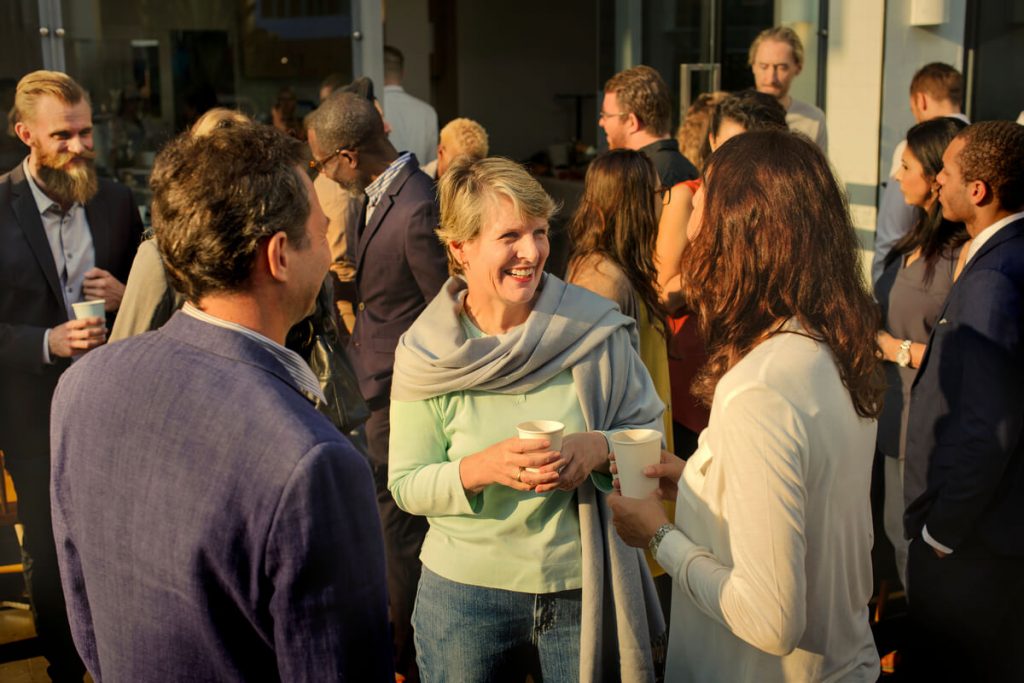 8. Attend Client Events
If your client is considerate enough to invite you to a family event or gathering, truly consider showing up. Client events can be great opportunities to solidify your relationships and start new relationships while networking. Your client's invitation already demonstrates a sense of trustworthiness and satisfaction with your work, so you'll be starting on the right foot with every prospective customer you meet.
9. Reach Out During Holidays and Celebrations
This tip follows the same logic as the previous one: if you can access your clients while they are surrounded by other people, you can take advantage of a great networking opportunity. In a friendly holiday email, thank your clients for their support throughout the year and encourage them to forward your information to friends and family.
Here's an extra luxury tip: put aside a yearly budget for gifts. Spend time to do research on what your client enjoys, a bit about their lifestyle, hobby, and diet to choose the right gift for them. Instead of a holiday email, send a hand-written note with your chosen gift.
10. Keep your brand visible
If you have a name badge, don't be afraid to wear it! Put your brand in front of people as much as you can (in a way that's not overly intrusive), whether it is a badge, cell phone sticker, or other merchandise. Your brand is a great conversation starter and an opportunity to perfect your elevator pitch. Be sure to have a reciprocal conversation, but don't be ashamed to talk about your achievements – especially if they are local and relative to the conversation. You never know when a casual chat can lead to a long chain of new professional connections. 
11. Provide Innovative resources
Informed and educated clients are happier and easier-to-work-with clients. Realtors often complain about their clients' ridiculous expectations and lack of knowledge in the current hyperlocal real estate industry, yet they don't provide them with the tools to stay informed. Be transparent with your clients about where you get your information and use your own content (or others) to educate them on relevant topics. For example, encourage clients to follow your blog newsletter or add you on a news- focused social media network like Twitter.
12. Set Boundaries
Real estate isn't limited to strict "business" hours, but that doesn't mean you need to be available 24/7. After several after-hours client meetings, viewings, signing documents, and events, your clients may get used to being able to contact you at any hour of the day – on any day they'd like. Don't be afraid to stand up for your me-time and let your clients know that you'll be unavailable during specific chunks of time. If the idea of cutting off access is nerve-wracking, try confirming with clients that their message has been received and that you will reply to them during office hours the following day. This way, they'll know that they won't have to wait long for your response or send a bunch of follow-up emails. To make responding even less time-consuming, save a draft of a text/email template that you can copy and paste. 
Put your contact information front and centre on your AgentFire contact page. With the Calendy integration, web visitors can schedule a meeting with you in seconds directly through your website.
13. Don't be afraid to express your opinion
There's a delicate balance between encouraging your client to make their own decisions and leading your client into a disadvantageous situation. Think of yourself as a leader and guide in this process; you provide a stern and knowledgeable voice while leaving room for a client to choose what's best for them. Real estate agents want their customers to be satisfied at all costs, but think from the perspective of your client. A confident and experienced voice makes the journey a lot easier.
14. Always Follow Up
Have you caught on to the top-of-mind theme here? Consistency is the name of the game. Regardless of whether you closed the deal or not, whether you have a great client relationship or an awkward one, if they chose you or didn't, etc…you need to follow up. A bit of time and attention to detail can go a long way in creating future leads and steadily growing your business over time. How you follow up is your choice: a casual professional referral could only warrant an email while the sale of a client's home calls for a hand-written letter and a small gift.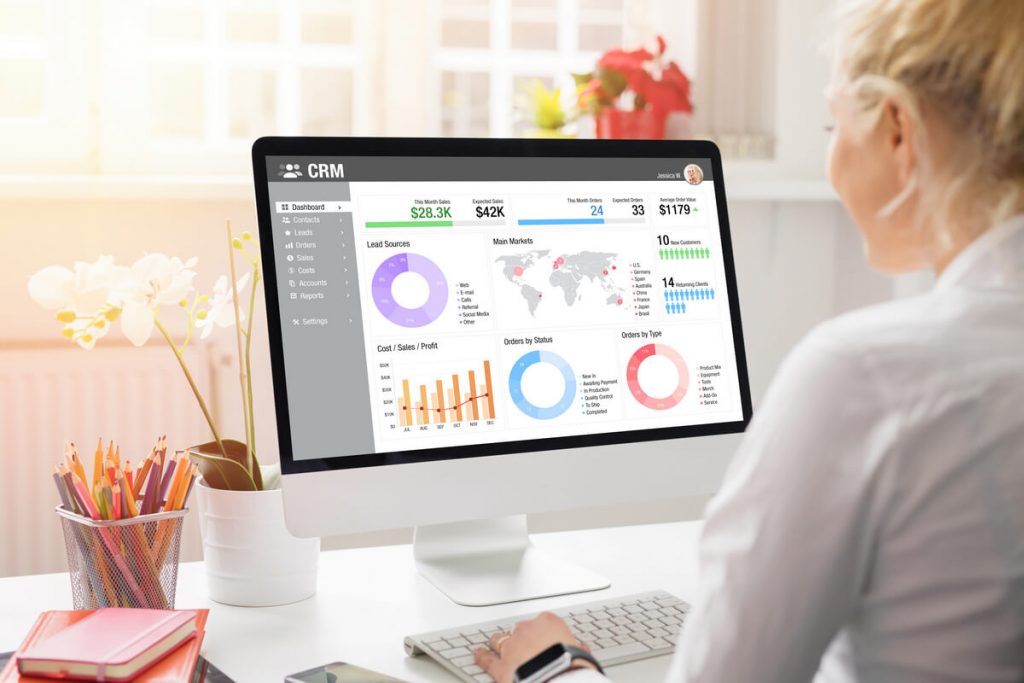 15. Take advantage of CRM Tools 
You should already know that customer relationship management tools are the root of your entire client relationship strategy. If you're working in the real estate industry, chances are that you already have a CRM up and running. The question is whether or not you are taking advantage of all of its tools and capabilities. Your CRM is not a phone book or a note-taker. Used well, your CRM can transform the way you manage client relationships and make your entire day significantly easier and more organized. For example, have you decided not to use the segments, list, and tags in your CRM because you can't be bothered to figure out the difference? Do you know how to indicate which stage of the buying or selling process each client is in? Taking the time to learn how these tools work ASAP can save you hours of effort everyday down the line. 
If you have an AgentFire website, it'll be super easy to integrate your chosen CRM with your websites so that transactions and leads captured online can automatically be funnelled into your CRM database. Learn more about our CRM integrations here. 
In Conclusion…
A positive and productive customer relationship starts with you. It's your responsibility to foster the right dynamic with clients by reflecting on how you can improve your relationship and understanding of the client. There are a ton of helpful tips you can add to your daily routine that will make noticeable improvements, but consistency is the common thread 
Be consistent in your follow ups, professional behavior, attention to detail, and your willingness to learn more about client needs.
Check out this article next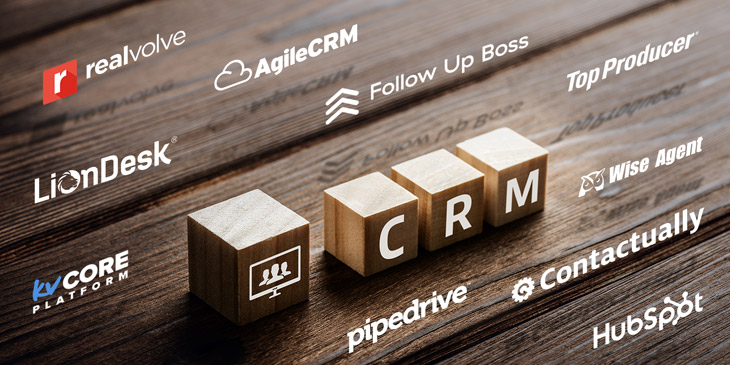 The Top 10 CRMs For Real Estate Professionals
Managing customer relationships and the data associated with them is essential for the success of any real estate agent. While all of us need a place …