If you're looking to take your marketing to the next level, but are stuck in a rut, check out (and save) this massive list of real estate marketing ideas.
Are you struggling to come up with good real estate marketing ideas? Maybe you're sick and tired of always playing it safe, doing the same things over and over and not getting the results you wanted. Or maybe you're a new real estate agent and you don't know where to start 😵.
If so... we get it.
We all hit a slump once in a while when it comes to our marketing efforts.
Which is why we put together this massive list of real estate marketing ideas. From traditional to digital marketing ideas, there's something here for you, regardless of where you are in your real estate career.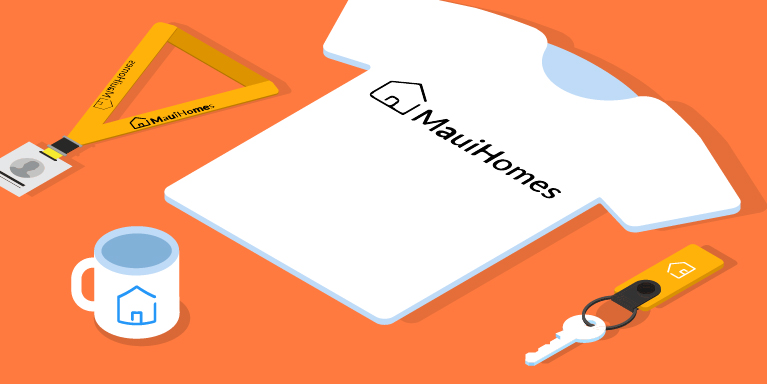 Giveaways
Gifts at open houses

- Visitors to open houses typically go to many open houses. Give them a small branded gift that would help them keep you in mind. Make sure they carry your name and contact information.

Of course, if your main goal by running an open house is to capture as many leads as possible, you could use AgentFire's Listing registration feature. This one could be loaded up on a tablet at your open house, where it would capture your visitors' contact info in exchange for your gift.
Give away or lend branded garage sale signs

- If any of your clients or anyone you know in your hyperlocal area is planning on having a garage sale, why not offer them some free garage sale signs?

These could include your agency's name and logo, thus helping improve your brand recognition. Alternatively, you could just lend the signs and collect them after the garage sale ends.

Keychain tags

- Keychain tags are a cheap and effective way of keeping your brand in front of people. You can give them away in any event you participate in, or as part of a gift package.

Welcome home gifts

- After helping buyers find the home they want, give your clients a welcome home gift. Even a small gift basket does wonders in preventing buyer's remorse.

Throw a party for a client who just sold his/her home

- Buying a new home is a huge deal. Go the extra mile, and celebrate this achievement with your clients 🎉.

Branded pens, USB drives, and lanyards

- These items are cheap to produce, are easy to carry and you can give them away pretty much anywhere.

Coffee mugs, notepads, t-shirts, and other high-value merchandise

- Although these items are a bit pricier to produce, they also get plenty of use and are likely to get saved.

Volunteer

- Your time is something else you can give away. Whether it's at your church, a local vet's office, a homeless shelter, fire department, or a beach clean up event, volunteering helps to be known in your community as someone that cares about the community.

Contests

- Contests are an excellent opportunity to grab the attention of a large number of people. And to reach an even greater audience, partner up with other local business owners.

If you own an AgentFire Spark Site, you can easily set up one of our ConvertPages to allow your audience to easily enter the contest.
Water bottles at a local marathon

- Place a stand at strategic locations, and give away cold and refreshing water bottles featuring your agency's name, logo and contact information.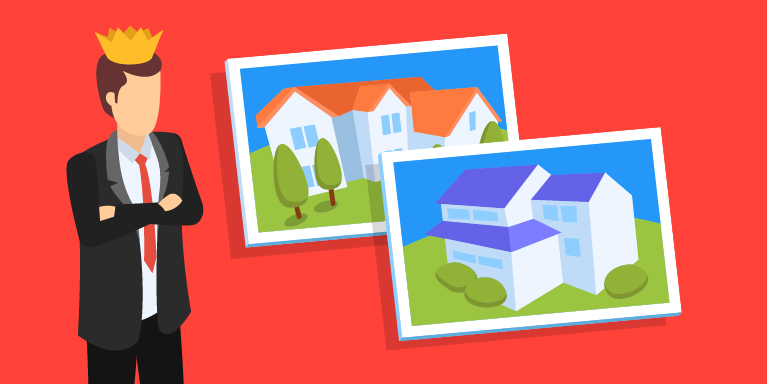 Marketing your properties
Offer immersive 3d property tours

- Companies like Matterport can help you create breathtaking 3d property tours of your listings at an affordable price. And if none of your competitors are offering them, make sure you advertise this fact as much as possible.

If you own a Spark Site, thanks to our Matterport integration, you can add your own Matterport home tour to your listings with just a few clicks.
Become the hyperlocal expert leader of your niche - Do you specialize in first time buyers, downsizing seniors, new construction buyers, or house flippers? Don't become a generalist. OWN your niche.
Use drone photography

- Drone photography can produce dramatic shots like no other (just make sure that drone photography makes sense for the property you're promoting).

List your properties on Craigslist

- Another great way of promoting your properties. Craigslist and similar sites are popular among buyers who don't have an agent yet and don't have access to MLS.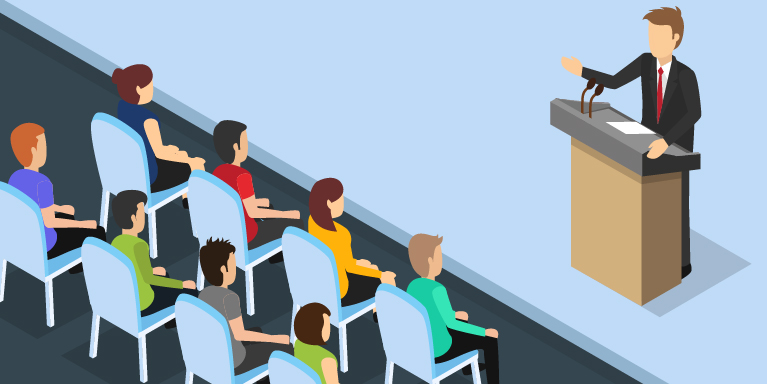 Educational
Hold a seminar

- Showcase your real estate expertise to the general public! From showing how to pick the right color scheme, to house flipping strategies, there's always something you can teach publicly that will help you establish your real estate expertise.

Speak at a high school

- Many high schools offer job orientation fairs. These would offer you the opportunity to get your name out there.

Reach out to a local college

- Same as above.

Teach at a community college

- Many colleges offer real estate courses. If you meet the requirements, you could teach a real estate course.

Reach out to a local radio station

- Local radio stations are always looking for content. They may be willing to interview you.

Volunteer to teach a course

- There are always career advancement organizations willing to take new instructors.

Create a course on Udemy - If you have the technical skills to create and edit videos, you could share your expertise on Udemy, and make a buck while you're at it.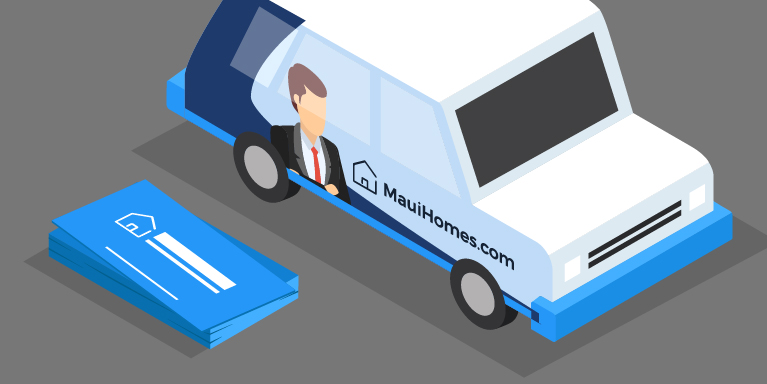 Contact outreach
Overhaul your business cards

- Don't just settle for an average business card. Take it a step beyond and create something memorable.

Here are some ideas.

Contact cash buyers

- Put together a list of properties in your area that have sold for cash, and find out who bought them. There's a good chance these some of them were purchased by real estate investors, who could be interested in your own properties. Reach out to them!

Contact landlords

- These property owners may be looking to make another investment. 

Buy some car signs

-Turn your car into a mobile billboard for your real estate business.

Create a referral program

- Offer a monetary reward for anyone sending you referrals that turns into a sales.

Pick up the phone and do some cold calling

- Cold calling still works.

Outsource your prospecting efforts

- If you don't want to deal with, or don't have the time to do cold calling, email marketing, social media prospecting, etc. get someone else to do it for you.

Send door flyers

- And old classic. Flyers are still very effective wonders towards increasing your brand awareness.

Go door knocking

- Introduce yourself to the neighbors, leave them your card, and ask them to keep you in mind if they ever need your services.

Send out holiday postcards

- The holidays are a perfect opportunity to greet and reach out to past (and future) clients and remind them about your services.

Create a physical mail campaign

- If

done correctly

, these can give you an amazing ROI.

Send out birthday cards to past clients

- Birthdays give you an excellent opportunity to send out personalized messages to past clients.

Take a client out for lunch

- Something as simple as a nice lunch or dinner can do wonders towards avoiding buyer's remorse.

Give referrals

- Don't just take referrals, give them as well.

Follow up on clients after-sale

- Call them up and ask how they are adjusting to their new home. Following up is a great way to nurture a lasting relationship.

Stay in touch with clients that moved away

- These clients can still send referrals your way.

Provide a moving truck

- If you want to impress your clients, and make clients of other real estate agents wish they had hired you, provide a moving truck. This could be a rental or your own truck.

Send handwritten notes

- Handwritten letters are a lost art. Send them out for that extra memorable personal touch.

Create or overhaul your agency's slogan

-

A slogan

can help make your brand be more memorable, and show that you have a firmly established success metric.

Get a professional headshot for you and your team

- Looks matter! Clients start their property and real estate agent searches online. Like it or not, these clients WILL judge you by your appearance. Hire a professional photographer to make sure your first impression is a positive one.

Hire a content writer

- If you don't have time to create content regularly, hire a professional. If you own an AgentFire Spark Site,

you have the option

to order content directly from our Textbroker partners.

Hire a graphic designer to create a brand identity

- From unified colors, logos, websites, and ads, a graphic designer can make a huge difference in making your business look professional.

Master your elevator pitch

- Mastering your elevator pitch can help you become a more successful salesperson.

Create customer personas

- Customer personas will help you hone in your marketing efforts, and create content that will grab their attention.

Overhaul your "about us" page

- Clients want to know who they're dealing with, and why should they trust you. Your about us page can help them do just that.

Create a local market quiz

- Reach out to your hyperlocal audience, and ask them what kind of services and content they are interested in.

Hold a live "question and answer" event on Facebook

- Facebook lets you engage people, and prove your real estate expertise in real-time.

Reach out to local influencers

- Reach out to local internet celebrities, and ask them to give you and your business a shoutout. And if they're looking for content, tell them you're available for an interview.

Guest write on popular local blog posts

- Blogs with a lot of traffic are always looking for more content. If you have writing skills, offer to guest post for them.

Create a professional email signature

- A great email signature will include your business' name and contact information. It will constantly remind people of what you do for a living and provides an easy way for them to contact you.

Pay for billboard ads on streets with heavy traffic

- Billboards are an excellent (although pricey) way of vastly increasing your brand awareness in your hyperlocal area.

Include market updates on your blog and newsletter

- People that are thinking about buying would appreciate staying on top of the real estate market.

Drive for dollars

- Drive around your area looking for homes showing obvious signs of disrepair. Their owners might be interested in selling them.

Tap into local county's tax delinquent list

- Each county has a list of people who have missed one or more property tax payments. They could be highly motivated to sell their home.

Consider renovating your public image

- If your company has been around for a while, you could consider updating your image.

Sponsor a local sports team

- From little league baseball to high school football teams, show yourself as a caring member of the community, and advertise your brand while you're at it.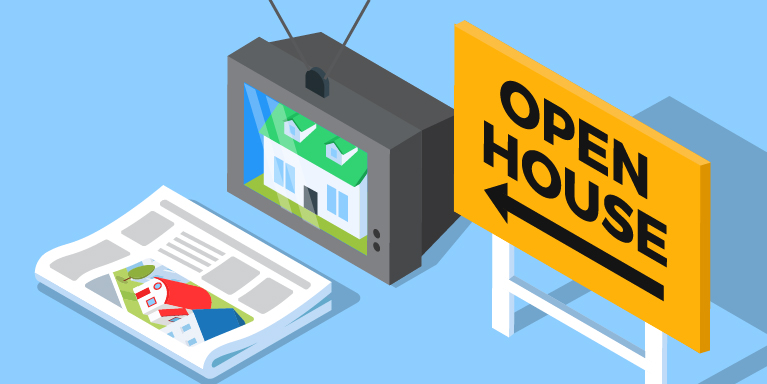 Ads
Hire an ad copywriter

- A professional copywriter can help ensure your ads are as effective as possible.

Local newspaper ad

- Newspaper listings still work and will help improve your brand awareness in your hyperlocal area.

Bus bench ads

- Old but gold. The classic bus bench realtor ad helps increase your brand recognition.

Community newsletters

- If there's a local newsletter with a large viewership, it might be worth advertising on it.

Business newsletters

- Same as above.

Radio advertising

- An ad in the middle of rush hours could do wonders for your brand recognition.

Free ads in supermarkets

- Great for brand recognition.

Business cards in coffee shops

- Same as above.

Bandit signs

- If they are legal in your area, they could drive a ton of traffic to your website.

TV ads

- TV ads still work great, especially for local tv stations.

Use focus groups

- These can test your new ads, and give their thoughts about your content and outreach efforts.

Create event posters

- Commission an event poster showing all major events going on in your city in the next few months.

Window signs

- Create attention-grabbing signs on your listed properties. Make these signs individualized for the property.

Use Google Adwords

- Google Adwords have an amazing ROI. If you don't know how to start with Google Adwords,

we can help you build an extremely effective Google Adwords campaign.

Use Facebook Marketing

- Facebook isn't just a platform for sharing memes and baby photos. It's one of the most robust and powerful marketing platforms available.

In fact, we helped one of our amazing clients invest $2,000 on Facebook Marketing and generate over 700 leads and $50,000 in commissions in just 2 months.
Do A/B testing on your marketing - A/B testing lets you measure and improve the performance of all of your marketing efforts.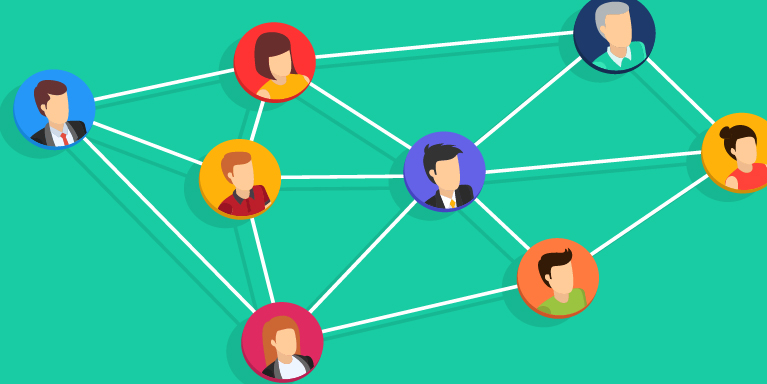 Networking ideas
Build relationships with top investors

- Give these investors special attention, and spend the time marketing your properties directly to them.

Build connections with hard money lenders

- Hard money lenders typically have extensive networks of contacts. They could point some real estate investors your way.

Join local networking groups

- These groups can help you network with professionals in your area.

Association directory

- These can help improve your agency's visibility.

Alumni associations

- These would help you stay in touch with former classmates who go on to become business leaders.

Arts associations

- These could be a great opportunity to network, interact with local artists, and help you position yourself as the local expert.

Join your local chamber of commerce

-

Chamber of commerce meetings give you a great opportunity to network with local business leaders.

Nonprofit boards

- Great way to help find ways to help your community, improve your public image, as well as network with like-minded individuals.

Industry associations

- Great for networking.

Industry conventions

- Same as above.

KW, Century 21, RE/Max conventions

- Whichever real estate franchise you work for, don't miss any agent convention. These give you a great opportunity to network and find contacts to share referrals with.

Attend and cover local events

- Excellent way to meet people and prove your local expertise.

Fundraisers

- Help out a cause, and gain some visibility.

Art shows

- Support local artists, record the event and share it on one of your local guides.

Photography shows

- Same as above. You may even discover a great budding photographer you could hire for your listings.

Collect testimonials

- Testimonials from happy customers are a perfect way of increasing your social proof.

For a great example of how you can showcase your testimonials on our Spark Sites, check out

Bailey Pate's testimonial page

.

(By the way, our SparkSite's have we have a direct integration with Zillow Reviews).

Speak at local events

- If you have public speaking skills, offer them in local events.

Reach out to a local business

- Nurture relationships with famous local businesses. You may strike up a deal where they display your company on a menu, calendar, or a cardholder in their counter.

Develop a relationship with the local media

- Try to become the go-to expert the local media consults in all matters real estate.

Be an advocate with your clients

- Recommend the business of one of your clients.

Run an open house

- Open houses are a great way of attracting buyers and acquiring new leads.

SparkSites' AF Listings make it easy to capture your leads' contact info. 

Record neighborhood community videos

- Showcase your neighborhood for new buyers to explore.

Contact property management companies

- These companies can put you in contact with tons of investors looking to buy new properties.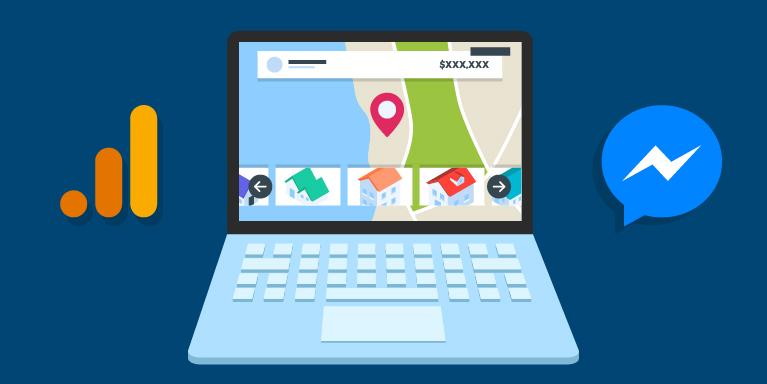 Leverage your real estate website
Have a real estate website

- Don't rely on your company's website. Make your own. At AgentFire we can make this easy for you…

... and we care about your investment so why not start with a

10-day free trial

to see how we can help you dominate your market!

Make a FAQ page

- A great opportunity to show your real estate marketing efforts.

Use the power of Google Analytics

- Google Analytics lets you track how much traffic you get to your site, and what content is drawing them in. It's also free to use.

Improve your website's user interface

- By improving your website's user experience, your visitors will be able to find exactly what they're looking for. Otherwise, if they have trouble finding what they need, they'll go to your competitor's site instead.

Create individual landing pages for your listings

- Make it easy for a visitor interested in a particular listing to take the next step and schedule a showing for it.

With AF Listings, you can do this with one single click.

Add an interactive map to your website

- By letting users search for homes using a map, you'll make it easier for them to find properties in the area they want.

Add a live chat

- A live chat option makes it possible for you and/or your co-workers to get back to your visitors immediately.

Use chatbots

- You don't always need a live chat option. Many common interactions could be handled by a chatbot.

Use retargeting

- Retargeting lets you re-engage visitors to your site that left without any interactions.

Submit your site to major aggregator sites

- Aggregator sites, as their name suggests, are online directories that compile information from all over the web about certain topics. Not only can they help new users find your website, but each link to your site improves your SEO ranking.

Work with Yelp recommendations

- Positive Yelp recommendations improve your Google ranking. Invite happy customers to give you a positive review on Yelp.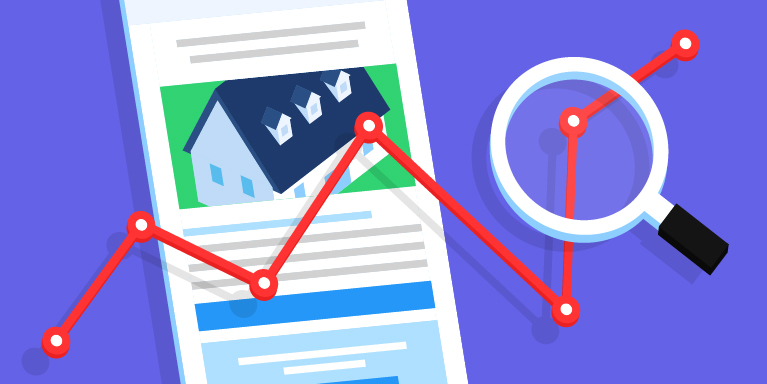 Content marketing
Work on your SEO

- Search engine optimization (SEO) makes a huge difference in the amount of traffic you receive.

Build backlinks

- Backlinks make a gigantic impact on your page's rank.

Use customer testimonials

- Highlight and advertise your positive testimonials on your website and social media pages.

Start a blog

- Blogs are an amazing way of attracting traffic. Don't know what to write about? Here are

72 rock-solid ideas

. 

Curate lists of local attractions

- These lists can be shared and linked to, and would bring more traffic to your website.

Create a newsletter

- Send your contacts the latest update on your blog posts, new property owner guides, as well as just listed and just sold properties.

Partner with companies in other states

- Attract more traffic from out of state.

Create an affiliate program

- Might encourage more traffic and sales.

Create a Google My Business site

- Not only is it easy and free, but it can help tremendously in your local SEO. Check

this article

on how to set up your Google My Business.

Start a Youtube Channel

- Visual content is more appealing than written ones.

Start a Vimeo Channel

- Vimeo is another popular video sharing platform.

Start a podcast

- Podcasts are more popular than ever.

Create infographics - Cheap, easy to create and share. Want some ideas? Here's a massive collection for you to grab some ideas from.
Write guides about local schools

- Parents looking for properties in your area will appreciate these.

Write a guide about local restaurants

- Same as above.

Create area guides for your community

- By offering valuable sources of info for local areas, you'll help buyers see if they like the area before they move.

If you own a Spark Site, you can

create area guides

with just a few clicks.

Create lead magnets

- You can attract a lot of traffic (and leads) by offering valuable ebooks, articles, and videos in exchange for your visitor's contact information.

Film an explainer video about your agency and services

- Show (not just tell) what services you offer, and why you're the best real estate agent in your hyperlocal area.

Whitepapers

- Whitepapers are very technical and information-dense documents that provide a huge amount of value to its readers. A great option for commercial real estate.

Share funny real estate memes

- Show off your comedic chops and attract more likes and shares of your real estate business page on social media.

Create lead capture forms on your site

- Facilitate conversions among visitors to your site.

Create real estate calculators on your site

- Very useful. These always draw visitors.

Create dedicated landing pages for your physical ads

- A link on your physical mail or postcards to a dedicated landing page can help you measure the response rate of your ads.

 

Conduct keyword research

- Keyword research can help you find topics that could drive a huge amount of traffic to your website.

Use Google News to find article ideas - Google news can help you find article ideas about real estate, both in a local and national level.
Segment your email list

- By diving your mailing list into different categories, you'll be able to better target and personalize your emails.

Use storytelling techniques to drive engagement rates - Storytelling techniques can help you turn a boring technical article into an exciting read that refuses to let your readers go.
Create drip email marketing campaigns

- Drip campaigns let you engage prospects and nurture them into leads.

Use SlideShare - SlideShare is a Linkedin tool that lets you host infographics, presentations, videos, and documents, so you can share them with your audience.
Study the masters

- There's no need to learn by trial and error. Study how top producers and real estate rock stars made it to the top. Don't know where to start? Here are 2 lists of real estate books to help you.

Take an inbound marketing course

- Inbound marketing has an amazing ROI, can be started today, and can help you avoid the need to pay for ads.

Audit your marketing campaigns

- See what's working and giving you the most results, then double your efforts on that marketing channel.

Write a book

- Showcase your real estate expertise, and make some money at the same time. Win-win.

Publish articles on Linkedin

- Linkedin is a great article publishing platform.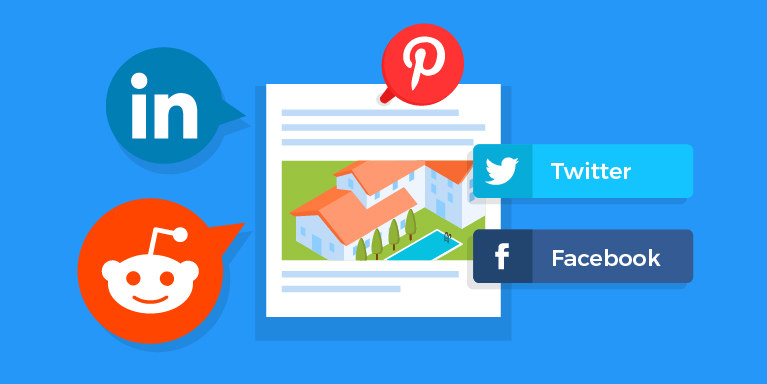 Social media marketing
Comment on articles on Linkedin

- Participate in discussions and bring more traffic to your blog or Linkedin page.

Join real estate discussions on Reddit

- Reddit has hundreds of real estate discussions you could join. You could capitalize on these to attract more traffic to your site.

Create a Twitter Account

- A Twitter account can help you keep your audience informed about your company's latest developments, and can help drive more traffic to your website.

Add social sharing buttons on your content

- Make it easy to share your content.

Build a FB Chatbot

- Facebook also gives you the option to program your own Chatbot. This one can be taken over by a live agent as well.

Create Pinterest Boards

- These are easy to share and can attract more traffic to your site.

Create a Facebook Business Page - Facebook is an incredibly powerful search engine in its own right. Make sure your clients are able to find you there.
Invite your friends and family members to like your blog posts and social media pages

- Likes invite likes.

Get a Linkedin account

- Linkedin is the best social media platform for networking with business professionals (and even new clients).
Do you have real estate marketing ideas we missed? Let us know in the comments.
And if you liked these marketing ideas, subscribe to our newsletter. We send valuable lists, guide, and articles like this one, so you can start your day learning new marketing strategies over a cup of coffee ☕.
And hey... if you're REALLY looking to implement some of these marketing ideas as part of your hyperlocal real estate domination strategy, you need to check out our Spark Sites.
Whether you're a DIY'er or prefer to have someone else manage your digital marketing strategy, we have a solution for you. If you want a guided tour of all of our amazing tools, book a one-on-one demo with one of our Client Success Specialists.
Or if you want to check out those features at your own leisure, try out our SparkSite's 10-day free trial.
Check out this article next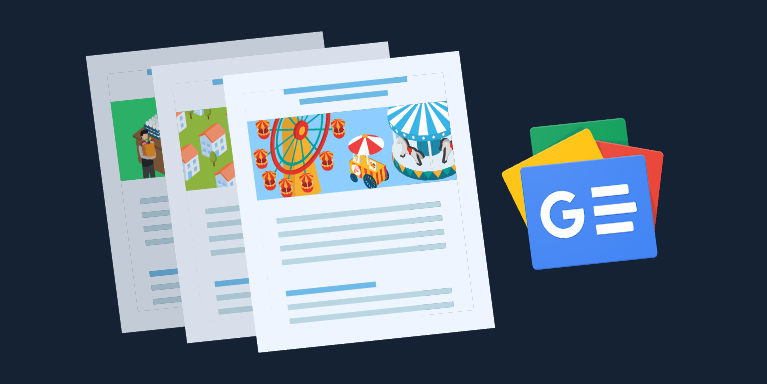 5 Strategies for Endless Real Estate Blog Ideas with Google News
If you're new to blogging (or even if you've been doing so for some time), I'm sure you'll agree that coming up with good blog ideas can be a …