We scoured the most syndicated lists including the Wall Street Journal, REAL Trends, and Top 100 Real Estate Agents® to see how the industry's elite use real estate Facebook ads. Here's what we found.
There are tons of guides and rehashed examples of real estate Facebook ads all over the internet.
But, I will argue, none of them go as hard as this one.
As for our knowledge – Spark readers will know that we once turned 2,000 dollars of ad spend into 50,000 dollars in commission.
And from that and many other experiences in AgentFire's 8 years of existence, we have boiled it down to three essential steps:
Focus on

nailing the BASICS

of real estate marketing and your ads will always remain relevant. 

Facebook ad anatomy changes all the time, so instead of spending a ton of time obsessing about the details of its current iteration, focus on the timeless aspects of copywriting.


The majority of top agents use one of three Facebook ad formats: image, video, or carousel.

Don't reinvent the wheel!

America's top 1% of agents regularly use only 6 types of ads! These ads represent traditional real estate strategies optimized for social media marketing.
For this piece, we curated actual Facebook ads launched by the some of the best real estate agents in America and broke them down into those 6 categories: listing, reminder, lead generator, adviser, event announcement, and hyperlocal expert.
Furthermore, we broke down each ad so we can quickly review what EXACTLY made them so effective – from the ad creative to the CTA to the landing page. 
1. The Listing Ad
Ad objective: To promote and/or highlight a specific listing.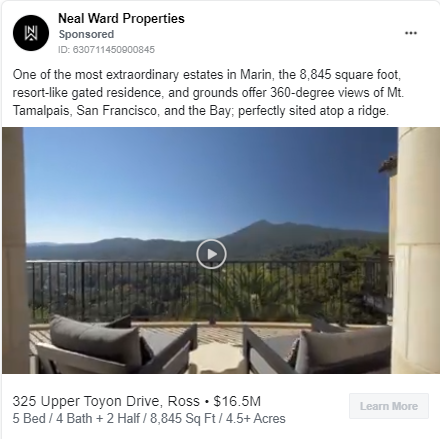 Example 1: Neal Ward
Neal's ad showcases a luxury real estate  listing video featuring a property straight out of Million Dollar Listing.
But don't take our word for it. See it for yourself.
Call-to-Action & Landing Page Notes:
The CTA [Learn More] sends prospects to an elegant and interactive landing page that serves not just as an information portal, but as an extension of the ad, continuing to build on the visitor's excitement over this beautiful property.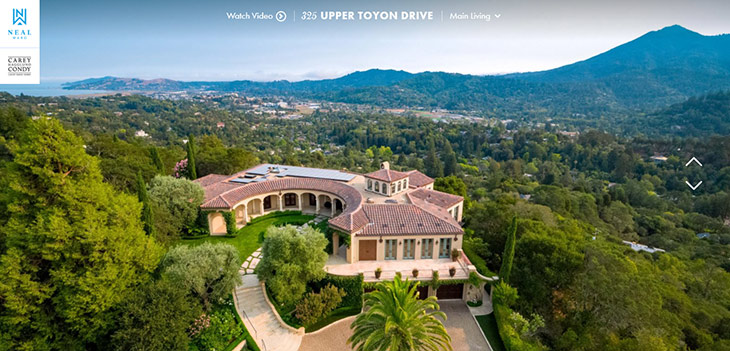 Why we like it:
The quality of this video listing is outstanding. This ad is a prime example of the production values expected for luxury real estate.
But even if you don't deal with multi-million dollar properties, or have access to a professional drone videography crew, there's still a lot we can learn about how Neal highlights this property. 
The quality of its videography and visual storytelling is spotless. It's clear that the team took no shortcuts, and knew what they were doing.
The staging was on point, yet didn't steal attention away from the property itself.
The grand music that builds up throughout the video and pauses at strategic points. This helps viewers get in the right mindset, and see themselves living in this magnificent home.
We also loved this landing page!
Ideas you can steal 
Real estate agents aren't just salespeople, they're business owners. It's worth investing in the production arm of our marketing. The best part? You can DEFINITELY start small. 
Tom Ferry often suggests hiring a young photographer, maybe even fresh out of school who's hungry to learn and grow with a steady gig and a helpful team.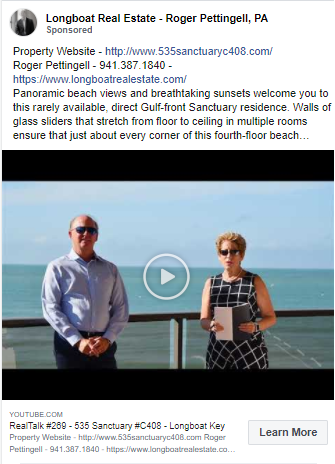 Example 2: Roger Pettingell 
Roger features this listing on an episode of his long running series, REALTALK with Roger Pettingell. And to give you an idea of the amount of work this man puts into his business – this is episode #269!
Call-to-Action & Landing Page Notes:
The CTA [Learn More] sends visitors to Roger's YouTube channel.
Why we like it:
Roger's videos show that you don't need to use all the bells and whistles found in luxury real estate listing video to be effective. What matters more is that the information you convey benefits your audience directly.
Of course, if you have the means to improve your production values, by all means, do it.
For this listing in particular, Roger does an outstanding job of selling the experience of living in luxury by the ocean.
This point is further underscored by the faint sound of crashing waves behind him and his co-host.
In addition, Roger's channel features a multitude of interview guests from insurance gurus and law experts, to local business leaders, local artists and designers – and the most highly esteemed guests in our opinion, the Southeastern Guide Dogs.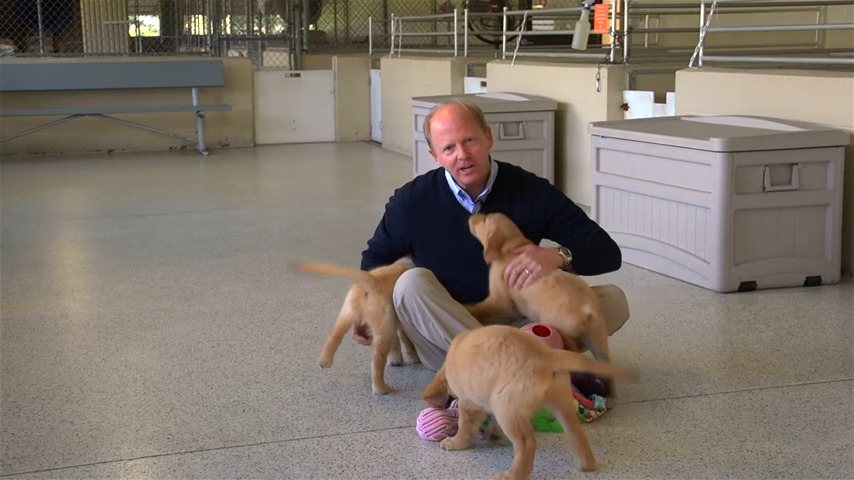 Ideas to Steal
Roger's channel is a testament to his dedication to becoming a real estate authority. Not only do his videos showcase his ability, but the vast number of experts he interviews bring his show more credibility.
Do you know any local experts related to real estate? Why not reach out to them? There's always someone in your network that can get you a quick 15 minute interview, or has a great story to tell.
These are the characters that bring the neighborhood to life – not to mention that you can be sure your face will be plastered all over their own business pages too.
Tip: Try leveraging your social media presence and take online engagement out into the real world (or over Zoom, at least). Other professionals on social media will likely be open to Zoom interviews or a quick collaborative video that they can also use for their own marketing.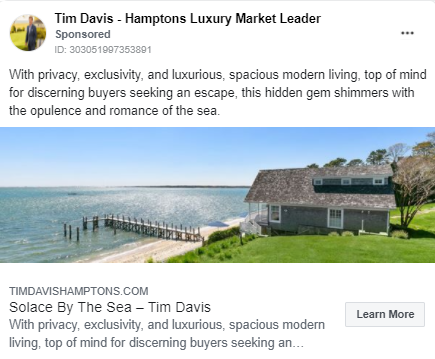 Example 3: Tim Davis 
Tim Davis' Solace By The Sea ad uses masterfully evocative language to really sell the lifestyle buyers could enjoy in this property. 
Call-to-Action & Landing Page Notes:
The CTA [Learn More] whisks the prospect to a landing page featuring a long form description of the property.
The writer, NAR's Sales and Marketing Strategist Katherine Gannon, crafted a description that's anything but boiler plate. It reads: 
"The 9,500-square-foot, eight-bedroom, eight and two-half bathroom compound is a celebration of traditional architecture and elegant minimalism, with a simple material palette that allows the spectacular water views to define the interior."
Why we like it:
This is reminiscent of old school, print media copywriting written by writers skilled at selling a dream.
Ideas to Steal
Want to learn how to write this kind of copy? You can find loads of classic ads at SwipeFile.com. What you want to look at are long form ads (mostly in print) written by legends who only needed a pen and an idea to sell anything.
If you DON'T want to spend time learning the art of copywriting, you can always hire a copywriter! Fiverr and Upwork are fair options, but why not scout for a writer you can regularly commission to write property descriptions and other text-heavy marketing collateral? 
These writers are usually much more invested in building a relationship with you. Try posting on the following Reddit sub-directories (subs): r/freelance, r/freelancewriters, r/forhire, and give out some examples that you want your writer to model.
Get Our Pricing
Want to dominate your hyperlocal real estate market? Then you need to check out AgentFire's Spark Sites.
Click the button below to learn more about pricing.
2. The Reminder
Objective: Keep your brand in your client's mind and/or remind them that it exists.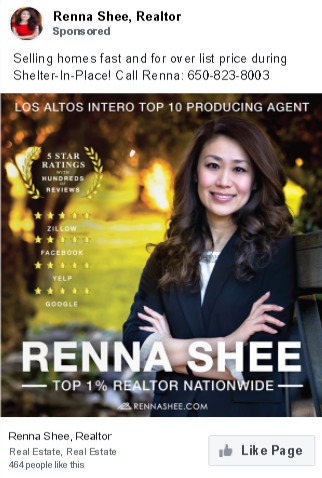 Example 1: Renna Shee 
Renna's ad leverages social proof in a creative way, resembling a blockbuster movie poster that is significantly more eye-catching than most similar ads.
Call-to-Action & Landing Page Notes:
The CTA [Like Page] asks prospects to like Renna's page, which opens upon clicking the button. A concierge bot quickly greets any visitors.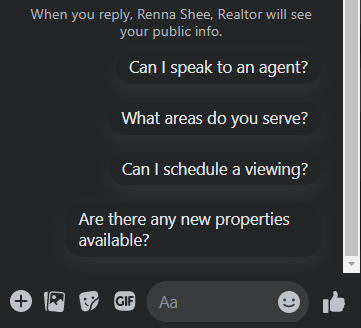 The first thing we see on her page is the post 'Sold for 122k over asking price'… the home spent 6 days on the market. 
Why we like it:
Social proof is the competitive edge that you can always rely on. Renna just managed to spin it into an excellent-looking ad.
The best part? It's pretty simple to recreate what Renna did!
Ideas to Steal
Aside from the photo itself, you can easily put together something like this using a simple design tool like Canva. 
In addition, a photo like this one would look GREAT on all sorts of marketing assets. How about carving out some time for a professional photoshoot to get some killer photos you can use everywhere?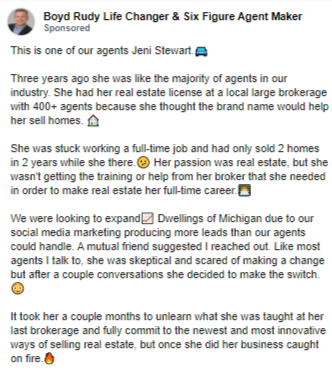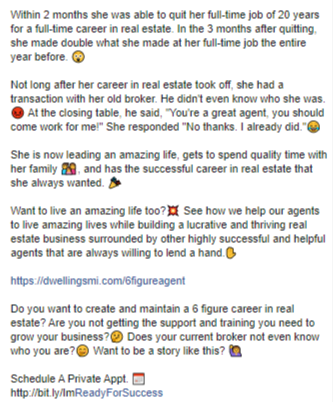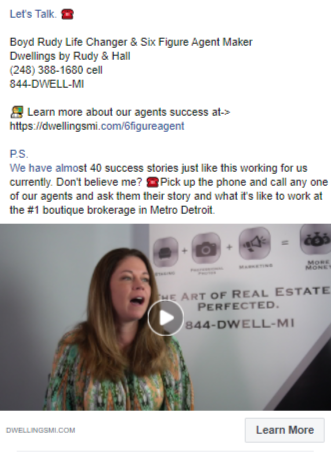 Example 2: Boyd Rudy
Boyd's ad is a recruitment effort that uses past success to illustrate the benefits of working with him. 
This is a video of Jeni Stewart: an agent working for Boyd who recounts an impressive tale of slaving away at a negligent brokerage, only to later get the training and empowerment she needed at a better brokerage – Boyd's.
Call-to-Action & Landing Page Notes:
The landing page is full of similar testimonials from other agents. But here's the REAL gem:
above the fold reads this provocative copy: "Imagine what you could do if your brokerage invested in you."
Why we like it:
Yes, we know it's a recruitment post. But it's a good one. It has all the hallmarks of one of the most powerful forms of modern marketing: social proof.
Specifically, here's what blows us away:
 How Jeni's life was positively impacted after engaging with Boyd's business

 How

detailed

the testimonial was in how Boyd lived up to and went beyond expectations

 How he touched all the pain points that he KNOWS his market resonates with

 How intricate the picture this narrative draws 
Here's the biggest takeaway we got from this:
Reviews are valuable currency – and the more thought that was put into a testimonial, the more valuable it is.
Ideas to Steal
Can you recall a slam dunk transaction where a client can attest that you rose to the challenge and made a net positive difference in their life?
Can you work with that client and turn this experience into a video testimonial?
Tip: A LIVE recording would be best, but you can work with text and pictures using some of the tools in our other article: Create Stunning Video Content With These (Mostly Free) Editing Tools.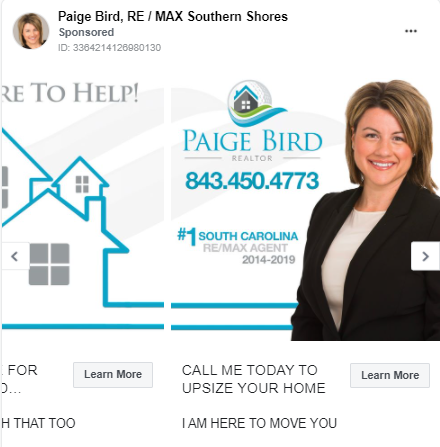 Example 3: Paige Bird 
Paige uses a carousel ad where each frame addresses a pain point or point of interest. For example: for the first time in history, many of us are looking at the possibility of working remotely forever.
With mortgage interests at an all time low, and having a home office now a must, Paige leaves a gentle reminder that she can take all that weight off your shoulders.
Call-to-Action & Landing Page Notes:
There's a standard lead magnet above the fold, but what makes this landing page world-class is this customer journey graphic that visitors encounter upon scrolling down: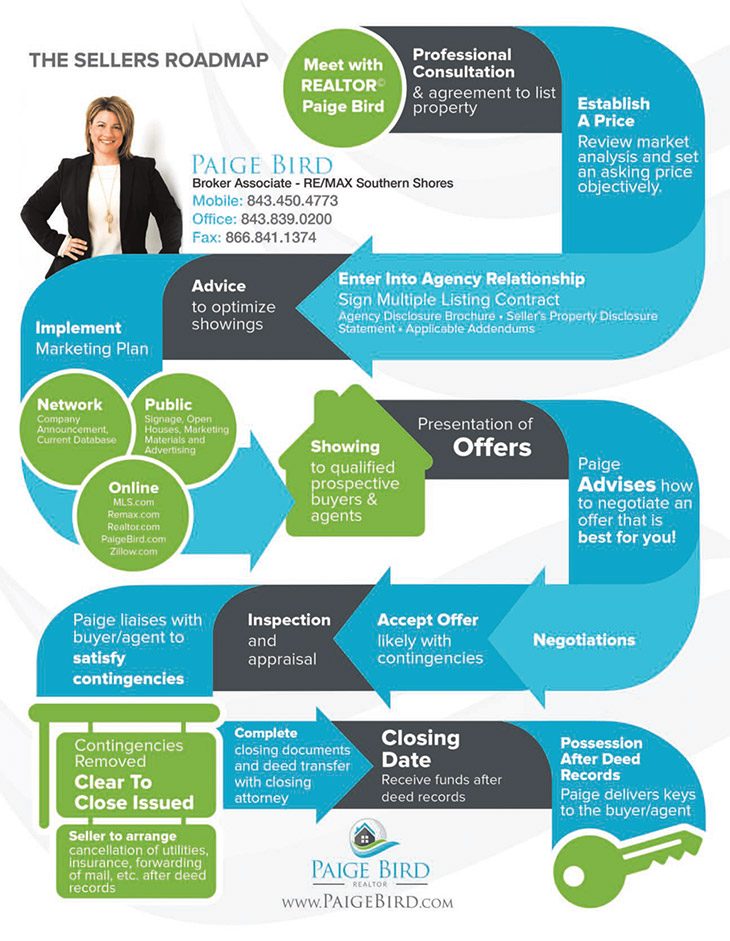 For someone who isn't versed in real estate, the road to buying or selling a home looks long and rough. Paige offers an alternative experience, where clients know what to expect and she guides them through a clear path to the finish line.
Why we like it:
Paige knows her clients inside and out. She knows exactly what troubles them and takes the steps to reassure them and increase their confidence along the way. Hence why she's in the top 20% of the thousand most elite agents by transaction sides. In other words, highly referable.
Ideas to Steal
What are the critical pain points of your market and what are the solutions you bring to the table? How do your solutions enhance the client experience?
Tip: Get VISUAL with tools like Canva. Check our similar FREE tools in our resources article.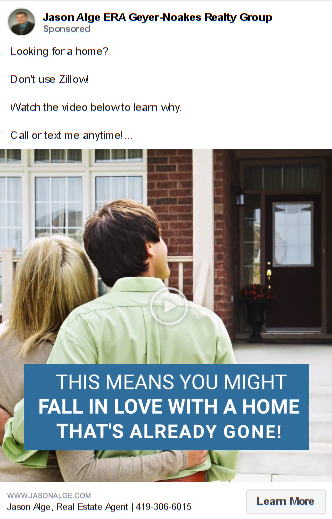 Example 4: Jason Alge 
Ad Summary:
Jason's ad is a short and sweet video that spells out the various problems with using sites like Zillow – not everyone understands the value of an agent and many get blinded by the discount tag, not realizing the time and money they actually waste in the long run.
Call-to-Action & Landing Page Notes:
The CTA links to a listings page on Jason's website.
Why we like it:
The elite recognize that competition may not necessarily be other agents, but disruptors like Zillow. This ad was straightforward and factual. It presented well-known criticisms of the platform.
The video is a slideshow of photos and text assets arranged in an editor – like a PowerPoint presentation on a timer. It's not the most sophisticated piece of content, but it's genuinely useful to its target audience and is easy to consume.
Ideas to Steal
Can you summarize into a short video WHY prospects are better off choosing you over other agents and services? What do they have to lose by NOT choosing you?
Tip: Check out the Video category in our FREE resources article to create something similar!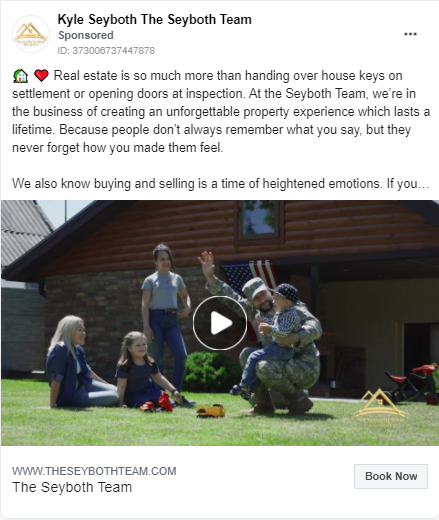 Example 5: Kyle Seyboth
Ad Summary:
Kyle's ad is a "meet the team" video. It's a well-produced and meaningful introduction of The Seyboth Team members that also features glowing testimonials from real past clients. 
Call-to-Action & Landing Page Notes:
The CTA "Book Now" takes prospects to a scheduler for a 45 minute strategy session or 60 minute meeting with Kyle himself. 
Why we like it:
First, Kyle does a great job with clearing the path for a prospect to go from passively viewing the ad to actively engaging with him. 
This is a seamless transition that all of us can enjoy thanks to productivity tools like Calendly (which is free – check out more free tools here). 
Second, the actual video is really well put together. Aside from the production value, the video's subjects give meaningful introductions; Katie Wright, one of their members, even talks about her military background as the driving force behind her niche.
Ideas to Steal
Make a team introduction video! What is it about real estate that you and your team can speak passionately about?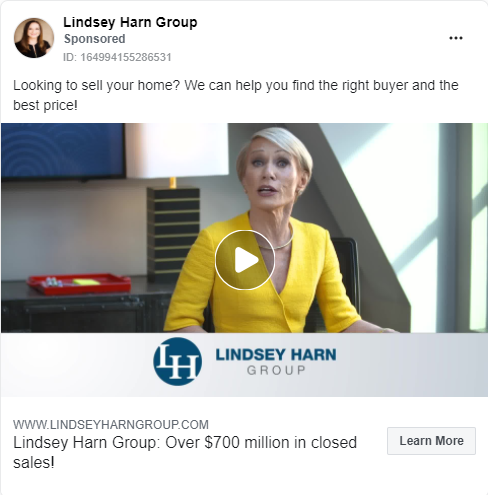 Example 6: Lindsey Harn
Ad Summary: 
This is one of multiple videos featuring legendary Shark Barbara Corcoran publicly endorsing Lindsey Harn and her team.
Call-to-Action & Landing Page Notes:
The "Learn More" CTA leads to a listing page on Lindsey's website.
Why we like it:
This is another formidable piece of social proof: Referrals.
In this case, it's a referral from one of the most powerful women in business. 
Ideas to Steal 
Is there anyone in your network that can speak about you as a professional – preferably on video? Sharks are ideal, but not required!
The Lead Generator
Objective: Offer value in exchange for a prospect's contact information.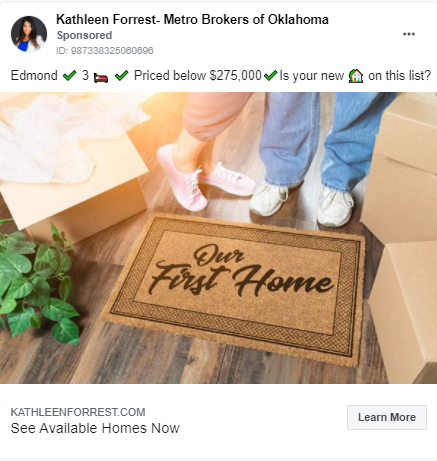 Example 1: Kathleen Forrest
Ad Summary:
Kathleen's ad is simple and market-conscious. She clearly has her profiling on point and the landing page does not disappoint. 
Call-to-Action & Landing Page Notes:
This ad's landing page is a members-only listings page – if she seems like she's asking a prospect for a little too much by requiring a login… People who are serious about looking for a home with those exact features will *probably* find the 200 results worth it.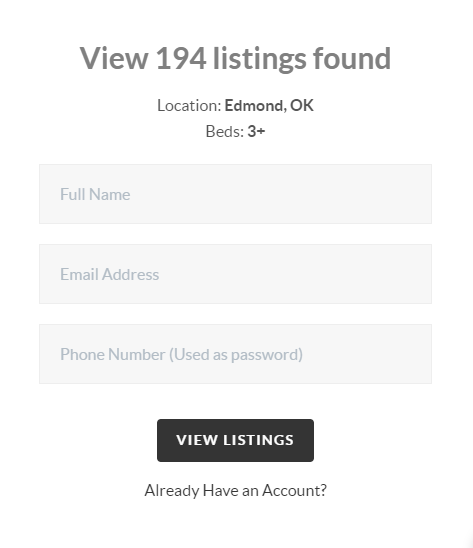 Why we like it:
Kathleen understands her market with this ad extremely well, from the photography chosen to the features highlighted in the copy.
Ideas to Steal 
How can you demonstrate your superior knowledge about your niche through the copywriting and images in your ad? What sort of images resonate with your market?
How can you back that up with helpful data and resources for your prospects?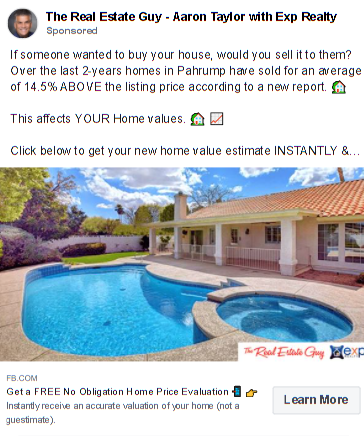 Example 2: Aaron Taylor
Ad Summary:
Aaron asks a loaded question backed up by data that might just be the confidence boost hesitant sellers need – or a pleasant surprise for homeowners who haven't had a good reason to sell… until now. 
Call-to-Action & Landing Page Notes:
Excellent low friction CTA (emphasizing the 'FREE' and 'No Obligation' part). 
Why we like it:
The ad uses straightforward copywriting based on facts. It cleanly captures the urgency of opportunity and any homeowner in the Pahrump area would take notice – or at least be curious about just how much their property went up in value.
Ideas to Steal 
What valuable insights can you glean from data about your neighborhood that would be a fair value exchange for a prospect's contact information – especially in relation to recent economic reports?
Tip: Keeping Current Matters does this MASTERFULLY. Get some inspiration from their Instagram account.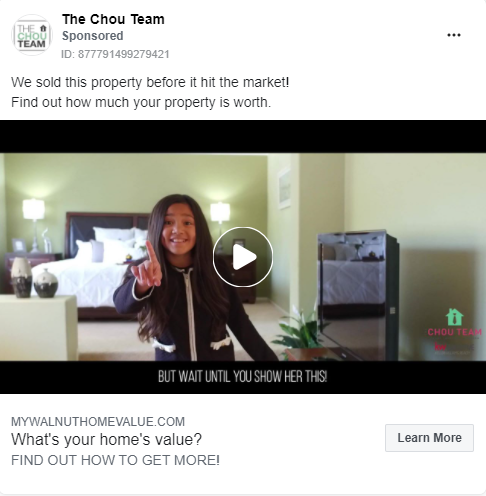 Example 3: Mike Chou
Ad Summary: 
Mike Chou's ad is a high quality scripted house tour video of a recently sold property – but, with a twist: it's narrated by a little girl, portrayed to be begging her mom to buy it.
Call-to-Action & Landing Page Notes:
The CTA [Learn More] leads to a landing page that offers a free home valuation as their lead magnet.
Why we like it:
We love Mike's out-of-the-box thinking with this video – which is possible only because he knows his market cold.
Through believable dialogue, the actress animatedly goes over the property and points out features that make it perfect for a family – like the gated community, huge backyard, and entertainment spaces so grand that we can finally stick it to auntie.
It's fun and quite charming, and most importantly, it's a plausible scenario for someone in Mike's target market.
Ideas to Steal 
Could you build a story or dialogue around your prospects, perhaps featuring a listing, a commercial, or even a recorded roleplay? Can you craft a situation that your market can relate to?
This involves knowing your niche inside out – which is a good exercise anyway, regardless of whether or not you recreate this ad.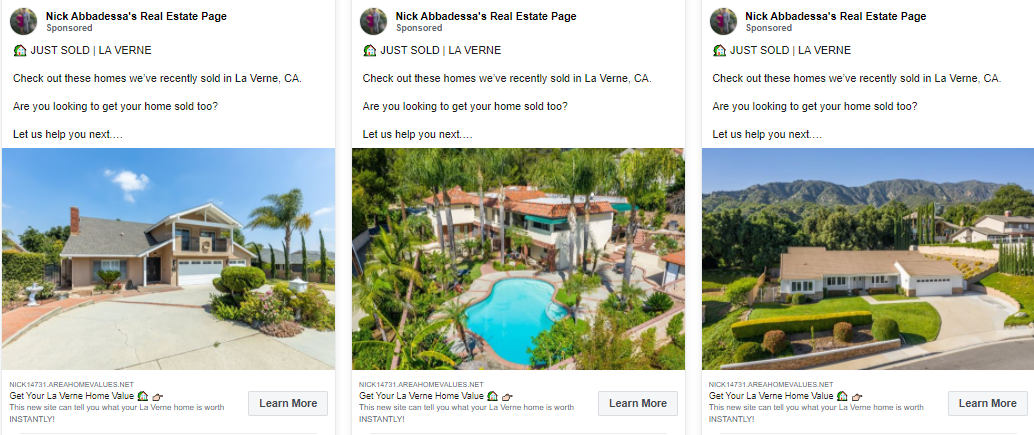 Example 4: Nick Abbadessa
Ad Summary:
Nick´s ad asks the universal question in real estate lead generation copy: If someone had the ability to sell your house, would you? 
Nick uses his track record to generate leads by creating confidence in his prospects to trust in his ability.
Call-to-Action & Landing Page Notes:
The CTA [Learn More] leads to a standard landing page, but Nick's lead magnet is a 1-2 punch:
It starts with a low friction CTA where the prospect simply needs to enter an address. Upon completion, a new page is loaded that displays a SAMPLE market report to whet the prospect's appetite: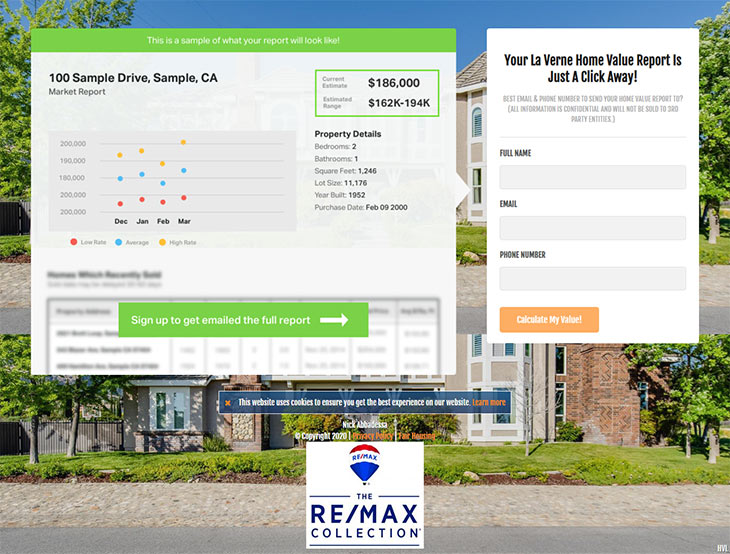 Why we like it:
There's no better lead generator than a home valuation from an agent who has already successfully listed and sold properties in the area. 
While Nick's lead magnet strategy might turn away some window shoppers, his social proof is convincing enough for most serious prospects.
Ideas to Steal
Do you have any success stories that you can leverage as social proof? 
If you have experienced recent critical success, is your landing page equipped to maximize that opportunity?
The Adviser
Objective: Provide insider knowledge to build confidence in prospects and clients.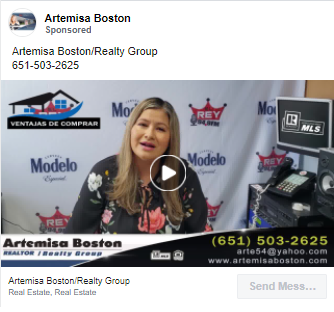 Example 1: Artemisa Boston
Ad Summary:
This video by Artemisa Boston discusses the advantages of buying as an investment during this time as mortgage interest rates remain low – a great but short window to invest.
Call-to-Action & Landing Page Notes:
No landing page; the CTA lets prospects send Artemisa a message on Facebook.
Why we like it:
There's still a lot of noise in the US amidst the tail end of the pandemic and Artemisa is not only playing the role of community leader, but she's also making clients for life! 
Ideas to Steal
There's loads of publicly available data on housing on the internet. You also have your daily hot sheets, the MLS, your network, and other resources that give you valuable insights into your local market.
Tip: We suggest carving out a few hours a week dedicated to answering questions and helping out the community. Use a tool like Calendly to allow prospects to schedule a "mini-consultation" with you.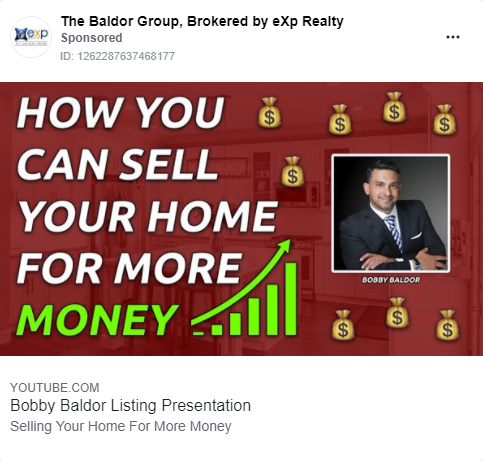 Example 2: Bobby Baldor
Ad Summary:
This ad links to a YouTube video of Bobby Baldor's listing presentation (below) where he addresses crucial opportunities in the hot Central Florida market, which is experiencing low inventory and historically low rates.
Call-to-Action & Landing Page Notes:
The only CTA here is the link to the YouTube video.
Why we like it:
It's a technically simple video that goes back and forth between Bobby's webcam and that of the host's throughout the conversation. 
What makes it impressive is Bobby's absolute knowledge and authority of the market on a national and local level. It speaks volumes about his capabilities and his brand as a real estate professional.
The view count from the upload date might seem low. But as Tom Ferry frequently points out: how much time and energy would it take to hold 20+ individual listing presentations? 
Let's also remember the 80/20 rule: 20% of your market generates 80% of your business.
Ideas to Steal 
Like we mentioned in Artemisa's ad breakdown, we as real estate professionals have access to the BEST sources of information on housing. Our job is to use accurate data to help our prospects take action – and a great way to do that is through a public YouTube video.
Tip: Check out some mostly free video editing tools here.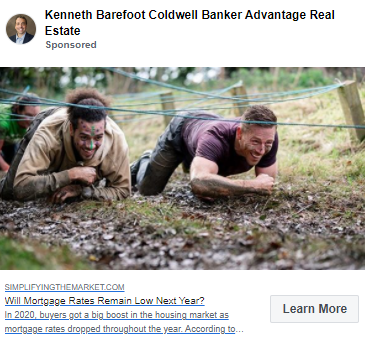 Example 3: Kenneth Barefoot
Ad Summary: 
This ad asks an important question for buyers and investors still on the fence about the big decision. The ad itself triggers FOMO (fear of missing out), but let's focus on value:
Those who click through are greeted by data from the Mortgage Bankers Association, Freddie Mac and Fannie Mae, and the NAR – in an easy-to-consume blog post that tells potential buyers what they need to know.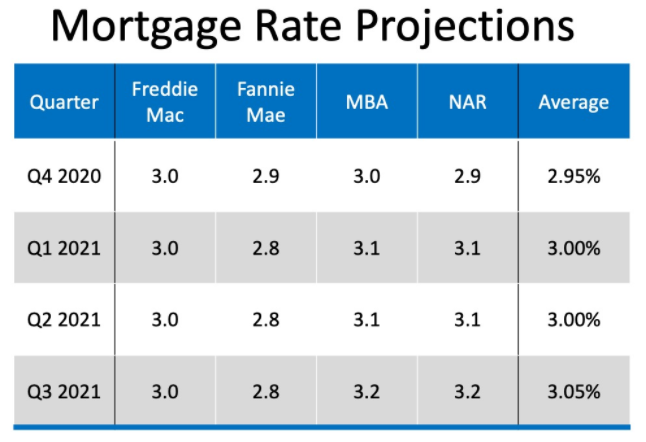 Call-to-Action & Landing Page Notes:
'Learn More' simply redirects to a highly informative (and therefore valuable) blog post.
Why we like it:
Data from reliable sources is the sharpest knife that can cut through noise like hot butter… Especially if you can communicate it in a digestible way.
Ideas to Steal 
Kenneth's ad is essentially the written form of Artemisa and Bobby's ads above. If you run a real estate blog, it's a great platform to report critical information to your market which can serve as an effective lead generator or simply to keep you top-of-mind.
Tip: If you don't run a real estate blog, we strongly urge you to consider it!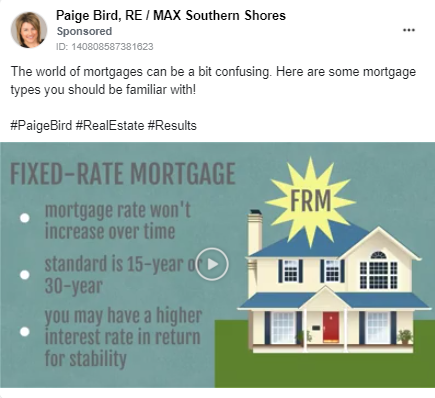 Example 4: Paige Bird
Ad Summary: 
The short video is a primer on mortgage types. Easy to understand, informative, and very timely. 
Call-to-Action & Landing Page Notes:
There's no outbound CTA here or external landing page – Paige's CTA is an inoffensive slide at the end of the video with her contact info.
Why we like it:
As we saw from her ad under the Lead Generator category, Paige is completely in sync with her prospects' pain points… In this case, it's confusion. Confusion can create all sorts of friction in the prospect journey and education is the grease that allows you to slide into their inbox.
What's more – there's no landing page here. There's no 'immediate' return – but the bigger picture sees Paige as a trustworthy, helpful, and reliable agent – in other words, someone you would want to hire.
Ideas to Steal 
Paige's video is simple but informative. What parts of the real estate process causes confusion in most of your prospects that you can condense into a short explainer video? 
Tip: You can create a similar video – which is essentially an animated slideshow – using some of the tools in our other article: Create Stunning Video Content With These (Mostly Free) Editing Tools.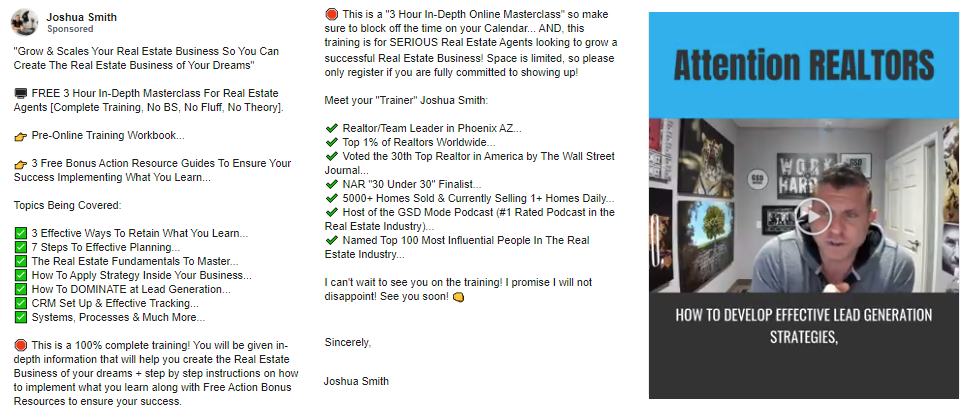 Example 5: Joshua Smith
Joshua is a world renown coach and Wall Street Journal's top 30 realtor. His video ad is promoting a free 3-hour master class along with a bunch of bonus materials.
Call-to-Action & Landing Page Notes:
Joshua's landing page is straight out of a copywriter's manual, attacking his prospects' pain points and establishing social proof right above the fold:

The rest of his landing page is filled with further social proof and a very clear, very bold CTA: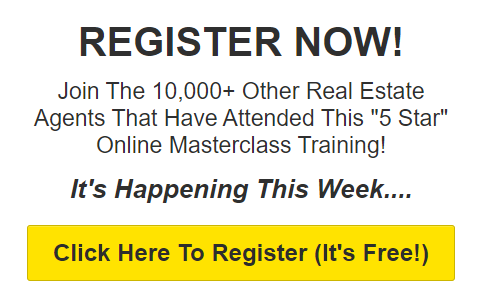 Why we like it:
If you're familiar with Joshua's material – specifically his podcast, GSD Mode (Get Sh*t Done) – you'll know that he doesn't really waste a second whenever he speaks.
Within the first 30 seconds of the ad, he managed to:
Leverage his own influence and veteranship (15+ years in the industry, recognized one of the best coaches AND realtors 'on the planet')

Attack his prospects' pain points by mentioning other coaches that teach a lot of fluff and glamourize the agent lifestyle on social media

Provide a solution by revealing his own systems and data that he himself uses to sell 1+ homes per day
The video ends with him explaining all the training and knowledge building he and his coaches underwent.
Other aspects we liked regarded the style of the ad. It's optimized for vertical viewing and it has CAPTIONS, so people can safely consume the ad in the wee hours of the morning without waking their significant other.
Ideas to steal:
You can make a stylistically similar video using FREE tools like Typito or Headliner. In fact, head on over to this article if you want to check out similar free and easy-to-use video editing tools.
Now, these are the tools we can use to share our message… But what about the message itself?
Start by asking yourself these questions and see how you can turn your answers into video content using the tools we just mentioned:
Who am I trying to serve?

What are the pain points of my niche?

What solutions do my expertise provide?
The Event Announcement
Objective: Promote an upcoming event.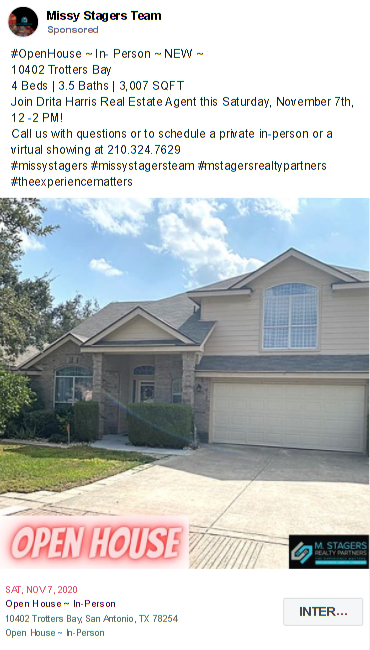 Example 1: Missy Stagers
Ad Summary:
Missy's ad promotes an Open House via a Facebook Event. 
Call-to-Action & Landing Page Notes:
The CTA [Interested] takes the prospect to the Event Page where they can confirm their attendance or at least their interest in the event.
Why we like it:
It's a simple image ad with one photo and a semi-loud font down in the corner, but we appreciated the helpful information in the copy – and they offered both personal and virtual private showing appointments.
Ideas to Steal 
Facebook events is a very convenient platform to secure RSVPs and events hold the event themselves.  
Tip: First time holding a virtual open house? Don't worry – you're not alone. Check out our guide!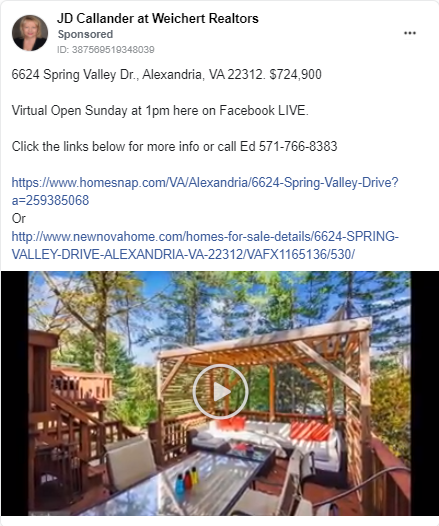 Example 3: JD Callander
Ad Summary:
JD's ad is a simple announcement for an upcoming Virtual Open House via Facebook Live. 
She promotes the event with a slideshow of high quality property photos that highlight a spacious living room, a large workout space, and a cozy deck behind the house, among others.
Call-to-Action & Landing Page Notes:
The ad itself doesn't have a CTA button, but JD drops 2 links in the description that sends visitors to listing pages that hold critical info about the property.
We spotted data on schools, a neighborhood walk score, an interactive map – and even a mortgage calculator.
Why we like it:
The ad is very straightforward – no fancy shmancy CTA buttons here. All the information needed to take action is seen above the fold.
JD also has a strong landing page game, and we assume she's confident in those landing pages to take the prospect all the way home.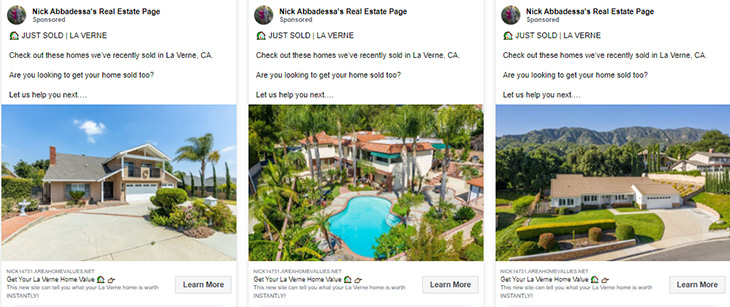 Ideas to Steal 
A live virtual open house is a GREAT way to market a listing. We linked this in the last item, but here it is again in case you missed it: Check out our COMPLETE guide to virtual open houses.
Tip: If you're holding the open house on Facebook, we suggest launching this ad as a Facebook Event so you can handle RSVPs within the platform just like what Missy did in the last ad.
Check out this image we're going to steal from that virtual open house article:
This is what you can accomplish with Facebook Events – you can then proceed to host the entire thing on Facebook whether through Live or recorded video. 
The Hyperlocal Expert
Objective: Become a trusted leader within our community.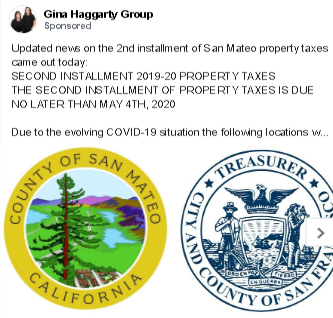 Example 1: Gina Haggarty
Ad Summary:
The ad is an informational post about local taxes during Covid-19, including guidelines for payments, phone numbers to Gina's team and to the tax office, and other helpful information.
Call-to-Action & Landing Page Notes:
This ad has no CTA.
Why we like it:
At this point we should notice that elite agents also tend to be community leaders. This is simple but critical information and Gina presents herself as the expert for all things related to housing and the community, especially during a time of crisis.
Ideas to Steal 
Tip: Regularly call your local government offices for the latest updates in relation to housing (and important reports about your community in general). You'll be surprised at how many people you can help that are either uninformed or misinformed.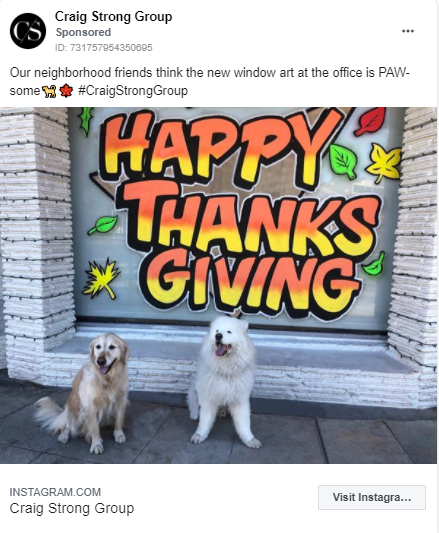 Example 2: Craig Strong
Ad Summary: 
This ad is a simple wholesome post promoting their office's new window art for Thanksgiving.
While Craig's ad ran on Instagram, we had to include it here in deFURence to his professional models. (Also, you can run Instagram ads on Facebook and vice versa)
Call-to-Action & Landing Page Notes:
The CTA here is a link to the group's Instagram page.
Why we like it:
Only someone who woke up on the wrong side of the bed that morning would be put off by this ad. It's just a fun, wholesome post that gives the neighborhood some extra personality. Even the pups look happy to be living there.
Ideas to Steal 
If you give your seasonal office decorations a bit more creative effort, you might get some killer marketing use out of it!
Tip: If you can get a couple of photogenic canines to take part – even better!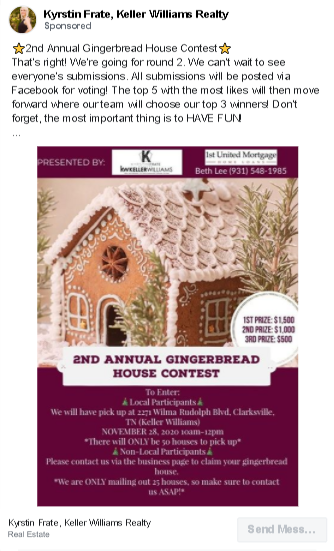 Example 3: Kyrstin Frate 
Ad Summary: 
Kyrstin's ad is technically just an announcement for a local contest… But make no mistake – her intent behind initiating this event is results-driven, and even better, drives results.
Call-to-Action & Landing Page Notes:
The CTA opens a chat box with Kyrstin.
Why we like it:
What we commend here is actually what spurred the ad in the first place – being an initiator within our local community pays us in DIVIDENDS down the line.
These events are a great way to meet more people, stay top-of-mind, demonstrate a leader role, and best of all – bring some fun to our community.
A contest also drives engagement to the host's page – a very welcome bonus for the algorithm.
Ideas to Steal 
What fun and simple activities can you host for your community? If you don't have a budget for a full-blown gingerbread house contest, how about a Christmas-themed trivia or even a raffle? The goal is to create a positive interaction with fellow community members.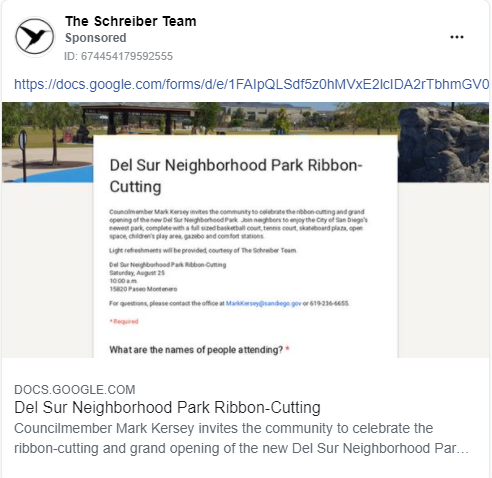 Example 4: Anne Schreiber
Ad Summary: 
Similar to the last ad, Anne and her group host an important community-wide event that celebrates the opening of their neighborhood park.
Call-to-Action & Landing Page Notes:
This ad wasn't launched with the intention to sell. The link is essentially an RSVP using Google Forms.
Why we like it:
This level of engagement is built on years and years of cultivating trust within the community. 
Agents who are new in the business should hope to accomplish this in their own neighborhoods through creating content like in the ads we talked about in the Adviser and Hyperlocal Expert categories.
Ideas to Steal 
This is a fine format to follow for any RSVP events like client appreciation parties, house warming, or open house after-parties.
However, we commend this ad because of the level of community leadership that Anne's team has accomplished – a clear indication of what it takes to be one of America's Top 100 Real Estate Agents.
Conclusion
Let's end the topic with a few more pointers – we want to cram as much helpful information we can into this article!
Here are a couple of Do's and Don'ts to remember on your Facebook advertising journey:
Do's & Don'ts
Do:
 Track and measure results.

Use a Facebook Pixel. When you install a Facebook Pixel on your website, visitors encounter your ad whenever they log on to Facebook.

And

you'll be able to track what content on Facebook drives visitors to your website.
Don't:
Go dormant! Getting results on social media comes from one thing:

momentum

. Going dormant won't only KILL your momentum, but allow others to penetrate your market as well.

Overlay too much text on an image. Facebook recently disabled its < 20% text rule and killed their checker tool. So even if you have a wall of text on your ads image, you won't get restricted as before. 

However

, it is still considered best practice and too much text

can

negatively impact an ad. So

here's an alternative tool

you can use to make sure you only use the optimal amount of text.

Ignore comments. Every additional comment is a boost to engagement so

REPLY

!
If you want to stay up to date on all of our free and valuable content, subscribe to our newsletter. We publish valuable articles and guides such as this one regularly. That way you can constantly improve your marketing skills, and become a more effective real estate marketer.
And if you want to dominate your hyperlocal real estate market, check out AgentFire's Spark Sites, #1 rated for several years in a row.
And the best part? You can try out all of its amazing features for free with our 10-day trial.
Check out this article next
4 Key Steps for Insanely Effective Hyperlocal Facebook Real Estate Ads
Most real estate agents know there's a tremendous amount of opportunity within Facebook marketing. In fact, I've personally spoken with over 12…