How many MLSs are in the US? Which are the largest? Which should you join? Would the US be better off with a national MLS? And what do you need in order to display your MLS's listings on your real estate website? Find the answer to these questions in today's article.
The Multiple Listing Service (MLS) is undoubtedly one of the most valuable tools in a real estate professional's arsenal. It's the tool that makes it exceedingly easy to find homes for your clients, market your own listings, and come to a commission split agreement with other real estate agents in your area. 
However, as convenient as MLS can be, our current MLS system isn't perfect. 
MLSs are in the USA are primarily independent and have their own rules and regulations, as well as their own individual fees. This level of decentralization may work at a hyperlocal level, but when you deal with clients that fall outside of an MLS's area of service, things can get complicated.
In this article, we'll take a look at 5 questions that help us understand why the current multiple listing system works the way it does, why it's unlikely to change any time soon, and whether that's a good thing or not.
Just how many MLSs exist in the US?

Would the US benefit from a national MLS system?

Which MLSs should you join?

Which MLSs have the largest area of service and membership size?

What do you need in order to display your MLS's listings on your real estate website?
Just How Many MLSs Exist in the US?
According to some recent estimates, at any given time, there are between 600-700 MLS in the United States. That number is notoriously hard to pin down because it's constantly changing.  
That's because new MLSs are created all the time, some decide to split up, while others merge. 
This number changes so much, that not even the National Association of REALTORS® has an official list of MLSs.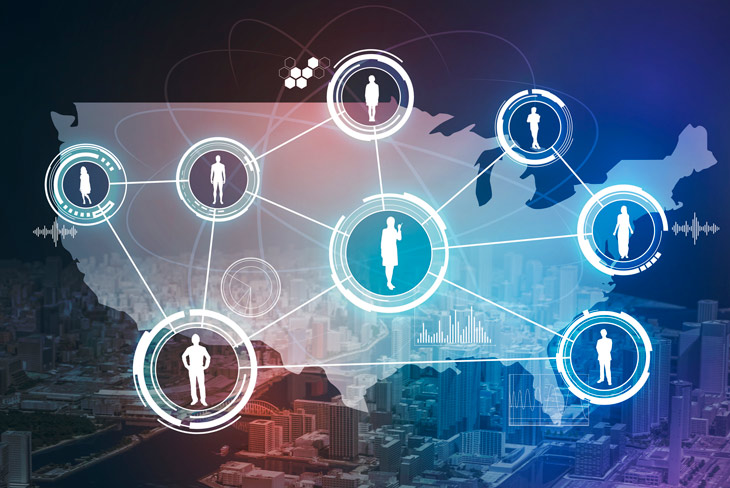 Why Doesn't The US Have A National MLS System?
Some countries have a national (or a de-facto national) MLS system with its own centralized sets of rules, memberships fees, and code of conduct. 
The USA however, has a decentralized system. And while there have certainly been many debates as to whether the US would benefit from a single, unified MLS system or not, it's highly unlikely that the current system will change any time soon.
Why?
The short answer is that there is no REAL demand for it. 
Here's why:
In 2020, it's now possible to use technology to market, tour, and even close a real estate transaction from anywhere in the world. However, real estate remains a fundamentally local affair. 
The majority of home buyers look for homes in a relatively small area. The typical home buyers don't do multi-state (or even statewide) home searches. In fact, most of them look for homes around the area they already live in.
This is one of the reasons why we're constantly encouraging our clients and readers to become the local hyperlocal expert in their area.
An MLS that operates in a relatively small geographical area can be adjusted to cater to its local population's specific needs.
Difficult To Get Everyone To Agree
As I'm sure you're painfully aware, it's very challenging to get a large number of people to agree on something. And with over 2 million active licensed real estate professionals belonging to 600-700 MLSs in 50 states, you can see how there would be lots of disagreements as to how a national MLS should be governed.
Also, most MLSs are for-profit organizations. They have monetary incentives to keep the system the way it is and remain independent.
There's Already A Number of Data Sharing Standards in Place
The National Association of Realtors (NAR) and the Real Estate Standards Organization (RESO) have made already achieved a significant level of success in standardizing real estate data sharing protocols, software, and practices.
Even with no national, centralized MLS, the systems already in place make it fairly easy for MLSs to cooperate and share data amongst themselves. Some of the largest MLSs in the US (the top 10 of which are featured below) are already have fairly robust cooperating amongst themselves.
This level of standardization makes it possible for IDX solutions to provide access to a huge number of MLSs around the country.
There's little demand from consumers.
Let's be honest here, home buyers and sellers don't really care about a national MLS.
They already have access to national property search tools, such as Zillow, Trulia, Realtor.com, and agents' own IDX sites.
Every State Has Its Own Real Estate Laws To Consider
Each state has its own rules, regulations, tax laws, ordinances, etc. A national MLS would need to comply with every single state's real estate laws, making it a logistical nightmare.
Advantages Of A National MLS
There are, of course, many potential benefits of a national, centralized MLS. Some of them include:
Less hassle for agents that belong to several MLSs
Under the current decentralized system, real estate agents that live in at the edges of an MLSs are of coverage could be forced to join several MLSs just to do their job, and make sure their listings show up where the buyers live.
This would mean making sure they follow each MLS's rules and pay their respective fees.
A Significantly Superior Alternative to Zillow
One of the biggest criticism of Zillow and Trulia is that they provide often inaccurate data, and their business model encourages the abusive use of customer data. 
A national MLS could significantly improve the accuracy of its listings, as well as more data security for home buyers.
Faster real estate technological developments
With a single MLS in the country (built on top by a single set of data standards), real estate tech developers would have an easier time developing new real estate tech solutions. 
What Could Cause A National MLS To Happen?
In order for the US to have a national MLS, 3 possible scenarios would need to happen:
There would have to be an unprecedented level of nationwide cooperation among all MLS governing bodies, who have collectively decided to create a nationwide MLS.

Free-market competition causing large MLSs to absorb smaller ones until eventually only a few are left.

The federal government stepping in and forcing all MLSs to coalesce for the benefit of all.
Since there is a financial incentive for MLS governing bodies to remain independent, it's extremely unlikely that all MLSs will come together on their own free will any time soon.
And given the current national political climate, a government-sponsored push for a nationalized MLS system seems impossible in 2020.
So the most likely scenario would be number 2: large MLSs absorb smaller ones until there's only a few left.
Which MLSs Should You Join?
It depends on your particular set of circumstances.
In some cases, your brokerage includes paying for MLS access as part of their incentive package to join them. Those brokerages would determine to some extent which MLS you would have access to.
In most cases, it's up to a real estate professional to join and pay the fees for whichever MLS they wish to join. 
Ask your broker for recommendations, keep in mind where most of your buyers and sellers come from, and use that as a guide.
But if you deal with clients and buyers from out of state, and your real estate niche you specialize in requires to market to buyers and sellers' around the nation, you may consider joining some of the largest MLS in the country.
Which MLSs Have The Largest Area Of Service And Membership Size?

Membership: Over 96,000
Area of service: California
As the leading MLS system in the most populous state of the union, it's really no surprise that CRMLS is the largest MLS in the USA. 
In fact, if you're a real estate agent in California, there's a great chance that you use the CRMLS every single day.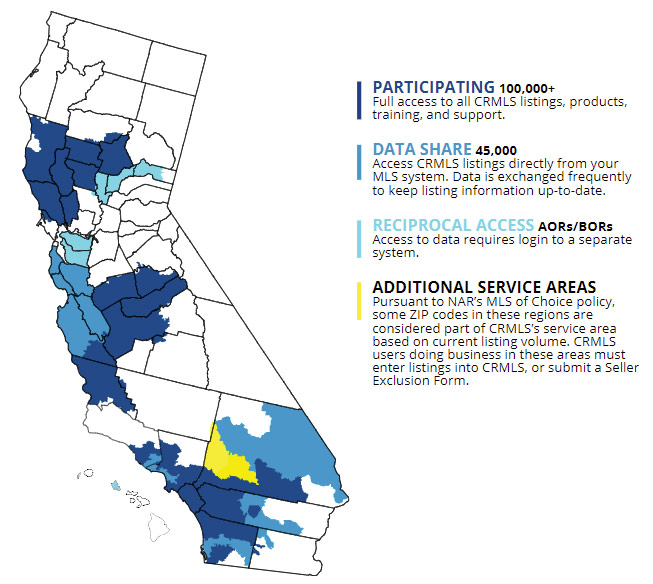 CRMLS has coverage over most of California and serves around over 96,000 users, representing 40 participating Associations of Realtors, Boards of Realtors, and MLSs. 
CRMLS also includes listings from parts of Northern Mexico as well as the Mayan Riviera.
Membership: Over 88,000
Area of service: Pennsylvania, Delaware, Virginia, Washington DC, Maryland, New Jersey
Bright MLS is the perfect case study of how we could see MLS's eventually merging into a single entity.
This MLS juggernaut is the result of 9 MLS coming together under the same roof. In fact, we've already featured Bright MLS in the past and a model MLS solving the biggest issues with decentralized MLSs. 
The result is that it now serves over 88,000 real estate professionals, which carry more than 250,000 transactions yearly to over 20 million consumers.
Membership: Over 59,000
Area of Coverage: Florida
Stellar MLS represents over 59,000 members and has over 300,000 listings.
According to its official website, even though Stellar MLS represents only a third of all licensed agents in Florida, its members produce more than 55% of all closed real estate transactions in the state of Florida.
Stellar MLS is also available in Spanish through Matrix. Though the majority of its database is made up of Florida listings, Stellar MLS also includes listings in Puerto Rico.
Membership: Over 50,000
Area of Service: Florida
This association was created back in 1920 and is now celebrating its 100 years anniversary of serving the communities of South Florida.
According to its website, "it is the largest local Realtor association in the U.S. and has official partnerships with more than 220 international organizations worldwide."
MIAMI Association of Realtors is also the only commercial MLS in South Florida with a consumer-facing website.
Membership: Over 45,000
Area of Service: Northern Illinois, Southern Wisconsin, Northwest Indiana

Midwest Real Estate Data (MRED) is the biggest MLS service provider in the Midwest, serving over 45,000 agents, brokers, and appraisers in the Chicagoland metropolitan area as well as its surrounding counties. 
Its area of service extends to Northern Illinois, Southern Wisconsin, and Northwest Indiana.
Membership: Over 44,000
Area of Service: New York State
OneKey MLS is the result of a merger between MLS Long Island (MLSLI), and the Hudson Gateway MLS. This merger made the already massive MLSLI even larger, placing this MLS solidly into the number 6 spot.
Its area of operation includes the counties of Sullivan, Orange, Rockland, Putnam, Westchester, Bronx, Manhattan, Brooklyn, Queens, Nassau, and Suffolk.

Membership: Over 42,000
Area of Service: Georgia
FMLS was founded back in 1957, becoming the first multiple listing service in the state of Georgia. 
According to its site, "currently, FMLS serves more than 42,000 real estate professionals in Georgia with over 2,100+ broker member offices. The FMLS database currently contains 31,000+ active listings spread across 110 counties throughout the state." 
Membership: Over 42,000
Area of Service: Massachusetts, New Hampshire, Rhode Island
MLS Property Information Network (also known as MLS PIN), was founded in 1997. It managed to grow its subscriber base to over 42,000 licensed real estate professionals. Now it's the largest MLS in New England.
It offers a database of approximately 23,000 properties for sale and more than 3 million off-market listings as well as full public records for all of Massachusetts, Rhode Island, and a large portion of New Hampshire.
Membership: Over 39,000
Area of Service: Georgia
Georgia MLS was founded in June of 1962, has 2,700 member offices, and more than 28,000 agents all across Georgia. 
They generally have more than 45,000 available listings and cover the greater Atlanta metro region, with listings in select areas throughout Georgia such as Marietta, Gainesville, Newnan, Rome, Mcdonough, Statesboro, Douglasville, and Covington.
Membership: Over 40,000
Area of Service: Texas
NTREIS is an MLS in North Texas that covers an area of around 48,000 square miles. It provides service to around 40,000 subscribers belonging to 14 REALTOR® associations, and 6,000 real estate offices. 
What Do You To Display Your MLS's Listings On Your Real Estate Website?
If you want to display an MLS's property feed on your real estate website, you need an IDX solution that integrates with it.
Thanks to AgentFire's Spark Sites integration with leading IDX solutions such as Showcase IDX, you could have a website that displays MLS properties from the vast majority of MLSs from around the country (including the top 10 mentioned in this article).
And thanks to our sites' lead generation and real estate marketing toolset, you'll be able to attract more quality leads, follow a step-by-step agent success gameplan, and have the best customer success team in the business (#1 rated on Facebook for several years on a row now) at your beck and call.
And the best part? You can try out all of its amazing features for free with our 10-day trial.
Check out this article next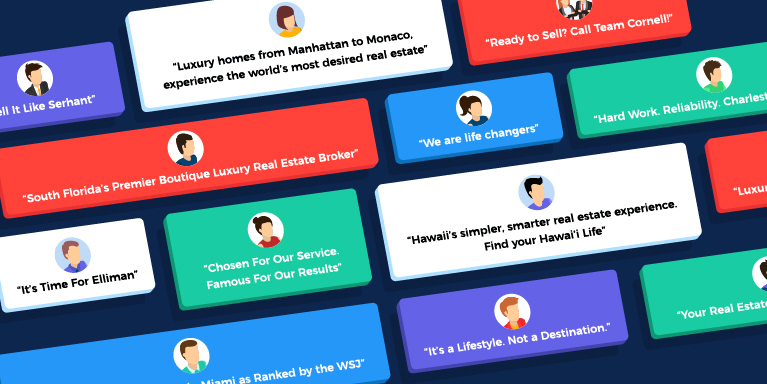 25 Real Estate Slogans to Inspire You
If you want your brand to stand out in your hyperlocal market, you MUST have a good real estate slogan. That's because a good slogan can illustrate …