In the highly competitive world of real estate, it can be challenging to stand out from competitors and attract new customers. Not only do you need to compete with well-established real estate agents, but you've also got real estate portal juggernauts like Zillow and Trulia to contend with.
Homebuyers aren't just looking for the biggest home they can afford. Things like neighborhood quality, proximity to restaurants and shopping centers, distance to the office, etc. all play an important role in any and every homebuyer's decision-making process.
In short, homebuyers aren't just shopping for bargains, they're shopping for a lifestyle.
We ❤  looking at data, and when we look at our clients that close the most buyer deals – they all do a fantastic job at providing value to the specific hyperlocal markets where they are most looking to drum up new business, and in doing so, simultaneously display themselves as hyperlocal experts.
You know what they also do a good job at? First identifying which neighborhoods they should be focusing on, and which types of buyers to focus on in those areas (i.e. first time homebuyers, new construction, downsizers, etc). So without further ado, let's dive into our 6 step system for going from zero to hyperlocal hero.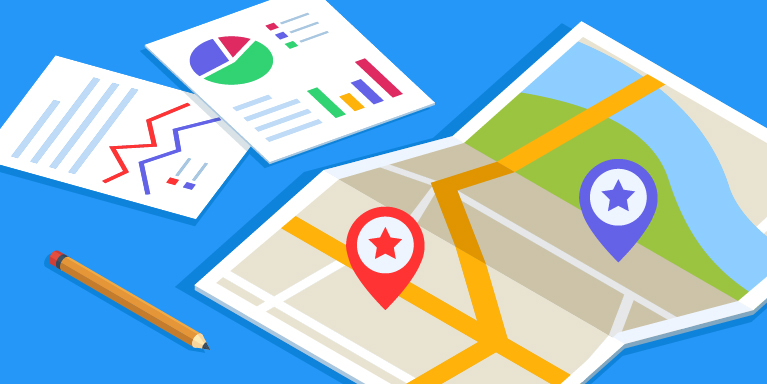 1. Start by identifying the right neighborhood(s) to specialize in
Just because you're already familiar with your neighborhood doesn't necessarily mean that you should specialize in it. Before you start dividing your eggs into baskets, you should make sure that the individual areas you want to focus on make sense to focus on from an economic standpoint.
You can figure this out pretty quickly by performing the following analysis:
Start your market study by studying the US Census data on your zip code, and consulting your local real estate board and MLS for real estate statistics on your target neighborhood.
There are also third-party statistics sites such as NeighborhoodScout that can give you a pretty detailed neighborhood report for a reasonable fee.
Neighborhood stats that'll help you choose your target neighborhood include:
New listings

Pending sales

Closed sales

Median sales price

Average days on market

Inventory of homes for sale

Month's supply of inventory
A basic understanding of these numbers will help you to better contextualize the current state of the market in the specific area you're looking at, which will help you to better estimate your sales volume potential.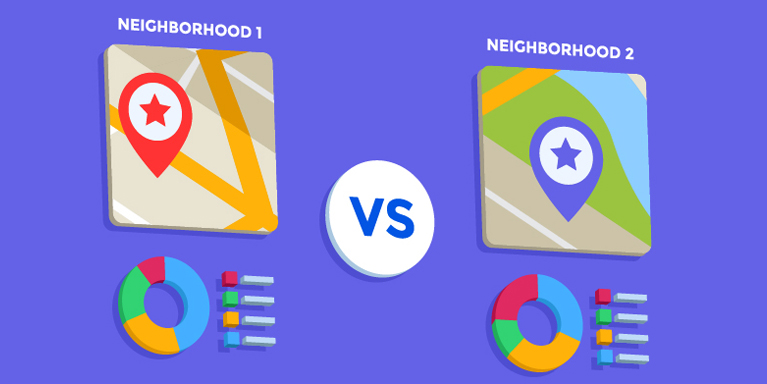 2. Calculate the neighborhood's economic potential
After you've gathered your stats, calculate the commission size you can expect from selling an average home in the area. This will help you understand  the effort needed to meet your financial goal… let's spell this out perfectly for you with a nice example ?.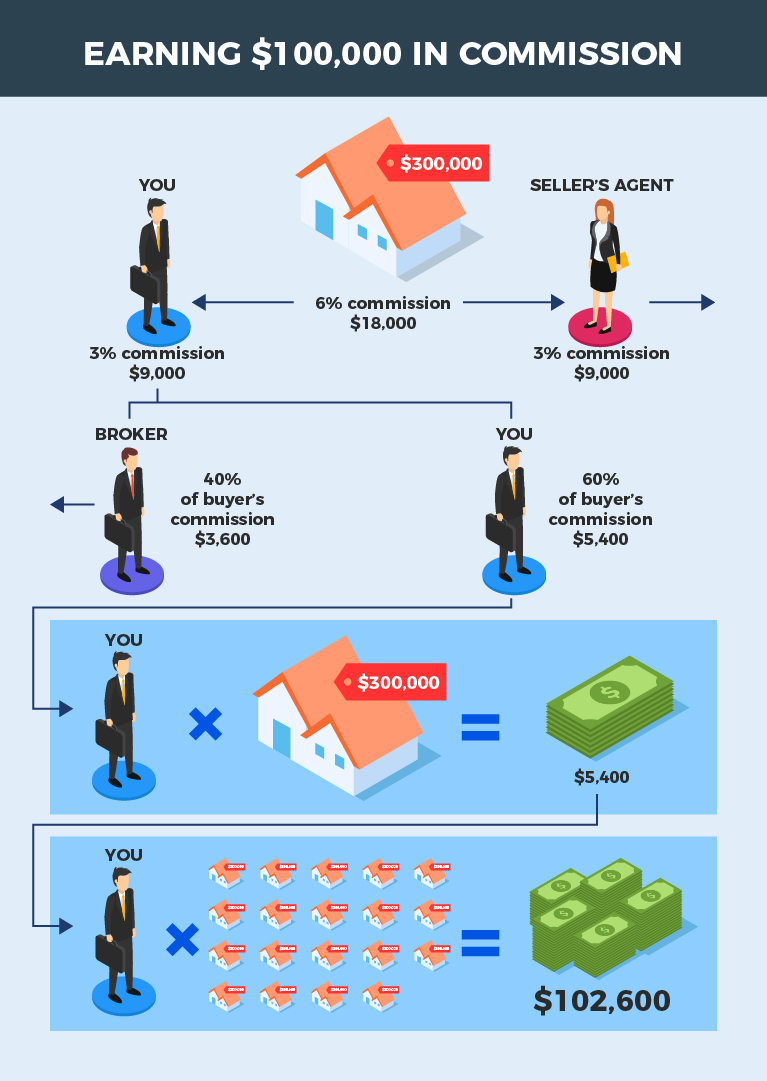 So let's say that your goal is to net $100,000 per year.
Let's assume that for every home sale the commission rate will be 6%.
Per usual, this 6% will be split 50-50, with the buyer's agent taking 3% and the seller's agent also taking 3%.
Next, we'll assume you'll be splitting that 3% 60-40 with your broker.
Lastly, let's assume that the average home in the neighborhood sells for $300,000 (for reference, according to NAR, the national median price for a single-family home as of the 1st quarter of 2019 in the US is $254,800).
So, what sales volume do you need to reach your goal of netting $100,000?
Well, first multiply your commission (so half of 6% is 3%, or .03) – and then multiply that by the % that you're left with after your brokerage takes their piece (so in our example, .03 * .6) = .18, or 1.8% is essentially the percentage that you net from each transaction.
If your goal is to net 100k in a year, you then divide $100,000 by 1.8% (so 100,000 / .18) = $5,555,555.55.
So with the above numbers, you would need about $5.6 million dollars of total sales volume to net $100,000 in a given year.
If each home that you sell is valued at $300,000, that means that you would need to sell nineteen $300,000 homes to reach your $100k/year goal.
In other words, you need to be in a closing every 2-3 weeks. Think you can handle that?
If you find that there's simply not enough real estate action going on in your neighborhood to meet your economic goals, it might be best to find a different neighborhood.
After all, you may find it takes less effort to sell 5 one-million-dollar homes than 19 $300,000 ones.
But it may not! Here are a few other important factors that you need to consider.
Proximity To Your 'Base':

Some markets may seem really attractive, but having to drive out further than 30 minutes may not be ideal or sustainable.

Level of Competition

: If there's less competition from other agents, it may actually be the case that it makes sense to focus on an area or areas that have lower home values.

Level of Happiness:

I wouldn't get out of bed in the morning if I didn't enjoy what I did… and I do what I do

well

because I enjoy it. You should consider which areas you

enjoy

working in when picking the right areas in which to specialize.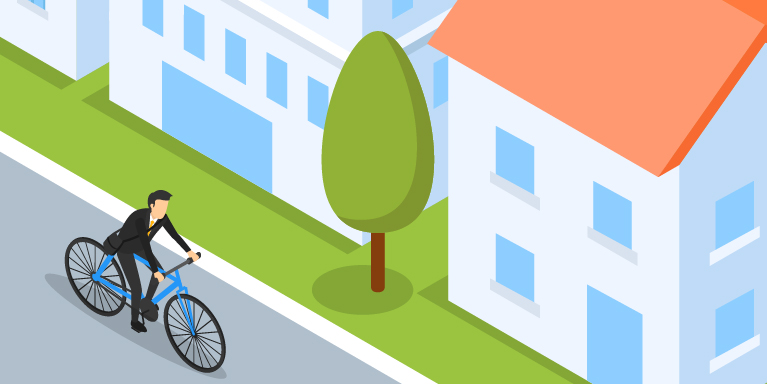 3. Learn the lay of the land
Becoming the undisputed hyperlocal expert in the neighborhood of your choice requires more than an evening or two of intense internet research. You have to hit the streets and actually meet people, especially if you decide to specialize in neighborhoods that you're not familiar with.
To begin, tour the entire neighborhood. You can do so on foot, on a bike, or by car. Identify all the landmarks in the area, such as historic buildings, schools, event halls, sports arenas, bus stops, shops, parks, etc.
If you're one of our clients, this is a great opportunity for you to snap some photos or grab some videos of the area that you can upload to the Area Guide pages on your website.
Learn the street names, the quickest routes to major freeways, the airport, train stations, etc. In short, your goal is to become the human version of Google Maps in that area.
Finally, you have to know your inventory. Study the types of homes you can find in the area (and the kind of people that live in them!)
Find answers to some of the most important questions that interested buyers are likely to ask, such as:
Is your neighborhood primarily made up of high-rise condos, mid-rise apartments, townhomes, or detached single family units?

Are there any major gated communities?

What's the age range in the area?

What's the median household income?

What kind of jobs do people have?

How are people financing their home purchases?

What's the unemployment rate?

Is the population growing, shrinking, or remaining the same?
Another great idea (I'm a huge fan of killing as many birds with one stone as possible) – in addition to snapping some photos & videos, why not put together a 'Top 10 Things To Do' type article for the area that you're investigating.
Here's a great example of that one one of our clients websites: 10 Bucket List Things to See and Do in Bridgeport.
All of this information will be essential towards proving yourself as the local area expert to your prospects. Sure, it may seem extreme to study your neighborhood in such detail, especially when you can look up a lot of this info online.
The problem is that buyers spend more time researching homes online now than they ever have before.
By the time they talk to you, they already have a pretty good idea of what's in the area, and so having a 'pretty good' understanding of the area isn't good enough.
If you call yourself a local expert, "pretty good" isn't good enough!
Imagine you were working with a top-rated surgeon who had to look up the name of his surgery tools during an operation… that doesn't inspire much confidence, does it?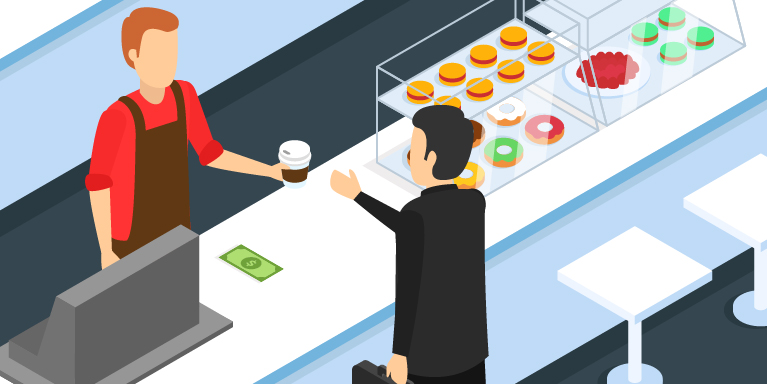 4. Connect with small businesses
In every town, city, and neighborhood, there are always a few small businesses that are popular with the locals. Whether it's a family-owned restaurant, a historical landmark museum, or an eclectic gift shop, these places are often synonymous with the local community.
If you put the effort to connect with the owners of these small businesses, you'd be taking a huge step towards establishing yourself as an expert in your local area.
Start by introducing yourself to these business owners as a local real estate specialist who wants to highlight some of your community's most popular attractions.
You can even offer to highlight their business as part of your content marketing campaign on your blog, YouTube channel, and/or social media accounts.
This tactic is a win-win situation. The local business gets free advertising. And by showcasing the local business through your content marketing, you have social proof that you're the go-to expert in your community.
You may even find that some local businesses have unique marketing opportunities for you, which are often a great value.
I'm from Long Island, NY, and at my local diner, the menu's feature partial/full-page advertisements for local area vendors and service providers – one of the top local real estate agents has a full-page advertisement right on the front of the menu.
I think this is a brilliant form of brand marketing and a great way to showcase local expertise and to burn your brand into the (hungry) minds of people in the area.
Pro-Tip: As an added bonus, if you make good connections with local businesses, not only will they keep you in mind if they need to relocate or expand to a new location, but they might also recommend your services to their customers, friends, and family members.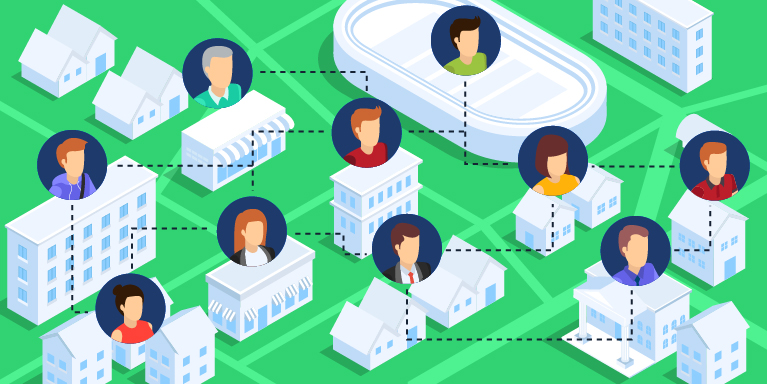 5. Get involved in the community
When it comes to selling real estate, trust is one of the most valuable components of your brand identity. That's because you're helping people make one of the biggest decisions of their lives.
If you want to learn a bit more about how to leverage social proof to inspire trust online.. check out this masterful article.
So how do you convince your neighbors that you are the competent and trustworthy real estate professional that you claim to be? Get involved in the community!
There are plenty of ways to gain visibility in the community. But fair warning, they require more of a hands-on approach.
For example, you can:
Get involved with a local charity

— Volunteering with charitable organizations in your area will demonstrate your commitment to the betterment of your community.

Sponsor a little-league team

— Sponsoring your local little-league team is a fantastic brand marketing strategy that makes you synonymous with family values and community engagement.

Attend a local town council meeting

— From potholes, new school buses, and city ordinances, everything that happens in these meetings can affect your business. This is a great way to keep your clients in the 'hyperlocal loop' and one of the best ways to craft unique, value-heavy, hyperlocal content that you can send out to your email list.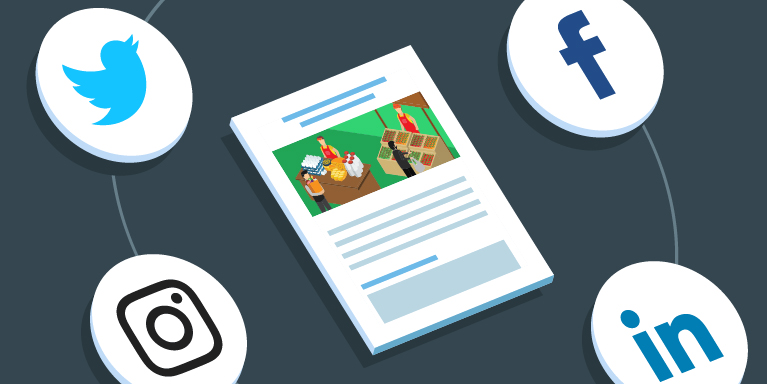 6. Create hyperlocal content for your real estate blog and social media profiles
Don't keep your well-earned expertise to yourself… share it back with the community!
And hey, remember what we said about top-producing agents at the beginning of this article? Something else that they do extremely well is that they connect everything that they do…. Kill multiple birds with one stone.
So let's say they write a review a review of a local restaurant what they'll do is share that review to their blog, their social networks, and even local community type Facebook groups… and they try to leave business cards with the ownership or strike up some sort of 'back-scratching' reciprocal type of relationship with the owners.
Make sense? In other words, aim for maximum impact with your efforts.
Your website and social media pages are great tools to build your credentials as a local expert. You can do this by engaging with locals online about everything that's going on in the area.
Pieces of content you can share include:
Your personal reviews of local restaurants

Property tours

Calendars of upcoming events

News about local real estate developments

Pictures and videos of local events

Stories about some of your happy clients

Infographics (which you can have these made inexpensively at Fiverr.com)

Reasons why your community is a great place to live
If you regularly update your blog and social media accounts with valuable content that's relevant to your readers AND your local market niche, they'll keep coming back to you, and you will further cement yourself as the local expert.
In Summary:
To wrap things up here, becoming the local real estate expert will take some time and a bit of elbow grease, but the results are always worth the effort and long-term in nature, since you are building your brand and reputation as the go-to agent in the area.
You'll simultaneously attract more buyers, sellers, and referrals… AND you'll be better equipped to help them meet their real estate goals… which will help you attract more buyers, sellers, and referrals… and so on and so forth ?.
Before you dive into specific areas, do some analysis and research and figure out the best areas to direct your efforts… then find low-hanging fruits that translate just as well online as they do offline, to provide value to potential & future buyers… which will simultaneously demonstrate you as the local expert.
Any other ideas relating to how to position yourself as a local real estate expert, especially in a new area? Feel free to share them in the comments below ?
If you enjoyed this article, and want to improve your hyperlocal marketing skills, make sure to subscribe to our newsletter – we send out value-packed articles like this one every morning so that you can sharpen your skills and learn new strategies over your nice delicious cup of coffee ☕.
And hey — if you're REALLY looking to optimize your hyperlocal real estate domination strategy, you need to check out our Spark Sites, the #1 rated real estate solution on Facebook & Google for multiple consecutive years. The best part is that you have absolutely nothing to lose thanks to a 10-day free trial. If you're interested, click here.
Cheers and see ya in the next article!