Our new update makes it easy to create and edit area guides, get technical support, and learn about digital marketing best practices.
We've released a new version of area guides!
Here at AgentFire, we always strive to provide powerful, efficient, and easy to use tools to help you dominate your hyperlocal real estate market. We KNOW how valuable your time is.
A huge part of our development budget goes toward mastering the Spark Site user interface (UI) and improving all the capabilities and integrations of your website's digital marketing toolkit.
We understand how important it is for your admin dashboard and end-user experience needs to be as intuitive and easy to use as possible. Which is why we're happy to announce our newest user interface update for the Area Guides tool.
So if you already own a Spark Site, you'll see a big change from our previous design. But don't worry — the changes are fairly self-explanatory, and the user interface is now easier to use and understand. ?
What's new with the Area Guides tool?
As one of AgentFire's flagship features, we paid special attention to Area Guides to make sure they're as valuable, flexible, and easy-to-use as possible.
With this update, everything you need to manage your

Area

,

Neighborhood

,

Development

, and

Lifestyle

related webpages are organized in your new, simplified Area Guides menu: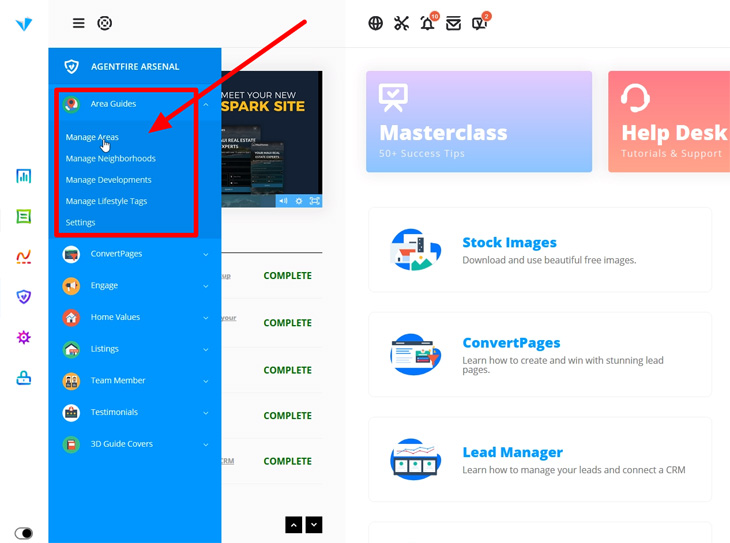 On the left panel, you'll notice the new "Success Management" articles. These articles 

will help you leverage your AgentFire tools and dominate your hyperlocal real estate market. Here's what it looks like: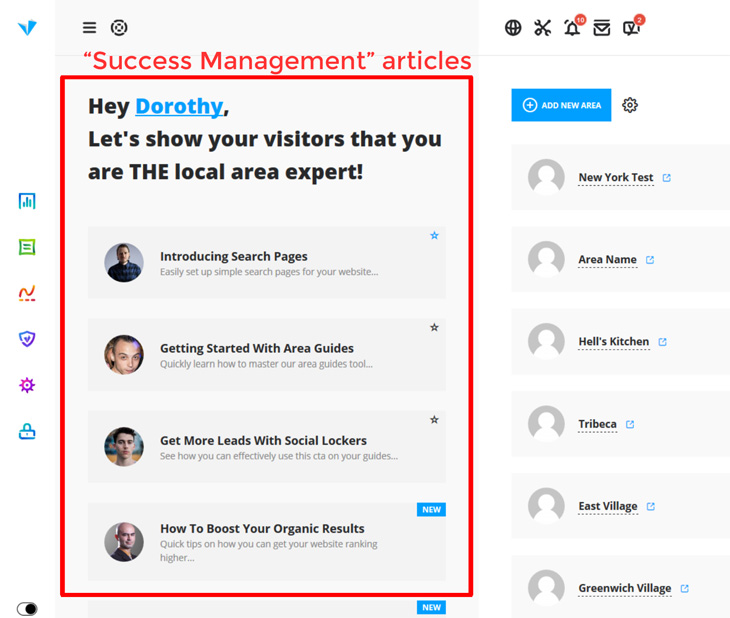 Based on your feedback, we've made it easier to manage your local guides. Now you can add a new Area Page, manage web design and SEO Settings, find an Area Page with a Search Bar feature, and assign specific agents to specific territories. You can access all of that through the

Actions

dropdown menu on the right-hand side of any Area Page: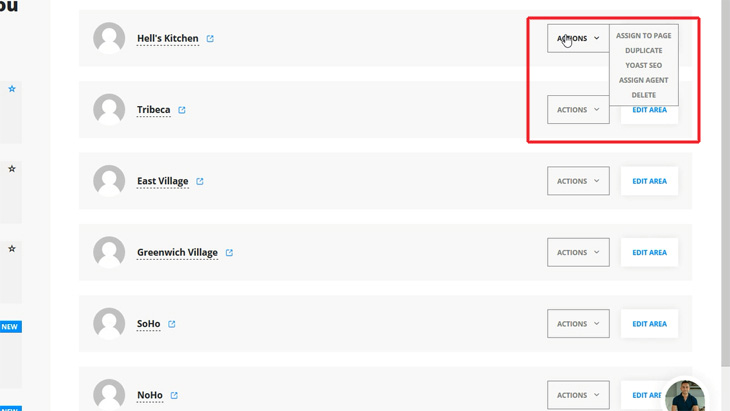 We also updated the Area Guides editor, making it even easier to replace our demo content with your company's hyperlocal content. When you click the Edit Area button, the  Spark Editor slides in on the lefthand side of your screen, like this: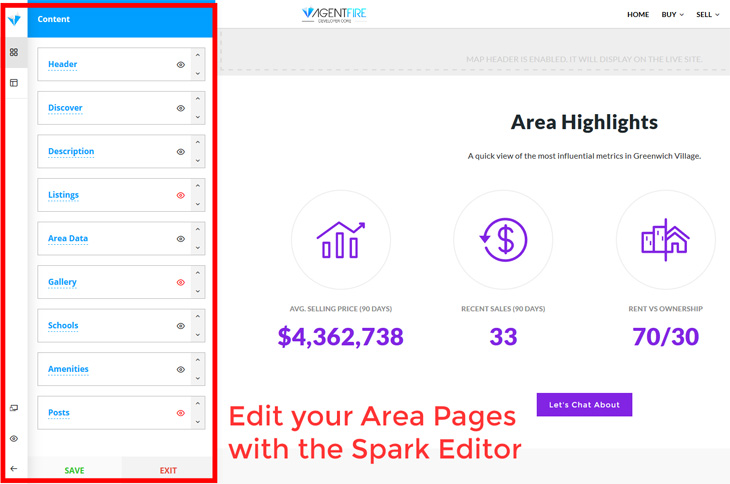 From here, you can edit every aspect of your Area Pages. You can manage their layouts, hide or show any sections you need to, add custom demographic data manually, and more…
Now support is only a click away. You can submit a support ticket by clicking on the AgentFire Support Icon in the bottom right corner of your dashboard: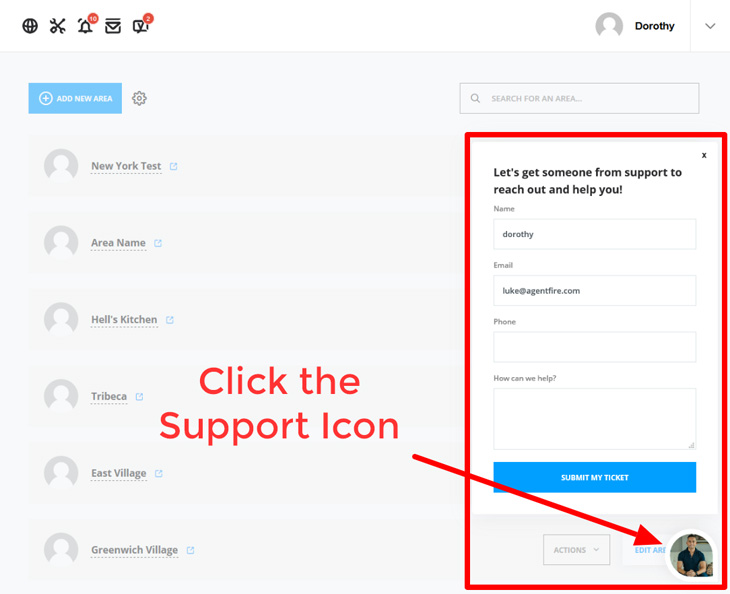 These are just some of the updates being rolled out immediately. Over the course of 2019, we'll be releasing the same admin tool updates for all AgentFire Arsenal plugins. AND, we'll release new lead generation tools and a few new frontend design updates that will help you keep your strategy aligned with current and upcoming real estate trends.
If you have a question about this or any new update, you can always contact us on the Help Desk tab on your AgentFire dashboard.
So what do you think about the new Area Guides look? Let us know in the comments!
And hey, if you don't have your own Spark Site yet, start your free 10-day trial today and get more clients faster with your own lead generating tool kit. ⚔️
Check out this article next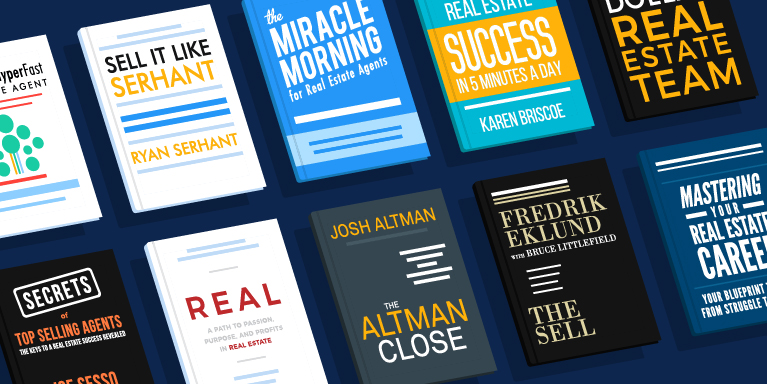 30 Essential Books For Real Estate Agents
There's a ton of content online. Some of it good, some bad. Articles are great for tactical tips and tricks. However, sometimes you need something …