Success as a new real estate agent requires a lot more than just passing the exam. Here is what these multi-million dollar agents want you to know.
Any successful agent knows that it takes a lot more than a real estate license to find success in the industry. In fact, about 85% of real estate agents fail within the first five years of starting their real estate careers. The path from the final exam to ongoing success is unclear, confusing, and often ends in failure.
How do you establish your brand? How do you know you're dealing with clients correctly? And where the heck are your potential clients anyways?  
"You get thrown into it after you get your license and then it's like, okay, go sell homes!" says agent, Lukasz Kukwa. 
Pay close attention if you're a beginner or experienced agent looking to refresh your real estate career. We spoke with two top producing realtors, Lukasz Kukwa and Dallas Tung, about how they started their real estate careers on the right foot and the mistakes they made along the way. 

After years spent working on home renovations, Lukasz Kukwa spotted a huge disparity in his local real estate market. Most agents, Lukasz says, were hyper-focused on the transactional part of selling a home and were missing the opportunity to offer better overall service. For the last five years, Lukasz has brought his fresh, client-oriented perspective to the New Jersey real estate market. 
"There are a ton of people who don't understand how a home was made, the structure of home, why one home is better than another from a constructional and affordability standpoint," he says. 
Find Your Unique Selling Point 
After noticing a pattern of agents hopping from one client to the next in order to sell as many homes as possible, it became clear to Lukasz that he had to provide something different. 
He switched the focus back to the clients and took on the standpoint of an advisor over a sales person. This unique selling point was the conduit to the rapid success that followed. 
It was all about service over sales: prioritizing guiding people through misconceptions and any confusion they had with the process. Instead of acting only as the liaison between buyer and seller, Lukasz became an educator and thought leader. 
View this post on Instagram
"When I came to the business, I was second guessing how do agents help people?…I started approaching it as if I was buying it…that's where I bought all in and found my value proposition…but it took a few years."
If you're looking for a unique visual brand identity, check out our branding and logo integration. Our AgentFire web designers build custom brand designs made to help you stand out in your local market. Book a demo with us to learn more.
Be True to You – Even in Business
Lukasz sticks by the principle that not only is it important to know your personal morals and values, but it is essential to maintain them in your business as well. There's truly no replacement for authenticity, no matter how you choose to run your business. 
"A lot of times in this business you get squirrel mentality… this person is doing this, so I'm going to do that and do as well as they do," he says.
Agents who manage their career at arm's length often give-in to any lucrative idea or trend that comes about, losing the heart of their business at the same time. Treat your business as a part of your life that also reflects who you are, not as a money-making machine separate from you.
"No one has it all figured out – even someone who's been in business for 30 years who I would look up to and they were asking me a year or two in, what I was doing!" says Lukasz. 
When in doubt, carve your own path based on how you would like to be serviced. 
When asked if he has any last helpful tips Lukasz says, "Just Care. Put your all into everything. If you don't know something, don't say that you do."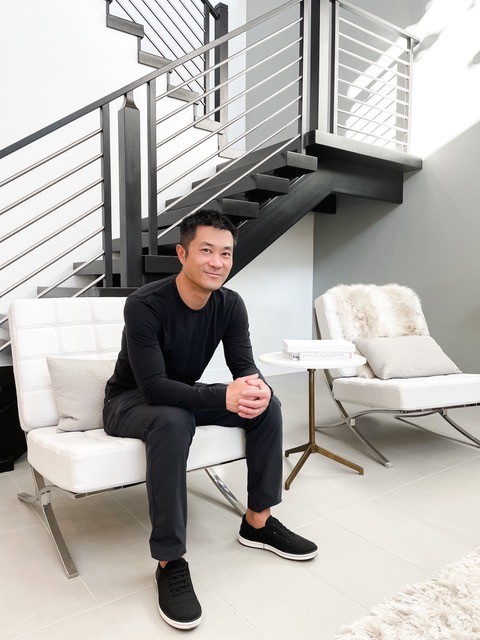 Nevada Agent, Dallas Tung, has worked with hundreds of buyers and sellers in the most expensive and competitive markets in Las Vegas. In his first year as a real estate agent, Dallas sold more homes than most beginner agents would even dream of – but it wasn't without hard work. 
"I was able to do 20 in my first year; over 10 million dollars in sales. So, if I can do it you can. But it wasn't easy," says Dallas.
Get A Free Personal Demo
Ready to revamp your real estate marketing strategy and dominate your hyperlocal area? Our expert web designers will show you how. Click the button below for a free 30-minute demo of our AgentFire Spark Sites.
Double Check
Judging by current success, it's hard to believe that even Dallas made embarrassing mistakes as a beginner agent. Yet, his ability to take these mistakes and use them to clarify how he'd run his business going forward, is what set Dallas apart early on in his career. He describes an experience that stuck out in his mind:
"One time we had a showing – I think it was a rental. The tenants were in the house…you see shoes everywhere in the entrance. The kitchen was full of food…pots, pans, stuff. The house was a mess. As we went upstairs, there were still people sleeping in the rooms…Big dog poop in the backyard. My client was like ' Dallas, that was very awkward and unpleasant'."
Years later, Dallas still sticks to the principle that you can never be too prepared. Regardless of whether you are showing a home virtually or in person, do a walk-through first – especially if the homeowner is going to be there. Never expect a home to be in perfect condition for showing without seeing it first yourself. 
Use Video Content to Find Leads 
When asked about the most frustrating part of his early real estate career, Dallas immediately pinpointed lead generation. Cities such as Las Vegas are overly saturated, especially with the wave of real estate beginners that popped up during the pandemic. You'll have to take lead building seriously if you want to build your network. 
"I recommend making engaging videos with hooks…That's your best way," says Dallas.
View this post on Instagram
Your digital real estate marketing plan needs to be consistent and conducive to building relationships in order to expand your network. Create clear video content that gets to the point and gives potential clients the information that they are looking for. When it's time to purchase a home, you will already be their trusted hyperlocal expert. 
Always Have a Mentor
For Dallas, mentorship doesn't end after an agent's first year at a new brokerage. A mentor relationship and overall willingness to learn is something agents need to maintain throughout their entire career if they want to stay at the top of their local market. Years after having his first one-on-one mentor, Dallas still keeps up his real estate marketing training with Tom Ferry. 
AgentFire and Tom Ferry's Real Estate Website Masterclass is a must for any agent, at any point in their career. This free masterclass breaks down everything from drip campaigns to driving results with IDX and the best video opportunities for real estate agents. 
After years in the industry, Dallas still consistently passes on his knowledge to other upcoming agents. He meets every week with his own team and runs through any concerns or questions with them. 
"Million Dollar Listing and Selling Sunset are not going to show you how hard it is to be a top agent," says Dallas, " So just stick to it and work hard". 
Wrapping Up…
No single piece of advice can guarantee success for every beginner real estate agent. You're bound to make mistakes along the way and it may even take a year or two to understand your brand, but that's no reason to quit. Be open to constructive advice and take note from successful agents who came before you. Above all, don't give up and stick to your vision. 
Check out this article next
The Security Technology Keeping Real Estate Agents Safe in 2023
Real estate isn't typically a dangerous job. However, agent safety becomes a real concern without the proper precautions or awareness. Particular time…