Learn to build a comprehensive CMA that will help your ace your listing presentations, and help your clients to price their homes to sell from day one.
If you're a real estate agent or are interested in real estate in general, you're likely very familiar with the terms CMA, comps, and adjustments. 
CMAs are, after all, an essential part of a listing presentation. They help your clients get an accurate read of the market, provide you with real data to convince yours client to price a property to sell from day one, and help you look more authoritative in your listing presentation.
That's why it's absolutely important that whenever you craft a CMA, it should be accurate, comprehensive, and above all, easy to understand.
In no uncertain terms, this article is everything you need to understand what a real estate comparative market analysis is, and how to do one from start to finish, along with suggestions to elevate your CMA game.
Let's begin.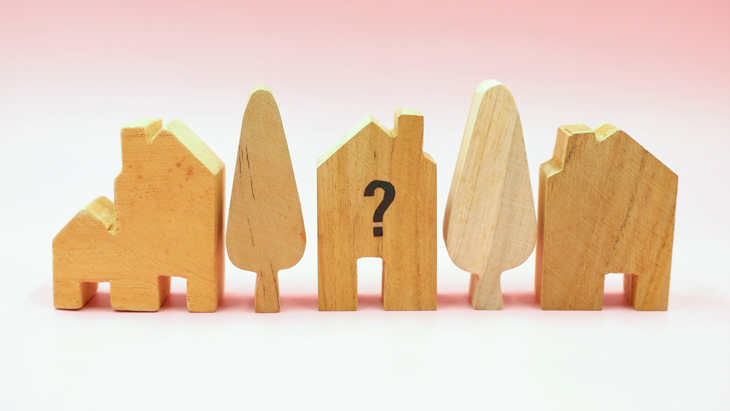 What Is A Comparative Market Analysis? 
A real estate CMA stands for 'Comparative Market Analysis.'
It's a document that compares several properties similar to the client's property that have been sold recently. Its main purpose is to demonstrate to a buyer or seller how much the current real estate market is willing to pay for their property. 
A good CMA takes into account the client's homes' unique selling points in order to come up with a more accurate price tag.

Unlike what a Zestimate may lead you to believe, it's impossible to come up with a single specific price tag with 100% accuracy.
But coming up with an accurate range is actually pretty straight forward if you use reliable market data.
Your role as real estate professionals is to take your hyperlocal expertise, and all available relevant market data and turn it into an easy-to-understand 'field guide' for your prospects. 
That way you can help them make better pricing decisions, and get their home sold for the best price in their market, within their goal time frame.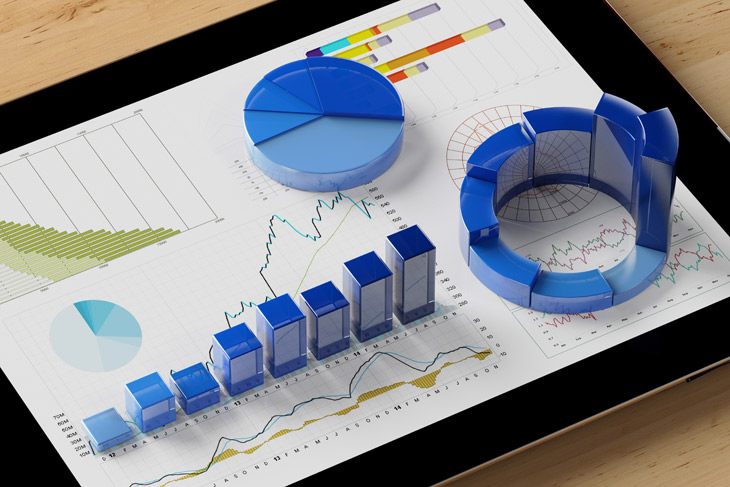 How To Do A Comparative Market Analysis (CMA) 
There are 3 essential steps to put together a CMA report:
Study your subject property

and collect pertinent details

Find comparable

sold properties that are very similar to your subject property. In some cases, you may want to include expired or recently listed properties to make an argumentative point.

Using your data from steps 1 and 2, calculate adjustments, and

determine an appropriate price/price range

for your subject property.
Let's take a look at each step separately.
Study Your Subject Property
At this stage of the CMA, we're documenting every single detail of our property that may contribute towards its initial asking price. We leave no stone unturned. We look at things like:
Location
Lot location (Is it in a cul de sac? On a corner? If the lot is in a desirable location, it will positively affect the price).

Proximity to amenities such as schools, parks, grocery stores, etc.

Proximity to major roads and intersections.

Tax Rate (Even properties that are side-by-side can have wildly different prices)
Structure
Square footage

BR, FB, HB, GAR (How many bedrooms, full baths, half baths, and garages?)

Curb appeal 

Condition

Style

Date built

Appliances and upgrades
External Market Factors
Housing inventory (If supply is low, demand is high) 

Macrotrends (Is the market 'hot'? Any new construction? Employment opportunities? Local development?)
Find Comparable Recently Sold Properties
Comparable Sales or 'comps' are the meat of a real estate CMA. 
But which properties are truly comparable?
They are recently sold properties that are the most similar to our own subject property. Of course, no two properties are 100% the same, even if they have been built using the same blueprint. 
But we can find similarities by using factors such as the number of bedrooms, number of bathrooms, square footage, time on market, location, nearby amenities, etc. These factors are typically used by buyers and appraisers to come up with property price estimates as well.
By using these factors, we can come to a fairly accurate estimate of our property's current perceived market value.
Of course, it's not always possible to find enough comps in the same neighborhood to put together a CMA. In that case, you will need to widen your search area, or even use the services of a real estate appraiser.
Our goal is to find the closest matches, then counter any discrepancies by calculating adjustments, which we'll discuss in the Price section.
Get Our Pricing
Want to dominate your hyperlocal real estate market? Then you need to check out AgentFire's Spark Sites.
Click the button below to learn more about pricing.
How to Find Real Estate Comps
For real estate agents, we can pull up comps using our MLS. In fact, most MLSs have a native fill-in-the-blanks CMA generator.
For now, let's look at how we would manually pull comps, come up with a price, and put together a comprehensive CMA using publicly available data.
Our tool of choice for this task would be Redfin. Since Redfin is technically a brokerage, it has the advantage of being able to use MLS memberships, although there is a delay between system updates and on-site updates.
Zillow and similar sites are data aggregators that scrape public county databases. However, not all counties consider this information public, so your mileage may vary.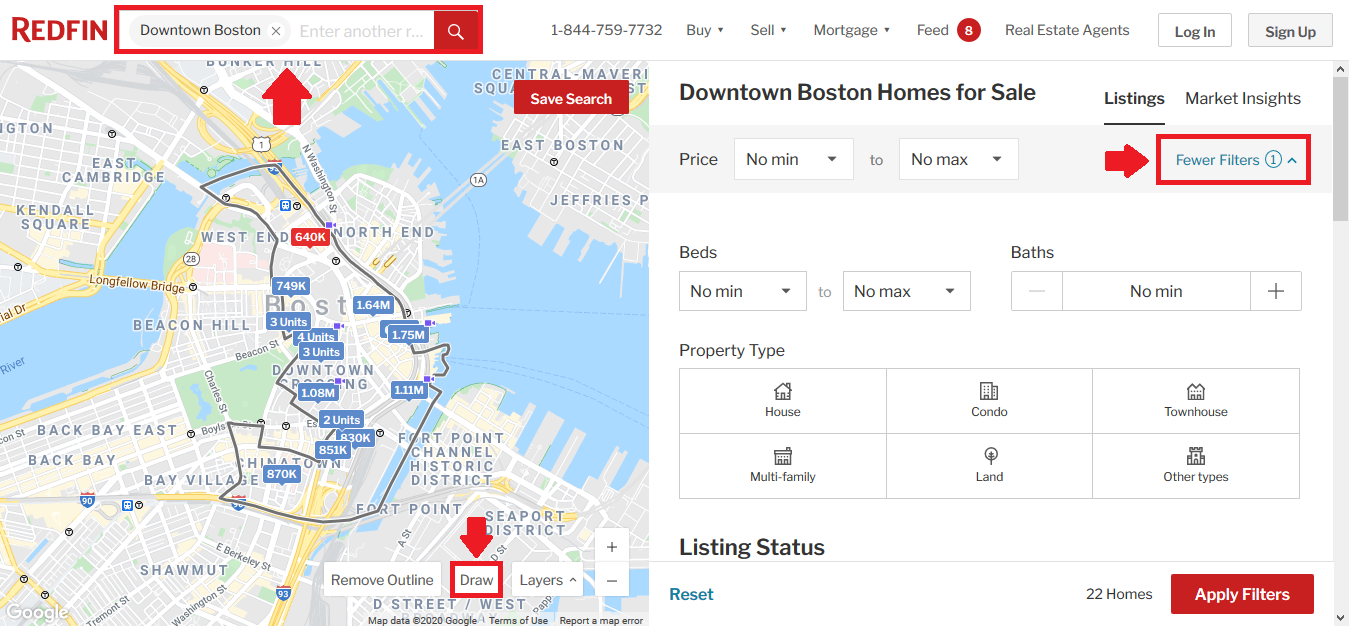 This is what the Redfin workspace looks like. We would enter a location or our subject property's address and use the filters tool to narrow down our search.
Where we would typically draw a 1-mile perfect radius with an MLS, here we can draw any shape we want with the 'Draw' tool. 
We can zoom into any location and the 'catalog' on the right-hand side will update automatically (after applying filters).

Now, this filter in particular is the first thing we should input. Why?
For Sale properties reside in the dimension of projections, estimates, and opinions. Not a great place for an emotionally-fueled transaction.

Active listing prices do NOT indicate fair market value. We can literally list properties at any price we want. Paired with DOM (days on market), this will come in handy as an objection handler for agents.
When it comes to real estate CMAs, we always want the most recent data so we start filtering at 3 months. 
How To Do A CMA On MLS 
Benefits of Doing a Comparative Market Analysis on MLS:
✔ CMA templates useful for quick analyses
✔ Real-time data
✔ Most ACCURATE data
✔ Additional native tools like chart builders that help clients visualize your rationalization
✔ Reliable data not only for solds, but also for active listings and soon-to-be-expireds – and in some cases, actual expireds depending on your MLS (this will be useful for the last section).
For this task, we'll be using Bright MLS but most MLSs have the same interface and similar step-by-step processes:

Pages – Decide what pages from the comparative market analysis report any additional branded pages you might want to include
Subject – We input our subject data here either manually or through one of the many autofill methods available, including directly from a contact or through Tax ID. We can also add custom fields that we can save to templates.
Cover – This is simply the cover page of your CMA.
Comparables – During this stage, we pull comps from either a map search where we can input our comp criteria, or we can pull them from public tax records. The results appear in list form, where we then select the most viable comps for our CMA.
Now, we can do something really cool with an MLS. We can go one step further and list down expireds and active listings – along with their DOM stat (days on market). 
Separate from our viable comps, we can list those as case studies to handle price objections from our clients.
Map – On this page, we can see our property along with our comparables plotted on a map – if the subject property was inputted manually, it won't appear on the map along with our comps.
Adjustments – On this screen, we'll be assigning feature values to our comps in order in an attempt to level them out with our subject property. We'll discuss this more in the last section.
What are Real Estate Adjustments?
We're unlikely to find properties that are 100% similar to our subject property. To compensate for that, we factor in adjustments to our calculation.
In order to do that, we assign values to features – such as upgrades, pools, square footage – to make the difference between properties. 
We then indicate whether that feature adjustment is negative or positive relative to the property.
Next, you need to study recently sold properties in the area, and calculate what difference the difference in that feature makes in the price.
Many MLS can do this task for you automatically.
In addition, it might be a good idea to reach out to appraisers and consult your broker.
Final Computations
Finally, we can take our adjusted prices and present a Low, Medium, High, and Average price range estimate to our clients.
We can also recommend a suggested list price. 
As mentioned, we'll have to account for unseen factors such as inventory and macro trends which is something you, as your neighborhood's hyperlocal expert, should be keeping tabs on.
You can even go a step further and list down expireds.
Take Your Real Estate CMA to the Next Level
Remember, the final goal of an agent's CMA is to get you and your clients on the same page on a price that will get their home sold for fair market value within their desired time frame.
What data can we turn into visuals so our clients can digest the information better?
Paint a picture…
Here's a simple graphic we made to illustrate the additional frustration and loss that a seller would have to go through if they continue to insist on overpricing their home: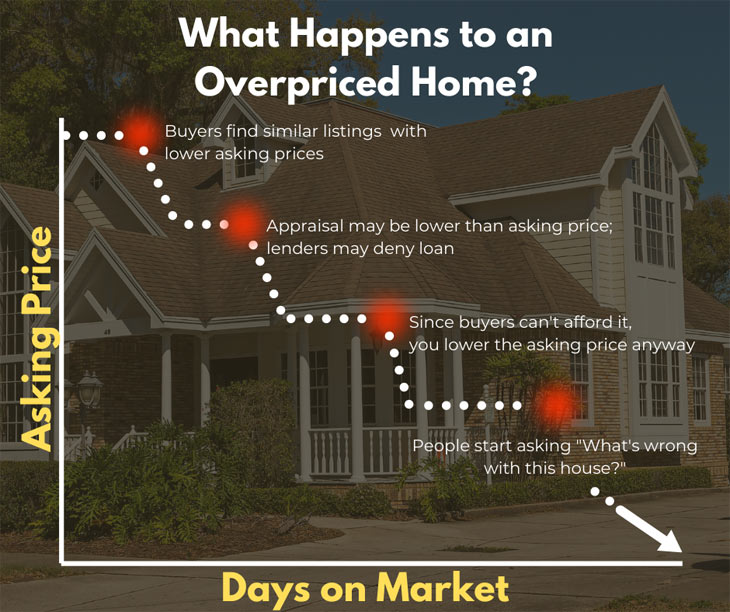 Want to make your own?
We have a list of FREE creative and research tools in this article: The Ultimate List of FREE Real Estate Marketing Resources – it has everything we used to create this graphic.
Plus, after creating these assets you can repurpose them a couple of different ways – one is by posting them on social media as informative content.
Check out how Keeping Current Matters does this on their Instagram account.
Here are a couple more ideas of the kind of information you could turn into a graphic:
Local inventory vs demand

Market trends

Housing Market recovery update (

which looks encouraging

)

Local construction and development (you could even turn this into a graphic map indicating soon-to-come businesses)

Local employment

A decline in Covid-19 cases on a neighborhood level
The power that you hold lies in your insider knowledge – consider that you work with listings all week, you're surrounded by industry professionals, you have open conversations with buyers and sellers, and you have access to the MLS.
Beyond agents, real estate professionals are advisers. 
You have the information. Why not try out some of the tools in the article we just linked and find creative ways to present it?
Stuck? Try hiring a graphic designer on Fiverr and ask them for an hour of their time to show you how they would do it and get some ideas for future projects.
Or if you have a more creative colleague, treat them to some coffee and have a quick workshop.
The bar is getting higher, you guys. We can't stop learning new skills to make us better at what we do.
Conclusion
CMAs are like burgers. The comps are the patty. What matters the most is our ability to gather accurate information and apply the necessary adjustments.
But what sets a CMA apart – the lettuce, tomatoes, pickles, secret sauce – lie in our ability to take all this information and communicate it to our clients.
What can an awesome CMA do?
Get clients on the same page with us about pricing

Help our clients make intelligent decisions about the transaction

Be a great piece of marketing collateral – make sure you stick some business cards on there

Be an effective tool for listing presentations – check out how top producer Loida Velasquez uses her CMA along with Kevin Ward's listing presentation to educate her client and build their confidence in her ability to get them the best price at the soonest date.

Watch the live roleplay here

.
Take the time to create your CMA with love so you can stick your calling cards on there proudly. If you take the time to do CMAs routinely and record your projections, you'll start getting better at putting together analysis reports and making quick estimates.
If you want to get creative with your CMA, you can check out our The Ultimate List of FREE Real Estate Marketing Resources.
And if you want to take at AgentFire's arsenal of real estate marketing tools, including its single property website construction tools, why not schedule a tour and a demo?
This tour can either be guided with one of our customer success agents (who would be happy to answer all of your questions).
Check out this article next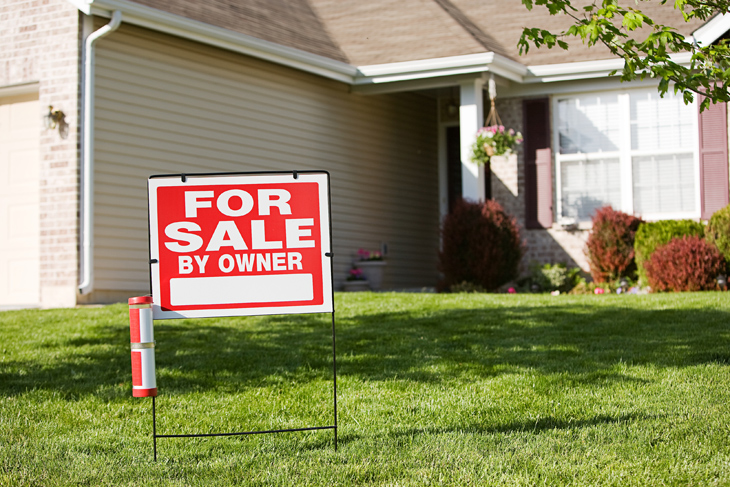 4 FSBO Scripts To Help You Capture More Leads
Dealing with For Sale By Owners (FSBOs) can be intimidating. Not just for new real estate agents but also for seasoned veterans. FSBOs are, after all,…