We're ringing in the new year for 2019 by releasing the first in a series of new features to your administrative dashboard this Friday, 1/4/19! Because growing a productive real estate website shouldn't require a degree in rocket science.
This Friday, January 4th, will mark the first in many dashboard updates scheduled for release this year.  Each update is aimed at improving your ability to access and use the most powerful features AgentFire.com sites have to offer.
We started this process this last year and began by listening to our client feedback.
We also applied what we learned from our last dashboard update, which took place in 2017.  The result is an entirely new suite of enhancements to shorten the learning curve for new users.  Our overall goal is to improve how quickly agents can effectively generate tons of real client leads.
This includes making improvements to the admin appearance, improving post-launch setup recommendations, and developing new coaching categories.  This coming year, we will continue to place coaching tips front and center where they can be most effective.
New Masterclass and HyperLeads dashboard links
We also began the creation of new categories of content specifically to provide expert advice and feedback for less common use case examples.  This includes unique and powerful optional features within our AF suite of plugins.
Topics in our Masterclass include avoiding or eliminating common mistakes, saving time and money, and keeping your time spent growing your brand online super efficient.
Among this Friday's release are improvements to the navigation menus.  These focus on faster transitions between content areas, as well as a simplification of titles and categories.  Crucially, your primary dashboard now highlights some of the most important secondary resources available.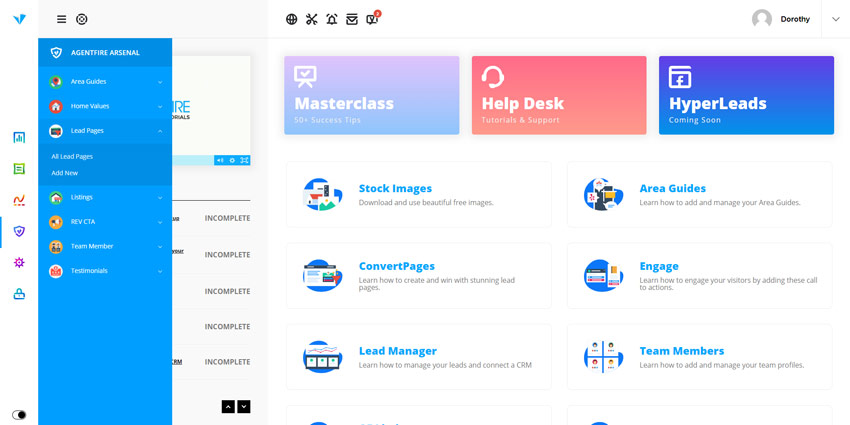 Additional post-launch videos we will add throughout the first half of 2019.  These aim to shorten the learning curve and improve goal completion time-frames.
Each video begins by covering a recommended post-launch topic in depth to describe what works and why.  Expect these to help you connect valuable services that monitor or improve site health.  They will remain easily accessible in the dash panel so that you can reference them anytime.
Upcoming Analytics Data Display Options
Analytics enhancements are also coming directly to the dashboard.
This data will make it easy to participate in the monitoring of your site health.  Analytics data pairs well with the upcoming premium HyperLeads content updates which focus on taking the mystery out of running advertising campaigns.
Overall, we are very excited about 2019!  We look forward to another year of delivering results which enable our clients to thrive online.
Are you considering a purchase of an AgentFire.com site? Speak with an expert to review your business needs in a free demo!