Google ranking is a major factor in driving traffic to your real estate website. Here's how to get to the top of search results and own your hyperlocal real estate market.
Your Google ranking is an easy way to find out how you stack up against the local competition. Google is a tool made to answer specific user questions, which means that the website with the most authority and relevance for a specific question is the most likely to be at the top of the search engine results pages.
Competition can be fierce, especially in an industry as volatile as real estate. Even if you aren't on the first results page yet, someone is and there's a way to get there. It's just a matter of learning how to satisfy Google EAT requirements: expertise, authoritativeness, and trustworthiness.
First thing first: check your Google ranking.
The easiest way to check your Google rank is to do a manual search. Use an incognito or private window and type your name and/or business name into the search bar. Dive deeper by typing in some relevant keywords for local real estate agents and brokerages. See where your website is in relation to competitor websites. From here, you can get a bird's eye view of what other sites are doing better or worse than you.
Challenges with Google Search Ranking
Ranking on Google search results as a real estate agent is a bit different from any other industry because of a few unique factors:
Competing with Monster Marketplaces: Major real estate marketplaces like Zillow, continue to grow in popularity. Agents have to work even harder to appear in their local search results.
Limited Keywords: There are only so many specific keywords related to your local real estate industry. If your service area is oversaturated with real estate agents, you will likely all be competing for many of the same keywords. Keyword research is crucial.
IDX and Duplicates: IDX (internet data exchange) listings are shared among realtors, so there is a high chance of duplicate content. Duplicate content muddies search results, making it harder to find your webpage.
Organic SEO vs Local SEO
SEO (search engine optimization) is the foundation of a positive Google ranking. If your content is search engine optimized, that means all search engines (including Google) will see your page as trustworthy, authoritative, and useful for their web visitors. There are two types of real estate SEO you'll need to understand: Organic SEO and Local SEO.
Organic SEO entails preparing your website to be found through an intentional search. This is when someone types in a question on a search engine like Google and finds your website as a top suggestion. High-quality organic traffic is a telltale sign that your website is ranking well.
Organic SEO is shaped by keywords, links, load speed and other factors that affect the structure of your website.
Local SEO, on the other hand, is based on organic SEO, but with a specific location-based focus. Local SEO is about making sure your real estate website pops up whenever someone is interested in the hyperlocal area you serve. In order to stand out in local search results, your online business presence needs to be well-organized and clear.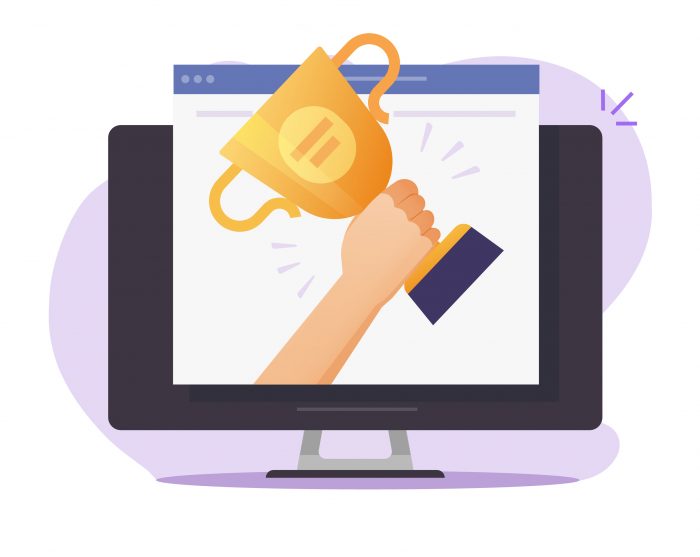 Tips to Outrank Your Competition on Google
Keyword Basics
We could go on and on about keywords for days. In fact, we have hours of keyword content here.
For now, we'll give you a rundown of basic keywords tips you need to know to get a knee-up on Google.
What are Keywords?
Think about which words or phrases you want your website to show up for when people type them into Google? These words are your target keywords. Users usually want more than a yes or no, they want answers with rich information. The most prelevant words in this content should be your keywords.
The more local your keywords, the more likely you are to pop up in location-focused searches and reach the top of the search page. These keywords are preferred over high-volume, general keywords that have thousands of competing results. Conduct keyword research for words with moderate to low competition, and you can rank for them easily. Plus, users who are looking for a particular service will use specific, likely low-competition keywords.
Track Competitor Keywords
In relation to Google Ranking, your competitor's keywords are equally important. Only one search result can be number one, and in order to get there, you need to use better keywords than everyone else.
Third-party keyword analysis software can help you get a sneak peek at the keywords your competitors are using and what they are likely to use next. Find specific competitor keywords with software such as SEMRush or Ahrefs. These tools will give you a peek into what keywords are working for and against your competitors.
A free extension such as Keywords Everywhere shows you what your competitors are likely to use next in their content. Start simple by making a list of keywords and entering them into an excel sheet. Refer to this list the next time you are building online content.
Get A Free Personal Demo
Ready to revamp your real estate marketing strategy and dominate your hyperlocal area? Our expert web designers will show you how. Click the button below for a free 30-minute demo of our AgentFire Spark Sites.
Understand Search Intent
When you understand search intent, it's easy to put yourself in the client's shoes and imagine what and how they would search to find your real estate business.
Informational: Users are looking for specific answers to their questions or general information about a topic.
Navigational: User already knows what website they want to visit and searches for your name or business name directly.
Commercial investigation: Users are shopping around for the right property or agent and may compare different options and reviews. etc.
How are your web pages connecting with each type of searcher? Is your About Us page thorough enough to inform an informational searcher? What is the first thing a navigational searcher finds on your homepage and what does that say about you? Can commercial searchers easily access your home listings and client reviews?
Making sure that your real estate website is catering to each searcher will attract the largest relevant audience to your page and subsequently raise your Google ranking.
Get a Handle on Coding and Format
We'll be honest. When it comes to making sure your website is coded properly and regularly updated with tools that benefit your business, it's best to hire a professional. A well-designed website results in higher Google ranking, lower bounce rates, more relevant client content, improved SEO, and optimization for a variety of different screens (most importantly, mobile).
AgentFire designers have created thousands of successful websites made especially for real estate professionals and we continue to develop tools specifically for the industry. Our web plans are stackable, meaning there's no copy/paste all-in-one solution. Every AgentFire client has different customization options and a library of tools (marketing, branding, lead gen, ect.) available to be added to their site, based on their needs.
A well-designed website is "crawlable", meaning that Google can "crawl the website" in order to gather information about it and index it in their results.
The following elements are just the tip of the iceberg in regard to the "crawlable" web structure our team takes care of. Speak to our designers about how our websites stay at the top of the search results.
"Crawlable" Web Structure Essentials
Relevant and well-formatted headings: Headings tell Google that your webpages are well structured. Plus it communicates what people can expect to find on each page.
Meta title tags: Meta title tags should contain the keyword that you intend to rank for (preferably with the target keyword near the beginning of the title)
Meta descriptions: Meta descriptions give users a sneak peak of what to expect in your webpage.
Internal links: Internal linking to other pages within your site communicates the purpose and richness of your content to Google.
Page Speed: The speed of your website is directly affected by the web assets that load on each page. This is why optimizing your images is crucial for SEO. Bounce rates drastically increase when a page takes too long to load, and images are often element slowing down the show.
URL: URLs should be as short and simple as possible. Your keyword in the URL should give search engines a concrete idea of what can be found in your content. When a new page is loaded to your site, simply changing the URL confuses Google. Your developer will have to create a redirect to make sure that your new URL is also indexed by Google.
Low Bounce Rate: Many factors contribute to a high bounce rate (users quickly clicking off the page) including popups, excessive ads, and slow loading.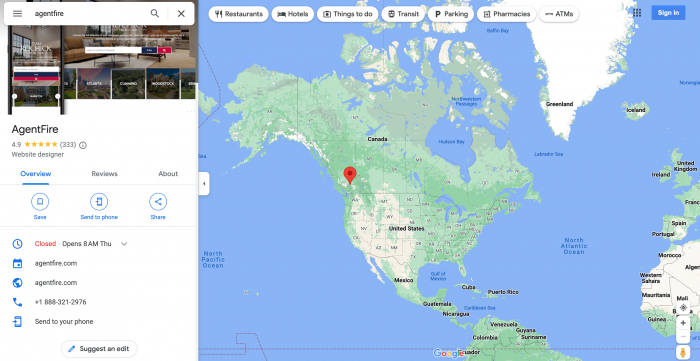 Establish an Awesome Google My Business Page
Google My Business is an essential, concrete step in a high Google Ranking. It is the most powerful way to pop up in local search results. Google My Business automatically gives viewers info about your location, type of service, and client satisfaction in relation to similar local businesses.
Your GMB profile is the most prevalent visual element in search results for your name or business. Your profile gives you massive credibility in Google's eye. .
Learn everything you need to know about Google My Business for real estate agents.
Commit to Rich Content
SEO content is no longer just a good idea. Modern real estate clients expect you to provide valuable knowledge on your platforms that are geared toward the property-buying and home-owning experience. As an agent, you are your clients' direct connection to the inner workings of the real estate industry. High-quality written online content tells them that they can trust your knowledge and commitment to staying updated.
The more useful content your website provides, the more visits you'll receive, and the higher your Google ranking will be. This type of content can be presented in blog posts, Market reports, Neighborhood Guides, and more.
Great informational content can also increase the likeliness of being linked to from other websites. SEO content creation is simple with this guide.
Step-up Your Number of Client Reviews
Reviews and ratings help you increase your perceived authority and trustworthiness in your ideal client's eyes. People who see your business online– and notice it has many positive reviews will quickly realize they can trust you. Clients are likely to use many of your target keywords in their reviews, pushing your rank for that keyword higher and higher.
Watch Our Free Digital Success Masterclass with Tom Ferry
Discover the leading digital marketing strategies that are changing the industry + live examples you can immediately put into action.
Simplify Backlinking
Backlinking is an effective, but challenging strategy for outranking other search results on Google. It's a simple idea: if other websites link back to you, it tells Google that you are a high-value resource that other users may be interested in. Images and guides are some of the most linkable types of content on your website.
Most agents hire a professional to take care of backlinking, as building backlinking relationships can be a full-time job.
Use Google Ads
As real estate PPC (pay-per-click) experts at Dippidi would agree, there are two leading PPC platforms for real estate agents now: Facebook and Google. PPC is especially useful on Google for quickly getting to the top of the results page. Because you only pay-per-click, thorough keyword research is key to making sure you are being shown for the right keywords.
Google ads appear in the banner section of the search engine results page (SERP) and are the first things a user sees. Each time a user searches for one of your keywords, your name pops up front and centre. This is unlike organic search engine ranking, where it takes time to work your way up.
Develop a Strong Presence on Other Platforms
The more often you pop up online, the more likely you are to rank highly in Google search results. Frequent activity on social media indirectly tells Google that you are an authoritative voice online. Youtube is a particularly powerful social media platform because it also a powerful search engine.
Google Analytics
As you implement new strategies and improve your website. In order to make sure that your efforts are making an impact, you'll need to track your results. Google Analytics can help you track how users interact with your site including bounce rate, demographics, geographic information and more.
Wrapping Up…
Every agent wants to be at the top of their local search results. However, not many agents are willing or knowledgeable enough to get there.
Google's requirements for ranking get tighter and tighter as time goes on, yet one things remains true. Google ranking will always be about providing the best experience to their users, with the highest quality fo service.
With these tips in action, agents can build authority in their niche and meet those bug conversion goals.
Check out this article next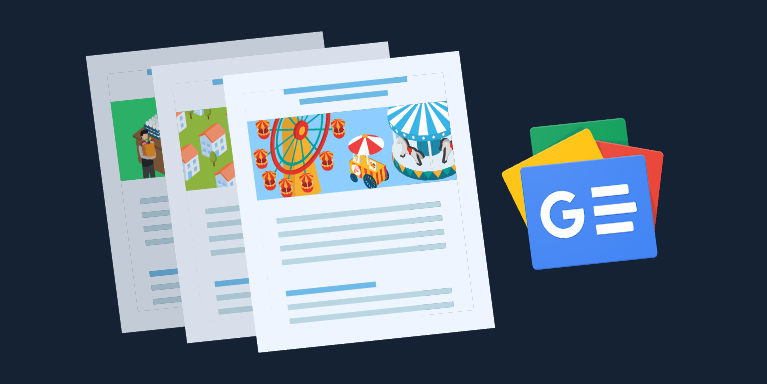 5 Strategies for Endless Real Estate Blog Ideas with Google News
Most bloggers agree that coming up with good blog ideas can be a challenge. This isn't only because of the difficulty of coming up with topics your re…