Control your maps with greater accuracy, customize your specs with ease, and more! These new listing features focus on showcasing the most important information you want available buyers to see.
Just released for January 2019 are some awesome new listing features!
Included in this suite of updates and improvements:
visual improvements to the mobile layout
new map targeting options,
new map display options and much more.
These updates focus on showcasing the most important information you want buyers to see.
Custom map marker positions make their debut
Among the new listing features available, is the ability to set custom marker positions for any location on the map.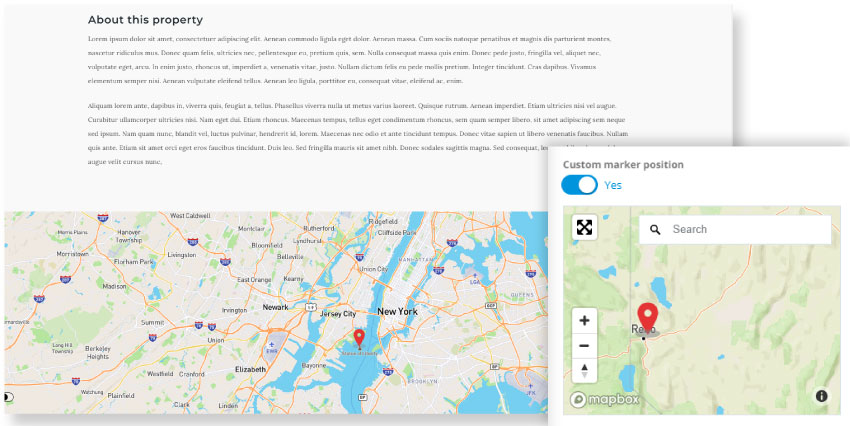 Use this capability to display a custom pin for your header background map, or in the new map location option available in your about area. 
Perfect for those rare occasions when your listing does not have a verifiable location!
Assign listing leads to the office instead of an agent
A new team member entry option is also now available in your team members area.
It allows for the creation of your office as an entry, which in some cases is more appropriate than individual agent assignment.
Simply head to the Team Member settings area to configure your office profile, and add in your office information.
Then select your office from the lead assignment options in your new listing!
This provides multiple ways to ensure leads go exactly where you want them to.
Mobile header layout adjustments
Be sure to check out the new mobile layout shown in the featured image in this post.
The map pin or the featured image can both be used with this new layout.
Your contact information and image slider entries now stack above and below to create a beautiful above the fold appearance!
With these new listing features, you can enjoy knowing that the most important details of your listing are all now immediately shown on page load.
Additional property listing features and custom specifications
Head to your Listing plugin settings area, to create new specs to use in the primary details portion of your listing entries.
Defaults of bedrooms, bathrooms and more can be added to, renamed and customized easily!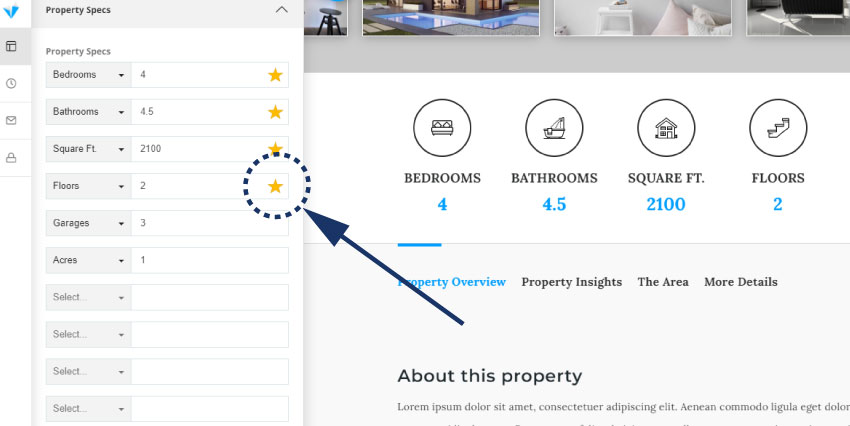 Additionally, you may use up to 4 of these as primary information displayed below the slider.  Choose from anyone you have created.
Use the featured stars to choose which specs to include for total control of the primary data shown.
Want to learn more about the listings plugin? Check out the documentation on our support center or inquire with our support teams.
Additional features will be released throughout the course of this year, so stay tuned!