It's often difficult to come up with blog ideas that your audience will find valuable, relevant and informative. By using the right keyphrase in Google News, you can generate an infinite amount of blog ideas.
Most bloggers agree that coming up with good blog ideas can be a challenge. This isn't only because of the difficulty of coming up with topics your readers will enjoy. We all have off days, and occasionally suffer from good ol' writer's block.
Sure, it helps to have a list of topics to draw inspiration from, (check out our 72 blogging ideas article) but that's not always enough. Sometimes you need to see how the experts put together their articles, then draw inspiration for your own content.
The good news is that once again, the all-mighty and ubiquitous Google comes to the rescue. This time in the form of Google News.
Google News lets you find the latest hyperlocal developments relevant to your real estate market.
This way you'll have some of the juiciest, most relevant, street-level stuff to write about. And by adjusting your keyword search phrase, you can also cover macroeconomic, big-picture topics that affect the entire nation.
Let's take a look at 5 ways to generate Google News blog ideas. ?
1) Go hyperlocal by searching city landmarks, neighborhoods, and major streets on Google News
To begin your hyperlocal Google News search, go to Google News and in the top search bar, enter the name of a specific neighborhood, landmark, or housing development near you that you'd like to write about. 
The screenshot below is a great example: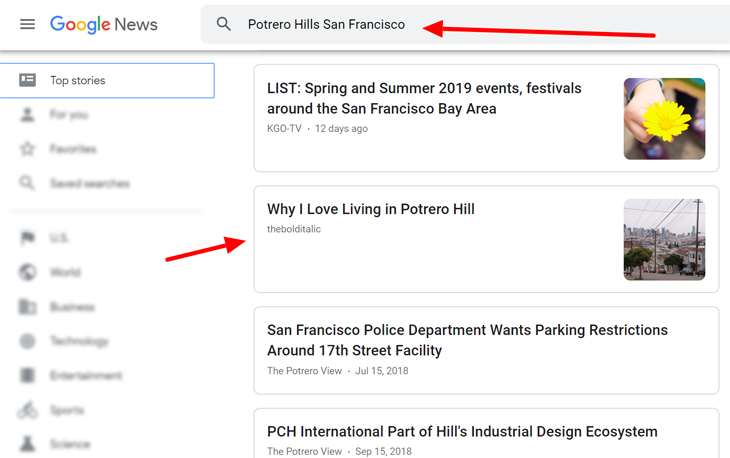 For this particular blog post, I'm interested in the Potrero Hill neighborhood in San Francisco. Top results for this type of search usually come from local, well-established journals and news networks, some of which you'll recognize.
At times your search results might be a bit broad, and not exactly what you need. That's a-ok. You can always refine your search until you find what you need. ?
In our example's case, I was lucky enough to find a few articles that look interesting right away. I chose the second one, "Why I love Living in Potrero Hill," because it looks like the kind of article I'd like to write.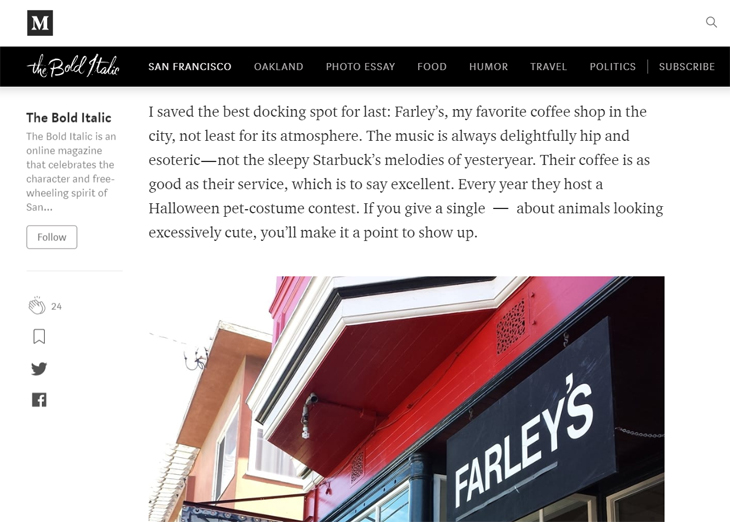 And after quickly scanning through the article, I notice that it covers exactly the kind of stuff I wish to focus on: what makes Potrero Hill a great place to live. It highlights a variety of the neighborhood amenities that your potential clients might enjoy.
It goes without saying, but if you decide to base your blog post on any Google News article, make sure you only take ideas, not entire paragraphs. Also, avoid the temptation to "spin" the article, in other words, rewording it so Google classifies it as 'original'. Not only would that amount to plagiarism, which could spell all kinds of legal headaches if you get caught, but the Google algorithm doesn't take kindly to plagiarized material.
A good way to avoid that problem is to go straight to the source of information the writer was basing their article on. If the writer is talking about local restaurants, parks, event halls, etc., instead of directly quoting the author, why not visit their website, learn more about them, then share what you just learned?
Most news articles contain quotes from the same reports, interviews, or press releases that the writer used to base his or her own article. If you're lucky, you'll find an article that conveniently displays links to official reports for you to download and study. 
In short, if you live in a major city, and there's a new major real estate development in your area, there's a good chance you can find an article about it on Google News.
2) Search for regional real estate developments
If you're looking for an idea that's a little broader, but still highly relevant to your local geographical area, you can tailor your Google News search to target a wider region.
Simply type "Real estate", and add the "state/province/municipality" you wish to focus your search on. Continuing the example from earlier, now I want to focus on the entire San Francisco metropolitan area, so I'll change my keyword phrase to "Real Estate San Francisco".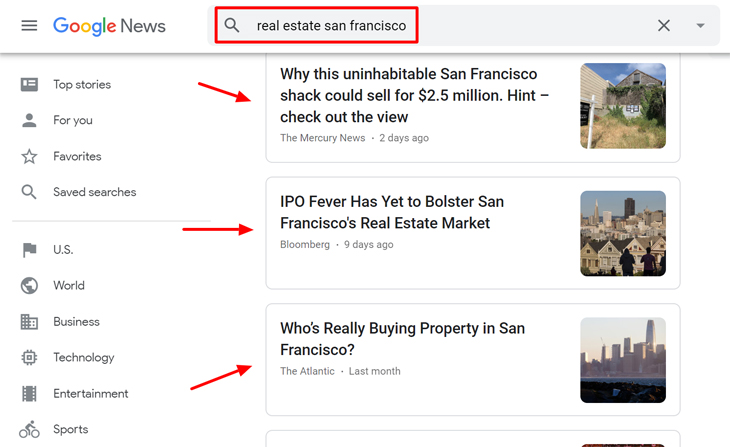 Results for searches like these are typically news releases from more local sources, covering topics they feel will attract the most eyeballs and clicks.
With this in mind, the two articles that caught my attention in the example above are "$2.5 million shack for sale in San Francisco", and "SF Real Estate Market In State Of Uncertainty Due To IPO Anticipation, Market Slowdown,". Both of these articles focus on the city's infamously expensive real estate.
If you come to find the results are still too broad, another great keyword addition to use for a regional Google News search is the name of your local real estate board. If you don't know which board covers your area, you can find an extensive list at the National Association of Realtors®'s (NAR) website.
In this case, I see that the county of San Francisco is overseen by the San Francisco Association of Realtors, so I go back to Google search, and input "San Francisco Association of Realtors":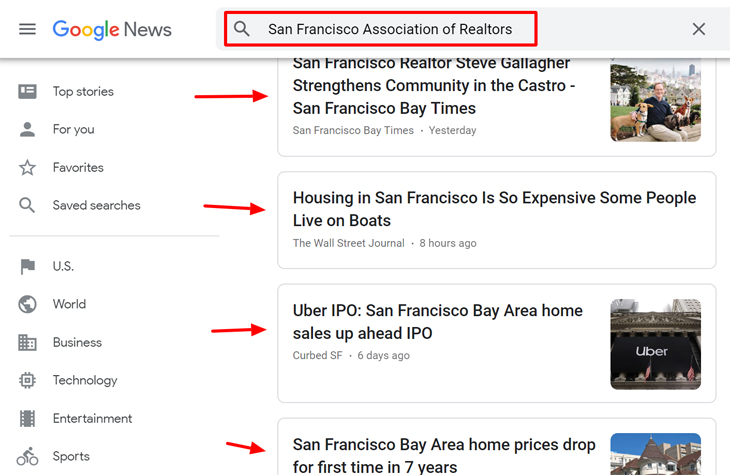 A quick look at the results shows articles that are more directly aimed at readers interested in San Francisco's real estate, instead of articles geared more towards a general audience.
3) Search for upcoming events in your city
Not all of your real estate blog posts need to cover topics exclusively related to real estate. A huge aspect of real estate is the lifestyle. Why not liven up your blog ideas by covering fun events happening in your area?
Google News makes events like this easy to find. All you have to do is type in your city's name, add the keyword "events", or "upcoming events" and you will immediately find a multitude of "top 10" style articles covering them.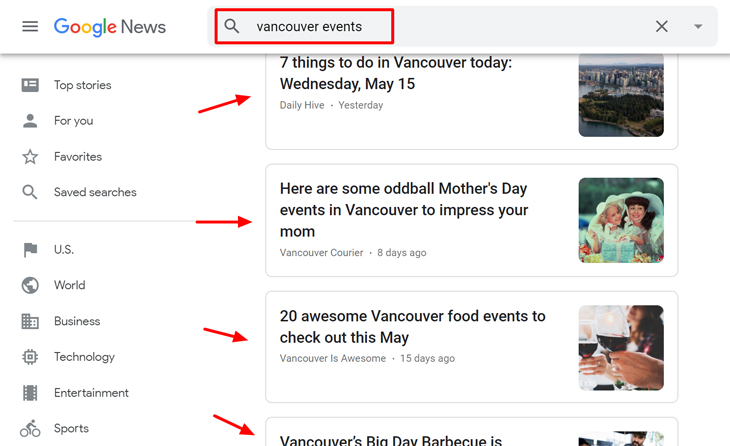 Then you could take it one step further… Are there any major holidays coming up? Why not add it to your Google News keyword phrase? Try something like "San Francisco upcoming events Christmas" or "Vancouver events Mother's day."
Finally, you can write about year-round activities your readers could do, adjust your search to something like "San Francisco things to do", or "Vancouver free attractions" to get hundreds of 'evergreen' events you can talk about.
4) Find trending real estate keywords on Google Trends, then look them up on Google News
Google Trends is an excellent tool to find out which terms people are searching for and what topics are driving clicks at the moment. Just like Google News, this tool is free to use, and has no limits in usage.
To begin, enter a keyword or topic you wish to study, and Google Trends will give you a breakdown of its popularity. That keyword could be something broad such as "real estate", or something more focused such as "property taxes". The number of keywords you can study to generate blogging ideas is limitless, so by all means, go nuts! ?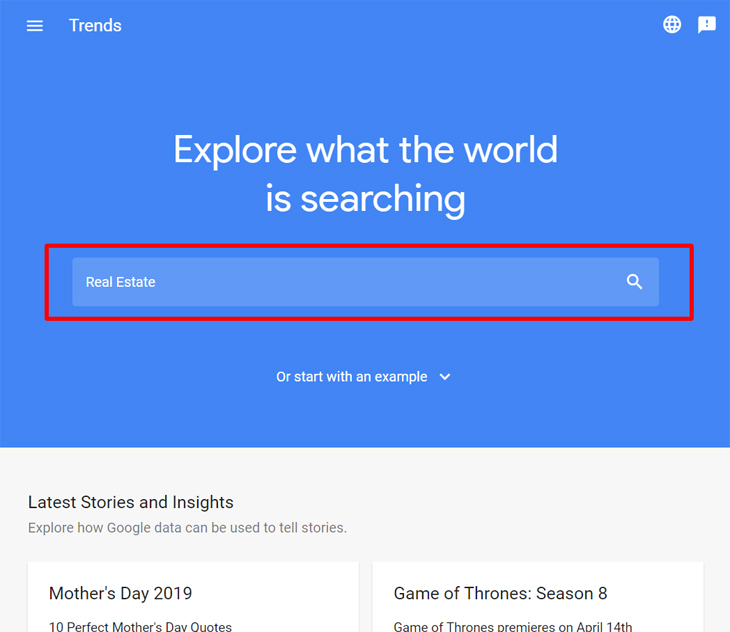 In this case, I chose the keyphrase "real estate market." Then, the Google Trends results come with a chart showing search results metrics. One of the most powerful ones is Interest over time, which tells me how often my keyphrase has been used in recent Google searches over time.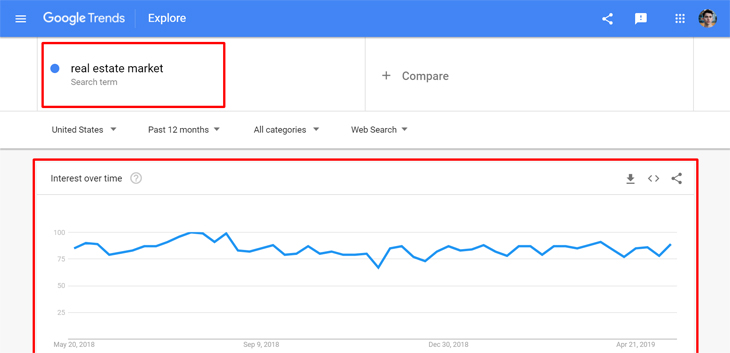 My Google Trends results also give me an interactive map showing Interest by subregion. This metric shows me how popular my keyphrase has been in each subregion of the country. Right below Interest by subregion I find Related topics and Related queries. Both of these metrics track topics and keyphrases searches similar to the one I'm using (real estate market).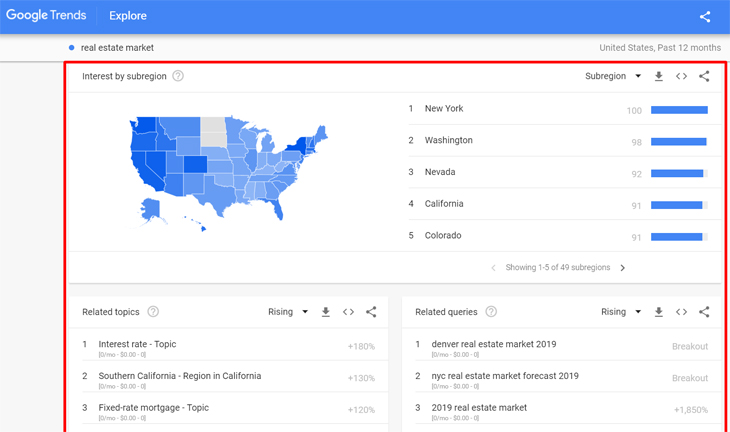 The Interest by subregion metric is interactive. I can click into a specific area I'm interested in, to get a more localized view of interest in my keyphrase.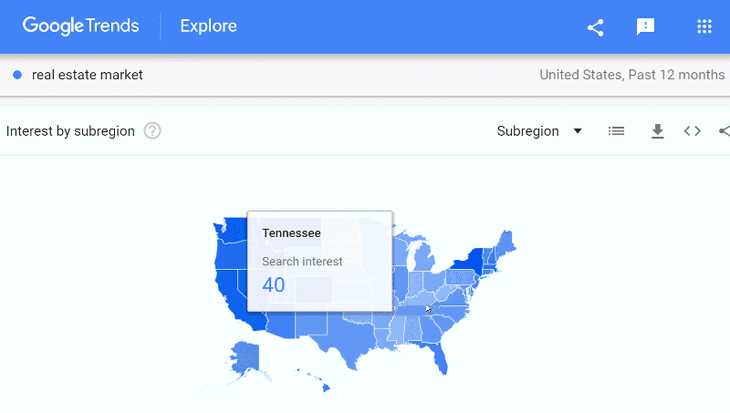 Each time Google Trends zooms in, Related topics and Related queries will be updated, giving you a way to measure interest in the topic by region, all the way down to the city level. Pay attention to these boxes, since they'll give you a good idea of what's on everyone's mind in that region.
You can also click on some of the top keywords in Related topics and check their Interest over time.

If interest is peaking on any of them right now, there's a good chance you can find a news article about it on Google News. Then, it's just a matter of scanning the results to generate blog ideas. 
For example, in the screenshot above, in the 'Related queries' box, I see that "new york real estate market forecast 2019" is showing as a breakout search term. Perfect. ? That's exactly what I was looking for.
The next thing to do is to go back to Google News, and search for that phrase: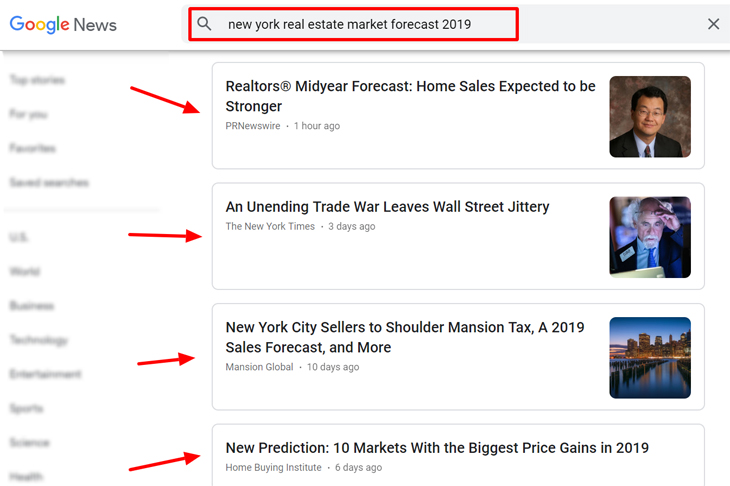 As you can see, Google News immediately points to 4 recent stories related to the topic of "new york real estate market forecast 2019," which I will use to put together my own blog post.
5) Search for national real estate developments
From housing bubbles to changes in the Federal Reserve prime rate affecting mortgage rates, these are the real estate topics you might hear about on the nightly news. These are the big-picture events that can affect millions of people and become a significant part of the national conversation. Events like these are an excellent source for blog ideas.
To begin, do an open-ended search to get the ideas flowing. Start by using the keyword "real estate" in the search bar. The top results usually come from well-established journals like the New York Times, Forbes, or Inman, but some may also be from local sources.
The results you get are usually quite broad, but they give you a great starting point, and that's all you really need.
If the initial "real estate" Google News search doesn't yield any useful results, try different macroeconomic keywords for your keyword search phrase, like "house price index", or "housing stats."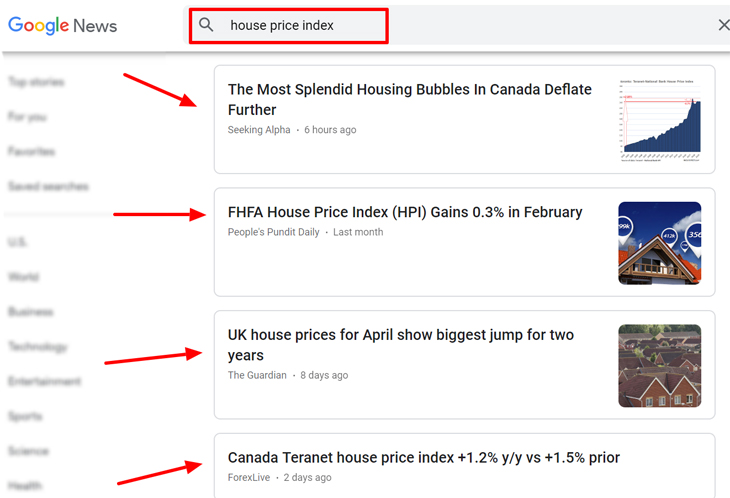 You could try other keyword phrases like these:
Consumer price index

Inflation rate

Building permits

Pending home sales

Personal income and consumption

Federal Reserve
After you find a few articles you like, it's just a matter of scanning through them to draw some inspiration for your next blog article. Rinse and repeat as many times as you need.
Conclusion
Now that you know how to use Google News to generate endless blog ideas that your hyperlocal market will love, are you ready to become the (undisputed) real estate expert in your area? Each Spark Site includes every tool you need to dominate your hyperlocal real estate market, and help you close more deals.
Setting it up takes zero technical knowledge, and the multitude of templates that are included ensures every Spark Site looks professional, gorgeous, and inviting. Start your free 10-day Spark Site trial and see why tons of top producers are raving about their Spark Sites.