Hashtags can be a great engagement tool when used correctly. Learn to identify the right real estate hashtags to leverage in your real estate content in this article.
When it comes to so-called internet speak, there are two large and vocal groups: those who think it's making us dumber as a species, and those who embrace it as efficient and effective.
Hashtags is one of the most commonly known forms of what's now mainstream internet speak. 
Hashtags have grown from a way to tag tweets into an optimization tool for social media search. And while real estate agents do use hashtags in their social media marketing efforts, they don't always know how to get the most out of them. In this article, we'll answer several real estate hashtags questions: 
How many hashtags you should use per post.
How top real estate brands use hashtags.
What are the top 20 hashtags for Instagram real estate marketing in 2021.
Top 20 hashtags for Twitter real estate marketing in 2021.
How to measure hashtag effectiveness on Instagram.
How Many Hashtags Should You Use?
As a small real estate brand striving to get traction on Instagram, here's something you need to know: interactions are highest on Instagram posts with 11+ hashtags.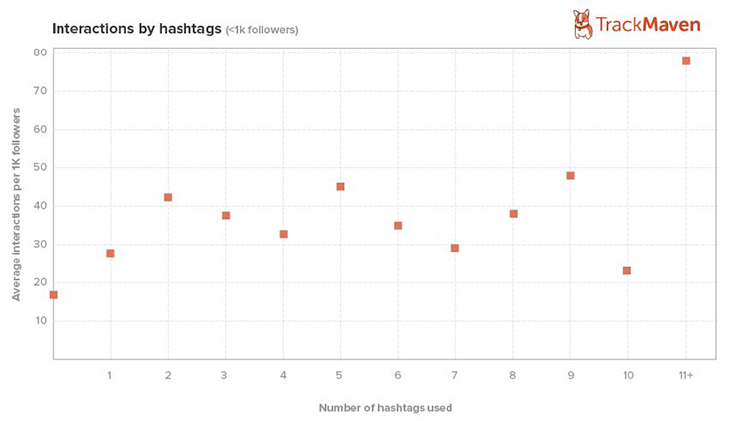 Using data from a set of Instagram users with 1,000 or fewer followers, Trackmaven found that posts with 11+ hashtags received an average of 77.6 interactions, which is great, considering the number of followers. The point is, it's more about using the right hashtags than posting with 30 hashtags. 
While the ideal hashtags count on Instagram is 11, you should plan to use more hashtags or less depending on audience engagement. You can include up to 30 hashtags in a post and up to 10 hashtags in a story. 
If you're wondering whether you could penalized (or shadow banned) for using too many hashtags, don't worry. According to Instagram's head of product, you won't.
And while you could use as many as 30 hashtags on Instagram, Sproutsocial recommends using 1-2 hashtags on Twitter and Facebook, 2-3 hashtags on LinkedIn and none on Pinterest.
This doesn't mean you should copy and paste the same set of hashtags on each post. Instead, you should research hashtags based on some of the tips below and expand your posts' reach.
According to Hootsuite, on Instagram, "If you use the same hashtags for every post, your content will be penalized by the algorithm."
How Top Real Estate Brands Use Hashtags
SoHy Condos proves that IG traction isn't always about follower count. Owned by Serhant Media, it has only about 2,000 followers with 47 posts and an engagement rate that's well above average.

Their posts uses a mix of local hashtags (#Brooklyn, #nycrealestate) and some generic industry hashtags (#realestate, #interiordesign) to maximize views, and has 20+ hashtags strategically placed below the original post.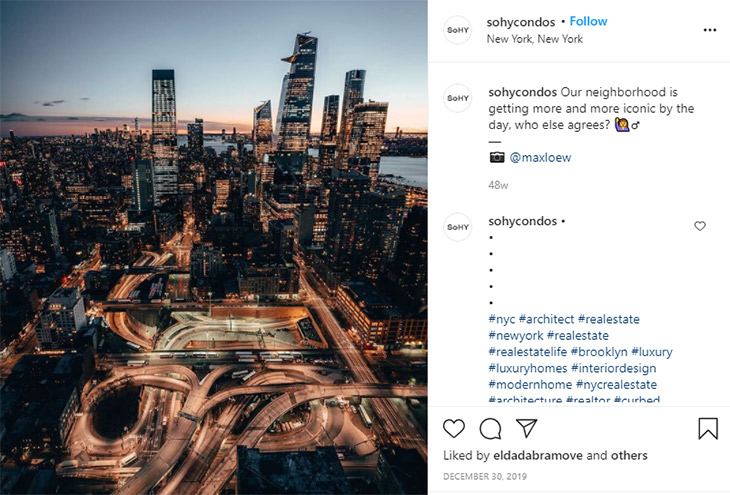 They use a lot of local hashtags and top-notch staging in their photos and these drive high engagement. 
Takeaway
Local hashtags should be your chief priority if you plan to drive both engagement and targeted views to your listings. 
Search for 
Neighborhood & City Names

Community Names

Sights

Restaurants and Shops

New developments
Aside from her top-notch branding, Jade uses one or two branded hashtags (#jademillsestates) in an original post and immediately adds in a comment with up to 10 hashtags.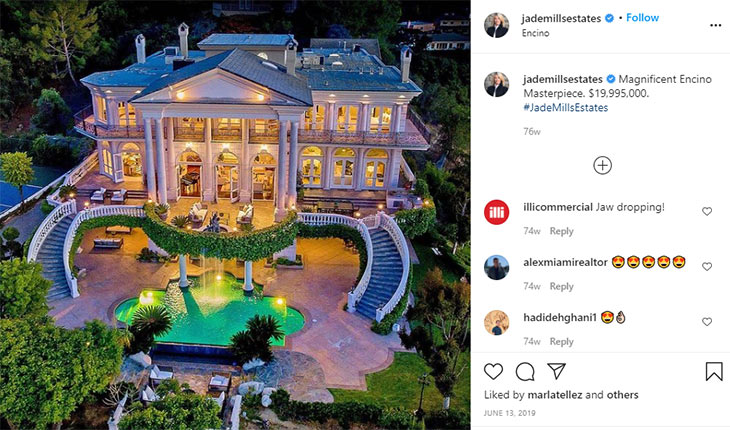 This works because it makes the post look non-spammy while still accruing views through the right hashtags. 
Takeaway
You can place hashtags as a comment on Instagram. If you'll use this strategy, make sure your hashtags are added immediately after posting your image. Inserting hashtags later on would mean your image has no chance of appearing at the top of Instagram searches. 
Bryan combines about 11-15 relevant hashtags with branded hashtags like #bryanncasella, #teamBC.... The majority of his hashtags or posts aren't always real estate focused but they get a lot of views because he uses hashtags that people search for.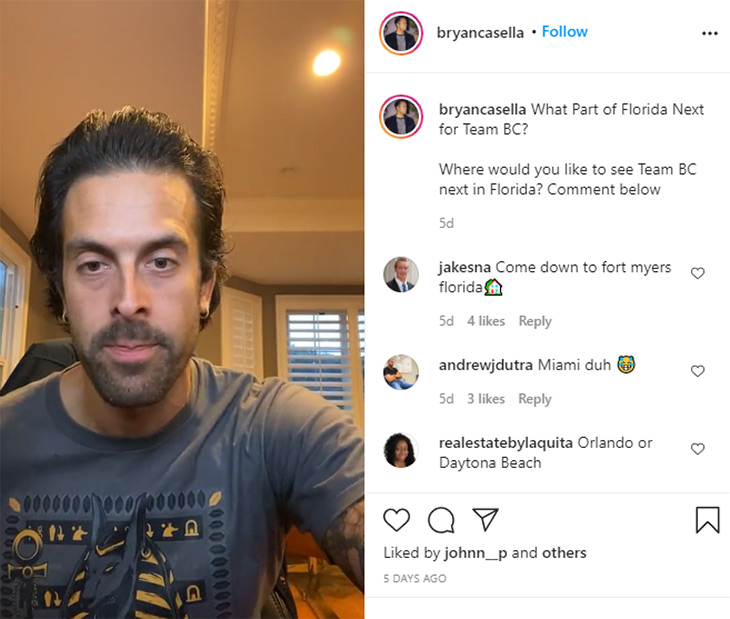 Takeaway
You don't want to be using hashtags all the time else you start coming across as salesy or spammy. Once you've built enough traction, you can let go of hashtags on some of your posts to create pure engagement. 
On getting to her Instagram, you get that first taste of luxury looking at high end real estate. Joyce Rey uses a lot of hashtags that would appeal to luxury searchers e.g #wealth, #dreamhome, #milliondollarlifestyle. 
Up to 30 hashtags including branded ones like #joycereyrealestate on most posts, majority of which are listings. Conventionally, listing posts see low engagement yet what's interesting is how she uses hashtags to swoop in on what her target audience searches for.  
Takeaway
While hashtags might draw people in, high quality photos would give them a reason to stay a while. Also, while you combine local and branded hashtags, don't forget to use hashtags that your ideal buyer is searching for. 
Get Free 10 Day Trial
Want to dominate your hyperlocal real estate market? Then you need to check out AgentFire's Spark Sites.
Click the button below to learn more, and start your free 10-day trial!
Take Me To The Free 10-Day Trial!
With a combination of TikTok and educational content, Ian creates a ton of value for first time homebuyers. He uses about 20 hashtags on each post, most of these are local hashtags e.g. #atx #downtownaustin and some are specific to first time buyers. 
Since these hashtags already work, he repeats them in most posts, only adding or removing a couple.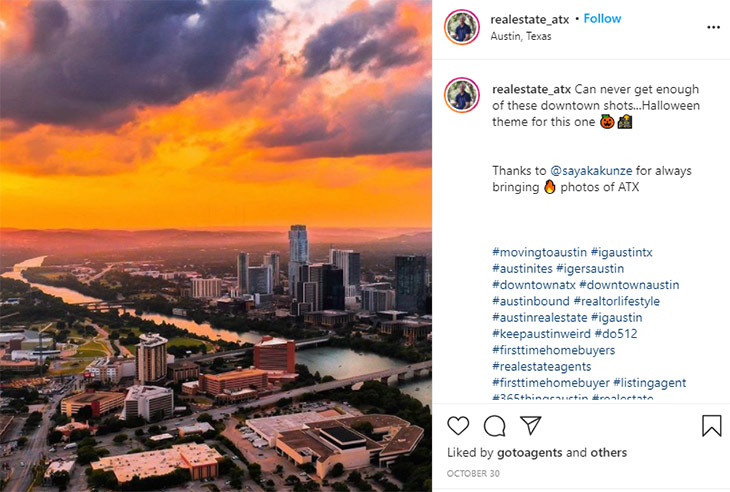 There are both pros and cons to this. The fact that it already works means that you don't need to spend so much time researching trending hashtags. But it also means you might be reaching the same people every time, losing out on the chance to expand your reach.
Takeaway 
While you don't want to copy and paste the same hashtags every time, it's efficient when you have hashtags saved in a note and you can just select relevant hashtags or hashtag groups. 
Lighter side of real estate uses the hashtag #realestatelife a lot. So much so that we suspect that they are the the ones responsible for making this hashtag trend.
Lighter Side of Real Estate is a beloved real estate meme site, and there's a good chance you've already shared some realtor memes produced by these folks.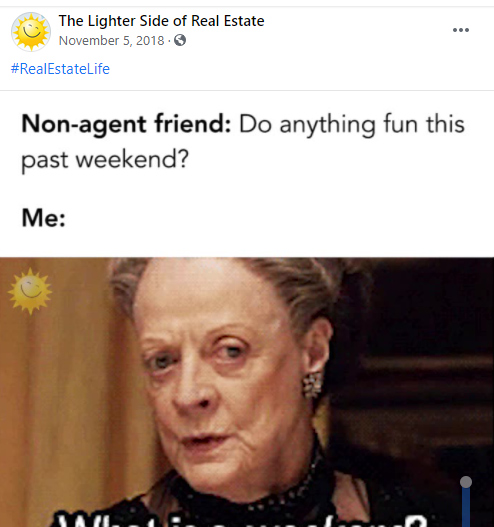 On Facebook, where the brand is most active, they do not use more than one hashtag.
While hashtags aren't as very effective on Facebook, the fact that their hashtag is relevant means that folks who love their posts can just search for this hashtag.
Takeaway
Stick with one or two hashtags per post on Twitter and Facebook. While you can add as many hashtags as possible on Instagram, generic, non-focused hashtags will do nothing to increase your engagement.
They would only draw irrelevant, spammy comments. Try to make your hashtags as relevant to the original post as possible.
Being in the intersection of real estate and leadership, Dottie Herman uses hashtags that display brand authority while tagging as many relevant people as possible.
Takeaway
When you tag people they get a notification; they're prompted to engage with your posts. This could be a good strategy to combine with hashtags. However, don't tag people randomly - that's spam. 
Tag people who might either have a stake in your post (probably a client you met with) or would be interested in your post (probably engaged with a similar post of yours).
Bad Realty Photos
Bad realty photos as the name implies posts photos of bad listing photos. Once in a while they use hashtags on posts like this. 
But what really drives engagement is their content - the picture and the caption.
Takeaway
Hashtags would help get your foot in the door but if you want to build your following, you have to consistently post engaging content. 
Top 20 Hashtags For Instagram Real Estate Marketing In 2021
If you do a search for real estate in Instagram search, you'll see a dropdown containing some real estate related hashtags coupled with the number of posts they've been used in. You could do the same thing for local market or local event searches. 
However, a good rule of thumb is to use more hashtags with 500,000 posts count or less. Anything above that, you're dealing with much more competition and your post has a higher probability of dropping way down in searches or attracting the wrong audience.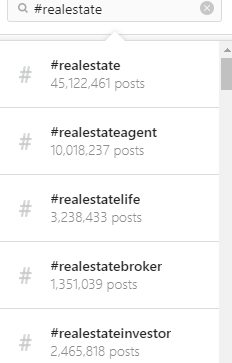 Based on Adespresso's recommendation, here are some good hashtags to start with for real estate professionals:
[YourNeighborhood/City]: to connect to users searching for where you help homeowners and potential buyers.

RealEstate, #Realtor, and #[YourRealEstateName]: to help people find you or your real estate agency.

NewListing, #JustListed, #JustSold, and #ForSale: for the fastest way to browse hot listings and increase the feeling of exclusivity for your followers.

[HomeStyle], #Bungalow, #Beachfront, #Victorian, #Modern, etc. to attract buyers with a specific style of house in mind that you're listing.

OpenHouse, #HouseHunting, #DreamHome, #StarterHome, #Flip, #Investment, #LuxuryLiving, #MillionDollarListing: these hashtags also connect specific buyers to specific properties and events.

DIY, #CurbAppeal, and #UpdatedCharm: for before-and-after of properties you've been a part of.
You can also create your very own hashtags by analyzing direct competitors and some of their posts that have garnered significant engagement. Or you could simply use a hashtag research tool like Hashtagsforlikes or hashtagify.me. Some of the best hashtags to use in 2021 are:
#luxurylifestyle

#realtorsofinstagram

#luxuryrealestate

#mondayvibes

#realestatelife

#realestateagent

#realtorlife

#interiorinspo

#(Your city)

 #realestateinvestor

#kitchendecor

 #homesforsale

 #milliondollarlistings

#milliondollarhomes

 #milliondollarlisting

 #justlisted

 #realestate

 #realestategoals

 #farmhouse

#houses
70% of Instagram posts go unseen. What's even more interesting is that just adding one hashtag to your post can increase your engagement by 12.6%. 
So if you really want some traction with your Instagram real estate marketing, you might need to double down on hashtag use. And you obviously need a way to measure your results, especially when using branded hashtags.
Note: When running an Instagram ad campaign, you need to have an accompanying branded hashtag.
Top 20 Hashtags For Twitter Real Estate Marketing In 2021
One of the best tools for hashtag research for Twitter is RiteTag. It shows you the amount of impressions, retweets and tweet usage of a hashtag per hour. This means you can gauge current interest quickly and select the best hashtags.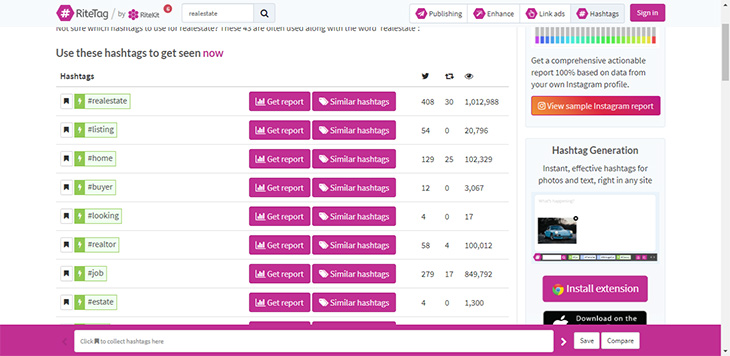 Here are some of the best hashtags to use on Twitter:
#realestate

#realtor

#home

#realestateagent

#property

#investing

#Realty

#dreamhome

#househunting

 #openhouse

 #forsale

 #(Your city)

 #CRE

 #tax

 #morning

 #selfie

#business

 #interiordesign

 #decoration

#style
Measuring Hashtag Effectiveness On Instagram
Instagram Insights
One of the major advantages of switching to a business Instagram profile is that it gives you access to post analytics. To see the amount of impressions you receive from hashtags:
Step 1: Use the view insights feature below the post on the left.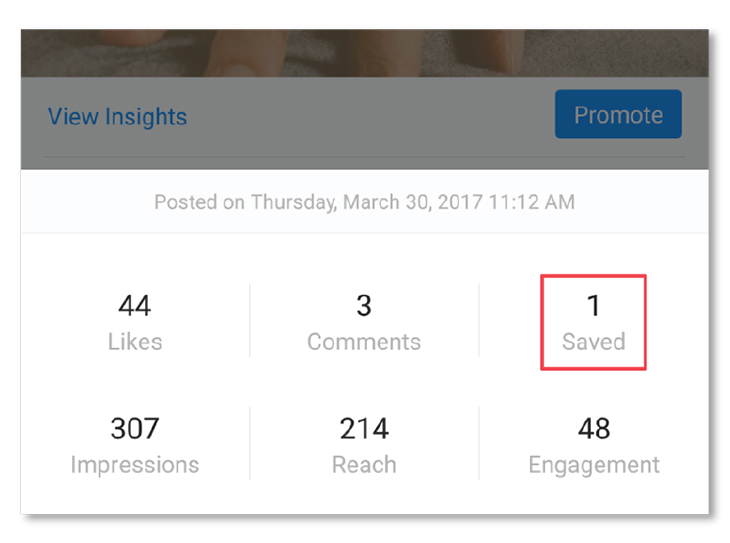 Step 2: Swipe up to see more insights including the number of impressions each hashtag in the post generated.
The only downside to using Instagram insights is that you can't use it on-demand. There are set time frames for analytics - in most cases, 1 week for profiles and 30 days for posts.
Hashtags Follow
Right now, you can follow specific hashtags on Instagram just as you'd follow profiles. This means anyone who follows your branded hashtag doesn't need to follow your brand before seeing posts containing those hashtags. 
What that also means is that you can follow specific hashtags and check out the posts that are seeing massive engagement - what do these posts have in common. This is especially useful when doing local hashtags research. Note those hashtags that keep recurring in popular posts and use these. To follow a hashtag, just click on the hashtag and tap "Follow".
There are also social media apps like Pixlee or Sproutsocial for branded hashtags research.
Note: Branded hashtags are important for curating user generated content. 
Hashtags can help lift your Instagram profile from obscurity but you'll need to back them up with engaging posts. 
Conclusions
When used correctly, hashtags can be a powerful tool for engagement, it helps draw more views to your content, and can even help you be perceived as the definite hyperlocal go-to expert in your area of service.
If you want to stay up to date on all of our free and valuable content, subscribe to our newsletter. We publish valuable articles and guides such as this one regularly. That way you can constantly improve your marketing skills, and become a more effective real estate marketer.
And if you want to dominate your hyperlocal real estate market, check out AgentFire's Spark Sites, #1 rated for several years in a row.
And the best part? You can try out all of its amazing features for free with our 10-day trial.
Check out this article next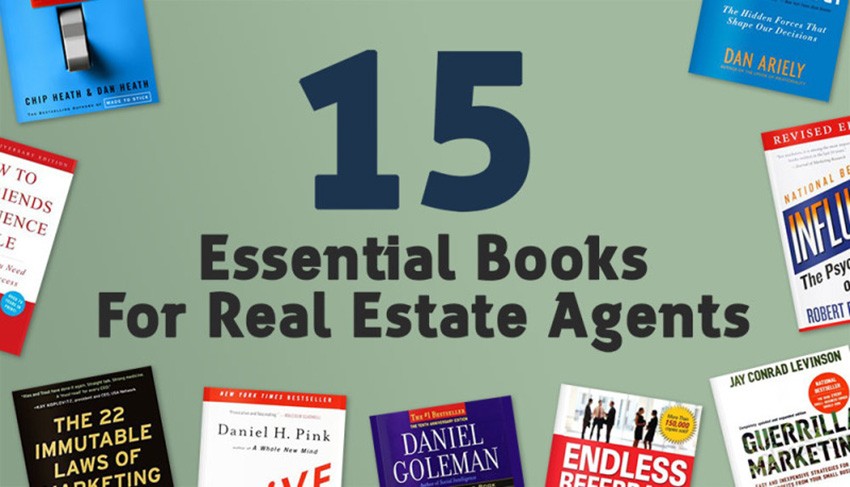 15 Essential Books For Real Estate Agents
There's a ton of content online. Some of it good, some bad. Articles are great for tactical tips and tricks. However, sometimes you need something …