These Halloween real estate marketing tips put you ahead of the curve and generate leads through the holiday season - even in a market downturn.
Real estate agents know that when the fall season starts, real estate business often slows down. The holiday season is expensive and would-be-buyers are more hesitant than ever when it comes to spending money.
One way to get around the holiday slow-down is to get involved in the excitement. By adding a Halloween touch to your real estate marketing and events, you can stay top-of-mind and gain more local recognition than any other time of year. Halloween is an opportune time to experiment with your real estate marketing strategy and try spooky ideas that wouldn't fly on any other holiday. Plus, clients and community members can get to see your fun side.
Family-oriented Events
There are endless options for Halloween-themed events that get your community involved. The best option for your real estate business depends on your unique demographic and location. If you service a family neighborhood, consider gatherings that are great for both parents and children or only children. When the kids are entertained, you can network with the parents and get to know your future buyers and sellers on a more personal level. These are great opportunities to learn about the main real estate concerns in your hyperlocal area and how you can offer your service.
Some examples of Family-oriented events are:
Pumpkin Carving
Pumpkin Picking
Halloween Themed bounce house
Haunted Hayrides
Charity Events
A Halloween charity event is a fun and generous way to get to know the locals, give back to the community, and celebrate the holiday. For example, a costume drive.  Partner with underprivileged schools in your area and hold a community costume drive. Use your main marketing channels, such as social media platforms, email marketing, or others to spread the word about the occasion. Parents with hand-me-downs and local businesses are likely to be the main donors and your most promising clients. Getting local vendors involved can also be a great way to build relationships for future neighborhood marketing partnerships and promotions.
Your charity event should be specific to your neighborhood, so take the time to think about a fun way to solve a prevalent need in your community.
Sponsor an Event
Not ready to hold your own celebration? You can still get involved by sponsoring a community event. Sponsorship is a simple Halloween marketing idea that gets your brand in front of your hyperlocal customers and positions you as a caring real estate expert who's in their neighborhood.
Get A Free Personal Demo
Ready to revamp your real estate marketing strategy and dominate your hyperlocal area? Our expert web designers will show you how. Click the button below for a free 30-minute demo of our AgentFire Spark Sites.
Throw a Halloween Open House
Who doesn't love a spooky house? Or at least a fun house? Turn your open house into a light-hearted, fun gathering and unique way to view a potential property. A Halloween haunted open house may be tempting, but it's not suggested. Loading up your listing with Halloween decorations can distract from the characteristics visitors want to see. However, a pumpkin candy bowl, welcoming trick-or-treaters at the door, and fun floor stickers to guide visitors through the home, are easy, non-disruptive ways to add some fun to your open house.
Decorating lightly for the holiday shows visitors that you want them to have an enjoyable experience and that you are willing to go the extra mile for your listing clients.
Halloween decor can also create small conversation areas that become great opportunities to network. For example, people are more likely to stop and chat at a fire pit or snack table and are more willing to listen without rushing to the next room.
Place limited Halloween business cards with your contact information next to social areas. There's a high chance that visitors will grab one and you'll stand out in their pocket stack of real estate cards.
Get Clever with Halloween Real Estate Mailers
Did you know that over forty per cent of direct mailers are thrown in the trash before being opened? Don't let your Halloween marketing material go to waste. Here's a sneaky way to get out of the garbage can and in front of your clients: send lumpy packages!
Direct mailers that contain a small item in an unbranded envelope are much more likely to be opened. People are curious and eager to open the package to see what's inside. Think about what Halloween real estate marketing items suit your brand and fit the Halloween theme. Candies, magnets, and USBs are easy and affordable giveaways that your clients are likely to keep.
Share Halloween-themed Social Media Content
From memes, to infographics, online contests, and videos, there is a plethora of Halloween content ideas that you can use on your social media channels. The most important thing is that your social media posts offer value to your target customers and online audience. Images such as the one below are shareable, colourful and relevant to your audience: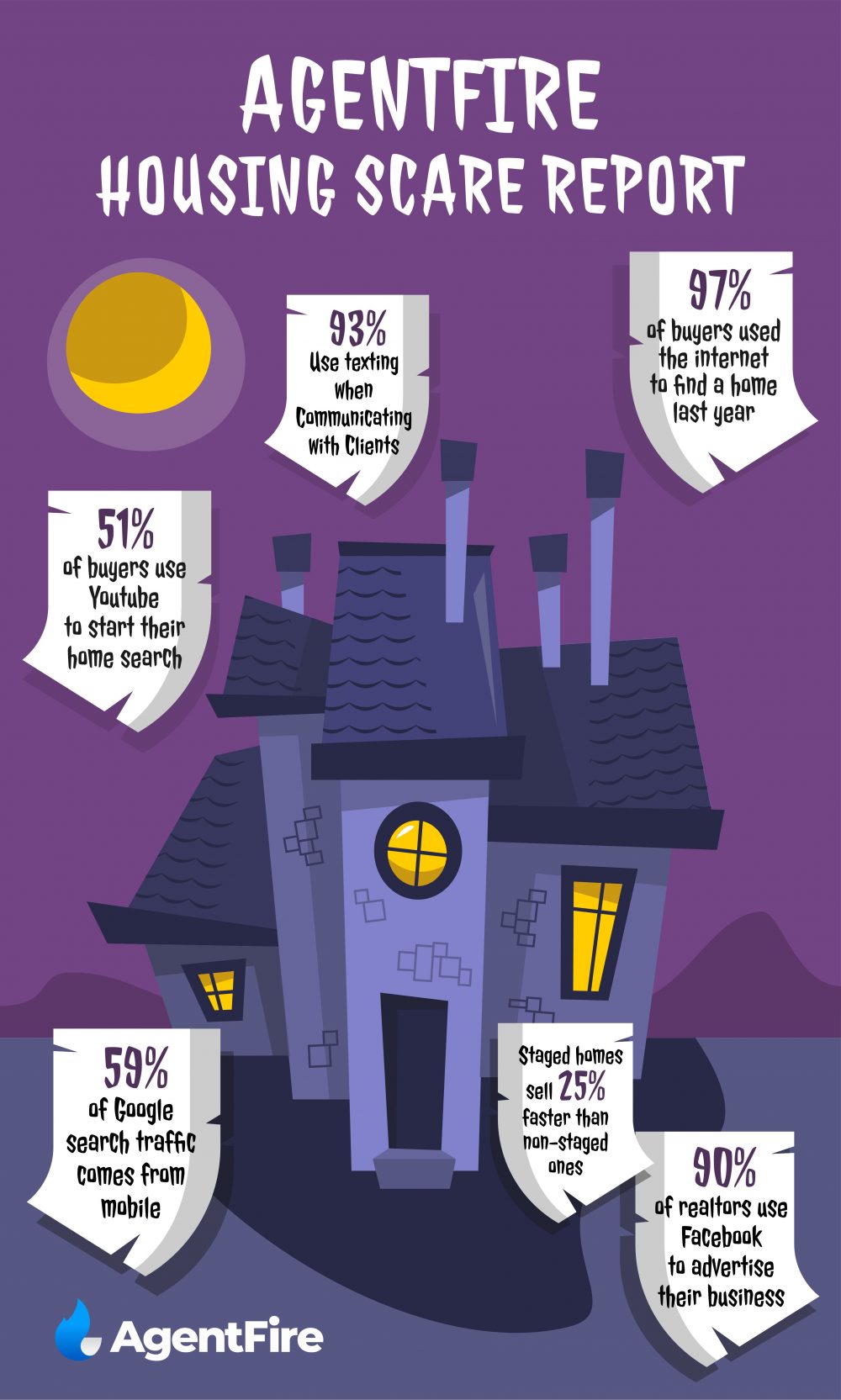 We love the idea of sharing tips that your followers can also use on Halloween and in their day-to-day lives. You could make a visual post on how to safely take down Halloween decorations off of painted walls or work with a local electrician to make a video about safely dismounting electronic holiday decor. Once viewers learn these super useful tips, they'll think of you every time they use your advice. When they're looking to buy or sell a home, they'll remember you as a knowledgeable real estate expert that made their life just a bit easier.
Dress-up Your Signage
That 'sold' sign on your new listing is a lot more noticeable with a friendly ghost decoration hanging off of it. Get creative with your own signage to make it stand out. If your hyperlocal area has cultural or regional connections to anything Halloween-related, this is the time to play on that in your marketing. For example, if your county is known for pumpkin picking or its awesome haunted house, you can integrate those symbols into your holiday signage. If your signage is impressive enough, some people may even want to take pictures with it and share them with friends and family. That's free advertising for you!
Halloween Ecards for Your CRM Contacts
We can't talk about marketing tips without getting your CRM involved. Even clients who don't typically open your emails can enjoy a fun Halloween ecard. Send out emails reminding clients that you are available and have tons of useful people and tools on your website. You can even work with a graphic designer to design a professional, spooky Ecard or postcard.
In Conclusion…
Halloween is a fun opportunity to spice up your marketing efforts and get involved in your community in unique ways. Not only can you give back and celebrate with your neighborhood, but you can get your name in front of the right people.
Just because the real estate season is slowing down, doesn't mean you have to! Keep the leads coming in with these clever tips and tricks.
Check out this article next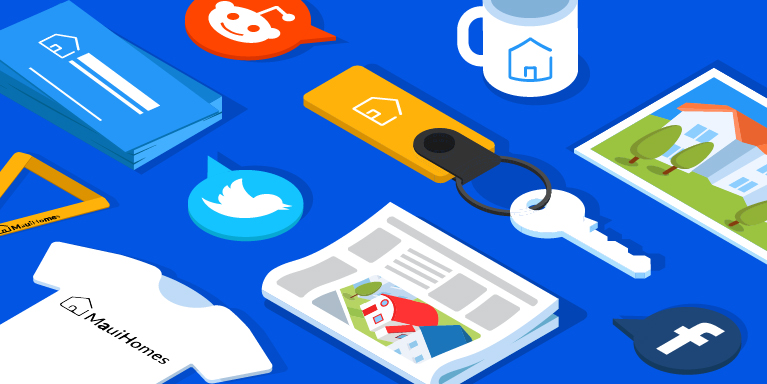 150 Real Estate Marketing Ideas To Supercharge Your Marketing Efforts
If you're looking to take your real estate marketing strategy to the next level, but are stuck in a rut, check out (and save) this massive list of spe…