Summer is the absolute busiest time in real estate. That means it's crucial to consistently step up your summer real estate marketing now. Here's how.
The loved (and dreaded) third quarter is upon us, meaning it's time for you to step up your summer real estate marketing. This is the busiest quarter of the year for real estate agents in the Northern Hemisphere – and for good reason. Read on to learn about how you can conquer this summer season and head into fall with more happy clients than ever.
Why is Real Estate Marketing in the Summer Unique?
Summer months are known to be the most popular time to buy real estate. Daylight savings are over, days are longer, and the sun sets later in the day, meaning that there's more time for potential home buyers and sellers to view homes. It's easier to move house when snow and ice are not factors and there's no concern of slush being tracked into the home.
For families with kids, moving in the summer is the ideal time. Children don't have to switch schools in the middle of the year and parents don't have to worry about working around the school schedule.
Additionally, the natural light and flourishing gardens make your listing property glow like it never has any other time of the year and drastically amps up curb appeal. While home prices tend to be slightly higher, competition is fierce and listings have faster closings.
Here's how to take advantage of that summer glow and bring in the right potential clients quickly with these summer real estate tips.
Dust off Your Signage
Yard signs are obvious must-haves for any listed property, but does your signage reflect where you are in your business and what you can offer clients? Summer is a great time to retake those headshots and reassess if your tagline encompasses your business goals.
If your property listing is located in a secluded area, make sure that you place signs along the route to the listing, especially at major intersections. During warmer months, more people than usual are strolling the streets and are more likely to walk into open houses spontaneously. Your signs stand out more in better weather, so don't slack off on visual branding. AgentFire designers are proven experts in creating standout branding kits and logos that put our clients at the forefront of their hyperlocal real estate market. Learn more about our branding and logo options here.
Master Real Estate Mailers
Start off your mailing season on the right foot by reaching out to your current farm. Send your entire CRM tips on what they need to know before selling or buying a home. It's up to you if you want to mail physical mailers or an email update. Clients that are on the fence will get the little bit of encouragement they need to list or buy, and those that are ready to make the big move will be thankful that you took the time to inform them. Plus, you'll be top of mind the next time they make a big real estate decision.
In your initial mailer, include details on home estimates and local market updates to help clients get a clear idea of what they're getting into. Be sure to communicate how your local knowledge and expertise can translate into them making the final sale or finding their dream home.
Craft a Summer Newsletter
Alternatively, some real estate agents may prefer shorter, more frequent newsletters. Shorter, frequent content allows you to stay consistently in your clients' inboxes with multiple tips, updates, and local news over a longer period of time throughout the season.
Cater to Your Real Estate Niche
Is your target demographic single families within a specific district? Consider what marketing content you can create that is especially for your audience. Think of ways that you can help parents move their furniture with small kids or book summer trips with the family. How can you make yourself a resource for relevant summer activities and niche-related concerns?
Do you focus on vacation homes within a neighborhood by the beach? Think about what blog content is relevant for those living by large bodies of water. It's all about tailoring your content to get the right leads.
Sponsor a Local Team
There are plenty of extracurricular activities and sporting events for the family over the summer. Plenty of sports including baseball, soccer, swimming, and lacrosse, are made to be played in warm weather. These teams are more often than not, looking for local businesses to sponsor them. Your real estate business could be one of the few to find family clients exactly where they are.
Depending on where you are located, a BBQ or beach gathering may be more relevant. Think about the interests of your community and what events are typically held there.
More budget-friendly sponsorship-adjacent options include hanging a sign at your local community pool or throwing a small BBQ. You could also partner with local vendors for a raffle or free cross-promotion. Partnering with a business that has similar clientele is mutually beneficial.
Gather and Respond to Reviews
Buying a home is a massive financial decision. Clients want to work with someone who they know can trust and will do a good job – that's where reviews come in. Be sure to consistently remind clients to leave reviews in a way that is authentic, not pushy.
On your part, make sure to respond to all reviews, both negative and positive. The aim is to thank clients for taking the to leave a review and offering a solution for those who weren't pleased.
Take Fresh Listing Photos
In most areas, summer means lush green lawns, blooming gardens, blue skies and sunny days. Show your listing in the best light with great weather and high-quality visuals. These photos can be used year-round when the condition doesn't allow for comparable photos. With awesome summer photos, you can boost your listing all year round. It's always best to hire a professional photographer, but it's not always the most convenient. Grab some tips from the following video if the job of taking photos falls on your lap.
Stick to Your Goals
Even with all of the summer real estate marketing ideas in the world, maintaining a consistent schedule and goals is crucial. Don't let warm weather distract you from your overall real estate business goals. In order to know if any of your real estate marketing ideas are working, you'll have to compare them against broader business goals. Commit to measuring your progress at the beginning, middle, and end of the season. If they're not working for your unique needs, you can cut them out before you reach the fourth quarter. For most agents, lead conversion is the ultimate metric of success.
Time to Get Started
Whether you decided to throw some summer community events or focus on becoming the local authority with the best summer real estate content, it's worthwhile to consider how you can up your marketing this season. Your marketing strategy is not a one-stop shop throughout the year. It should be flexible based on your business needs and occasionally conditions as fickle as the season.
If you want more in-depth articles, tactics, strategies, and advice – subscribe to our newsletter. And if you want to dominate your hyperlocal real estate market, check out AgentFire's Web Designs, #1 rated for several years in a row.
And the best part? You can try out all of its amazing features for free with our 10-day trial.
Check out this article next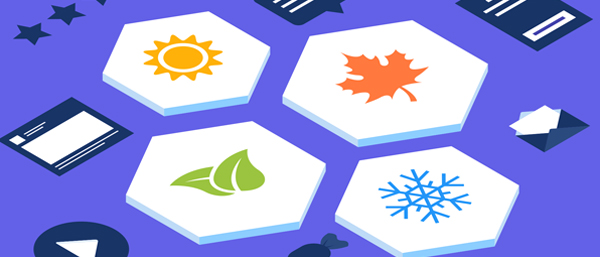 20 Seasonal Real Estate Marketing Ideas for Spring, Summer, Fall and Winter in 2023
It's 2023, and if you want to dominate your local market, you need to up your game with laser-focused, seasonal real estate marketing ideas.  Sp…