What we think about millennials may no longer be the truth. You may or may not know this, but people under 30 now make up the majority of homebuyers. Are Millennials really the risk-averse, mobile and rent-centric people we thought they were? Turns out they aren't.
Something big is happening. What we think about millennials may no longer be the truth. You may or may not know this, but people under 30 now make up the majority of homebuyers. Are millennials really the risk-averse, mobile and rent-centric people we thought they were? Turns out they aren't.
Make no mistake, the roadblocks (credit card & student loan debt) aren't going away for the younger generations. But that doesn't seem to be stopping them from planting their roots and making an investment for their future.
Here's how crazy it's getting. The National Association of Realtors has stated that individuals under 30 are comprising 32% of all homes purchased. They now constitute 68% of first-time homebuyers.
So what does this mean for your marketing strategy?
It means that you have an untapped market. The stereotype is still that younger people aren't buyers. Take me for example. I am a millennial. I have also been thinking about investment properties since I was 18. The shift is really happening.
This means you'll need to invest in building out the proper marketing strategy for the younger generation.
You'll need to know:
How millennials think
What is important to millennials
How to market to them
Let's start with understanding who you're dealing with. We'll build out a personality profile. This will help us narrow down the thought processes to cater to and outlets to use to reach millennials.
---
The Millennial Homebuyer Profile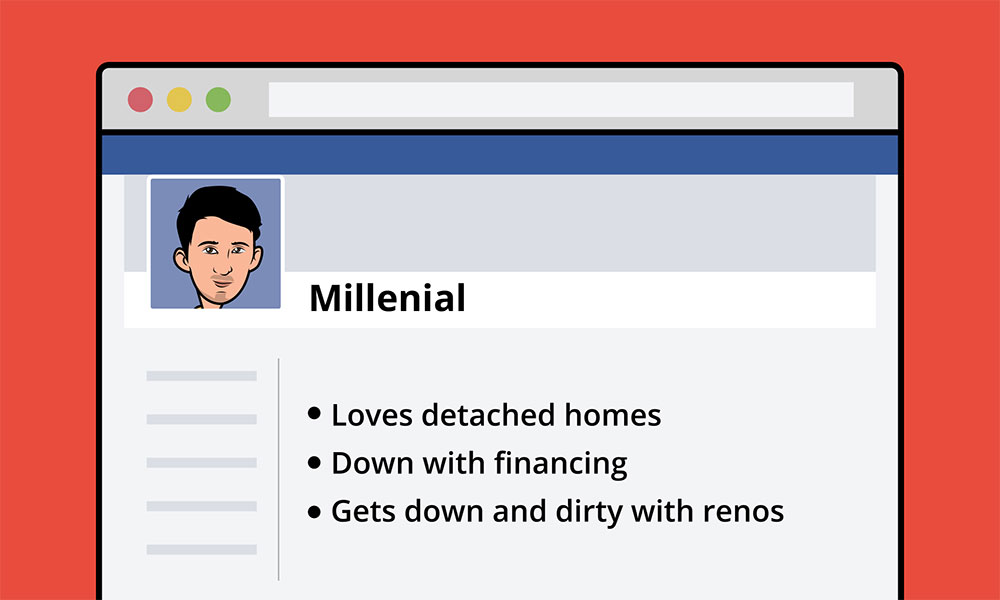 One thing surprises even me. In 2021, 62 percent of recent buyers were married couples. That means a lot of millennials are getting married. The other 38% of buyers are a mix of single males, single females, and unmarried couples.
The Important Figures:
83 percent of recent purchases were detached, single-family homes
86 percent of recent buyers financed their home purchase
62 percent said they renovated their homes
I know this is a lot of numbers. Bear with me.
This information is telling us a few things. They would rather a DIY fixer-upper than a new build. It is also important that you stress your ability to help prospects get financing. Those who financed their homes put down an average 10% down-payment.
Here comes the hard truth. According to NAR, the average real estate agent is 52 years old. That's a pretty big gap.
The reason age is important to stress is that there are generational differences. Did you know that millennials statistically "hate" phone calls? And that they would much rather prefer a text or e-mail as a primary means of communication?
This is why it's crucial to understand how to reach your target market.
Get A Free Personal Demo
Ready to revamp your real estate marketing strategy and dominate your hyperlocal area? Our expert web designers will show you how. Click the button below for a free 30-minute demo of our AgentFire Spark Sites.
How to Reach Millennial Homebuyers
Those born into the internet age are skeptical. They look for social proof and always do their research. Cold calling alone probably isn't going to cut it with these guys.
When dealing with millennials, your first plan of action should be to build your online presence.
Your Online Presence as a Realtor
There are a few things to keep in mind here. Everything I'm going to mention is good general practice but especially important for millennials:
Reviews on industry sites
Reviews on Facebook
Testimonials on your website and/or Facebook
Reviews on Trulia, Zillow etc.
In internet marketing we use a term called "Online Reputation Management". There are companies dedicated to ensuring your satisfied customers are heard; and your unsatisfied customers are dealt with prior to posting negative reviews online. It's important.
Consumers are bombarded with advertisements. It has raised their savvy to new levels. In order to overcome consumer skepticism, make sure your company profiles are highlighted with as many 5 star reviews as possible.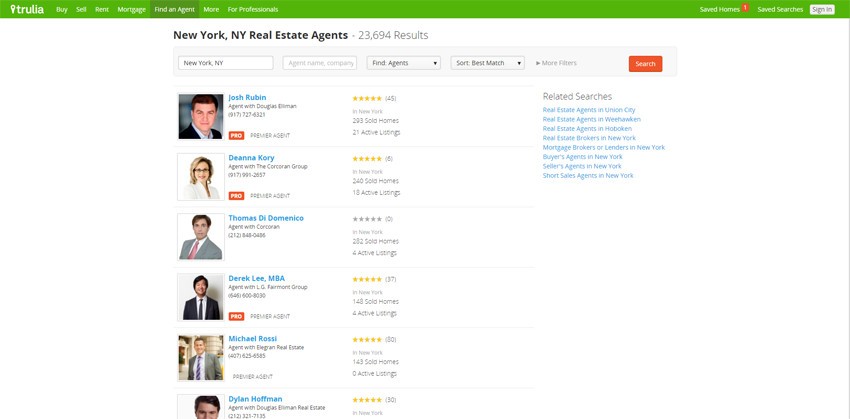 Trulia has an awesome review platform. It's minimalist and therefore makes it easy for users to search. This is great for you because a site that is easier to use will keep users around longer. Thus increasing your chances of being discovered.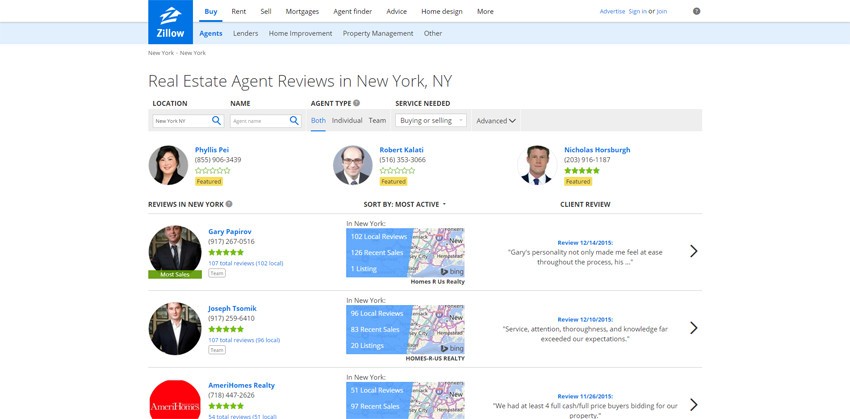 There isn't a huge difference between the review platforms on Trulia and Zillow. Trulia is often believed to be a little easier to use. They both work though. I would recommend doing some research. Figure out which site has the least amount of registered realtors and go there.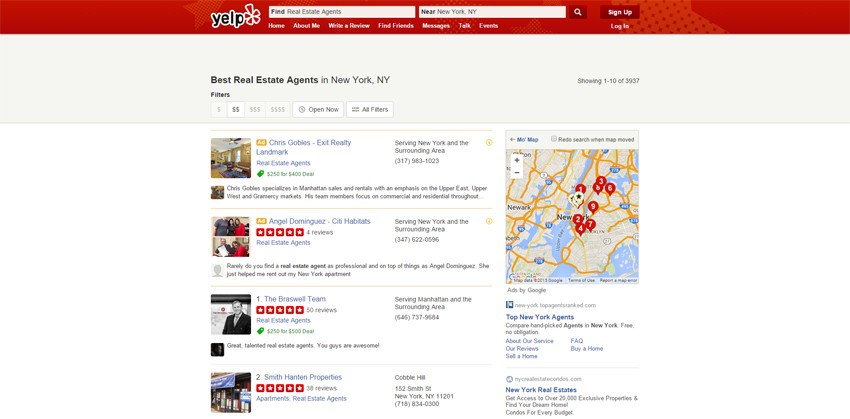 According to some of the top-producing agents I've heard from, YELP is an emerging force for generating leads. There are also less realtors using YELP. That means this platform is easier to get to the top of the search results.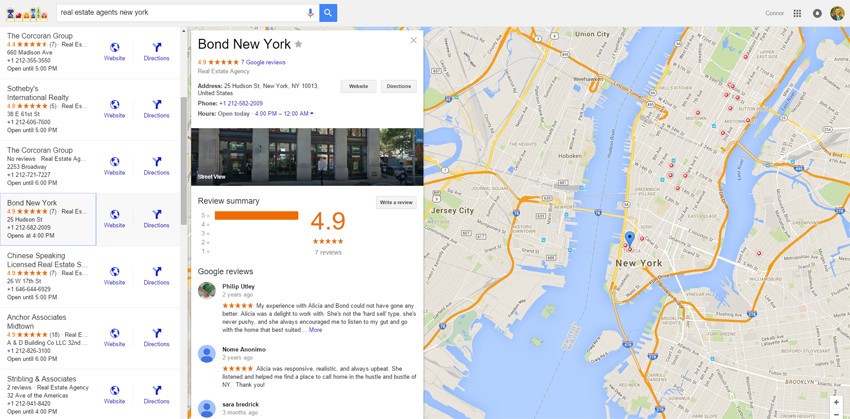 Google Business Profiles are important to optimize. The better you do on Google, the higher SEO value you get. This will push you to the top of the search results.

We'll touch more on why Facebook is importantly shortly. Let's first talk about their reviewing system.
Facebook has reviews just like the other companies above. If you have any reviews on your Facebook profile it will show from within the search. This is a great chance to attract prospects organically. Just remember that you'll need to solicit most of the reviews. (People generally only go out of their way to write a review if they are pissed off. Sad but true.)
Get Our Pricing
Want to dominate your hyperlocal real estate market? Then you need to check out AgentFire's Spark Sites.
Click the button below to learn more about pricing.
Using Homebuyer Testimonials
You can use written or video testimonials. Post your video testimonials on Facebook, Youtube or the testimonials page on your website.
At AgentFire we've developed a powerful reviews plug-in exclusive for our clients. Your testimonials can be featured on any of your AgentFire webpages with a range of customized display options.
Now you're rolling with the punches! Your online reputation is on-point. What next?
Where do Millennial Homebuyers Hang Out?
I'm fairly certain you already know the answer to this: social media. The best network is for Millennials is Facebook or Instagram. There are a ton of different options though. Stick with 1-3 social media outlets and own them. Don't spread yourself thin by trying to be everywhere.
It's also super important to know about the best and worst times to post on each social network. Now, let's look into each site and determine the best marketing strategy for the platform.
Facebook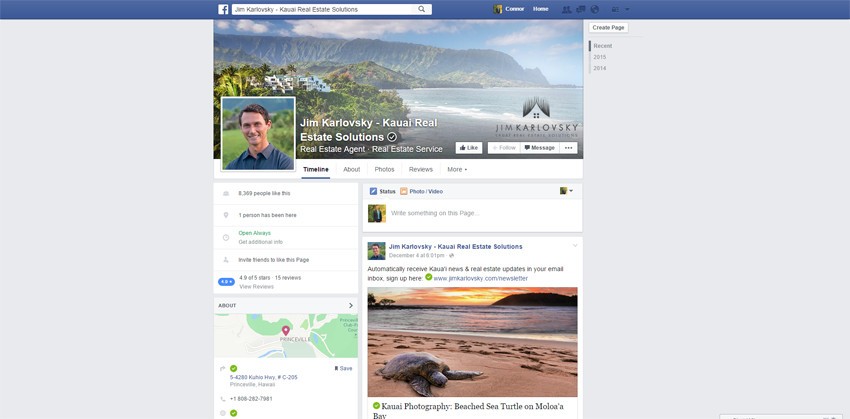 Great realtor branding on Facebook. Jim is one of our clients.
Facebook just passed 1.5 Billion active monthly users. It's by far the best outlet to reach the most amount of people. Not to mention the advertising platform is amazing.
Is it the best platform to get highly targeted viewers? Maybe not. That's why agents also use Zillow, Yelp etc. to advertise. As for reaching a large audience and building your personal brand? You can't beat Facebook. Make sure to review your post analytics and determine the best times for viewer engagement.
Facebook best practices for agents:
1-4PM is the best time to post
Weekends before 8AM and after 8PM are the worst times to post
Using photos results in 50-100% more engagement
Facebook is great because you can make short and snappy posts, videos (great idea), or long-form "notes" and get high engagement across the board. How you use the platform is really up to you!
Youtube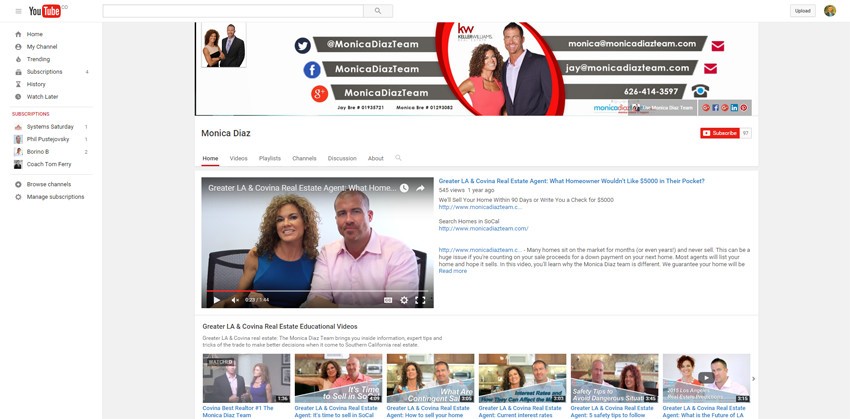 Here's an example of good realtor branding on Youtube.
Some realtors post videos directly to Facebook. You can also post your videos on Youtube and then share them across your social networks.
The best videos to post on Youtube as a realtor or brokerage:
Walk-through's of homes you list
Video testimonials from past clients
Real estate market updates
How-to's or quick tip videos
You can really make it work on Youtube with videos of any length. I've seen 90 minute interviews, 2 minute quick tip videos and everything in-between. Remember to find your personal brand and be consistent. Don't put on a persona.
People can sense disingenuous energy and it's scientifically proven that people can tell the difference between a real and false smile. So be genuine and don't set off their "bullsh!t sensors."
Twitter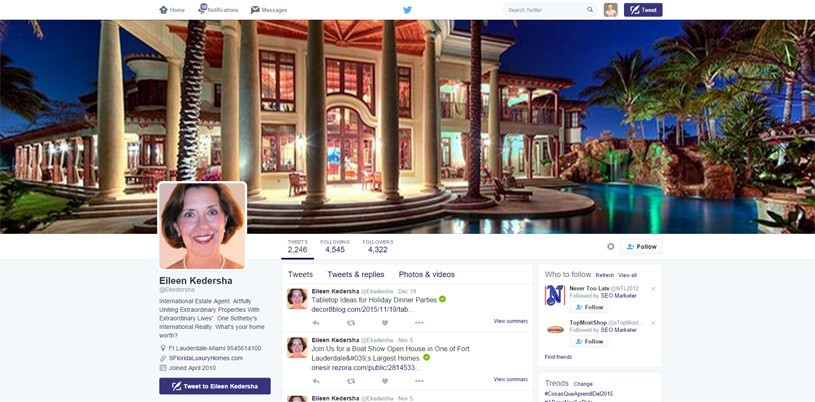 Great realtor branding on Twitter. Eileen is one of our clients.
This is not a platform for advertising. This is a network for entertainment and building connections with the community. In order to survive on twitter as an agent, you need to be quick, sharp, witty, caring, different… Pick your schtick and own it.
I have heard from many top-producing agents and brokerages that twitter is not an effective outlet for organic lead generation. HOWEVER, use the search function with relevant keywords like "searching, homes, house hunting" and try to find people asking questions in the house-hunting process.
Take the opportunity to then create a conversation and help homebuyers where relevant. Add value and it may come back to you.
Worried about keeping all your new millennial contacts in order? Your AgentFire website easily integrates with any leading CRM to help you stay organized.
Other Platforms For Realtors:
You can also choose to use any one of the below social networks. Just remember to tailor your communications to the platform. Check out our guides and specific blogs for each network (including the above).
Let's not forget about e-mail and text. If you can include drip-email and text campaigns into your marketing, you'll be reaching millennials in their natural habitat. By the way, 98% of texts are read – only 11% of emails are ever opened.
---
In Conclusion…
The percentage of young buyers is rapidly growing. However, the stereotype remains that millennials aren't buying homes. Take this as a big marketing opportunity. You can target the people no one else is.
If you can speak to millennials on their level, understand how they think and what they want etc., you will win that game. As with any other form of marketing, you need to understand your target demographic.
Reach the young people on the platforms they use. Speak their language and build trust.