Here are the leading real estate Youtubers in several categories: digital marketing, new agents and career building, coaching, home tours, and lead generation.
These days it seems like every real estate agent wants to be a Youtuber or influencer – and that's not a bad thing! Some of the highest selling real estate agents offer impactful, career-changing information for free, right at your finger tips. It's just a matter of finding the right content from professionals you can trust.
Below we've put together the leading real estate Youtubers in several categories:
Digital marketing
New Agents and Career Building
Coaching and Training
Home Tours
Lead Generation Experts
Check them out!
Digital Marketing
Tom Ferry
We have to talk about the king of digital real estate marketing, Tom Ferry. Tom is one of the most highly sought-after real estate marketing experts whose career has taken him all over the world. He tackles every topic within real estate marketing, from mindset tips on Mindset Monday to actionable steps you can take to build a new digital marketing plan or campaign. 
We recently worked with Tom on an all-encompassing, info-packed Digital Success Masterclass. In this class, you'll learn how to identify and take advantage of the best modern real estate website opportunities on multiple platforms. 
To learn more about the tools we've mentioned in the class, book a free 30-min demo with one of our awesome web designers. 
Mike Sherrard
If you've ever googled "real estate digital marketing" on Youtube, chances are that Mike's videos have popped up. Mike Sherrard is a Calgary agent who has made an online brand for himself by delivering timely posts about social media and content marketing for real estate. His expertise also includes video production, video editing, business coaching, lead generation, and Youtube optimization.
Stefanie Lugo
Stefanie Lugo is one of the few online real estate experts who has dedicated her entire account to one precise focus: teaching agents how to "gain an unfair share of attention and attract their dream clients". She is a successful agent who found her success in the Scottsdale, Arizona market. Stefanie regularly updates her Youtube account with digestible quick tips in the social media marketing space. Occasionally, she explores general lead generation strategy.
Jordan Platten
Jordan Platten isn't just a real estate expert. His entrepreneurial advice applies to agents, brokers, and anyone looking to get ahead in their business. Jordan's brand is centred around digital marketing and success coaching. Although he runs a paid program, he dishes out equally useful bits of advice on his Youtube channel for free. Jordan has a systematic and clearly outlined approach to marketing. In the video above, he demonstrates this process in a step-by-step guide covering everything from righting a job description, self reflection and sharing your ad.
New Agents and Career Building
Loida Velasquez
Loida Velasquez is a leading real estate agent in the California and Florida area. Her Youtube channel is an awesome resource for agents just starting, looking to get into the industry, or even trying out a new niche. Loida gives practical advice on a variety of topics from how to stand out in 2023 to how to start working with real estate investors. Much of her content is taken from a personal perspective and Loida even takes her audience on tours of her listings to show how she works in her -day-to-day life. For agents looking for a virtual mentor, give Lioda a follow.
Get A Free Personal Demo
Ready to revamp your real estate marketing strategy and dominate your hyperlocal area? Our expert web designers will show you how. Click the button below for a free 30-minute demo of our AgentFire Spark Sites.
Kyle Handy 
Kyle Handy began his real estate career in the search of financial and time freedom. Now, he shows agents how to achieve the same f and escape of the paycheque to paycheque rat race. Based in San Antonio, Texas, Kyle has become a well-known real estate influencer across the world who gains tons of traffic with his blog and Youtube videos. In his own words, Kyle has built his career around "creating value and doing it online". Expect to find topics covering everything from farming to open house tips and hiring advice.
Vayna Jerabek
Team lead and broker, Vayna Jerabek uses her Youtube channel to share information on working with investors and residential buyers and sellers. Some of her most popular videos are centred around increasing your individual income and bumping up your career. You'll also find licensing tips and lifestyle advice made to get you in the mindset of a leading, successful agent. 
Carys Eccleshall
Although she's fairly new to Youtube, Carrys Eccleshall knows exactly what real estate agents are looking for in a real estate Youtuber. This Palm Beach agent focuses on the lifestyle of real estate agents and day-to-day tips. For example, Carys breaks down complicated real estate terms and provides updated market information in her hyperlocal area.
Coaching and Training
Kevin Ward
Kevin Ward is the leader of Yes Masters, a well-known real estate coaching program that trains thousands of agents every year. From a shy agent to a national speaker, Kevin is an example of how to build confidence in the industry. On Youtube, he dives deep into a wide range of real estate topics in online courses and recordings of live events. Kevin gives a behind-the-scenes look at his life as an entrepreneur and trainer, all while sharing his professional knowledge.
Bryan Casella
Bryan Casella is a well-known real estate coach and influencer in California. With his colleague, Loida, Bryan produces straightforward, real estate advice meant to be put to practice. Many of Bryans videos follow the format of a mini-coaching session where he shares his point of view as an expert.
Jimmy Burgess
Long-form videos and deep dives are Jimmy Burgess's speciality. This Youtube channel is packed with webinars and in-depth conversations that break down each topic into theory and practice. As the CEO of Berkshire Hathaway HomeServices Beach Properties of Florida, Jimmy has a ton of successful real estate contacts who often come on his channel to share their own point of view. If you're not ready to dedicate an hour and a half to a youtube video, you can catch the same content on Jimmy's podcast.
Buffini and Company
Brian Buffini started Buffini and Company nearly 25 years ago when he immigrated from Dublin to San Diego, California. Now his 'Brian Buffini' podcast reaches over a million listeners a year. You can catch the recordings of this podcast on the Buffini and Company Youtube Channel. Brian and his professional or celebrity guests, dive into the mindset of success and give insight into timely topics such as market shifts.
Home Tours
Jason Matouk
This Florida agent, Jason Matouk, prefers to keep his online identity minimal and put the focus on his incredible listings. Check out his channel for filming and staging ideas.
Get A Free Personal Demo
Ready to revamp your real estate marketing strategy and dominate your hyperlocal area? Our expert web designers will show you how. Click the button below for a free 30-minute demo of our AgentFire Spark Sites.
360 Home Tours
360 home tours is a cinematic and marketing company that films some of the most impressive home tour videos online right now. If you're not sure how to approach your next virtual viewing, take some tips from their tours.
Architectural Digest
Architectural digest is an industry staple when it comes to real estate and interior design trends. The AD Youtube channel is where you'll find out what industry trends your clients are looking for and expecting in their future property. Their most popular series, Open Door, gives viewers an up close look at the homes of prominent celebrities and creatives. 
Lead Generation Experts 
Eric Beer 
Eric Beer knows a thing or two about lead generation. After 17 years of studying lead generation in his own businesses, Eric teaches other entrepreneurs how to get their message out to the world with the exact lead generation tactics that helped him. Visit his channel if you'd like to scale your business and get more leads quickly (on and offline). 
AgentFire websites are build to pull-in online leads and keep them organized in your CRM. Take a look at our client websites or check out our unique marketing tools to find out how to take your real estate business to the next level.
Jason Wardrop
Jason Wardrop describes himself as an "entrepreneur with a knack for building businesses from  scratch". He's spent over $1 million dollars on Facebook and Google ADs for his business and now shares what he's learned with his subscribers. Jason's Youtube content focuses on paid strategies such as paid ads and building your professional website.
Eric B Preston
Eric B Preston is the owner and face of Agent Launch, an agency that specializes in building client acquisition systems for realtors. His overall brand philosophy emphasizes the importance of owning your own lead systems and strategies, as well as driving automation to lessen your workload. Eric's Youtube channel covers the details of generating seller leads using paid ads and marketing funnels.
In Conclusion…
There's an overwhelming amount of real estate information on Youtube. If you're familiar with the industry's leading Youtube influencers, you can be sure to keep up with the latest industry trends and shifts.
Take a look at some of the Youtubers above and hit subscribe on the ones you like most. Even when you're not looking for real estate content, it will always be at your fingertips on your Youtube feed.
Check out this article next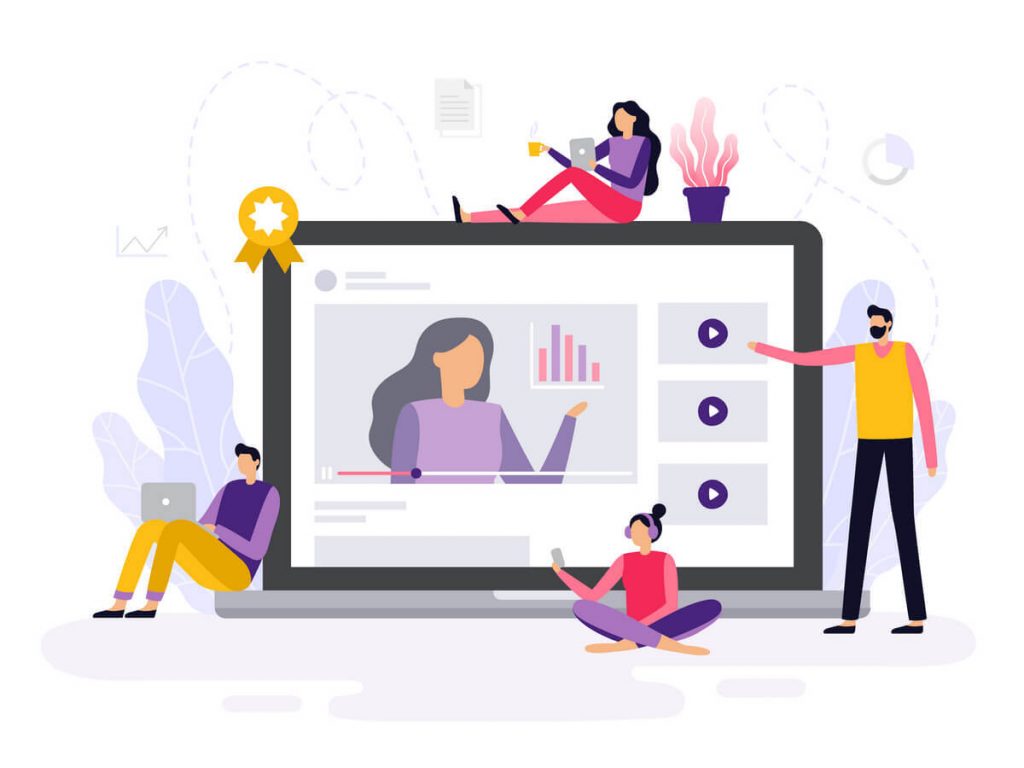 25 Attention-Grabbing Real Estate Video Ideas
Don't underestimate the impact video can have on your real estate marketing strategy. Statistics show that property listings with videos made viewers …