Want to take your Instagram marketing to the next level? Then you need to follow these Instagram accounts, and follow on the footsteps of these pros.
Is Instagram a part of your marketing strategy? If not, you really should. You may already know that it's a seriously powerful tool to drive engagement with your brand, and build an audience. To put its power into perspective, Instagram has over 1 billion active users and has 4x more engagement than Facebook.
Instagram is also not a new platform. Dozens of top producers have already set a standard of what a good Instagram account looks like, meaning that if you want to overhaul (or even just start) your Instagram game, you don't have to reinvent the wheel. You can build a solid foundation by imitating what the experts are doing.
Below, we've listed 19 Instagram profiles you need to follow. Not only can they provide you with a clear outline of what a good real estate Instagram account should look like, but many of these accounts are also front and center of the newest real estate industry developments in the US.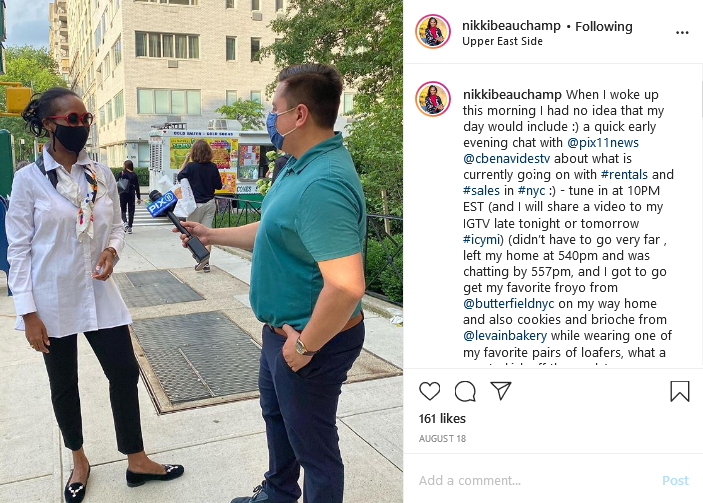 Nicole Beauchamp is a Global Real Estate Advisor with Engel & Völkers New York and was a seasoned real estate broker servicing Manhattan's and Brooklyn's residential properties for over a decade.
On her Instagram account, she does an amazing job promoting listings, the community she serves and the local businesses that operate there, and most importantly – herself!
She doesn't really post real estate tips, but her profile itself is a thesis on self-promotion that still comes off as a sincere expression of how much she loves her city.
Her profile is a great example to emulate. Take it from an expert!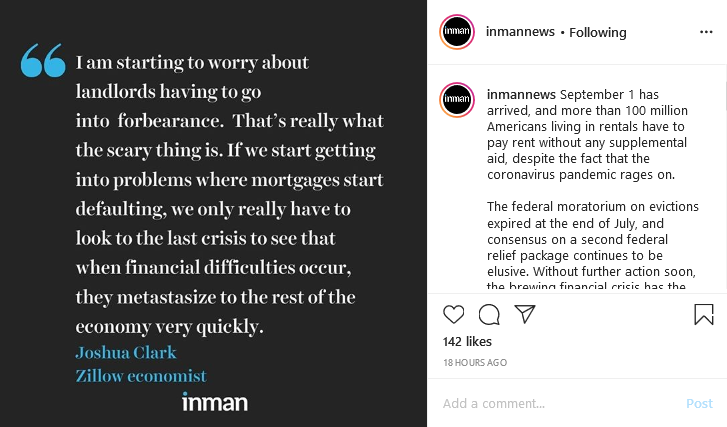 Inman News is a reliable resource for insider knowledge on the real estate industry including market updates, economic status, relevant news, agent resources, statements from experts, and more.
These may not be content you'd want to repost (unless you're an agent resource), but you can save them or take inspiration for your own content.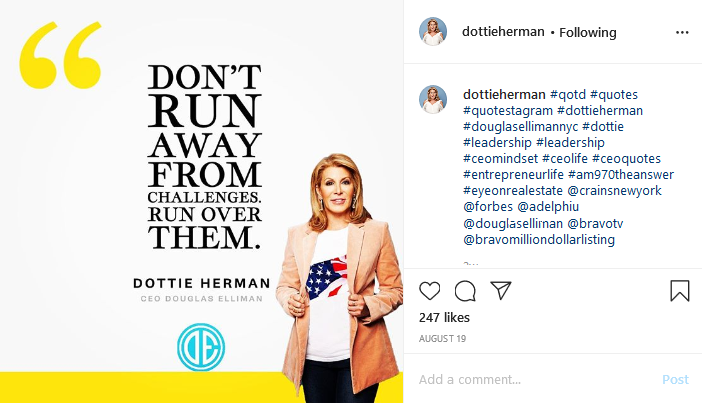 Dottie Herman is the richest self-made woman in American real estate and the CEO of Douglas Elliman.
Her Instagram is a peek into the life of the leader of America's #3 real estate company and commander of 7,000 real estate professionals all over Manhattan, Brooklyn, Queens – all the way to Los Angeles and South Florida. 
She has a star-studded profile that can serve as powerful inspiration for agents, as well as posts about upcoming events.
Get Our Pricing
Want to dominate your hyperlocal real estate market? Then you need to check out AgentFire's Spark Sites.
Click the button below to learn more about pricing.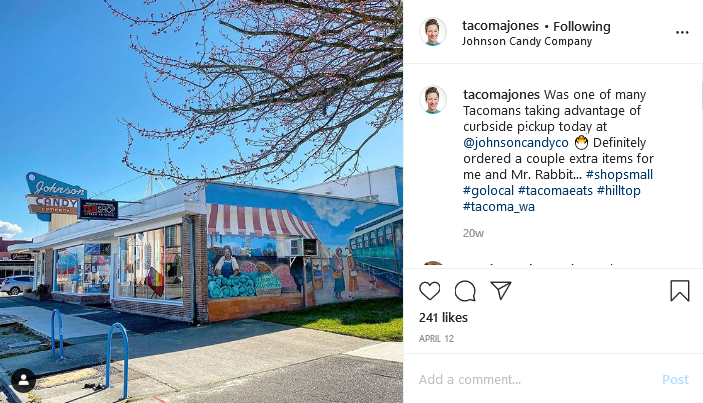 Anne Jones is the ultimate Tacoma local and founder of Windermere Abode.
Her profile is an immaculate display of listings and wholesome family photos around the city. She celebrates her service of the community during the pandemic and through charities with other community leaders.
She uploads high-quality virtual tours, and promotes not only properties but also her city by featuring local hotspots in her posts.
This is what a TRUE hyperlocal expert's Instagram page looks like. Who wouldn't hire her?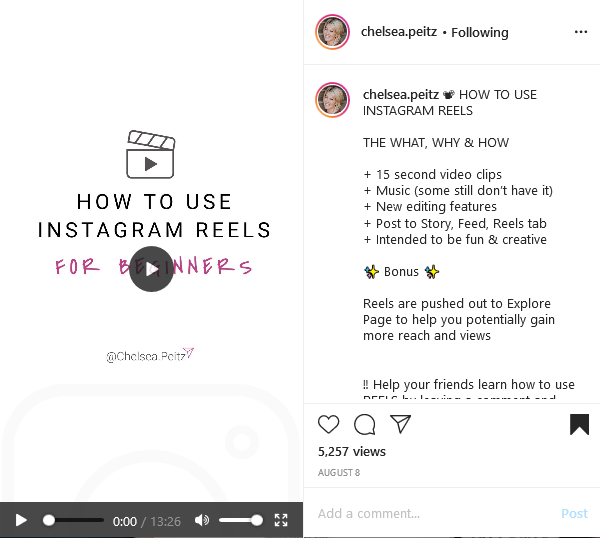 Chelsea Peitz is the author of What to post. – a highly rated manifesto to social media success for real estate agents, and the owner of the 5-star podcast The Voice of Social Sales.
If you're marketing on Instagram (and you should be!), Chelsea has loads of short but value-loaded guides on how to blow up your brand on the platform – she covers everything from the Four R's of the Hashtag, to every new beta feature as she gets it.
With social media platforms in an arms race to roll out features that better serve their users, especially post-Covid-19, how do we stay in the game?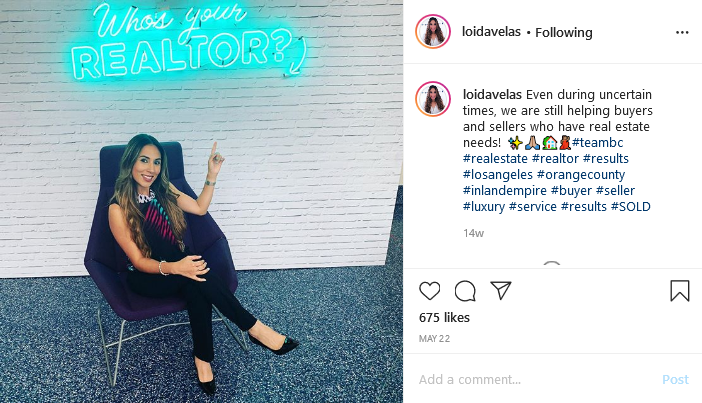 Loida Velasquez is a top producer from eXp Realty's Team BC and a great example of a new school real estate influencer.
There's a lot of activity going on in her profile and it gives a sense of how hard she works and how well she handles a high level of responsibility – and when we say activity, we don't mean photos of a perfectly blended green smoothie… 
Aside from sneak peeks of Team BC's office and the day-in-the-life of a top producer, she promotes her initiatives with other female entrepreneurs as well as the training she offers for agents.
As they log onto Instagram and view her profile, all her clients see is Wonder Woman.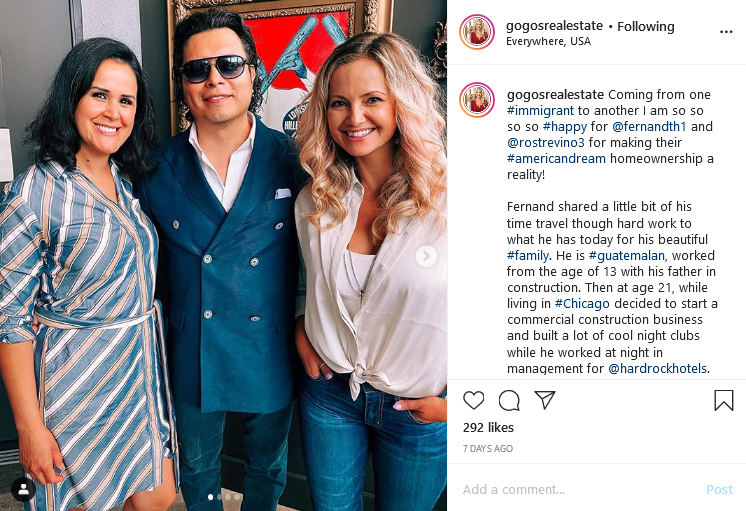 Gogo Bethke is a Top 3% National REALTOR® and the account holder of one of the largest social media followings in Michigan.
One of the first things that stand out on her profile is her posts featuring other local community leaders and professionals, as well as creating awareness for fundraisers.
She celebrates other people's success through sincere promotions of fellow entrepreneurs and business owners, complete with a high-quality photo and heartfelt caption.
Gogo plays the generosity game extremely well, and through promoting others has multiplied her network considerably. Her backdrop is a gorgeous collection of properties and life in North Carolina, which – thanks to her – looks exciting to live in.
Get Our Pricing
Want to dominate your hyperlocal real estate market? Then you need to check out AgentFire's Spark Sites.
Click the button below to learn more about pricing.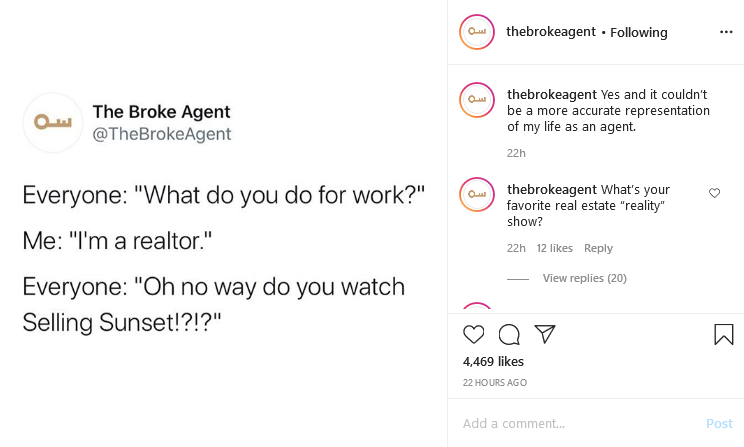 You know what makes the best humor? Humor we can relate to.
Has the pipe gone dry? Lost the keys to your listing? Have clients who think they were realtors in their past life?
When everything goes south, it's easy to feel like nobody understands the struggles we're going through – especially with a career that's often misunderstood. 
After all, we've all been a broke agent once.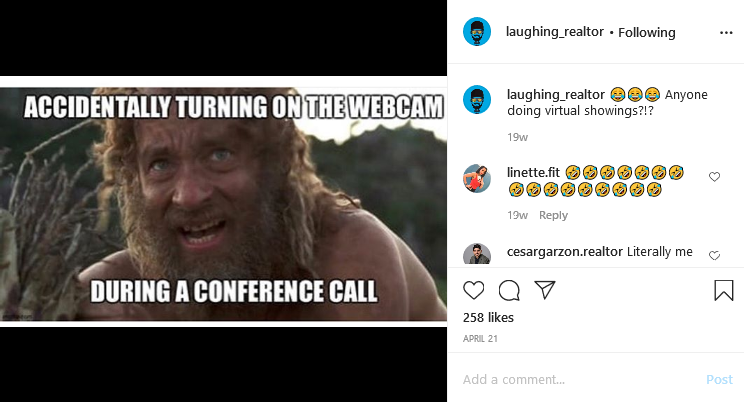 More realtor humor for you on this account. 
Jordan Nielsen is actually the founder and CEO of Listerpros, a real estate media service for agents that helps them sell more properties and earn more business through high-quality videography, photography, and by featuring agent listings on their show, PropertyPros.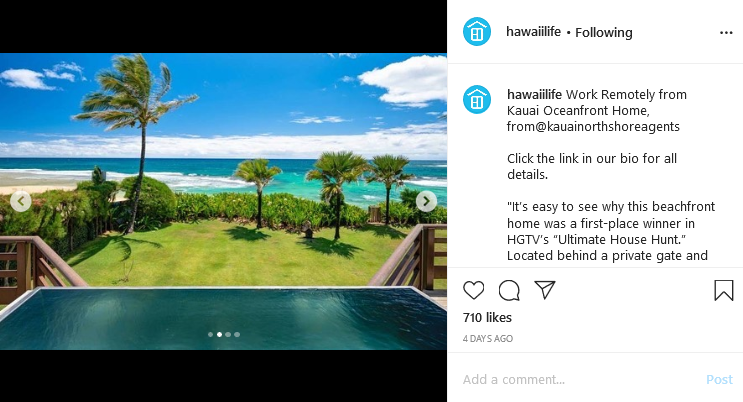 Hawaii Life is a locally owned and operated real estate brokerage based in Princeville with around 300 agents serving the islands.
Viewing their Instagram profile feels like opening a thick and glossy magazine that smells faintly of sea salt. 
Beautiful scenic shots of the islands and captivating copy shows they understand the experience that their market is expecting from the state – this is doubly important considering that they're marketing to a lot of foreigners and retirees who have visited the island but never lived there.
They aren't only selling beautiful island properties… They're selling Hawaii Life.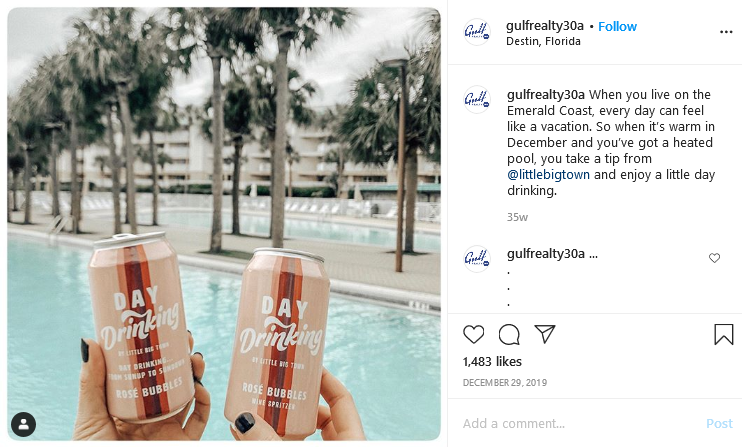 Gulf Realty 30A is a boutique real estate firm that serves the community of the Emerald Coast.
Their use of Instagram Highlights is simple but effective, and any agent at any level can emulate what they're doing.
Their 'Local News' highlights is a collection of stills and short videos that promote the community and neighborhood businesses with an intimacy that can only be pulled off by a true local. They're the experts in this town, and anyone looking to buy would go to them.
The other two highlights promote their listings and their team – it essentially provides all the information clients need to begin considering a decision without having to go to their website.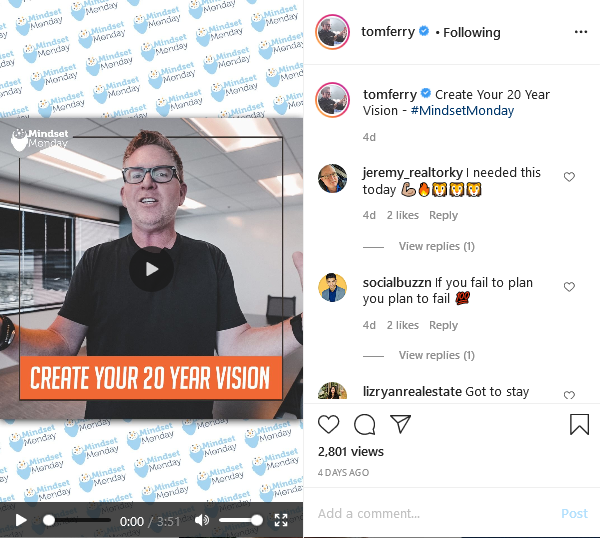 Tom Ferry is arguably the biggest name in modern real estate and the owner of the #1 real estate coaching company in the US.
He practices what he preaches, leveraging the full power of social media. Aside from strategic posts centered around promotion, he dials back a bit and transforms into a personal advisor while talking to the camera vlog-style.
This is something that agents should emulate – it's a chance to display leadership by educating clients and providing insider knowledge about the market, guidance for buyers and sellers, and maybe even advice for investors
He also gets other leaders in his sphere to drop some valuable knowledge on his profile. Following Tom Ferry on Instagram is a no-brainer – not only is he one of the industry's most trusted advisors and real estate coaches, but his profile is a great example of doing Instagram right.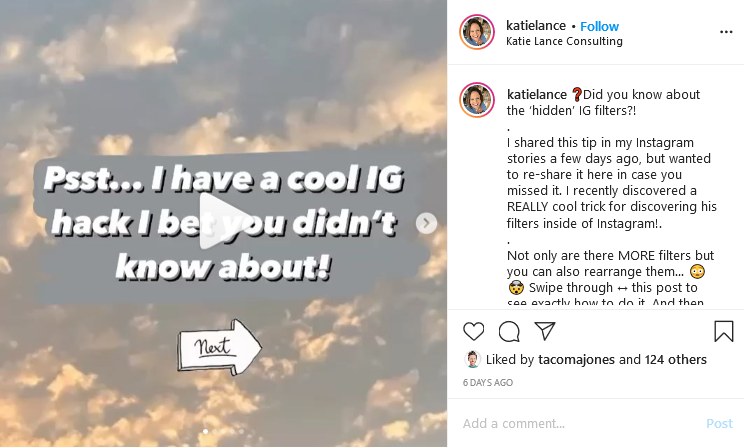 Here's another example of a well-leveraged 'virtual business card' – which is unsurprising, considering that Katie Lance is one of the most highly regarded and syndicated social media strategists in real estate.
She is a 5-star author and the founder of the #GetSocialSmart ecosystem, always on top of the industry's latest marketing trends and insights – which she shares with her audience.
Aside from the usual promotional posts and motivational quotes, she regularly uploads short videos and carousel 'albums' about social media tips and real estate strategies that agents can immediately apply.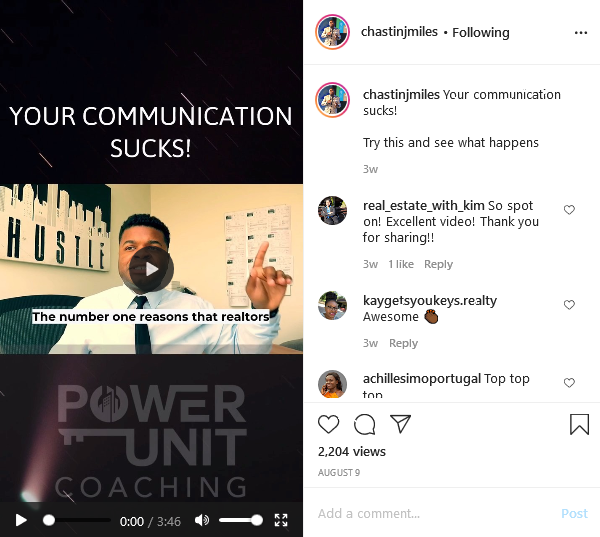 Chastin is another new school influencer in the industry who's been featured in Forbes Magazine, CEO World Magazine, REALTOR Magazine and more, serving as an advisor to many startups, businesses and investments – while leading eXp Realty's Founders Real Estate Group.
Chastin's a great resource on YouTube providing valuable information and guidance for real estate agents. Through his vlogs, viewers tag along and see what goes on in the Founders' office.
Not only is he an excellent resource and a fun channel to watch for aspiring and existing real estate agents, but his profile is also a great example of social media done right – after all, his name essentially blew up online.
A lot of his Instagram posts are previews of his YouTube videos and blog – previews that already add value on their own and effectively funnel traffic to his content.
His 'Resources' highlights are extremely well-designed and exciting 'commercials' for his business, while his 'Showings' highlights are mini virtual tours of beautiful properties – his clients can clearly see that he does the work.
The rest of his profile offers visitors clear portals into every facet of his business including his training program, authorship, and more – it just goes to show how much you can do with social media, especially when you master and create synergy with different platforms.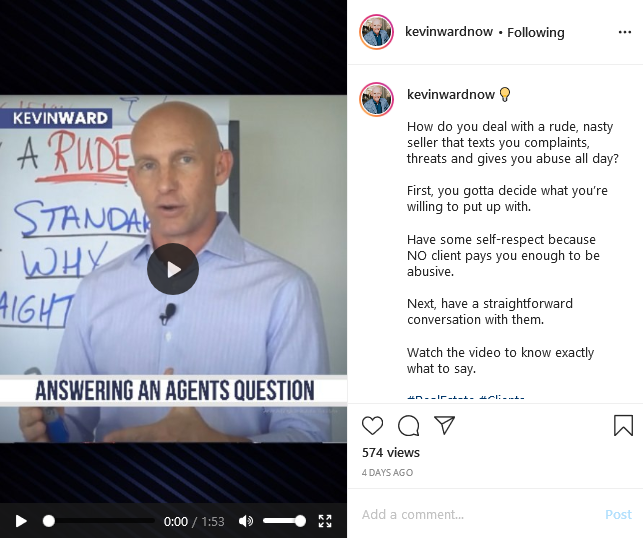 Kevin Ward is one of the biggest real estate coaches in the US, an international bestseller, and the YesMaster himself.
He posts short but value-packed videos that lead to longer content on his YouTube channel. He provides daily guidance, as well as insights from guest experts, on not only how to be a better agent, but also on winning in every area of life.
Aside from being an excellent agent resource, here's one thing he does that you can emulate right now – he posts a succinct video, answering a question that one of his followers asked.
If no one's asking you any questions yet, why not think of your own? Buyer and Seller guides are a thing, so what are their most frequently asked questions? What do they struggle to understand the most? On what can you educate them?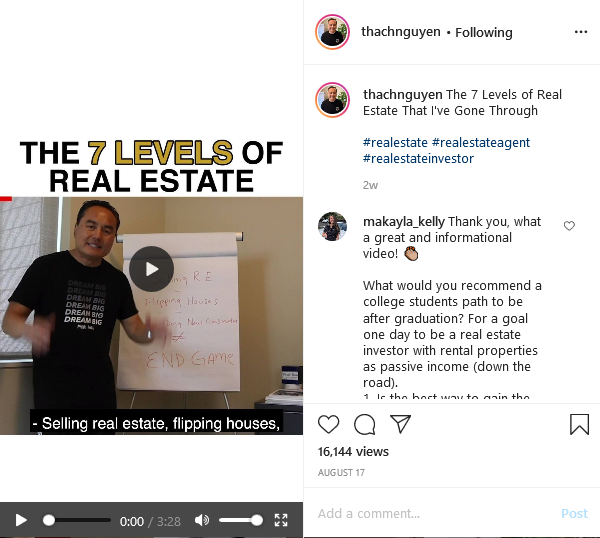 Thach Nguyen is a classic rags to riches story immigrating from Vietnam to the US with $100 to his name. Today, he's the multi-millionaire CEO of Thach Real Estate Group and philanthropist providing affordable housing to his community in Seattle.
His Instagram profile is a collection of short, high energy videos imparting the knowledge and experience he gained from his struggle to become an agent, flipper, investor, and developer, towards the creation of wealth beyond accomplishing top producer status.
His Instagram content is easy to binge – so tread lightly! If you want a lot of motivation, wisdom, and guidance in your feed, Thach is the guy to follow.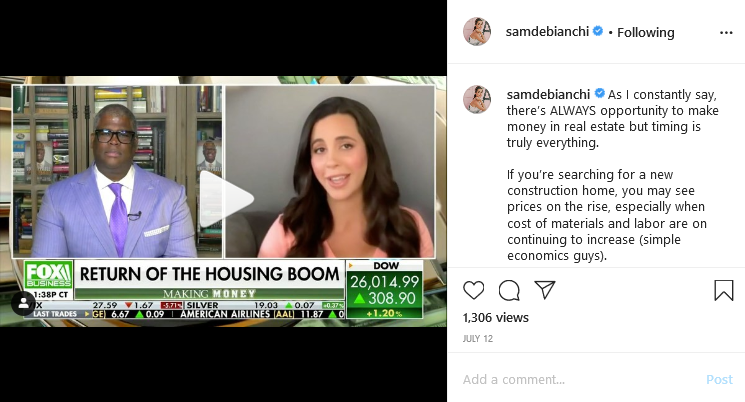 Sam DeBianchi is a highly renowned real estate advisor and founder of DeBianchi Real Estate, a keynote speaker to as many as 4,500 audience members, and was cast on Bravo's Million Dollar Listing.
Sam regularly lends her voice to CNBC, Fox News, Fox Business, Bloomberg, and CNBC World as an expert on all things real estate and housing.
She's pretty much abreast of all the latest developments in the industry and the economy – following her can give you additional insights that you can use in your business and even repurposed to better educate your followers as the knowledge broker of your community.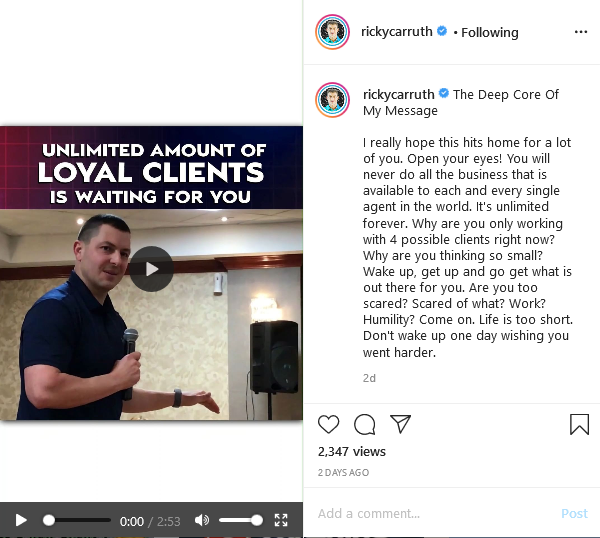 Ricky Carruth is the #1 real estate agent in the Gulf Coast. He's known as the No-Pressure Agent and generates business through building genuine relationships and having an excellent work ethic.
Ricky is a real estate coach who trains agents for FREE, dropping a lot of value on YouTube – full videos on every facet of the real estate business with no hidden sales funnel – and his Instagram is essentially an extension of that.
Aside from previewing and promoting his free content on YouTube, he posts a lot of short videos that provide massive value on their own.
After following Ricky on Instagram, you'll constantly have something new to learn from your feed.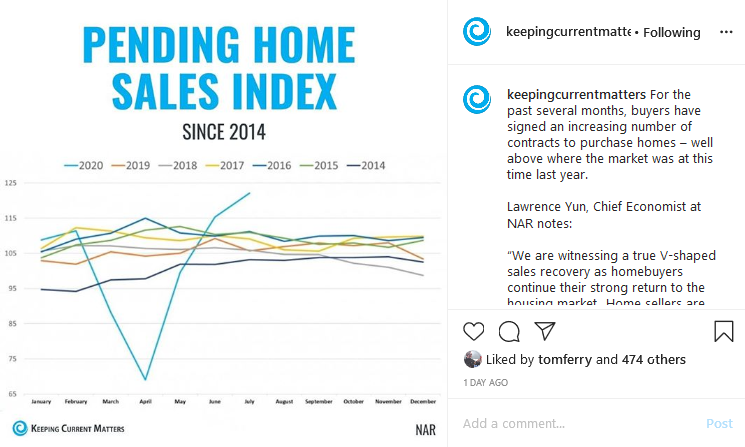 Keeping Current Matters is the trusted advisor for trusted advisors.
As a company, KCM spends their time poring over data, analysis, and statistics and condensing them into digestible nuggets of valuable information.
Remember: we want to be the knowledge brokers of our community and have the ability to intelligently communicate to our clients what's happening and what they should do about it.
Not only will you stay updated on the latest industry developments, but you can also curate the data relevant to your market and repurpose that information for your own content.
Conclusion
We're lucky to be operating in an age where we can have intimate access to high-level real estate professionals, experts, advisors – which means we get to tap into that pool of knowledge.
Whether that's true emulating the agents we want to be or consuming tips, insights, and data from other professionals whose job it is to share them, Instagram can be a powerful tool to be leveraged instead of being another distraction on your desk.
If you enjoyed reading this article and found some great profiles to follow, why not subscribe to our newsletter, the Spark?
Our finger is always on the pulse of the latest in real estate and real estate marketing and we work hard to help agents thrive in the post-pandemic world.
Check out this article next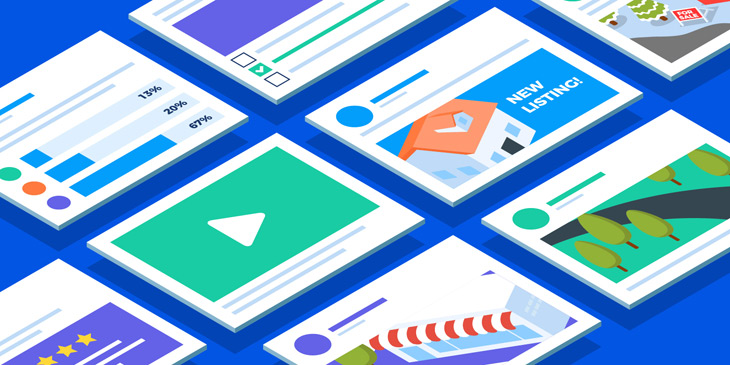 80 Social Media Post Ideas For Real Estate
Are you working on your social media strategy, but feel like you're not seeing as many results as you could be having?  Social media is a fantas…