As a realtor or brokerage, you're always looking for new ways to generate better results from your marketing efforts. In this article, I want to cut through the fluff and help consolidate your efforts into the best real estate marketing tools for the job.
You love listing homes, hosting open houses – even driving from location to location isn't a bother. But when it comes to marketing yourself, there are a million things you'd rather do. It seems like there's always a new trick or "hack" to generate better results from your real estate marketing plan! 
We know that you don't have all day to learn about and pay for confusing new applications that ironically claim to simplify your life. 
So we're going to clarify which specific marketing tools will help you consolidate your real estate marketing strategy in a way that is efficient, easy to follow, and easy to measure.
We've broken down the top ten recommended real estate marketing tools into three broad categories: 
1. CRM's & Contact Tools

2. Lead Generation

3. Social Media
Let's get to it!
CRM's & Contact Tools For Real Estate Agents
There are countless customer relationship management issues that can ruin a good day. Do you have trouble tracking leads for future opportunities? Missing data and analytics about your client's interests? How about the dreaded booking mix-up? 
The real estate marketing tools below are meant to help you expand and nurture your client network at every stage. Customer Relationship Management tools (CRMs specifically), help to automate and consolidate countless relationship-oriented tasks, so that you don't miss the details.
FollowUp Boss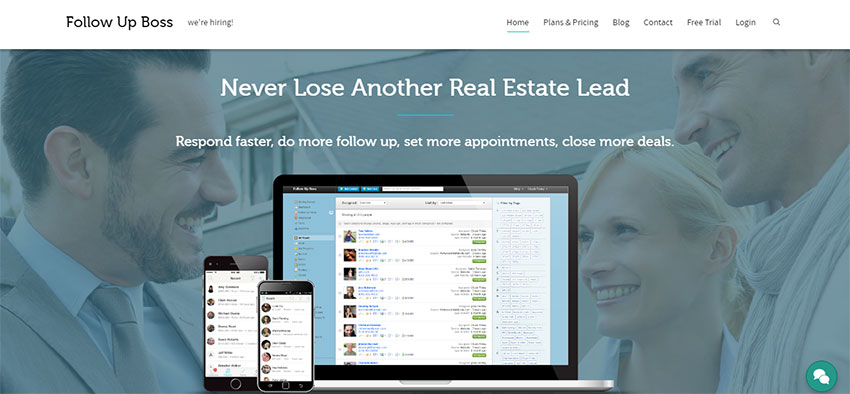 FollowUp Boss (FUB) is a CRM that helps you respond faster and nurture your leads; ultimately turning more contacts into listings. A couple key qualities make this CRM one of the most popular for real estate professionals: keeping teams connected and lead-follow up. Try using the team inbox feature to have all inbound calls, emails, and texts flow into a larger sales system (that way someone on your team can respond, even if you can't). Plus, you'll be able to consistently measure each agent's outreach activity. 
When it comes to leads, FUB emphasizes a dedication to lead distribution, which makes the platform especially valuable to real estate teams and brokerages. Use stages and tags to plan follow-ups within a specific time frame. To create stages, think about how you would define the journey of a lead and what should be happening next for clients in each stage. For example, you may call your stages; hot prospect, active client, nurture stage etc. When all of your potential leads are organized in FUB, easily search through them and develop an action plan.
There are tons of features to explore and several ways to customize your leads in this CRM. Luckily, phone and email support is available 7 days a week. With all of the real estate marketing tools this platform provides, you'll never let a lead go cold.
With whatever AgentFire stack you have, our web designers easily integrate FUB into our clients' real estate websites. Curious about how FollowUp Boss would work with your site? Ask a web designer.
LionDesk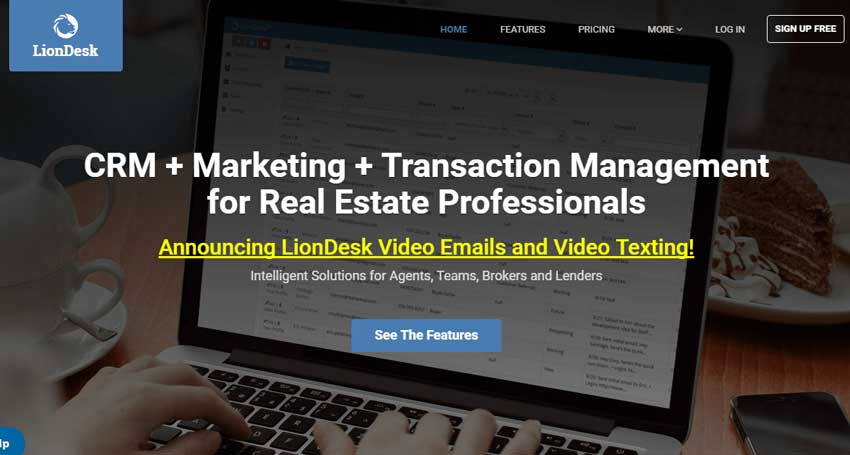 LionDesk is another CRM and alternative to Followup Boss. Many clients prefer LionDesk for the clean and easy-to-use layout, although it doesn't have as many options for customization as FollowUp Boss. However – similarly to FUB – LionDesk aims to simplify marketing automation and provide transaction management solutions. 
Users are able to create designated tags for each lead and create custom filters to organize them. The details of each lead's contact info, among other details, are stored in accordion files that make sorting through them super easy and organized. One of our favorite details within this feature? You can even customize a client's credit score. 
When it comes to working on larger, more general tasks – perhaps within a team, Lion Desk gives you the ability to add things to activity logs, build in-task reminders, and basic performance reporting. 
LionDesk has been exploding in popularity with our clients. To learn more about CRM integrations on your AgentFire website, take a look here.
Docusign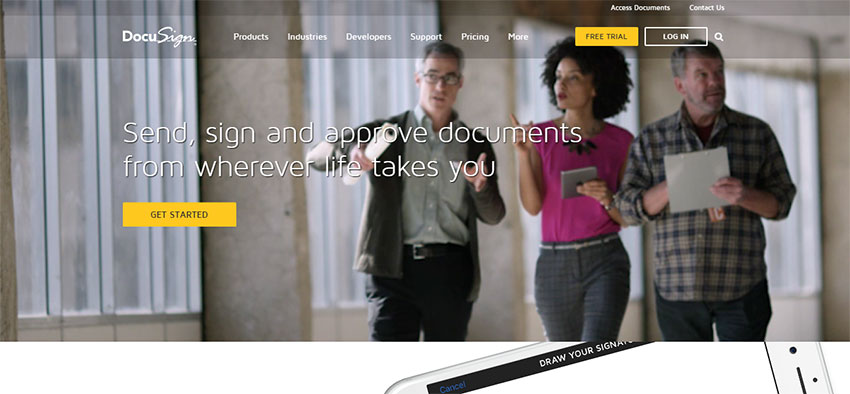 If you are a real estate agent that hasn't worked with Docusign, you are seriously missing out on one of the most beneficial tools to hit the industry in recent years.  
Docusign allows you to handle paperwork from anywhere. This makes it convenient to get signatures and manage your contacts from one location.
They even offer specific plans for realtors so that you can get all of the most relevant features in one place.
You never have to worry about keeping your books organized and forgetting a signature, as the status of your signed or unsigned documents is available to you. You can even organize them based on if they are completed or waiting for signing. 
We love the ability to set the order in which the forms are signed and received. Add personal instructions for recipients who aren't used to real estate jargon and set a gentle reminder if you notice a recipient hasn't finished signing. 
No more last-minute house-calls just to put the pen to paper.  Get everything you need signed in a matter of seconds – all in one place.
Lead Generation Tools For Real Estate Agents
What is a lead generation tool anyways? Every marketing tactic and tool you use should "generate leads" – shouldn't it? 
The following programs are paid sources and marketing weapons that were created explicitly for lead generation from your website and social profiles. Get these right and you'll see your leads improve exponentially.
Zillow Premier Agent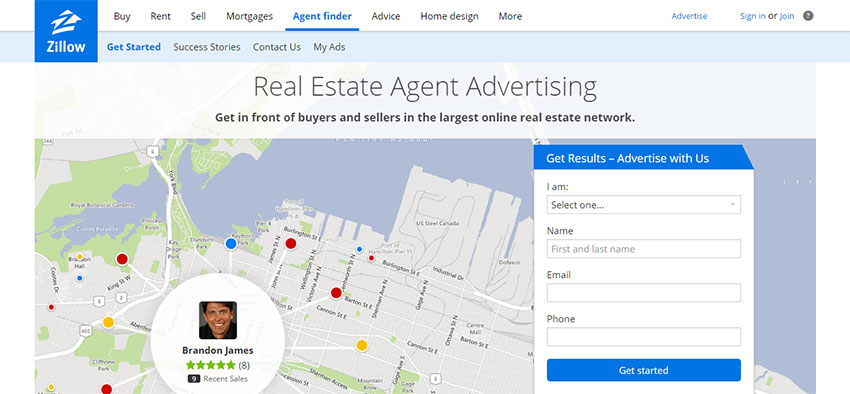 One of the most popular lead generation tools is of course by the property listing beast itself, Zillow. Zillow Premier Agent has condensed the lead generation journey to a concise and at times, unpredictable – yet enticing package. Regardless of if it works for everyone, the consensus amongst most real estate professionals using the platform is that Zillow can bring highly-qualified leads into your sphere.
Here's how it works: 
Zillow Premier Agent features three main tools: agent care, the premier agent app, and the connections team. The app aims to connect realtors with active buyers and sellers. To really take advantage of this tool, aim to answer at least 50 percent of the connection calls and make an appointment. Tour connections are most likely to convert, so don't miss the opportunity to schedule the date and ask if there or any other properties the client wants to see. 
Zillow is an oversaturated market, to say the least. It's crucial that your profile is configured to make you stand out and give clients an idea of what you represent. Think of this as an elevator pitch in an image and text. If you're just getting started on Zillow Premier, reach out to past clients and ask them to submit a review. As you go forward, keep an eye on user search behavior to get an idea of what they are looking for.
Leadpages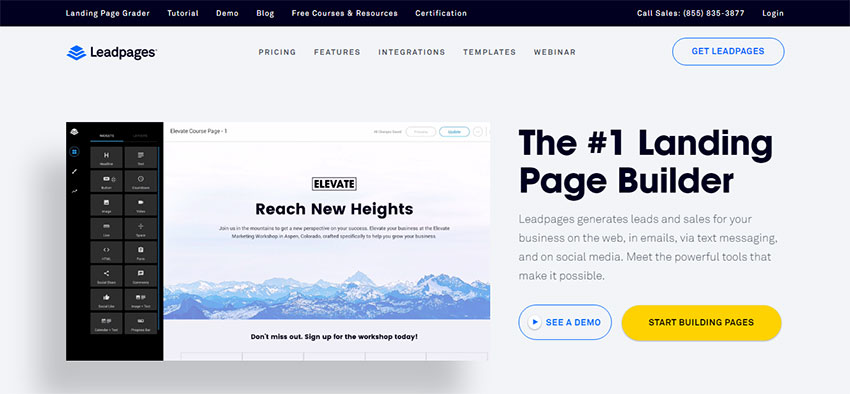 In this age, our attention spans are so short that we need specific pages designed explicitly to convert. Not using a landing page is one of the most common and biggest rookie advertising mistakes. The home page of your website is significantly less engaging and less successful in converting leads. Not using a landing page is one of the biggest rookie advertising mistakes.
Leadpages is a platform for creating landing pages, which are website pages optimized for conversion. 
There are loads of creative ways that you can use their landing page creator for real estate. Some ideas we love include: 
Set up dedicated listings pages

Advertise open houses

Offer digital products like a neighborhood report, buyer guide or e-book

Create targeted property listings with showing requests

Push a last-minute booking 

Hold a webinar or educational sessions
Get Free 10 Day Trial
Want to dominate your hyperlocal real estate market? Then you need to check out AgentFire's Spark Sites.
Click the button below to learn more, and start your free 10-day trial!
Take Me To The Free 10-Day Trial!
Showcase IDX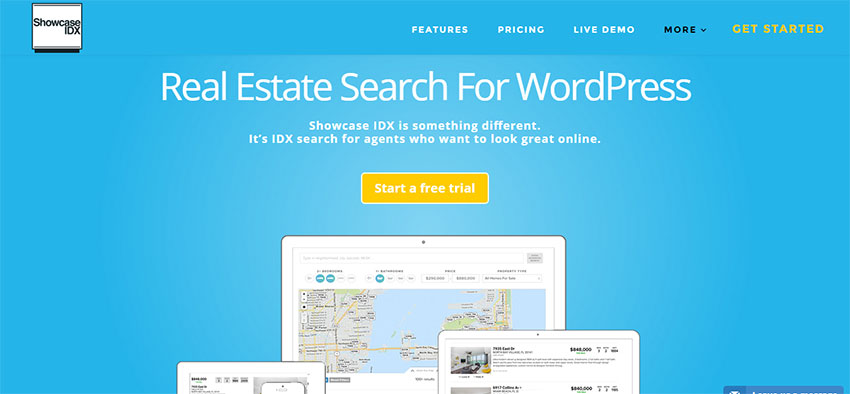 Showcase allows you to set up a beautiful property search system on your WordPress real estate website. While Showcase can be classified as lead generation, it also includes delayed forced registration.
Delayed Forced Registration (DFR) means that your visitors are prompted to submit their info after a designated amount of searches using the IDX – in order to continue searching.
This is a great way of generating seller leads. In fact, Showcase has some of the best conversion rates in the IDX industry.
AgentFire websites pair Showcase with Home Junction for significantly improved lead acquisition and search quality. First, listings are collected and organized from Showcase, before being written into market reports customized to suit your webpage by Home Junction.
Shortstack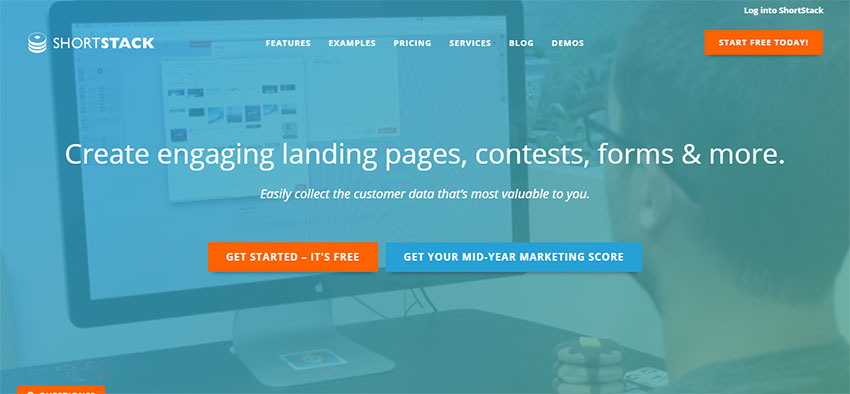 Shortstack is a straightforward cloud-based solution to campaign creation. As a user, you have several widgets, themes, and templates to choose from. Most real estate agents use the platform to create sweepstakes, contests, landing pages, special offers, running quizzes and more. While you create your campaign, your team will be able to view, filter, and arrange them. 
Shortstack provides users with a mobile-friendly URL to share anywhere on the web, even in a post on your Facebook Page.
With the ability to keep all your content in one place, you can reduce your ad spend while increasing overall conversions (this is because people don't have to leave Facebook to opt-in).
Mailchimp
Mailchimp is arguably one of the most efficient tools for marketing on the list. Although social media has become the focus of many real estate business marketing plans, Email marketing still reigns supreme. In fact, email marketing was shown to be 40 times more effective than social media (McKinsey & Company, 2019). 
A successful email marketing campaign can't just be thrown together. In order to capture high-quality leads and life-long clients, an email campaign needs to be actively planned around the clients' interests, demographics, and awareness. Mailchimp takes care of everything you need to create an effective email campaign and maintain it with minimum effort and tons of freedom to customize.
After you've received the contact information of a new lead, plug it into an automated journey. Mailchimp lets you dive deeper into segments of your audience so that you can send personalized emails to get them engaged. When it's time to send out a new campaign, use the preview tool to see how your campaign will look across 40 different email clients. Then, send a small group a test email to measure its open rate. The data science team at Mailchimp will calculate your open rate, click rate, unsubscribe rate, abuse rate, soft bounces and hard bounces. 
There are tons of dynamic tasks you can complete using Mailchimp. However the newsletter feature is often considered the most useful for real estate agents in terms of lead generation. At AgentFire our clients used our Mailchimp add-on to build multi-layered newsletter campaigns with their blogs. We scan their website 1x per day, week, or month, and automatically pull all new blog posts into a Mailchimp newsletter designed to match your brand – with attention-grabbing CTAs to your website & social channels.Learn more about how we work with our clients to build lead grabbing email campaigns.
Social Media Tools For Real Estate Agents
Finally, the category we've all been waiting for: social media. In this section, we're not going to review how to use hashtags in your social media posts or how to craft an attractive instagram story. We'll take a broader look at the tools that answer those questions and perform those tasks automatically, so you don't have to. 
Hootsuite and Canva specifically, are two of the best social media tools to help you create and share content across your social profiles. 
Hootsuite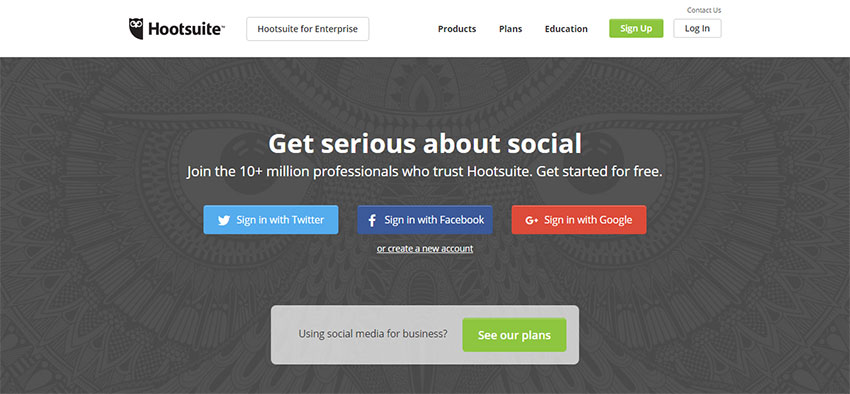 Think of Hootsuite as a basic, virtual social media manager. As long as you have a good idea of the type of content you want to publish, Hootsuite will take care of the logistics. 
Whether it be on Facebook, Twitter, LinkedIn, or other social media platforms, add all of your networks to the dashboard and organize them as you'd like. There are few key features that are especially useful for agents:
Streams 
Add streams in order to keep track of mentions, likes, scheduled tweets, retweets, followers and more. Within this stream, you can search to monitor key hashtags and topics. 
Post edits
Not a fan of the automatic post thumbnail? Customize it with photos from Hootsuite's stock images or add your own. 
Link-shortening
With link-shortening built in, there's no need to copy and paste in external pages. 
Organize posts
Schedule posts weeks in advance to guarantee consistent posting on your platforms. You can also post to all of your networks at once in your Hootsuite dashboard. Plus, Hootsuite has tons of integrations such as  google drive, so that you can keep everything organized in one place.
Canva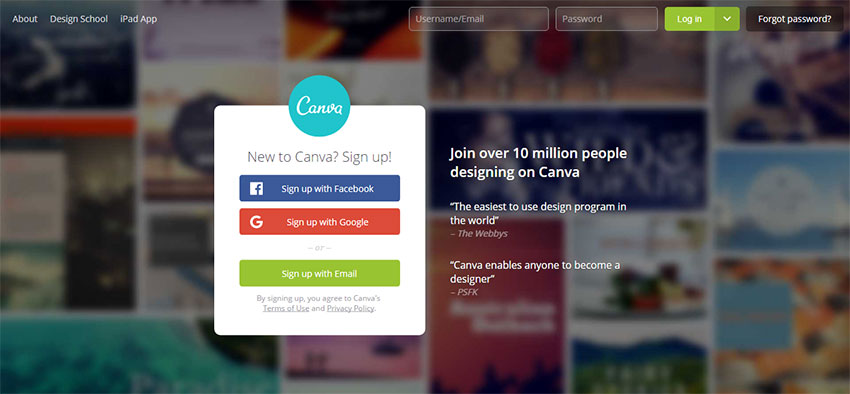 Canva is a user-friendly graphic design application that makes creating beautiful pictures for your social media, or featured images for your blogs super easy.
Their platform includes tons of free assets that you can drag and drop right into your designs.They also have premium assets that are available with a membership ($109.99 USD annually).
Our clients love to use Canva for CRM-related or marketing tasks. You can easily design cards, postcards and flyers for your next direct-mail campaign. When it comes to marketing, customize your stories templates for social and easily duplicate, then alter them for similar posts. 
You'd be surprised how much professional marketing content you've seen in your community has been made with Canva. Learn more here.
Get Free 10 Day Trial
Want to dominate your hyperlocal real estate market? Then you need to check out AgentFire's Spark Sites.
Click the button below to learn more, and start your free 10-day trial!
Take Me To The Free 10-Day Trial!
In Conclusion
There are tons of tools for realtors out there. Your job is to figure out which ones are the most relevant and effective for your specific situation. Using this list, you should have a few solid ideas that will produce results. 
We suggest integrating at least one marketing tool from each category: 
CRM's & Contact Tools

Lead Generation

Social Media
You should never feel overwhelmed or confused by your own marketing efforts. Consolidate them by taking advantage of marketing technology created to make your life simpler. 
What's the first tool you'll put to use? Let us know in the comments!
Check out this article next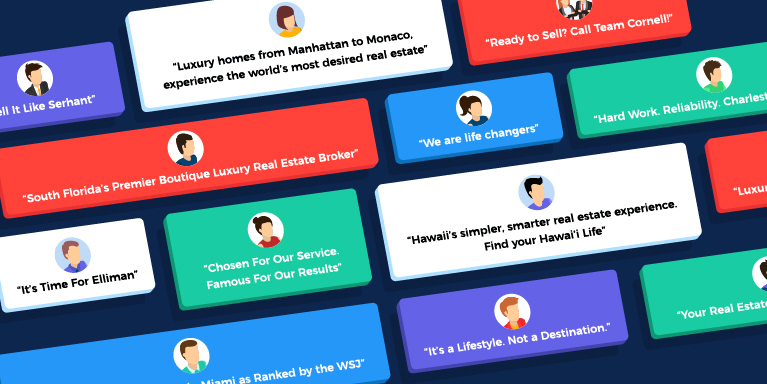 25 Real Estate Slogans to Inspire You
If you want your brand to stand out in your hyperlocal market, you MUST have a good real estate slogan. That's because a good slogan can illustrate …