Virtual Staging is a cost-effective way to make a vacant home look spectacular. But which are the best virtual staging options in the market right now? Check out our favorites in this article.
In the post-pandemic world, there has been a tremendous push for even more things to transition online. Previously seen as a premium service, virtual showings are now becoming the norm for real estate agents. And now, there's no turning back. Even as the world goes back to normal, we can expect virtual showings to remain.
But that also raises the question: what else will go virtual? One of the most obvious candidates for that is virtual staging.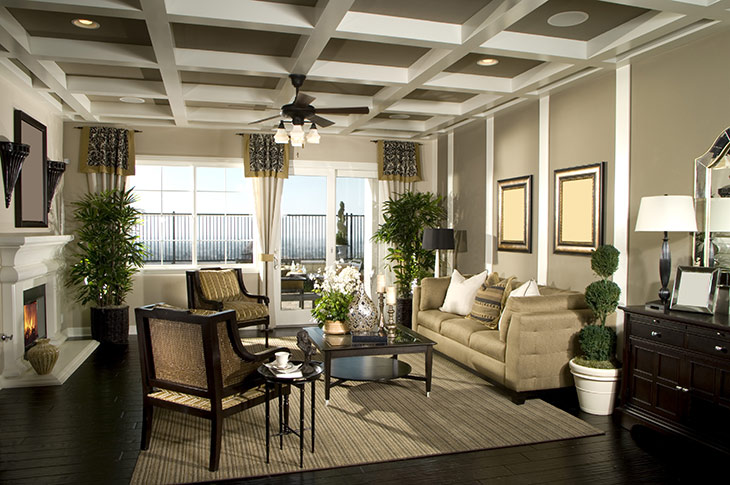 Why Stage Your Properties?
Staging a home is a lot like preparing for a job interview. First, you write up the list of your qualifications and skills in a resume. Then you pick an outfit that makes you look professional and confident. And finally, you put your best face forward in your job interview.
Why do we bother wearing a business suit for a job interview, if most of us rarely (or ever) wear a suit on a day-to-day basis, and the job may not even require that you wear formal clothes?
That's because looks matter. They have a powerful influence on how favorably we perceive something or someone.
The same can be said about a home. When you stage a home, it's the equivalent of "dressing up for the job interview." You help it look its best in hopes of wowing potential buyers, and encourage them to feel that this home is the one.
When done properly, staging highlights all the strengths of your property and helps minimize its weaknesses. When a home isn't staged, all of its stark naked flaws are clearly visible.
In a practical economic sense, staging also has a significant impact on the perceived value of the property, as well as accelerating the selling process.
So if staging is so effective, why isn't staging a standard procedure for all real estate agents? Well, it already is in many areas of the country, especially as in the luxury real estate niche.
But there are still a large number of agents and home sellers that don't see the value of staging. Some don't want to bother with the extra effort that comes with staging. Other agents had a lackluster experience with it (typically because they took a DIY approach), and don't feel like staging worked for them.
However, the most common reason agents and home sellers skip staging is money. Hiring a professional stager, purchasing the furniture, and making the home look as beautiful as possible costs money – usually quite a bit. 
And while staging DOES help increase a home's asking price, professionally staging a home can cost about as much as the typical first price drop on a home. Seeing the price tag for professional staging can often scare a home seller looking to make as much as possible on the sale of their home.
Seeing as effective staging can be, and how much technology has improved over the years, is it possible to convincingly do virtual staging of a home? Thankfully, the answer to that is yes. Not only is it possible, but it's also surprisingly affordable.
How Does Virtual Staging Work
The actual virtual staging process is very similar to how virtual sets are created in movies. First, a photographer (or even the agent) takes photos of the empty rooms in the property. Next, a professional virtual stager digitally adds 3d furniture to the picture. Virtual stagers use their expertise to realistically position the furniture, color correct it, and render realistic shadows to make it seem like the furniture is really there.
The results can be absolutely stunning. And when done by a professional, virtual staging can be indistinguishable from real staging photos.
"It used to be obvious," says Andrew Ernemann from Aspen Snowmass Sotheby's International Realty in Aspen, Colorado. "You didn't really have to do much because people could tell it was a rendering. But now we can have exterior and interior renderings that look completely like photographs."
Since you're rearranging virtual furniture, it's much faster and easier to completely change the look of a space, suggest a lifestyle or look at a home, and can serve as inspiration for buyers as to what they can do with the house.
Virtual staging is also very cost-effective compared to physical staging and can be done at a fraction of the price, and many virtual staging companies have a next-business-day turnaround time.
Get Our Pricing
Want to dominate your hyperlocal real estate market? Then you need to check out AgentFire's Spark Sites.
Click the button below to learn more about pricing.
Cons Of Virtual Staging
The most obvious disadvantage of virtual staging is that it's not physical staging. You can't take a client to a home and have them look and feel the pieces of furniture. Sure, you COULD have an easel showing the virtually staged photos. But it won't have the same tactile effect that real staging has.
In addition, if you're not careful with your virtually staged photos, it's easy to come across as misleading. You need to clearly disclaim in your marketing material (either through a watermark or a caption) that your images are in fact virtually staged.
"One of the things that you have to be careful with is that virtual staging really can make it look so great," says Carrie Goodman, a real estate agent with Sotheby's International Realty in San Francisco in an interview with Yahoo Finance. "Especially with a fixer-upper, it can look so good in the photos that people walk in and they're like, 'Whoa, it didn't look like that in the pictures.'"
Also, if you don't use a high-quality virtual staging service, you can run the risk of making your property LESS appealing than if you didn't use virtual staging. Sure, some staging apps CAN be used to give a general idea of what the property will look like with real furniture. But never try to pass off inferior renderings as realistic. It's just off-putting.
With that out of the way, let's take a look at some of our favorite virtual staging companies and apps out there for you to use.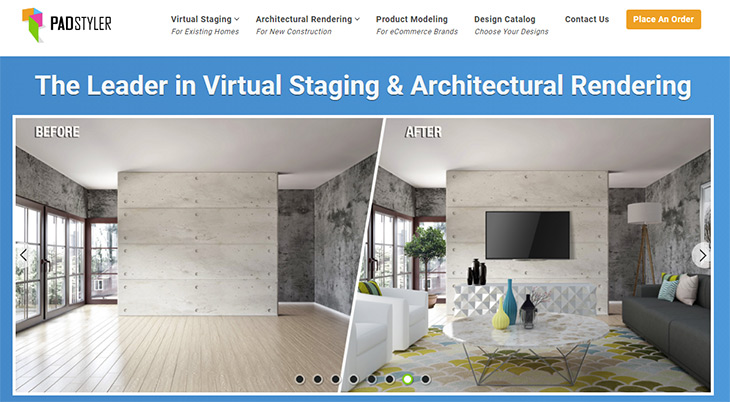 Padstyler is based in Austin, Texas, and in addition to offering virtual staging services, they also offer architectural property rendering, as well as product renderings.
With Padstyler, the agent provides the property photos, and then they use 3d modeling software to virtually stage a home onto the photos. 
Unlike staging apps or DIY solutions out there, Padstyler uses actual virtual staging professionals (not bots) to do the actual work. This assures that your virtual staging looks as realistic as possible since they take into account viewing angles, lighting, shadows, depth of field, lens distortion, and other factors.
Padstyler doesn't just work with empty property photos, it also offers furniture replacement and exterior shot enhancement (sky replacement, color correction, etc.) services. 
In addition, Padstyler offers free revisions, same-day delivery, live chat customer support, and a money-back guarantee.

VRX Media Group, VRXstaging's parent company, is a real estate marketing company that provides a huge variety of services, such as drone footage, 3d tours, real estate photography, and virtual staging, and many other real estate imagery services.
Get A Free Personal Demo
Ready to revamp your real estate marketing strategy and dominate your hyperlocal area? Our expert web designers will show you how. Click the button below for a free 30-minute demo of our AgentFire Spark Sites.
Their services include 3d staging, wall color replacement, lawn and sky replacement, furniture removal, virtual twilight, and special editing requests. Their prices are quite reasonable, they offer unlimited revision requests (for a price) and their turnaround time is "next business day delivery."
While their staging feels a little more CGI – ish (don't just take our word for it. Check out their photos on their homepage yourself), it gets the job done quite well, and provides an amazing value for your money.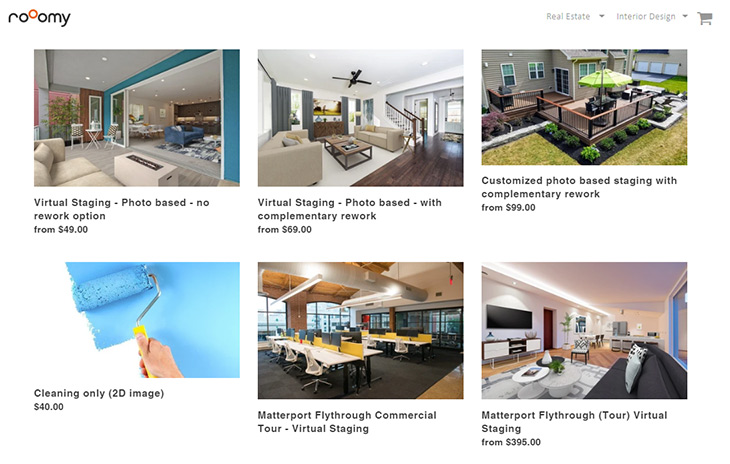 Whether you need some professional 3d staging services, or just a quick DIY visualization by means of an app, roOomy has you covered.
Their virtual staging services are top-notch, and produce stunning results. Just like other solutions in this list, all you need to do is submit your photos, select your design style preferences, and their interior designers will get right to work.
Then once you approve the initial renderings, roOomy's staging team will then render high-resolution, photorealistic versions of them.
roOomy's iPad app also lets you do DIY virtual staging yourself, and get a quick idea of what can be done with a space. This lets you visualize styles with your client in real-time, and share those ideas on social media.
But what really sets roOomy apart from most of its competitors is its integration with Matterport3d. roOomy offers virtual staging not just on static images, but also for Matterport3d tours, really taking the whole idea of virtual staging to the next level.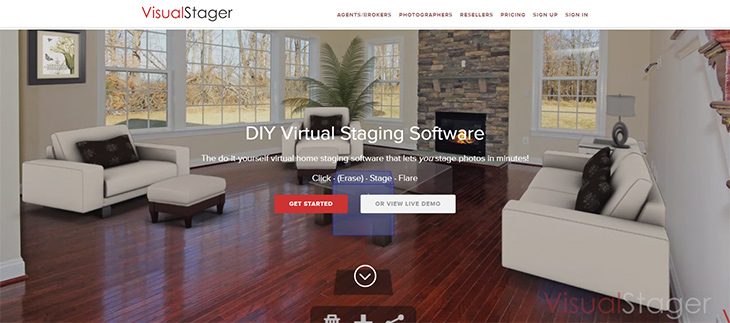 So far all the virtual staging solutions that we've seen are services done by an actual person. VisualStager, on the other hand, it's a DIY virtual staging piece of software. 
If you fancy yourself an interior designer and typically handle all of your property staging yourself, this could be a compelling alternative for you.
VisualStager provides you with over 4,000 pieces of furniture for you to choose from and can be used directly from your phone or browser. This allows you to do real-time staging with a client, and create mockups on demand.
However, this ease of use comes at a price. It offers fewer services than other companies, and it's mostly geared towards vacant homes. Also, while the staging options are serviceable, they aren't going to fool anyone in terms of realism.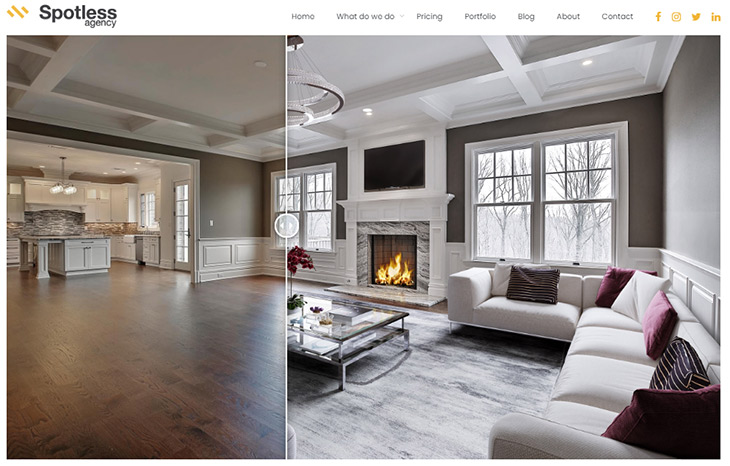 Have you ever marvelled at the level of quality that architecture magazines offer in their interior design photos? Believe it or not, a large percentage of them are 3d renderings. The quality of 3d renderings has increased so much that they are indistinguishable from real photography. 
Of course, in order to reach that level of realism, the rendering needs to be done by professionals that know exactly what they're doing.
This is where Spotless Agency comes in. Spotless Agency's bread and butter services are architectural visualizations and furniture renderings. The quality of their 3d rendering is stunning, and almost hard to believe that their images are computer-generated.
One of the services Spotless Agency offers is virtual staging. If you really, absolutely need to have the best possible quality virtual staging, you can't go wrong with Spotless Agency.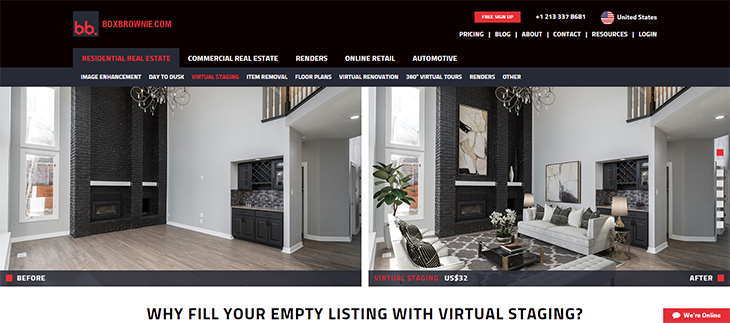 Besides offering outstanding virtual staging services, Box Brownie also offers a huge number of services that real estate agents can capitalize on.
These include image retouching, virtual staging, turning day to dusk, floor plan rendering, virtual renovations, 360-degree virtual staging, and so much more.
Box Brownie offers residential and commercial real estate services, making it a valuable asset for all kinds of niches.
Conclusion…
While technology has certainly improved to the point that staging can be done convincingly online, we're not to the point yet where it can completely replace actual, physical staging. It's just much more impactful to see and feel actual furniture in a physical setting.
But as a covid-safe alternative and a complement to your marketing strategy, it's definitely a tool that should be added to your marketing toolbox.
If you want to stay up to date on all of our free and valuable content, subscribe to our newsletter. We publish valuable articles and guides such as this one regularly. That way you can constantly improve your marketing skills, and become a more effective real estate marketer.
And if you want to dominate your hyperlocal real estate market, check out AgentFire's web designs, #1 rated for several years in a row.
And the best part? You can try out all of its amazing features for free with our free demo.
Check out this article next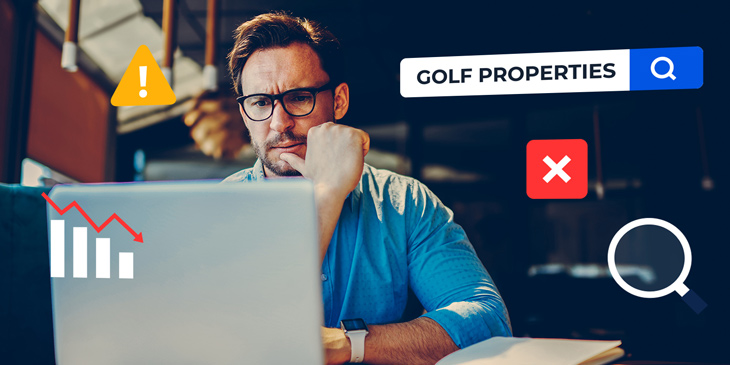 7 SEO Keyword Mistakes Real Estate Agents Need to Avoid
Even if you only have the most basic understanding of SEO, you know that keywords are the backbone of any SEO strategy.  In fact, your choice of k…