If your goal is droves of buyer leads and sky-high conversion rates, you can achieve that by offering high-value content for every stage of their journey. Here's exactly how to do that.
Website traffic does not automatically equal conversions!!!
Every visitor is different. But the real estate industry, in particular, has a very long conversion cycle. It can sometimes be months or even years before buyers and sellers get to the point where they're ready to contact an agent. 
According to Wordstream, the average visitor-to-lead conversion across industries is around 2.35%. Real estate, on the other hand, has a visitor to buyer lead conversion rate of just over 1%.
In plain English, only 1-2 out of every 100 visitors to your website will turn into buyer leads.
But don't be discouraged! 
By creating content that targets buyers at every stage of their journey, you'll have more buyer leads and above average conversion rates. Let's go through all the steps you need to take to get there.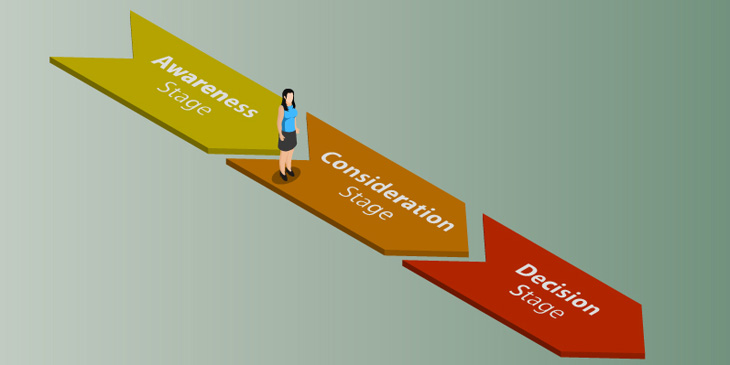 The Buyer's Journey
If you're familiar with the concept of a sales funnel and have done some reading on inbound marketing, you've likely come across the term "buyer's journey." 
Hubspot defines the buyer's journey as "the process buyers go through to become aware of, consider and evaluate, and decide to purchase a new product or service." 
In other words, home buyers don't just get up one day and decide to hire a real estate agent out of nowhere. First they have to realize that they need a new home, then they compare real estate agents, and finally, they pull the trigger and choose a real estate agent to work with. 
Buyer leads typically (but not always) advance through each step of the buyer's journey in the same consecutive order. They advance from stage one all the way to stage three, where they make the final decision to hire you.
1. Awareness stage
Visitors in the awareness stage are just beginning to realize that they have a problem or need they must fix.
Think of it like the beginning of a flu. You get a scratchy throat, a runny nose, perhaps some watery eyes. You feel like you're getting sick, but you're not quite sick enough to warrant a visit to the doctor.
What does the awareness stage look like in real estate? Let's give you an example: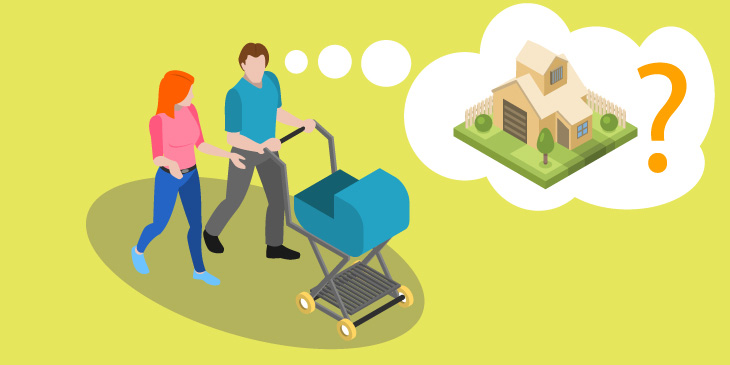 Allan and Becky are a young millennial couple living in a small, one-bedroom apartment, and they just found out they have a baby on the way. ?After celebrating the news with friends and family, the couple sits down to discuss the upcoming changes in their lives.
After running some numbers (and watching Allan's left cornea explode after seeing the monthly diaper expenses), they realize that sooner or later they're going to need a larger place to live.
At this point, Allan and Becky aren't actively looking at listings, and aren't even remotely ready to interview a real estate agent. Right now, they have other priorities at hand. But since they both know that they will need a larger home, they are gathering as much information on the topic of real estate as possible. 
You can expect that Allan and Becky's Google searches to look something like:
How much do homes cost in my area?

How do I get a mortgage?

Is it better to buy or rent?
Allan and Becky are nowhere near buying a home… so should you still consider them as viable buyer leads? 
Of course! 
In fact, these may be the best buyer leads you could ask for, since they're at a point where they haven't yet engaged any other real estate agents. They may not be ready to buy a home yet, but you can help them get there much quicker, and increase the chances they will hire you as their real estate agent.
How?
By providing them with valuable content that develops trust in your brand, answers their questions about real estate, and demonstrates your knowledge and expertise as an agent. 
Allan and Becky are lost… so very lost… so guide them. ?

However, be careful here! Any awareness-stage content you create shouldn't be an outright hard sell of your services. Salesmanship comes at a later stage.
Awareness-stage content could include:
Hyperlocal Real Estate News:
People love articles that relate to their hyperlocal areas, especially when they come from knowledgeable, experienced real estate agents such as yourself. If you're unsure where to start, here's a great article we wrote on how to use Google News for endless blog Ideas.

Infographics:
You can create infographics that show how prices in your area have changed over the years, the pros and cons of buying vs. renting in your hyperlocal area, etc. In addition to being able to share your infographics via your blog, they are also perfect for your Facebook Business page, Instagram, Pinterest, and more.

Thanks to websites like

fiverr.com

, creating infographics is sooooo much easier and affordable than you think (we use Fiverr all the time). Just search for 'infographic creation' and pick a high rated 'gig'. After placing your order, you'll have your infographics ready within a day or two.



Info-Packed Real Estate Education Videos:
Videos that answer common questions such as 'is it better to buy or rent a home' or 'How to get the best mortgage rates' are like a laser-guided missile,

especially

when they focus on your hyperlocal area. Not only are these videos extremely valuable for new Awareness Stage buyer leads, but they are also great at reconfirming your worth as a real estate agent to your existing clients. 

And since these info-packed videos cover general real estate topics and tend to stay true years after the fact, they're also a good way to generate

'evergreen'

content (which is content that you can re-release every few months to your newsletter and social networks). 
All Awareness Stage content should offer as much value as possible and should demand little to no commitment or sales pressure.
Once your Awareness Stage leads have collected the information they need, it's off to the next stage of their journey – the Consideration Stage!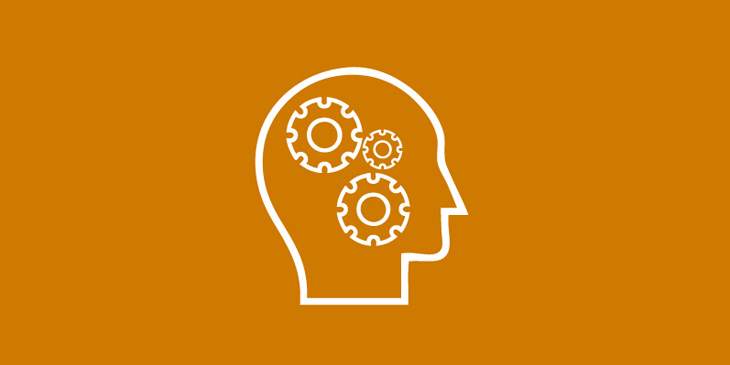 2. Consideration Stage
Buyer leads in the consideration stage know for a fact they will be buying a home in the near future, and that it's time to find the BEST real estate agent. They just don't know which home they'll be buying, and which real estate agent they're going to be working with. 
Right now, they are actively considering all of their options (hence the name of the stage).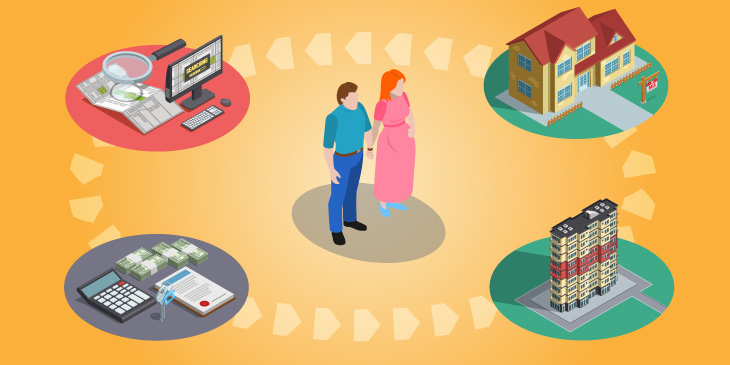 Let's visit Allan and Becky again ?‍?‍. Let's say they came across your blog, Facebook Business Page, or one of your other social channels. Perhaps they read one of your hyperlocal news articles, watched your 2019 Market Updates video, or pinned one of your infographics on Pinterest. 
All of that content helped them to get to the point where they're now sure that they'll be buying a home. Now Allan and Becky will start to look at listings online, and ask friends for real estate agent recommendations.
Even though the couple is a lot closer to buying a home, (and using you as their trusted real estate professional) they're not quite there yet. They've got all of their options on the table and now they're going to compare them. 
It's at this point that you can now persuade Allan and Becky that you're the agent they need.
How?
By creating the sort of content that demonstrates that you can get them the best possible price on a home, in their dream neighborhood, while greatly simplifying the entire buying process. 
This content should also show (not tell) that out of all real estate agents in their area, you are clearly the superior choice.
Your Consideration Stage content can take on a more 'upfront' tone, you should still not be overly pushy or "salesly." Leave that for the next and final stage.
Content that may interest people at this stage could include:
Ebooks and long-format articles
Consideration Stage buyer leads are very interested in the topic of real estate. As long as these pieces of content are valuable to them, they can handle longer and more detailed pieces of content. 

Your ebooks and long-format articles could cover topics such as "Government programs for first time buyers," "Questions to help you find the right real estate agent," and "The complete guide to the home buying process." Again, we highly recommend that you tailor all of your content to the specific hyperlocal area that you service. 
Video
Video is the new king of content! ? Your Consideration Stage videos could include a guide on finding the right real estate agent, a live demonstration of your services, or a comparison of your brand vs other agents in your hyperlocal area.
Testimonials 
Testimonials from happy clients provide social proof of the quality of your services. If you want to take your testimonials to the next level, you can tell your client's story on video using some of these

basic storytelling techniques

.
Once you have helped your Consideration Stage buyer leads understand why they need a real estate agent, and why you're the best choice within your hyperlocal area, they now move to the final stage, the Decision Stage.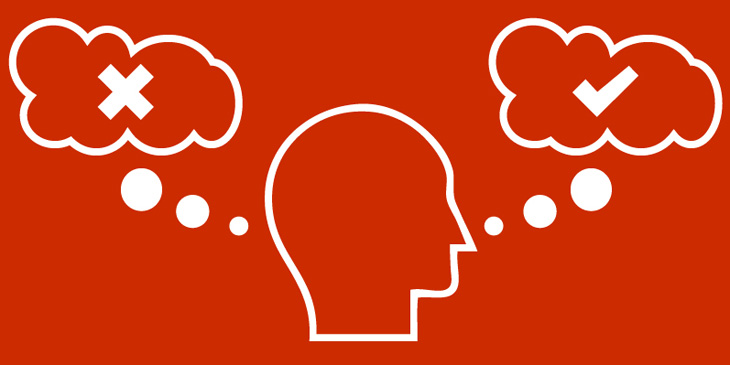 3. Decision stage
Now that your buyer leads have considered all of their options, and have narrowed their short-list of realtors to just a couple, it's time for them to make a decision. 
Though the name "Decision Stage" implies that these leads are yet to make a decision, it's very likely that they have already made the decision in their minds. In fact, they may just be looking for confirmation that they made the right choice.
Going back to Allan and Becky, they already have your name on their short list of realtors they want to hire. They really enjoyed your content and are quite impressed with the testimonials from your past clients. 
But before they sign a buyer's representation agreement, they need confirmation that you're indeed the amazing real estate agent you appear to be. 
As you can imagine, leads in the decision stage are the most qualified of all potential leads, and will ultimately be the ones that pay your bills. Don't let these leads get away! 
Any content, ads or messages directed at Decision Stage leads should make contacting you directly the next logical step.
Your Decision Stage content should make it abundantly clear why you're the perfect real estate agent for their needs, and how your skills will help them to get the best price and conditions for their home.
It should also include calls to action that make it extremely easy to schedule an appointment.
How do you do that?
By creating content that not only highlights the services that you provide as a buyer's agent but also shows how these services have helped previous clients that you've worked with achieve similar homeownership goals.
Decision Stage content could include:
Social proof content:
From video testimonials, blog posts that share a listing success story, and ads featuring client reviews on your Facebook Business page, don't be shy about leveraging the power of social proof to persuade your leads to hire you. 

If you need some more ideas here, check out the

entire guide

that we made on the topic ?

Somewhere in your social proof content,

make sure you add a call to action

that lets your leads schedule an appointment with you.
Homebuyer's guides:
Create content that will help leads in the Decision Stage have a smoother home buying process. This can include a checklist of documents they will need, or even a pdf or video detailing your marketing strategy, etc.
Open house invitations:
And what better way to move your Decision Stage leads into buyer-agency agreements than by inviting them to your next open house? 
Whatever content you decide to use at this stage, NOW IS THE TIME to pull out the sales techniques, dial up the pressure, and outright offer your services. It's time to go for the kill.
If you've been there for them at the earlier stages, providing value and demonstrating expertise all the while, watch how easy it becomes for these leads to decide that you are the agent they need to be working with. 
In Conclusion
It's not that hard (and WELL worth the effort), to create content that provides value and demonstrates expertise to buyers at EVERY stage of their Buyer's Journey.
Most agents only focus on the decision stage – so why fight over one slice of the pie when other agents are leaving the other pieces on the table for you. ?
So what are you waiting for? Get out there and capitalize on these opportunities! 
Do you have any other strategies in converting more visitors into leads? Feel free to share them in the comments below ?
If you found this article valuable and want to improve your hyperlocal marketing skills, subscribe to our newsletter – we send out value-packed articles like this one regularly early in the morning so you can sharpen your skills and learn new strategies over a nice delicious cup of coffee ☕.
And hey — if you're REALLY looking to optimize your hyperlocal real estate domination strategy, check out our Spark Sites (#1 rated for multiple years running!) The best part is that you have absolutely nothing to lose thanks to a 10-day free trial. If you're interested, click here.