Looking to sharpen your real estate skills? Podcasts are a great way to get insight, experience, and proven strategies straight from top producing agents. Here are 10 podcasts that we recommend you start listening to.
They say that smart people learn from their mistakes, but wise people learn from other's mistakes. Listening to podcasts is one of the best and most entertaining ways to learn from successful people's mistakes, insight, strategies and success strategies.
Podcasts allow us to expose ourselves to the perspective and wisdom of others who have already "walked the path." And the best part? Podcasts are free, you can download them on pretty much any device, and they allow you to improve yourself even as you drive to open houses, sit in your office, or relax at home
There is no shortage of high-value real estate podcasts that can get you in the right headspace to reach your goals and then some! But in order to keep our list manageable, here are our top 10 picks.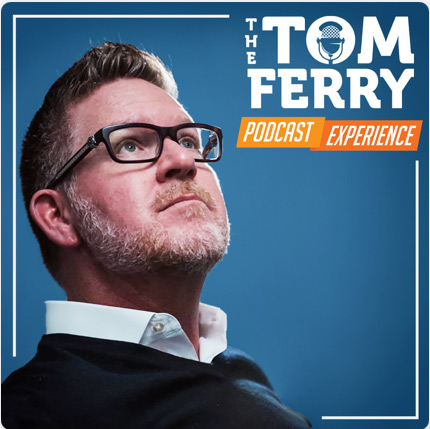 1. The Tom Ferry Podcast Experience
Listen on: iTunes | Spotify| Stitcher | Google Podcasts
If you've been a real estate agent for at least a few years, there's an excellent chance that you've heard of Tom Ferry. But in case you haven't, here are a few reasons why you should listen to his podcast.
Tom Ferry is the best selling author of the books "Life! By Design", and "Mindset, Model And Marketing!" and founder and CEO of Tom Ferry International. He's one of the nation's leading coaches and has over 150 coaches who guide agents in the sales principles he talks about in numerous videos, conferences, and podcasts.
His podcast has new episodes each week, and covers strategies for agents to improve their marketing, selling and closing skills, and other skills essential for real estate success.
Expect to hear from celebrity real estate agent guests and top producers, especially those that are using new and ground-breaking tools and strategies.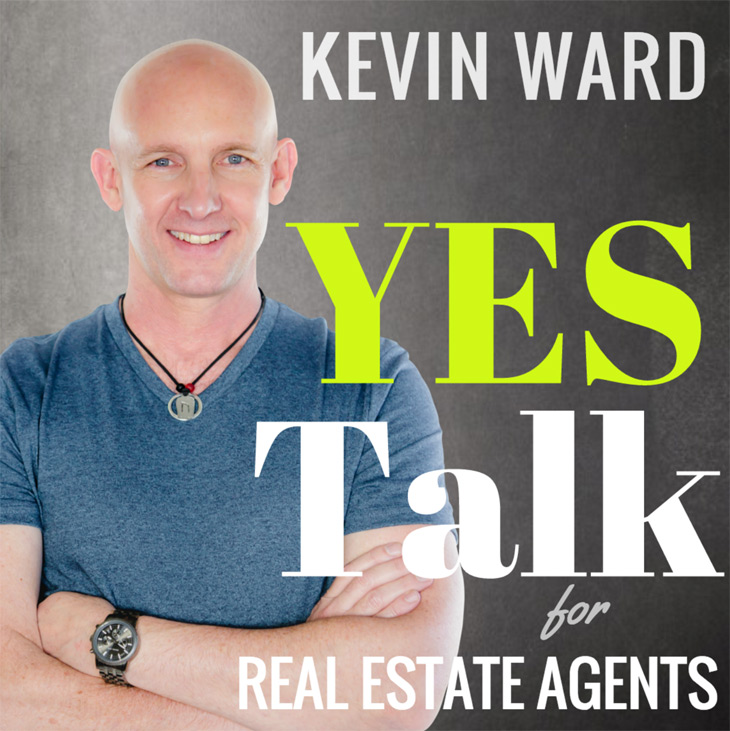 2. YES Talk For Real Estate Agents
Listen on: PlayerFM | Podcasts.com | TuneIn | iTunes
YES Talk is hosted by Kevin Ward, a real estate success coach and author of "The Book of YES: The Ultimate Real Estate Agent Conversation Guide."
In his podcast, Kevin Ward puts a huge emphasis on self-improvement, how to carry yourself more confidently, and turning yourself into the best lead generation tool in your real estate marketing arsenal.
Of course, this podcast is not just about feeling good about yourself. Kevin Ward also shares actionable strategies, proven scripts, as well as insight from the real estate trenches through the eyes of top producers.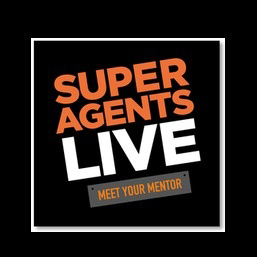 3. Super Agents Live
Listen on: iTunes | Stitcher | PlayerFM
Super Agents Live is hosted by multi-million dollar serial entrepreneur Toby Salgado. He has helped hundreds of entrepreneurs and real estate agents with his one-on-one mentoring.
Toby Salgado is a huge believer in using radio as a real estate marketing tool. Though he admits that radio doesn't have the reach, nor the appeal of new media such as Youtube or social media, it is still very effective in its directness and intimacy.
Super Agents Live podcast features the techniques and strategies used by top-producing real estate agents that consistently sell over 50 million a year in volume, with celebrity guests such as Tom Ferry, Chriss Voss, and Ross Jeffries.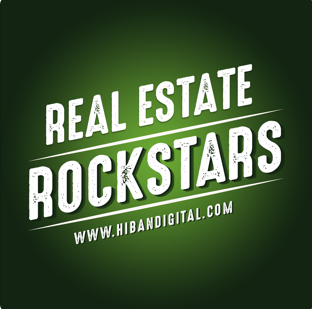 4. Real Estate Rockstars
Listen on: iTunes | PlayerFM | Stitcher | Homepage
Just like Tom Ferry, there's a very good chance you've heard of Pat Hiban and his podcast Real Estate Rockstars.
With over 4 million downloads and a very active fan base around the world, Pat Hiban is one of the most successful real estate podcasters in the world.
Not only does he share a wealth of information on how to make more sales, earn higher commissions, and getting more done, he has the experience to back it up.
With over a billion dollars in sales and more than 7,000 homes sold in his 25-year career, he now spends his time helping others become successful agents and investors.
And if that isn't enough to convince you to check out his podcasts, his gusts will. He has interviewed Barbara Corcoran, David Osborn, Robert Kiyosaki, and many others.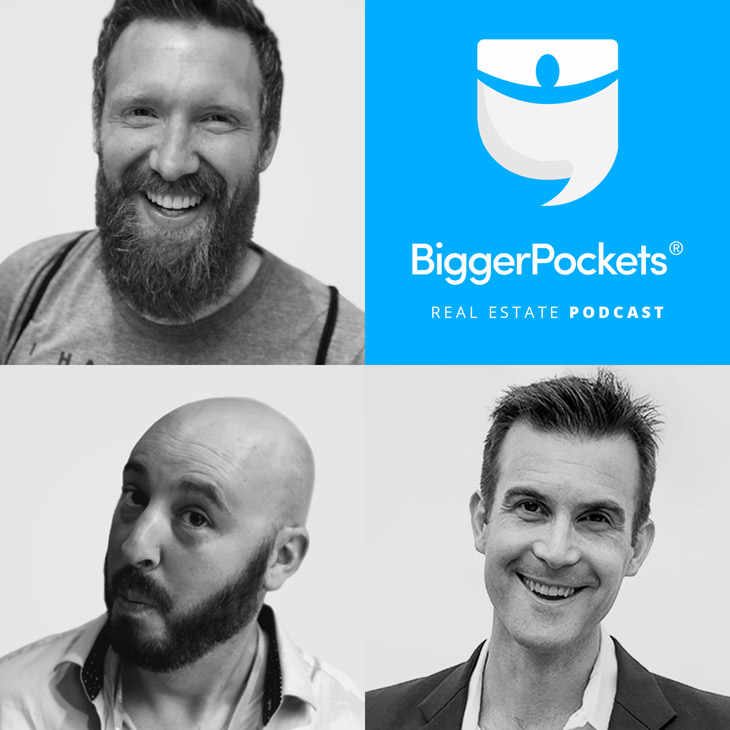 5. Bigger Pockets - Real Estate, Money and Business Podcasts
Listen on: Stitcher | Spotify | YouTube
If you're a real estate investor, have any clients looking to invest, or are simply interested in what opportunities are out there, you have to check out Bigger Pocket's podcasts.
Bigger Pockets Money focuses on giving you financial education that "you didn't get in school including tips for getting your financial house in order and actionable advice from guests who have been in your shoes - and found their way out."
Get Free 10 Day Trial
Want to dominate your hyperlocal real estate market? Then you need to check out AgentFire's Spark Sites.
Click the button below to learn more, and start your free 10-day trial!
Take Me To The Free 10-Day Trial!
Bigger Pockets Business is all about offering great information on starting your own business, learning to run it, market it, choosing the right niche (which is essential in real estate) and so much more.
Finally, there's Bigger Pockets Real Estate. It covers pretty much every aspect of real estate through interviews with real estate investors, entrepreneurs, and top producers. 
It has a casual, informal format, that the podcast itself describes as "imagine you're friends with hundreds of real estate investors and entrepreneurs. Now imagine you can grab a beer with each of them and casually chat about failures, successes, motivations, and lessons learned."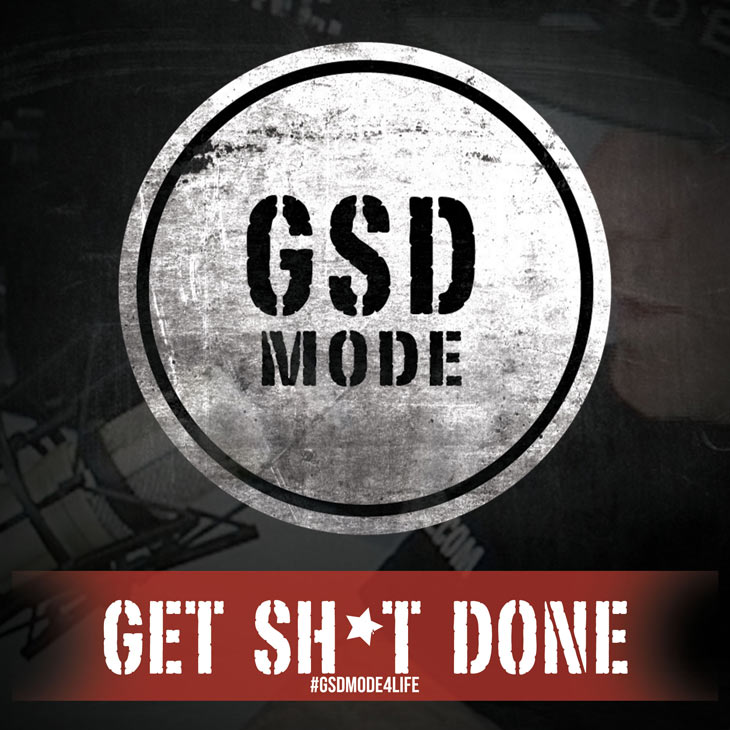 6. GSD Mode
Listen on: Homepage | PlayerFM | Stitcher | Podbean  | Podbay
GSD Mode (which stands for "Get S*it Done Mode") is a podcast, as well as a philosophy, created and hosted by Joshua Smith. Smith stresses cultivating discipline and a laser-like mental focus as absolute essentials in succeeding in life, not just real estate.
Simply put, Smith is an overachiever. He was voted Wall Street Journal's 30th Top REALTOR® in America and has coached and mentored thousands of real estate agents around the world.
If you're a fan of the Joe Rogan Experience, you're going to love this podcast. It's straight to the point, brutally honest, and doesn't mince any words.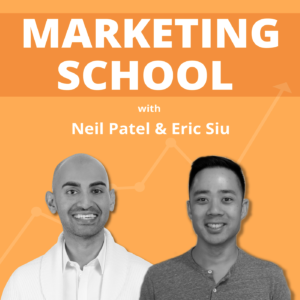 7. Marketing School With Neil Patel & Eric Siu
Listen on: iTunes | Stitcher | Spotify | Google Play
While neither Neil Patel nor Eric Siu have any experience as real estate agents (as far as we know), you should definitely check these guys out. Why? Because Neil and Eric are marketing geniuses.
Neil Patel is a household name, and one of the leaders in the digital marketing world rivaling the likes of Gary V.
Marketing school provides bite-sized podcasts, chock-full of actionable tips and strategies, all of them under 10 minutes. They cover topics ranging from the latest techniques in increasing your website's organic traffic, economic trends, how to be more effective with a small team, and what they would do if they had to start from scratch.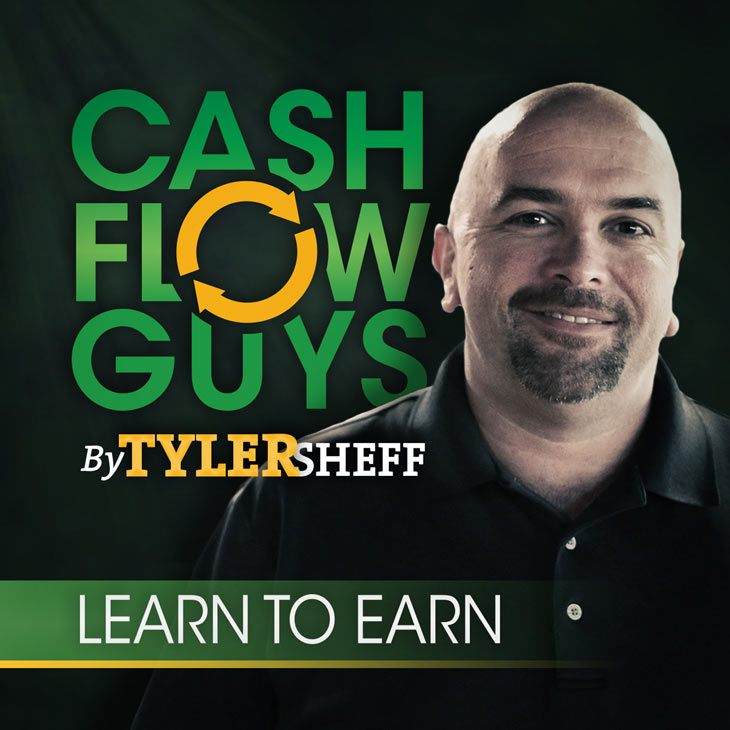 8.Cashflow guys
Listen on: Homepage | iPhone | Stitcher | Spotify | PlayerFM
Many podcasts, coaches, and marketing experts take a high-energy, arms wildly flailing approach to their podcasts and video content. 
They focus on techniques for achieving high success, super-quick, and their enthusiasm makes you believe that not only is it achievable, but it's also actually easy.  
Not Tyler Sheff, former US Marine, and founder of Cashflow Guys. He offers a sober, yet no-nonsense approach to building passive cash flow, as well as overcoming problems common to real estate agents and investors.
He understands that a long-term strategy for success in any business requires an aptitude for lifelong learning, especially in an industry with unpredictable markets, lots of competition, and the need to capitalize on the latest and greatest lead-generation methods. 
He interviews industry leaders in real estate, finance, and investing, and strives to educate its listeners in time-tested methods of building wealth and gaining financial freedom.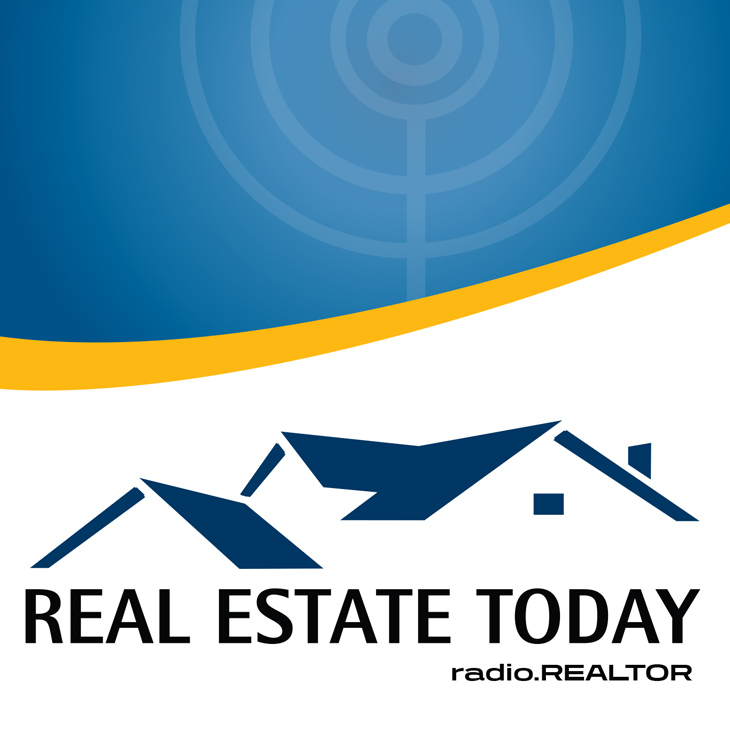 9. Real Estate Today Radio
Real Estate Today Radio is the most "traditional" of all podcasts in this list. It is the official podcast of the National Association of REALTORS®(NAR), and it's hosted by 5-time Emmy award-winning journalist Stephen Gasque.
Gasque is NAR's current Director of Broadcasting, and also the host of NAR's video newscast "The Voice for Real Estate." 
This podcast covers the latest national real estate stats and news, and everything from home buying tips for first time buyers, new rules and how they will affect agents, the best time of the year to sell a home, etc.
While this podcast is aimed primarily at working REALTORS®, the general public can also benefit.
Books are obviously great learning tools, but podcasts provide nuggets of wisdom which are byproducts specific to a spontaneous conversation with respected industry veterans.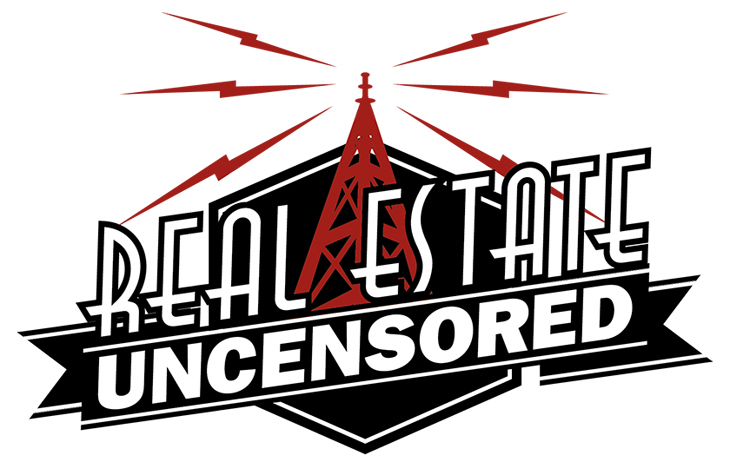 10. Real Estate Uncensored
Listen on: Stitcher | iTunes | PlayerFM | Podbay
Real Estate Uncensored is co-hosted by Bay Area REALTORS® Greg McDaniel and Matt Johnson. It delivers actionable ideas to turbocharge your real estate career, as well as expert wisdom from some of the country's top real estate agents.
Particularly of interest is the podcasts' emphasis on using high-tech, systems and cutting edge sales and marketing strategies to leverage your time, and get more done.
For example, it teaches you how to make over 100 calls an hour, how to master scripts and prospecting systems that can sell over 500 homes a year, and so much more.
But as the name indicates, this is not a stuffy, overly scripted or politically correct podcast. It can be pretty crude at times, though it's always entertaining. If you're ok with that, by all means, check it out.
Are there any podcasts you like that we missed? Let us know in the comments.
If you want to stay up to date on all of our free and valuable content, subscribe to our newsletter. We publish valuable articles and guides such as this one regularly. That way you can constantly improve your marketing skills, and become a more effective real estate marketer.
And if you want to dominate your hyperlocal real estate market, check out AgentFire's Spark Sites, #1 rated for several years in a row.
And the best part? You can try out all of its amazing features for free with our 10-day trial.
Check out this article next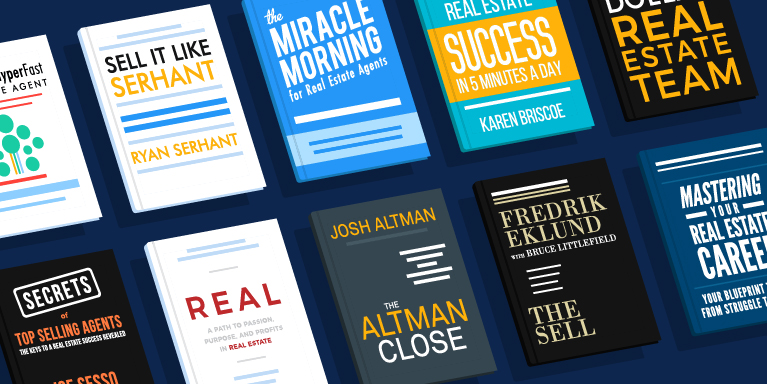 15 Best Real Estate Books to Read in 2019
Everyone loves a good real estate success story! Who isn't inspired by the stories of agents, who despite the odds, came out on top as rookie of the y…