It's now 2019, we have a LOT on the way (as well as a lot that has just been released in your sites) and so it's time to pull the curtain back! More value, more hyperlocal authority, more integrations, and way more power to generate high quality leads!
It's now 2019, we have a LOT on the way, and well, it's as good a time as any to lift the curtain and give you a sneak peek of everything that we're working on.
Before we start, you should know that you're going to read the word Spark Site a lot, this is because we have rebranded our entire product offering under the 'Spark Site' name.
So to be really clear – if you're an AgentFire client, you have a Spark Site ?. 
So with that clarification out of the way… let's get down to business and show you guys what we're working on ?
Your Spark Site Tools & Features
Let's kick this article off with everything we've got planned for your Spark Sites and the features & tools therein.
Spark Blocks
We've finalized and have now made 20 New Design Blocks available for use within your Spark Sites, including brand new headers and footers, and we've got systems in place to continue to release new design blocks every month!
Here's an example of a page featuring some of the new Spark Blocks to give you an idea of how powerful and easy this all is: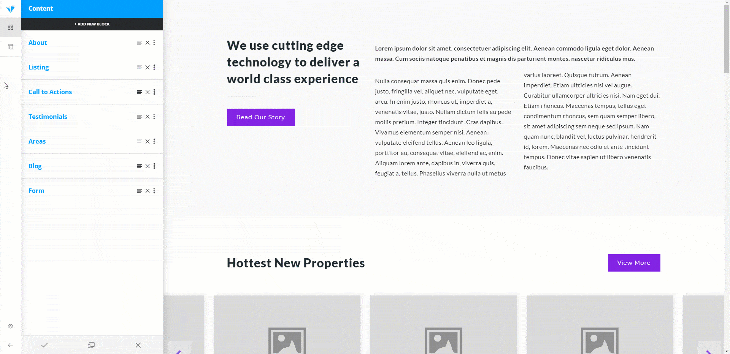 Spark Blocks are part of our new module design page building options – meaning that if you're creating new pages from scratch, you can create them quickly and efficiently by simply adding the blocks you want to the page.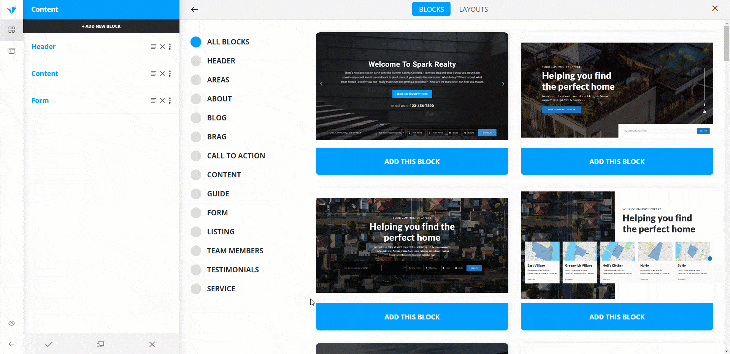 Once you've added the blocks you want, use the visual editor to adjust background images, colors, text, etc until you've got it looking how you want!
So for example, if you wanted to add a testimonial video to your about page, you could simply add one of the new 'video' blocks.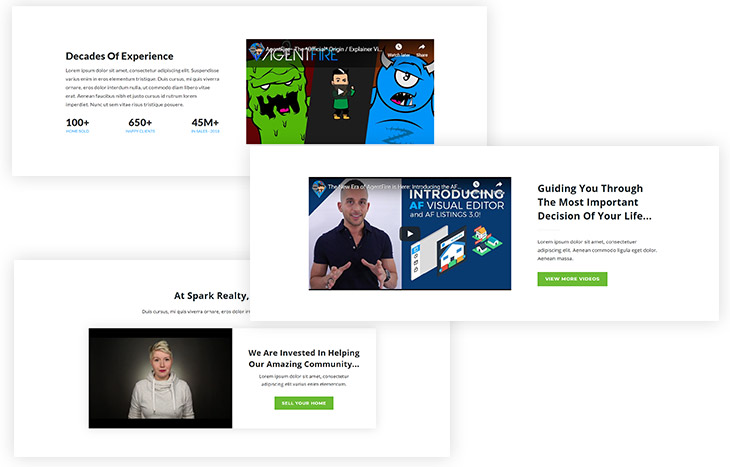 Or maybe you're wanting to add a new call to action to the page? Well, we've got blocks for that as well: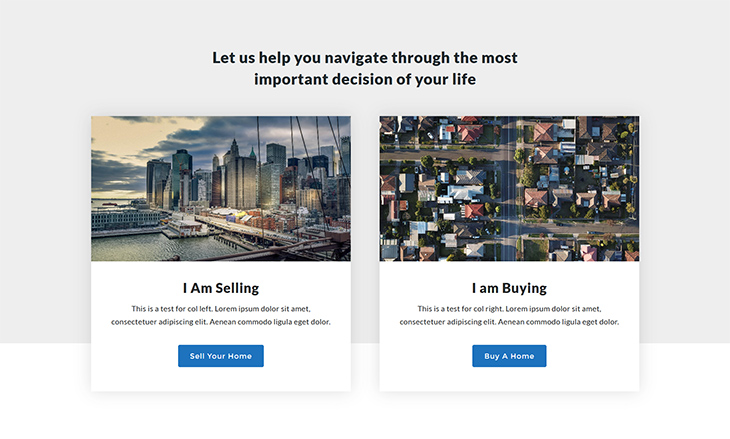 Thanks to our incredible AF Visual Editor, all you have to do is select the blocks you want, and click to edit and easily adjust the sections to your liking!
Say good-bye from the frustrating days of trying to build out new pages with tools that are difficult to use! ?
Here's an example of a full homepage that we were able to create in just 5 minutes using Spark Blocks:

ConvertPages
If it's not already obvious, PPC is the predominant form of generating leads for real estate in the new digital age. Facebook has opened (and closed… ?) the door on really unique lead generation opportunities, and Google continues to remain an extremely viable lead generation gateway for agents and brokers that can manage to move beyond the vacuum of template crap and broad search terms into the bountiful land of hyperlocal marketing.
Sorry, almost went off on a tangent there.
In any case, the ConvertPages tool that we introduced last year, allows you to quickly deploy template based landing pages inspired from the top performing campaigns that we've managed for clients.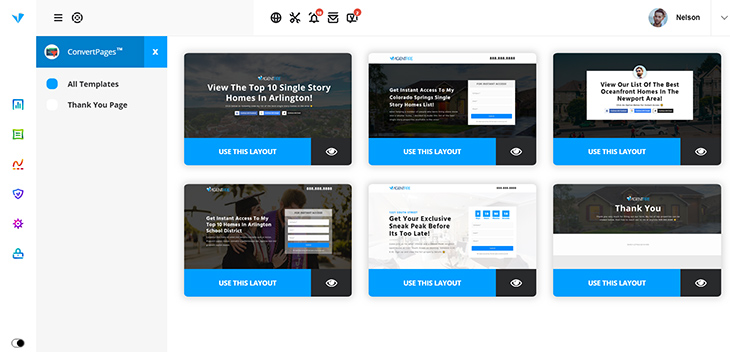 What we've noticed is that there are individual blocks on the page that have more utility than others. Sometimes it makes sense to show social proof, or a video… and sometimes it doesn't.
So in 2019, rather than introducing new full lead pages, we're going to give you more flexibility than ever by allowing you to build your own pages by selecting from an impressive library of pre-built blocks – the exact same block system that we discussed in the preceding section.
Make sense? It's going to be awesome. And hey, if you've seen any particular landing pages, or sections of those pages, that you love and want to recreate within your Spark Sites using our ConvertPages tool, let us know via the comments below!
Engage (formerly "REV CTA")
Engage is a triumph equaled by it's monumental simplicity.
Before we discuss changes to this feature, let's show you some of our favorite Enage CTA's from 2018 ?
Schedule a Call: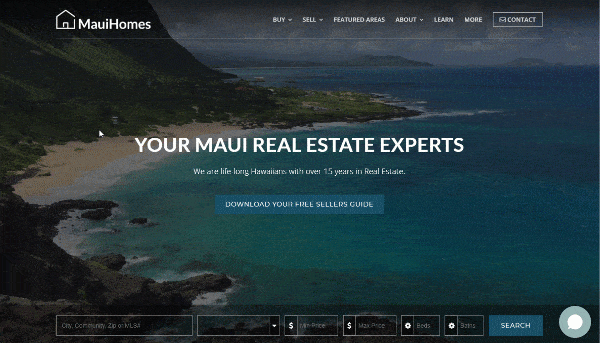 Also worth noting that this feature now includes an integration with Calendly, so that visitors can book directly to your calendar!
Automated Home Values CTA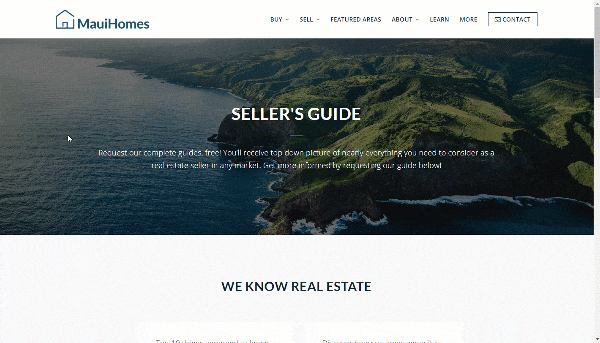 Did you pick up the Home Values extension for your Spark Site? If so, you'll definitely want to use this CTA!
Exit Intent CTA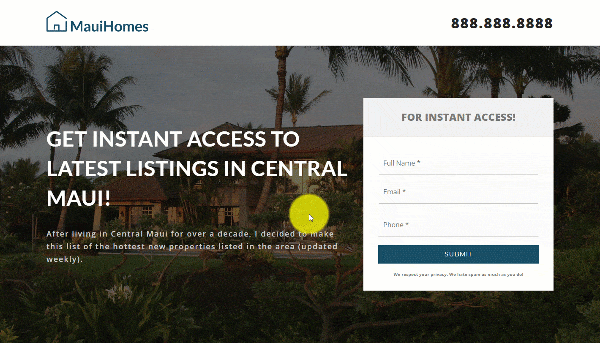 With this CTA you will instantly see a sizable increase in conversions on all of your ConvertPage landing pages. What happens is the CTA will be triggered when visitors try to leave the page – so if someone tries to leave your landing page without giving you their information,  Exit Intent gives you a second chance to capture the lead!
Newsletter Optin CTA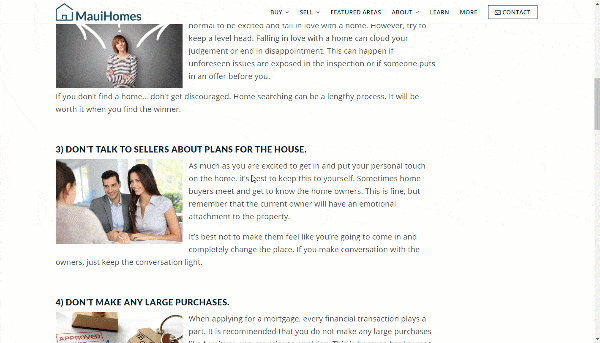 Growing an email list is one of the smartest things you can do. Your Spark Site integrates seamlessly with top newsletter providers like Mailchimp and Constant Contact.
Facebook Business Page CTA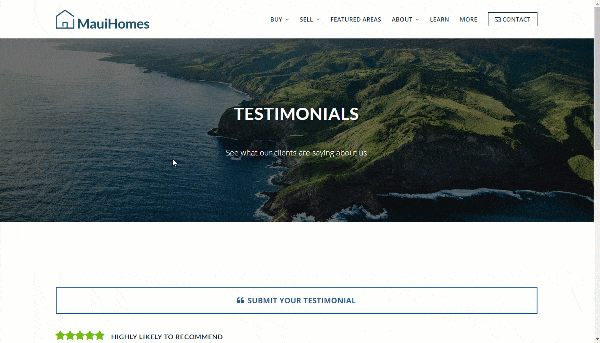 Your website should be a 'hub' of your digital and social presence. Try using Engage to draw more attention to your Facebook Business Page especially if you're active there. If you like to share local events & happenings to your Facebook, try targeting this page to your Area Guide pages!
Anyway… back to updates ⚡!.
Thanks to fantastic data collection systems, we now have a couple of years and a few million page visits worth of data that we've reviewed, and we're hard at work on the following updates for your Engage tool.
More Targeting Options: 
More Trigger Options: 
Brand New CTA Options: 
Conversational Marketing.
We're positive that 'Conversational Marketing' is the future… which is why we're working on new ways to make it the present here at AgentFire  ?
In a nutshell – instead of looking at your Spark Sites from the perspective of "how can I capture a lead", we're looking at them from the perspective of "how can I get a conversation started."
People are tired of over-aggressive sales, and abusive popups. They want to have actual conversations with real people, who have their best interests at heart, which also embodies the spirit of what it means to be truly hyperlocal.
With that said, many of the new CTA options that we're working on will center around this premise. We do want to keep this a bit more under wraps until we're ready to go live (it will change the industry) but, in the meantime, it's something you should be really excited about!
Area Guides
Without a doubt our biggest individual feature focus of 2019 is going to be our Area Guides system.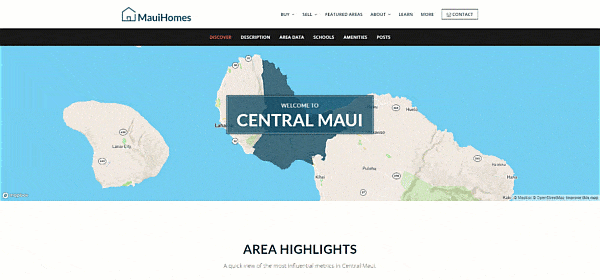 Our first order of business is to get the user interface (the interface that you guys use to edit and create new area pages) upgraded to our AF Visual Editor.
Once that's done we're going to be implementing a massive design overhaul based on all of the data we've accumulated since the most recent version of Area Guides launched back in early 2018.
We see Area Guides as one of the most important features within your Spark Sites, for so many reasons. Used properly, these pages provide unique value and demonstrate area expertise unlike anything else on the real estate market, and so our planned updates will move this premise much further forward – including features that will allow you to create specialized area guide landing pages, offer "market update report" call to actions, and give your visitors lots of reasons to get conversations started.
So in a nutshell: more value, more hyperlocal authority, more integrations, and way more power to generate high quality leads ⚡.
Mortgage Calculator Updates
We've had a lot of requests for this one and are happy to announce that this is ready for release in the next week or so. It's built with backwards compatibility for the original calculator (meaning the update will happen automatically) and this updated version includes a variety of new features, options and a design that is in line with today's mobile first expectations.
Some additional notes worth mentioning:
Control defaults in a variety of ways for an individual market and tailor colors to match your brand.
Works on all device sizes, and updates results using AJAX in real time to provide easy configuration and display of even more complicated home purchase pricing scenarios.
More features and calculator types planned for later this year, as part of a suite of calculation tools for use anywhere in AF site builds.
Blog Assist

Content marketing plays a huge role for Spark Site users that are after better organic results – now the problem if you will, is that very few of you actually enjoy and/or have the desire to write high quality content!
For those of you unfamiliar with Blog Assist, what it does is it pulls 'article recommendations' into your site based on which feeds you hook it up to – so must agents like to hook up their feeds to local news and events sources.
You can then scan that list and when you see something you want to blog about, simply click 'blog about this' to create a new post that pulls in all of the necessary citations and allows you to write your own 'summary' of the post which can be tailored (of course) to provide more value to your target hyperlocal market.
Well in 2019, we have two primary goals with Blog Assist.
More Power: We're going to be adding additional template designs as well as pre-built, inline call to actions (inline means within the actual body of your post, as opposed to a popup).
Success Tips: Actual case studies and live examples of how other Spark Site users are leveraging Blog Assist
TextBroker Integration: This is the big one. We're adding an integration with TextBroker which will allow you to basically 1-click to purchase, or even schedule recurring articles for your blog that are rich in SEO.
Lead Generation
HyperLeads: How to Use PPC To Generate Massive ROI w/ Your Spark Site Tools
So, what if we made an entire series of videos, available directly from your website dashboards, that showed you exactly how to setup your own top performing paid marketing campaigns using the various tools and features available to you within your Spark Sites?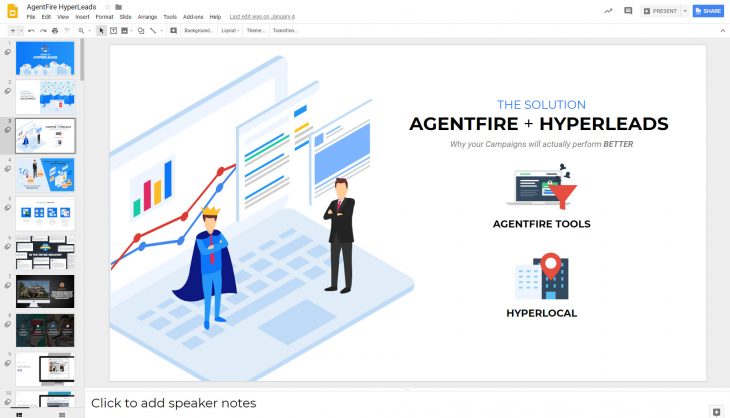 Above is a sneak peak of one of the first courses that we're working on for HyperLeads. We're building these out using a combination of slides (shown here) and actual live site examples to give you easy to follow, step-by-step blueprints to maximize your own PPC campaigns.
Well, I'm not quite sure why I posed that as a question, but anyway, that's what we're doing with HyperLeads ?
The first series of videos that we're preparing will cover topics like
Setting up complete Facebook & Google Marketing Funnels
How to use Engage to increase conversions on all of your Landing Pages… instantly
Everything you need to know about Facebook Pixel
Google & Facebook Remarketing (multiple videos, including how to order ad graphics for $5 or create them yourselves)
Drip Emails: Setting them up, What we've found works best, and even downloadable ready-made drip campaigns!
How to maximize results with new technologies like Facebook Bots, ManyChat, AutopilotHQ and many others
… so much more
We're hard at work here and we'll be sure to keep you updated! If you have suggestions for the initial series of videos, make sure to leave them in the comments below!
Introducing: "The Spark" Marketing Blog
We've dabbled with 'blogs' over the last few years, but now that we've got massive user base of incredible clients, it makes sense that we should invest everything we can into serving you the best real estate marketing strategies for you to implement within and even beyond your Spark Sites, into all aspects of your real estate business.

So we went out and hired some of the top content writers and digital marketing strategists in the industry (4 new team members!) – and told them that they had better produce the best content that you guys have ever seen… or else.
We didn't specify what 'or else' means, but if the level of content that they're working on is any indication, they seem to think that it's something really really dire.
If you haven't already, make sure to stop by The Spark Marketing Blog and check out the new format and filtering options, and make sure to sign-up yourself or anyone else that you want receiving these updates.
These articles will also be sent via a much more frequent email newsletter, and can be viewed from directly within your client dashboards.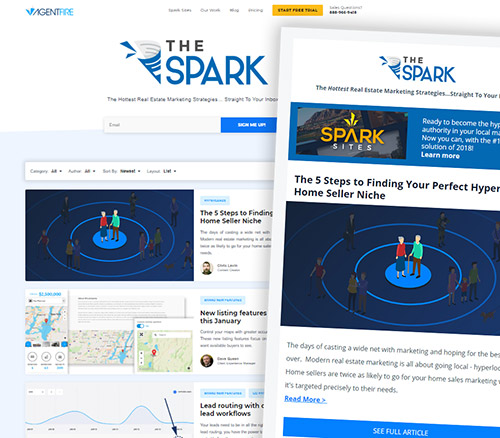 If you have an idea for an article you'd like to see us cover, or perhaps have your own 'case study' that you'd like to work with us on, drop a comment below!
The (Almost) Perfect User Experience
They say to shoot for the stars, so that if you fall you still land in the clouds.
We've got roughly the same approach to our user experience. We're aiming to give you guys perfection, and if we fall short, well, we still want you to feel like your Spark Site has the best user experience on the planet ?
For those AgentFire veterans among you, you know that our user experience has come a LONG way from the complex WordPress dashboard experience of old.
If you haven't logged into your site recently to check out the improvements to your dashboard (new dashboard pictured below) and our AF Visual Editor, you're really missing out. Especially the AF Visual Editor… seriously… show me a better tool for making edits and building pages and I'll resign from AgentFire… (ok, I probably won't, but I would be very very surprised).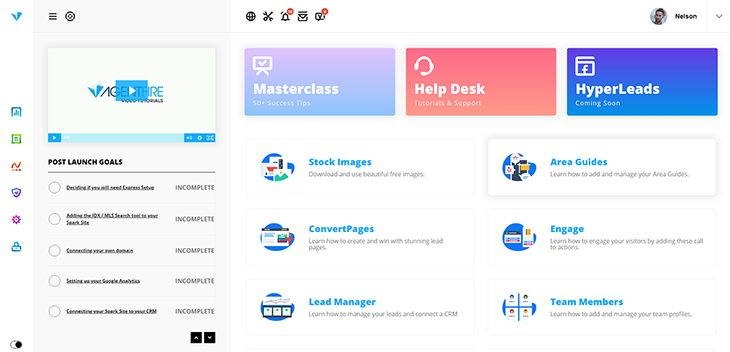 In any case, here's a summary of user experience upgrades you can expect in 2019:
Completely Unified Back-End Experience using AF Visual Editor
There are still a few of our features we need to get hooked up to the AF Visual Editor (like Area Guides) – a big priority will be making sure that all of our features are powered by the AF Visual Editor moving forward to ensure that you have an identical experience across all of your tools to bring the learning curve way down (basically, if you can use one feature, you'll know how to use all of them since they use the same back-end)
More Intuitive 'Help'
You may have noticed that in the brand new redesigned dashboards that we rolled out a few weeks ago, support, guidance, and tips, or perhaps a better way to say that, your success with your Spark Sites, became an even more central theme. In 2019 we're working to make your dashboard experience even more success oriented, by giving you the ability to access our Intercom live chat regardless of where you are within your site, and to prompt you whenever we post new success articles relating to individual features you're using.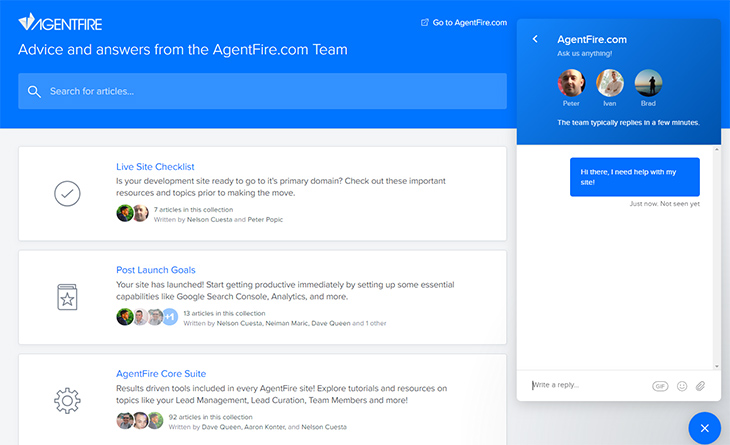 For example, let's say you log into your Spark Site to edit one of your area pages. When you navigate to that section of your site, you'll see a slide in notification to alert you of new posts relating to unique strategies, case studies, or general tips relating to Area Pages, as well as the familiar Intercom live chat icon that you'll be able to use to communicate in real time with our support team.
Give Us your Feedback!!
We've been working towards building a heavily streamlined, intuitive, all-in-one real estate solution with an emphasis on hyperlocal tools and strategies. This will ultimately allow you to dominate your local real estate market in ways that dramatically improve not only your business, but your life. It's why we've invested so much in support and go as far as we can to help you accomplish your goals. What we've posted above is just a small sampling of what we have in store for 2019.
Where I think we've most failed as a company is in making you guys aware of all of the amazing features waiting for you in your Spark Sites, and so our #1 goal as a company this year is to grow our community.
If you have any comments or feedback you'd like to share, please do so below! Cheers! ?