Today I want to take you through a specific Facebook ad campaign we used to generate real estate seller leads for less than $1.
Today I want to take you through a specific Facebook ad campaign we used to generate seller leads (real estate) for less than $1.
Our lowest-cost conversion was $0.88 and then we stabilized at an average of $1.22 per lead, generating 108 conversions in total before stopping the campaign.
First, let's talk about the offer.
What to Offer to Generate Seller Leads
In this particular campaign, we used our Automatic Home Valuation tool. The tool automatically generates relatively accurate home valuations for your website visitors (not as accurate as a real CMA but still good).
We feed in data from a company called Onboard Informatics, in case you're wondering.
Anyway, all your visitors need to do is enter a few key pieces of information and they receive the valuation customized with your branding right into their inbox.
The Ad & Copy
The ad was actually pretty simple.
Our "copy" consisted of a question and call-to-action along the lines of "Want to know what your home in Chicago is Worth? Click here to find out your home market value now!"
The last thing to know is that since we were targeting higher-end sellers - we primarily used images of large or luxurious homes like the one below.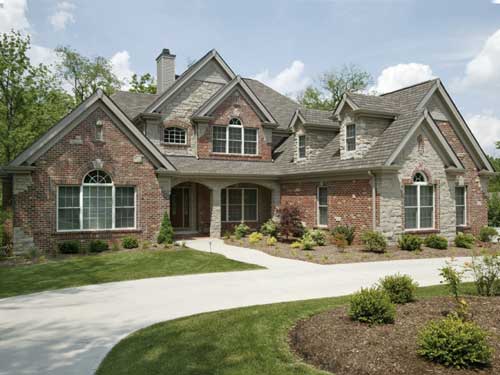 Targeting the Sellers
Our client is based in Chicago, so that's where we targeted. We went broad, but you can target down to the zip code if you have certain neighborhoods you want to target in your area.
Besides this, we targeted for the following:
Campaign Objective: Website Conversions (Optimized for offsite conversions)
Home value: $700,000 - $2,000,000
Demographic: Apartment, Condo, Single-Family Dwelling, Homeowner
Age: 27 to 54
And that was basically it ladies and gentlemen! Of course, we had to go through and test all of the different ad sets to see what ad copy/images worked best to generate seller leads.
(Remember that you can always test this out by targeting by your own specifications and interests. Depending on who you want to reach)
As with all advertising, it's all about the data. However, as you can see this isn't a super complicated campaign and it brought in some great results.
We had some reasons to pause the campaign (mainly working on the sales funnel to increase follow-up conversions), but have already begun to see good results in other areas we're trying with clients.
I suggest trying this out. If you do, let me know!
By the way - as I said this is a tool we offer at AgentFire but if you're not with us you can find some good alternatives. Just search "automatic home valuation tool" on Google.
In Conclusion
As you can see, you don't have to reinvent the wheel. Just search "what's my home worth" in Google and you'll see tons of advertisers. They wouldn't be there if there wasn't any profit.
Remember to make the ad copy or image fall in line with the market you're targeting. One of the biggest jobs of your ads is to dissuade the wrong people from clicking.
It's not about the volume. Just focus on getting your message in front of the right people.
Have you used something similar to generate seller leads before? Do you plan on trying this? Let me know in the comments!