Are you looking for ways to increase your real estate business? Here are some creative pop-by ideas that will help you make the most of your pop-by visit.
Staying connected to current and past clients is crucial to a successful and long career in real estate. A pop-by is a simple way to strengthen the client relationships that you've worked hard to establish. Warm up your visit with a small gift and personalized note, and your past client could become your best source of new referrals. 
Must Haves for Every Pop-By
Branding 
Make sure that every gift has branded wrapping or at the very least, mentions your real estate business. Using the same wrapping makes preparing gifts easier for you and immediately reminds the client who the gift giver is. Plus, it just looks professional. 
Our AgentFire designers have built some of the most distinctive logos and brands in the real estate business. From social media templates to brochures, our client branding is versatile and modern. Learn more about our Logo and Branding addon on our website.
Clear Messaging 
Pop-bys are a simple and effective opportunity to communicate a short, sweet and specific message with your clients. Leave a branded gift tag or note for each client thanking them for their loyalty. Your tag should include you contact information and  a gentle ask such as a referral or to follow you on your social media platform. 
Practical & Meaningful Real Estate Pop-by Ideas to Get You More Referrals
Plants
There is nothing that adds more life to a home than a plant. Plants bring the outside inside and nearly everyone loves having fresh flowers or a beautiful blooming plant in their space. There are a couple routes you can take when it comes to plants and it will depend on the client, their interests, and their lifestyle. 
If your client loves to get their hands dirty or has a large outdoor space, opt for flower seeds. Their compact size will allow you to package a few different types and it'll be exciting for your clients to see them bloom during the season. 
For busy clients or those without much outdoor space, a potted flower or plant is just fine. Potted plants immediately brighten the room and help to make a new house feel like a home. Just make sure your clients don't have any plant-related allergies or pets who may consume the type of plant you choose.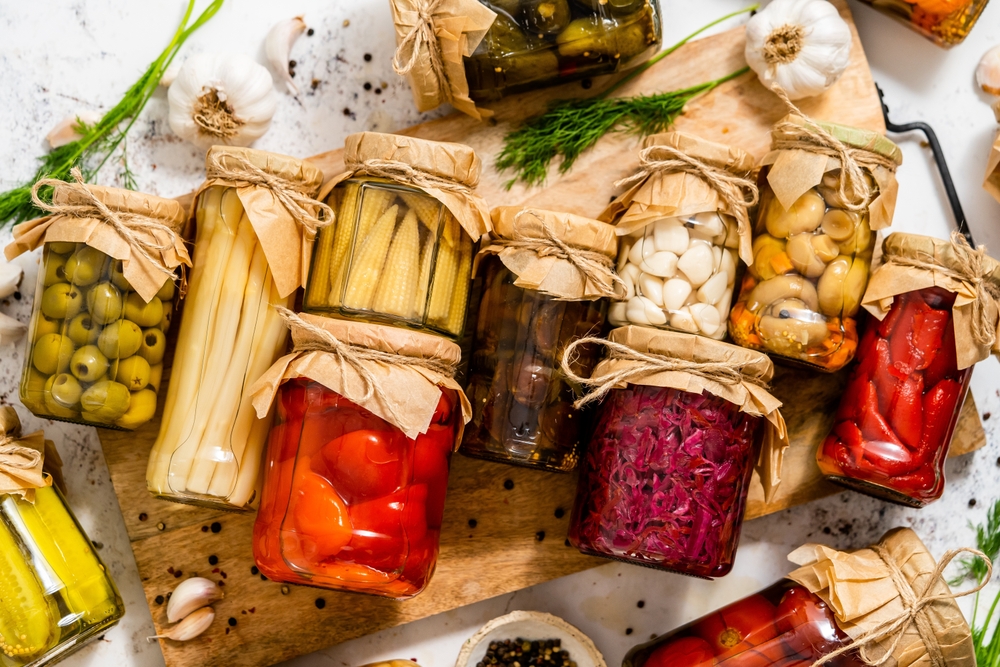 Preserved Snacks
Preserved foods and topping like homemade jam have a traditional feel that screams classy and natural. Not only do they taste great, but they're awesome for decorating the home and looking beautiful in the fridge. 
Gardening Tools 
Gardening tools are one of those things that we all know we should have ( and great quality at that), yet they're not always fun pieces to invest in. Getting gardening tools as a gift is a great way to provide clients with things you know they need, but may be hesitant to buy. Even a single, high quality tool can make the gardening experience significantly easier and more peaceful. Every time your client is digging soil and planting a new plant without struggle, they'll remember who bought them the right tools. Plus, it will undoubtedly be used for years to come. 
Pet Treats
For pet owners, their pets are a huge part of their home and family life. A gift of pet treats show clients that you are attentive to their lifestyle and have their entire family in mind. Anything from dog treats to toys and pet-safe appliances or tools are welcome. 
In some towns you may be able to find gourmet dog bakeries or pet stores that sell specialty dog treats. These local treats are a great gift and an easy way to connect your clients to local businesses. 
Get A Free Personal Demo
Ready to revamp your real estate marketing strategy and dominate your hyperlocal area? Our expert web designers will show you how. Click the button below for a free 30-minute demo of our AgentFire Spark Sites.
Baked Goods
There's something about baked goods that just says "you're home". Baked good are a symbol of being welcomed into a new neighborhood and getting settled in a place that your clients can call home. Agents can prepare something quick and simple like banana bread, or head down to their local bakery and grab an artisanal dessert or pastry. Customize the wrapping with a tag with your branding and write a personal note about why that particular item was chosen for those particular clients. It doesn't need to go into much detail, but it's helpful if you add in something personal that only you and your clients would know. 
An Experience
As you've spent time with your clients, you've likely gotten to know their likes and dislikes quickly. At the very least, you know enough about their lifestyle to think of an activity they may be interested in.
Purchasing an experience can range from a restaurant visit to a show or family activity. There are very few people who won't enjoy a free, fun night out. Extra points if the outing takes place in a local spot or landmark. A traveling show that customers wouldn't usually be able to see, such as Cirque Du Soleil will make them feel especially lucky and grateful for your gift. 
A Gift Basket
Gift baskets are great pop-by gifts because they are easily customizable and have a wide price range. Baskets are also easily to build quickly and don't require much extra help. Gather several items throughout the year that can be easily integrated into a wide variety of gift baskets. This includes candles, kitchen tools, and gift cards. You'll also want to grab wrapping foil and tissue paper when you find a great deal or your brand colors. When it's time to build a personalized basket for a client, you'll only have to pick up a few specific items to make sure the basket is tailored to their interests.
For example, imagine you have a client who is a sports fanatic. You can start to build your gift basket with home basics like a coffee mug and gift card to a local restaurant, then add in some sport-specific goods like balls, and small athletic accessories. Use wrapping that fits your branded colors so that you can use the same gift-wrapping products over and over again. Then, follow the same template for each client gift basket.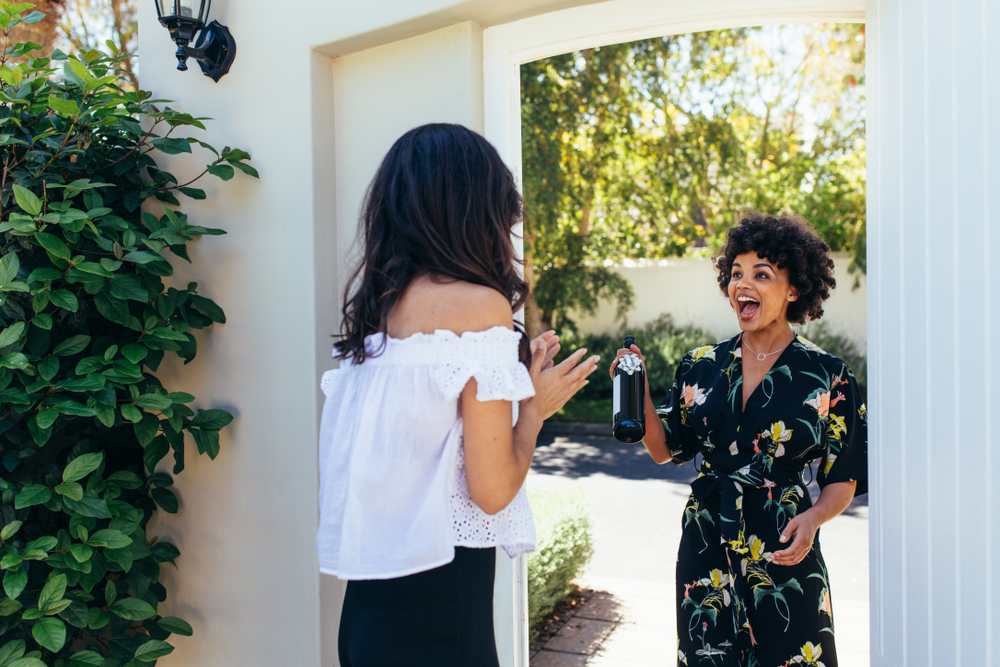 Wine
Wine is the go-to house warming gift for most. You can offer a new experience with wine they may not have tried and they'll be thinking of you as they open and enjoy it. There is a chance, however, that your clients don't drink, or at least don't drink wine. Branch out a little and see if you can get an equally luxurious and classy drink that fits their tastes. Artisanal beers, liquors, or sparkling non-alcoholic beverages are good alternatives. It's also good form to make sure they're wrapped nicely and come with a hand-written note and a wine bag. Simple. 
Seasonal Gifts 
There are some pop-by gifts that are only right for particular seasons. Seasonal gifts get people excited for the new season and prepared – if you give the right gift. Don't over complicate it: BBQ sets are best for summer, and pumpkin spice seasoning is best for fall. Consider items that can be used for the entire season and are not just decorative. 
Plan It Out
There are a few moving parts to a pop-bys: you'll need to consider locations, times, and what budget you are comfortable with. Start with a goal in mind for how many referrals or connections from pop-bys you want to receive. If your goal is 10 referrals this season, and you get 1 referral for every 10 pop-bys, then you can adjust the amount of pop-bys accordingly.
You need to consider wrapping and travel costs along with the value of the item you are giving away. What is a reasonable budget for your relationship with the client and the potential value of a referral? Each individual agent will have to figure that out themselves.
How Often Should You Pop-by?
There's a fine line between fun surprise and pest. We suggest leaving a pop-by gift no more than once per quarter.
Pop-bys are great opportunities to learn more about your clients and tighten your lead generation and marketing strategy. With a pop-by tracking document,  keep track of client statistics that reflect the ROI of each pop-by. Note which clients provide the highest quality leads, what time most local people are home and likely to receive mail, if your clients save your contact information or follow you on socials, etc. Take this information back to the drawing board and tweak your strategic plans accordingly.
What If the Client Isn't Home?
If your client isn't home, your pop-by gift should have something that can attach it to your client's door. If your gift is packaged neatly, it should have a handle or ribbon that you can hang around the doorknob. This is where a neat gift tag and detailed note with your contact information are especially important.
Final Thoughts…
The recipe for a standout pop-by gift is easy: personalize it and focus on strengthening your client relationship. Most clients would agree that simply taking the time to prepare and deliver a gift is impressive; there's no need for anything elaborate and expensive.
Every client is different, so you'll want to keep their unique needs and interests in mind as well as usability. Then, stick a kind, branded note on your gift, and you can't lose.
Check out this article next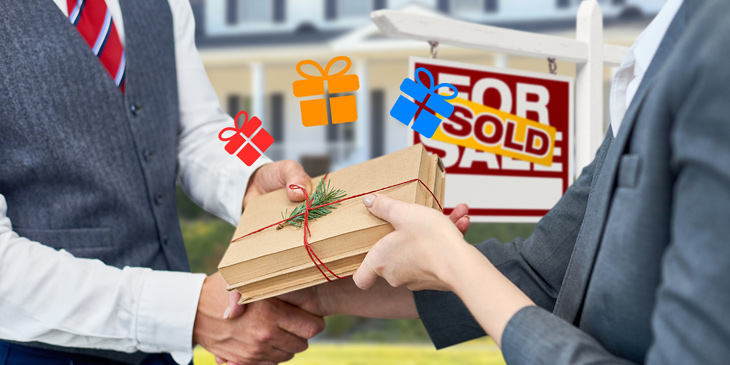 Keep Clients For Life With A Closing Gift: 28 Awesome Ideas
After going through the entire real estate process, you might be surprised by the recommendation that you should give your home buyers a closing gift.…