Video is extremely effective is grabbing your prospects' attention and staying in their mind. Here are 9 real estate videos you should start creating today.
In previous articles, we put together a list of free resources you can use for all of your real estate content marketing needs. And in our last article, we created a list of (mostly) free video editors that can help you use those resources to create amazing real estate videos.
Of course, having the tools to put together an amazing marketing video isn't enough. You also need to know which videos you should be producing.
In this article, we will go over a number of real estate videos you should be producing right away, which will help you draw more quality traffic your way. In addition, we've included lots of examples so you can use them as reference and inspiration.
1. Personalized Email Real Estate Videos
If you can easily write and send regular emails, why would you want to bother with video? It all comes down to personalization and conveying emotion.
No matter how great your email writing skills are, and how compelling and valuable the information you share in them data, it's really hard to convey and evoke real emotion with them.
Sure, best selling authors are experts in taking their readers on an emotional journey using nothing but text. But when it comes to anything put down in writing, people tend to bring their current mood into the experience.
In other words, if they are already in a bad mood, and they get an email from you wishing them a happy holiday season, they may respond negatively to your email at no fault of your own.
This is where video emails shine. When you send an honest and heartfelt video email, you're more likely to evoke the kind of emotions you want.
And if that wasn't enough, remember that people spend far more time watching videos than reading. Video just keeps our attention longer. 
How can you create your email videos? Several CRMs, such as LionDesk and AgileCRM let you create video emails. And there are also several apps, such as BombBomb and Vidyard that specialize in video email.
2. Property tour videos
Property tour videos are the bread and butter of any real estate video content strategy. And now in the middle of our Covid-19 reality, property tour videos are more important and essential than ever.
Sure, nothing can substitute the experience of actually visiting a real place in real life. However, a well-crafted video tour has a significant impact on home buyers. It lets them get excited about a home in a way that even professional photography can't compare. Not to mention that it lets them tour the property at their own leisure.
There are many ways in which you can create this kind of video. It could be pre-recorded tours, a 3d virtual tour with the use of tools such as Matterport, or even an open house recap video. And all of the footage you need can be easily recorded with nothing but your smartphone. 
3. Interview videos
We continuously talk about the benefits of hyperlocal marketing and earning the reputation of being the local, go-to real estate expert of your area of service. And yes, we're bringing that topic back again.
A good way to do improve your hyperlocal credentials is by reaching out to local businesses, interviewing them, and writing a blog post about it.
But an EVEN BETTER to do so is by recording the interview on video.
However, you're not limited to local coffee shops and hole in the wall restaurants. You can also interview respected members of your community. They could include health officials that are in the frontlines of the fight against Covid, government officials, leaders of non-profit organizations.
Additionally, you can also interview professionals in fields related to real estate, such as architects, lenders, developers, interior decorators, and appraisers. 
As long as the content itself is interesting, appealing, and most importantly, valuable to your prospects and current clients, it's all fair game.
And speaking of clients, why not interview some of your own happy clients? These can serve as testimonials of your own expertise, which will help improve your social proof even more.
4. Live-streams, Q&A videos
In our current Covid-19 reality, live-streaming and virtual open houses have become a necessity. In fact, there's a good chance you are already offering this service. 
The great thing about these forms of content is that not only do they benefit you when you first release them, but you can also record them, edit the footage, and re-release it as additional content.
Additionally, you can also host webinars, Q&A sessions, and tutorials. These videos can be recorded live, and promoted online, and re-released in the future if the content is evergreen.
5. Blog Post Recap Videos
Creating and maintaining a blog is one of the most effective and cost-effective ways to get your content strategy going. It's easy to start a blog, it requires minimal tools, and given enough time, you could amass a significant audience. And once you grow your audience enough, you could simply tap into it for all of your advertising needs, and eliminate your need to ever pay a third-party advertising agency.
But if you want to completely maximize your blogging efforts, why not take your blog posts and turn them into video?
You could use the blog post itself as the script for your video, and all you need to do is get in front of your camera, and just deliver your script.
Get Our Pricing
Want to dominate your hyperlocal real estate market? Then you need to check out AgentFire's Spark Sites.
Click the button below to learn more about pricing.
Or if you prefer, your video could be a summary of the post where you cover all the essential details.
If you prefer to take it to the next level, and not just recycle your content, you could create video content that complements your blog post.
For example, if your blog post is all about the latest home design trends, your video could show examples of local homes that showcase those design trends.
6. Homebuyer/seller advice videos
One of the most common pieces of content that real estate agents create are home buyer/home seller guides on their website. 
You can take this guides to the next level by creating short videos that go over some of those buyer and seller tips. Each video could cover a specific topic, and you could even create an entire playlist that goes through all the tips one after the other.
These videos don't need to be overly long. Each video could be as short as a 2-minute explanation of a term or concept that is relevant to buyers or sellers.
In the example below of the Dave Ramsey Show, Chris answers the question "What should I be looking for as a first time home buyer?" The entire video is only 2 minutes and 43 seconds.
7. Gated, high-value videos
A highly effective content marketing is to create a high-value piece of content, such as an ebook, an extensive tutorial, etc, and only make it available to visitors if they provide their email address and their contact information.
By obtaining their contact information, you can continually market to these prospects, and nurture them until they need real estate services.
You can do the same with video. You could create a series of videos, not unlike a course, that provides a high amount of value to your prospects. The video could also be a guide of your area's top spots, restaurants, sights, and best-kept secrets.
8. Local business review videos
Think of all the best stores and restaurants you frequent, Maybe you have a favorite coffee shop, or love a particular hobby store. Whichever establishment you enjoy, these could be the focus of your real estate marketing videos. 
Instead of making yourself the spotlight of these videos, elevate those local businesses. By highlighting these places, you're proving that you love your community, and you truly are the go-to expert in your hyperlocal area.
Also, you incentivize those business owners to reciprocate and send business your way.
9. About me/ explainer videos
Establishing trust is essential in real estate, especially when dealing with new prospects and leads. While you should create a text-based about me page on your website, you should also consider creating an about me video.
Video is much better at establishing trust and emotion. Your video could list the reasons why your prospects should trust you. It could include some of your qualifications, success stories, and your some of your qualities. 
This video could also include some of your hobbies and interests, in order to show that you're a real, approachable person.
Of course, you do need to be careful with how you portray yourself. On the one hand, you want to show that you're competent, professional and trustworthy. On the other hand, you want to be sure you don't come across as arrogant or self-absorbed. That could have the effect of turning people away from you.
Conclusion
Video is a powerful marketing tool. Use it. It's easier than ever to create good video content, there are tons of tools available to help you edit the videos, and your prospects are far more likely to enjoy your video content (and share it) than your written content.
If you want to stay up to date on all of our free and valuable content, subscribe to our newsletter. We publish valuable articles and guides such as this one regularly. That way you can constantly improve your marketing skills, and become a more effective real estate marketer.
And if you want to dominate your hyperlocal real estate market, check out AgentFire's Spark Sites, #1 rated for several years in a row.
And the best part? You can try out all of its amazing features for free with our 10-day trial.
Check out this article next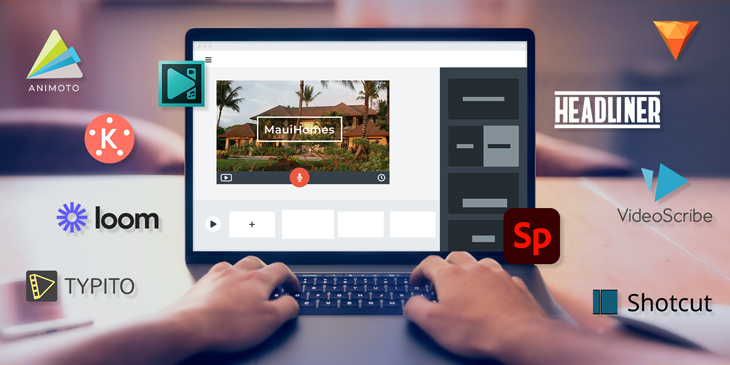 Create Stunning Video Content With These (Mostly Free) Editing Tools
By now, it should be pretty obvious to everyone that good photography is critical for your success as a real estate professional. Homes with professio…