In this case study, you'll learn how to: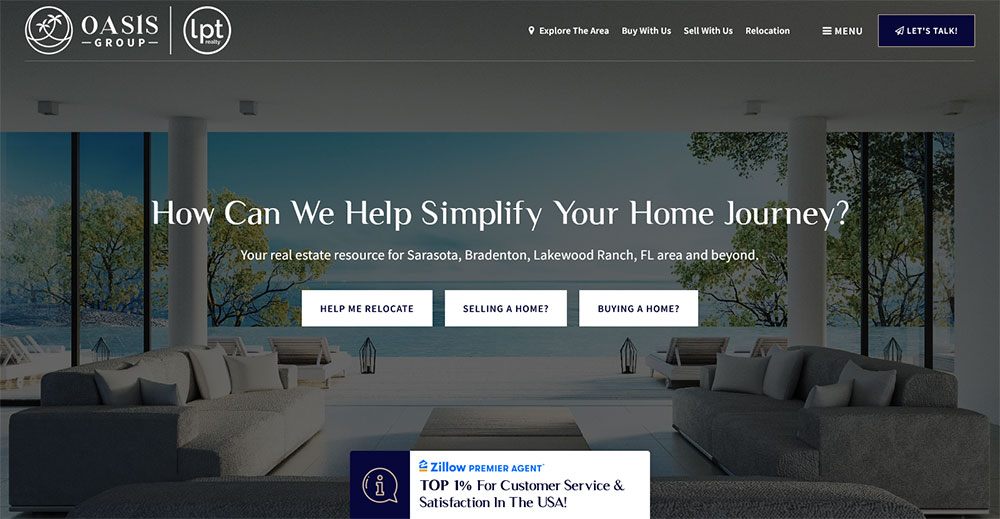 The Oasis Group homepage is simple and straightforward, with a clearly communicated brand ethos ('we simplify your home journey'), 3 call-to-actions for each of the primary client types that they deal with, and a large social proof at the bottom of the page that positions them as 'top 1%'.
From 'Unknown' to ' Top 1 percent'
Jeff Bray and The Oasis Team may very well deserve a Guiness World Record for how quickly they became recognizable and successful in one of the most competive real estate markets in the US (Sarasota, Florida!)
From the moment Jeff started in real estate, he knew that two things were absolutely essential: He needed a coach to help him understand the game, and he needed a scalable website that he could use to cultivate his image and convert leads.
After selecting Tom Ferry's coaching program, Jeff honed in on what his website should and shouldn't be.
For his coach, Jeff chose Tom Ferry. AgentFire has a full website masterclass with Tom Ferry where go over all of the biggest website opportunities of 2023 and how to implement them. Check it out here!
For his website, Jeff researched many different options before choosing AgentFire. He chose us because:
We are the #1 overall rated website solution on every major review platform (Facebook, Google, G2 & Trustpilot)
We specialize in hyperlocal, social-proof designs (click here to see our portfolio)
We're the most scalable solution in the industry. Not only do we have all sorts of optional premium addons, but we integrate with the best marketing and CRM companies in the industry.
After signing up for a custom website through AgentFire, Jeff met with his designer where they devised the following plan:
The Plan:
Create a one-of-a-kind brand
Display social proof to make Jeff look like a long-time expert agent (despite being a new agent)
Create a complete marketing system, designed to maximize the likelihood of converting every single lead
Empower clients with engaging addons and informative content
For Jeff, it was crucial to have an expansive brand design that not only stood out, but that also reflected his professionalism and dedication to high-quality service.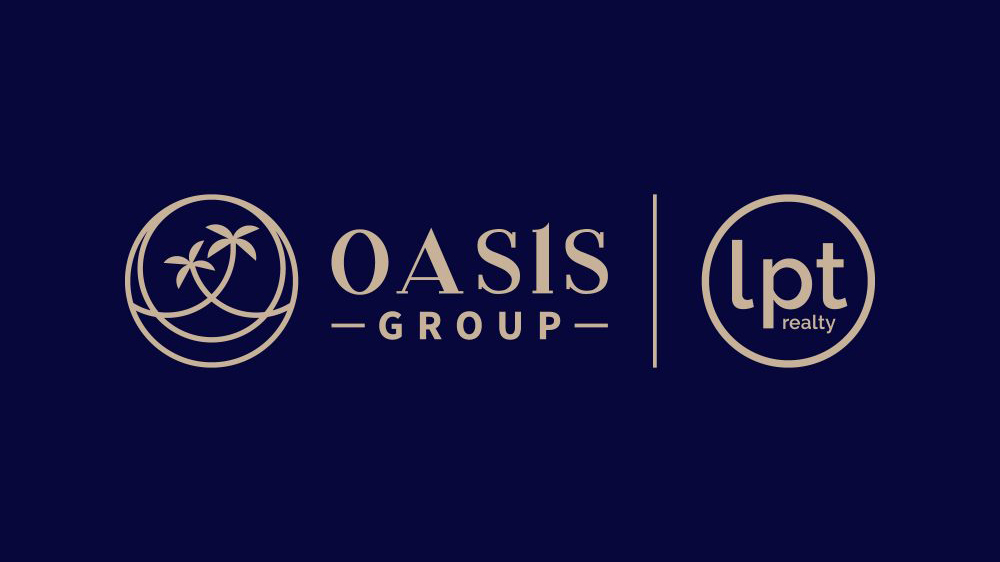 Jeff's team name is 'The Oasis Group', which is fantastic because an oasis represents a 'refuge' from that which is usually annoying or difficult, which is exactly what Jeff's team aims to be in a crowded real estate space. To communicate this we choose to display a circle (representing an oasis) with two interlocking palm trees, which communicate trust and teamwork. Palm trees are also native to Sarasota. We went with a blue/gold color combination to represent professional, luxury and #1.
One of the first things we developed for Jeff was a complete logo and branding guide.
The idea behind the logo was to create something simple and representative of the best qualities of an 'Oasis' (i.e. a 'relief' or 'pleasant' change from the usual). This is why we chose a simple circular design with two interlocking palm trees (to communicate trust and teamwork).
Then, we worked on the visual brand which includes the colors, fonts, and general styles that can now be seen in all of Jeff's emails, marketing, and social media.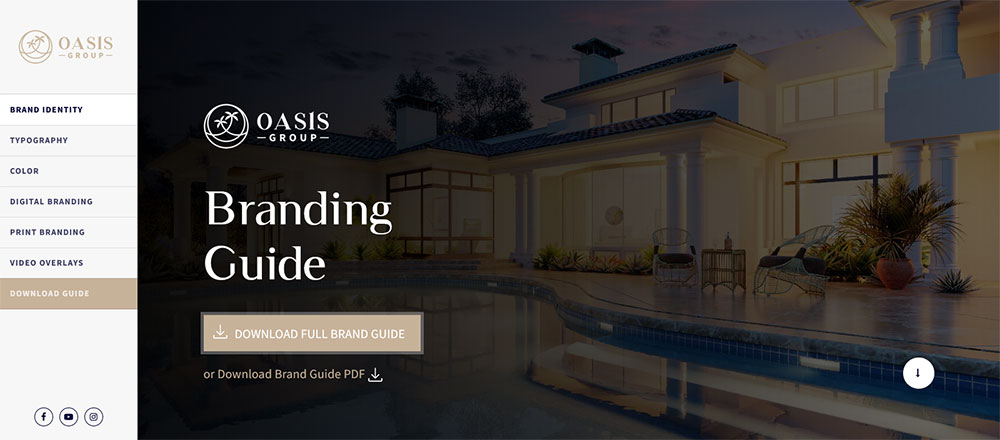 Jeff's Branding Guide puts all of the visual components of his brand in one place. A Branding Guide will ensure that any future marketing material he creates is neat and consistent. The page seen above is an actual page on his website that he can share with graphic designers or anyone who might need access to his brand materials. You can see it for yourself here: View Jeff's Brand Guide
The effect of a professional and cohesive brand is extremely powerful, as it not only shows professionalism, it also implies that you are a top-of-the-food-chain-level performer.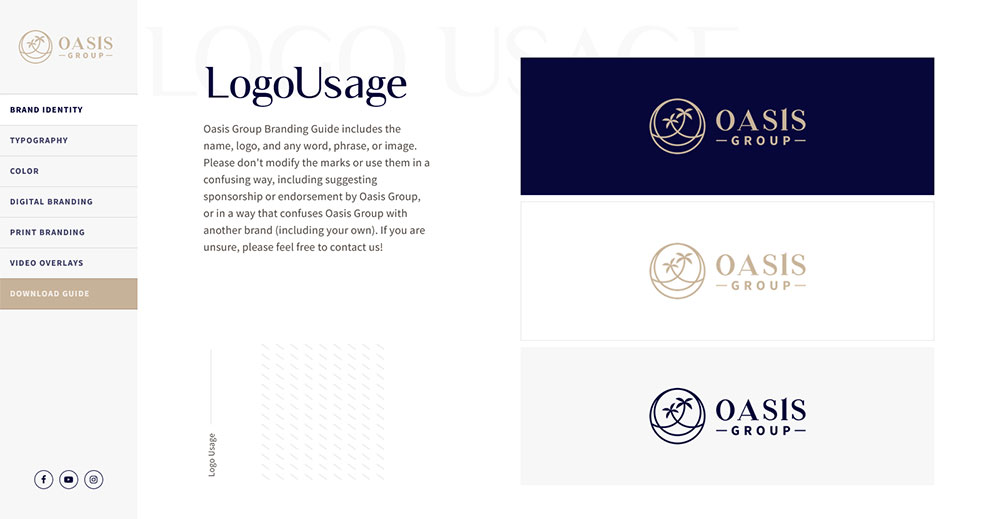 Jeff's logo is his brand's strongest visual cue. We designed this logo to be easily identifiable and replicable for a variety of marketing material.
As part of the logo & branding package through AgentFire, the website itself has its own Branding Guide that Jeff can share with other companies he works with (i.e. the companies he worked with to create his signs & open house flyers) to ensure his brand is consistent across all digital and print mediums!
Step 2: Creating Social Proof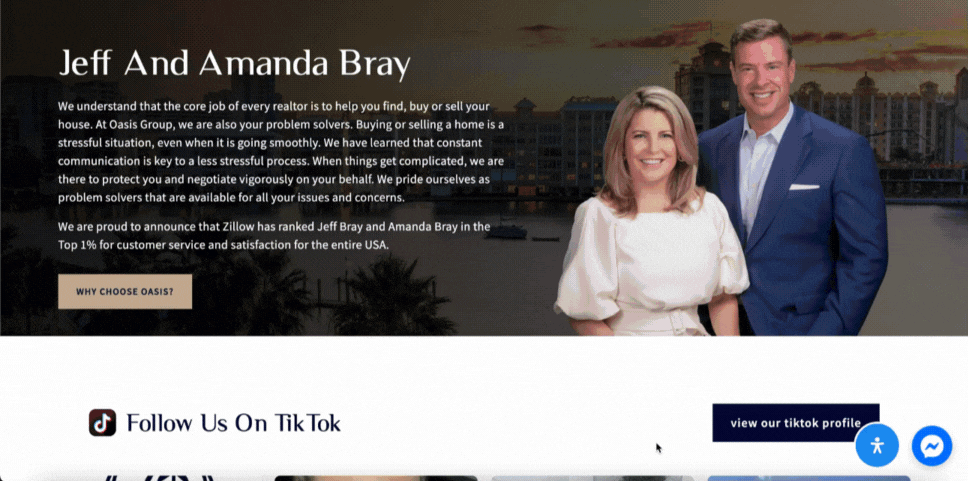 With such an awesome social media presence, we knew that Jeff's website visitors would love a snapshot of his valuable content. His TikTok, Instagram, and Facebook profiles create the perception of a long-standing, successful career.
Admittedly, this was the trickiest part of our plan. After all… how do you create social proof for someone with no experience?
The answer is perception.
By building a professional website and then loading it up with extremely high-value content, we created the impression that Jeff as is an ultra-experienced and trustworthy agent.
To start – Jeff is extremely active on social, so we prominently featured his Instagram, YouTube, and TikTok on his homepage.
Then he needed a way to really stand out with the buyer & seller leads he was receiving through Zillow. After all, Zillow leads start as a simple phone call. It's up to the agent to humanize that phone call and spark the prospect's interest.
The solution was to work with AgentFire to create extremely robust buyer and seller pages.
One client in particular – a buyer from China – was so assured by the social proof he found on Jeff's webpages, that he worked with him on a sight-unseen, multi-million dollar land deal!
These are the sort of deals that, while completely unheard of for a first year agent, become possible when you leverage your website to position you as the top expert!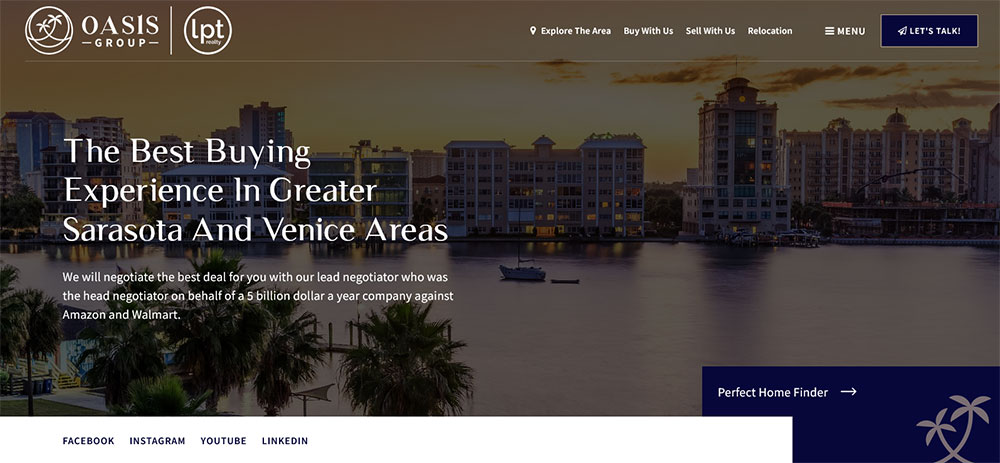 Jeff's buyer page gives buyers a complete overview of the white-glove service that they can expect from Jeff and his team! Any potential buyer who visits this page will get the immediate impression that Jeff and his team are head-and-shoulders above the compeition.
On his buyer page you'll find tons of information that establishes Jeff as a superior option to the agents he competes with – including an extensive vendor network, his experience negotiating on behalf of a 5 billion dollar a year company (occasionally negotiating against Amazon and Walmart), and much more.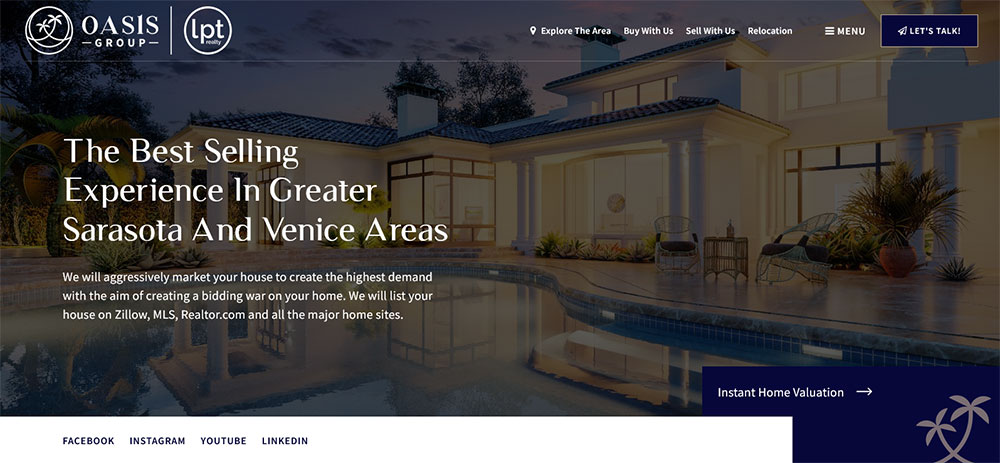 Jeff's seller page not only gives sellers a complete overview of the white-glove service that they can expect, but it also answers common questions and concerns, AND includes Jeff's revolutionary "Sell, Stay, Then Buy™" offer, which, not only is it a great offer, it's a UNIQUE offer that further positions Jeff as a top area expert.
Then on his seller page, Jeff did something spectacular: he crafted a unique seller offer for his market, which he calls "Sell, Stay, Then By™". 
The Sarasota real estate market is extremely hot, and the idea here is that with Jeff, you can sell your home now (to take advantage of record-high prices), and then lease it back for up to 6 months while you work with him to search for a new home.
Not only is this offer a huge hit with his prospects, but the fact that he has a plan like this is tremendous social proof in itself!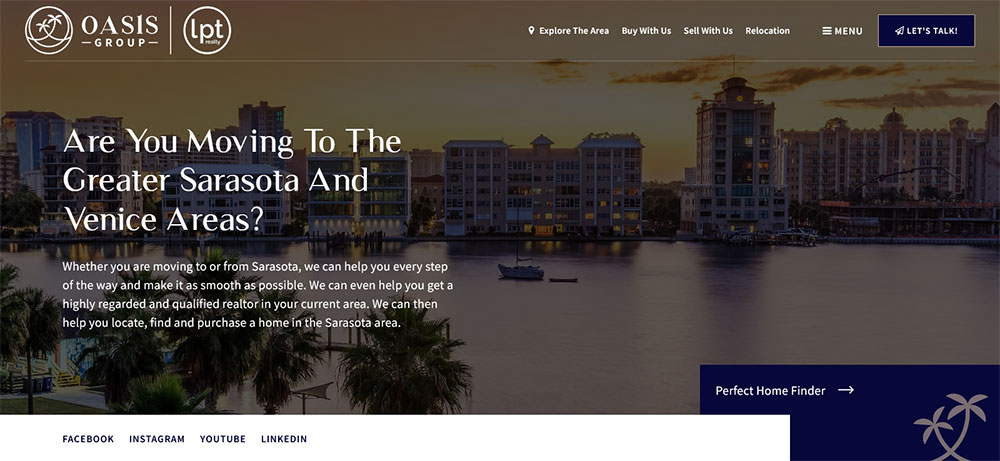 After identifying 'relocation' as one of his primary client types, Jeff worked with AgentFire to setup a relocation page that communicates all of the unique value he's able to provide, including his willingness and ability to create detailed, custom videos for every property that potential relocation clients indicate that they are interested in! That's white-glove service!
In addition to robust buyer and seller pages, Jeff quickly realized after turning on Zillow leads, that a high percentage of the leads that were coming in were from people looking to relocate to the area. To capitalize on this, Jeff setup a relocation page that almost immediately resulted in a $20MM land deal from a Chinese buyer! 
Jeff explained:
Speaking of Zillow Leads, a few months after turning it on, he was voted as the top 1% in Customer Service for the entire USA (which he says was all about responding laser fast and going above and beyond to every new lead).
This was big because now we had real social proof! We displayed this achievement on the homepage, his buyer/seller/relocation pages, as well as anywhere that we were encouraging prospects to take the next step by contacting Jeff.
As soon as Jeff's first few deals started to trickle in, we made to sure to setup a system to make sure each of those satisfied clients left reviews on his Zillow and Google profiles (which we now also prominently feature on his site).

Being ranked in the top 1% of customer service / satisfaction for Zillow was really the first major social proof that Jeff achieved – it's a fantastic social proof and so we made sure it was featured nice and big right on the homepage!
In only months, Jeff had caught the attention of so many new clients that he was recognized by largest real estate marketplace in the world: Zillow.
Leads that are pulled from Zillow are instantly drawn to the Oasis Group's website. And vice versa: leads drawn to Jeff's website are impressed by his incredible Zillow reviews. Jeff's website is what we call a "digital multiplier", it not only draws attention, but encourages clients to engage with his content on multiple platforms.
Step 3: Marketing Through Education
One of the most underrated aspects of providing your clients and potential clients with 'value', is how much that information paints you as a top expert. 
Here at AgentFire, one our favorite ways to achieve that is with our ClickMap addon.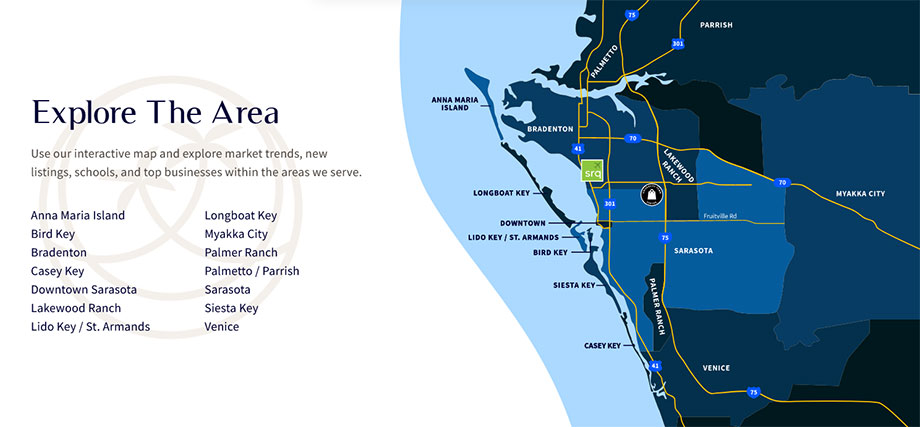 Jeff's ClickMap of Sarasota perfectly articulates the market he specializes in, while simultaneously making him look like an expert in that market. Each of the areas on the map link out to neighborhood pages that, in addition to new listings and open houses, feature all sorts of high value information including school & demographic info, and even Jeff's favorite restaurants and cafe's for each of those areas!
ClickMaps (our most popular addon) are essentially completely custom, clickable maps that, in addition to the areas in your target market, can also feature geography, highways, landmarks, and other points of interest! 
These maps provide a very detailed look into hyperlocal markets that you can never get on the big portal sites like Zillow, and so not only do they elevate Jeff above his competition, but they also allow him to provide unique value that prospects normally wouldn't find anywhere else.
To learn more about individual neighborhoods, Jeff's visitors don't need to leave his site… all they need to do is click!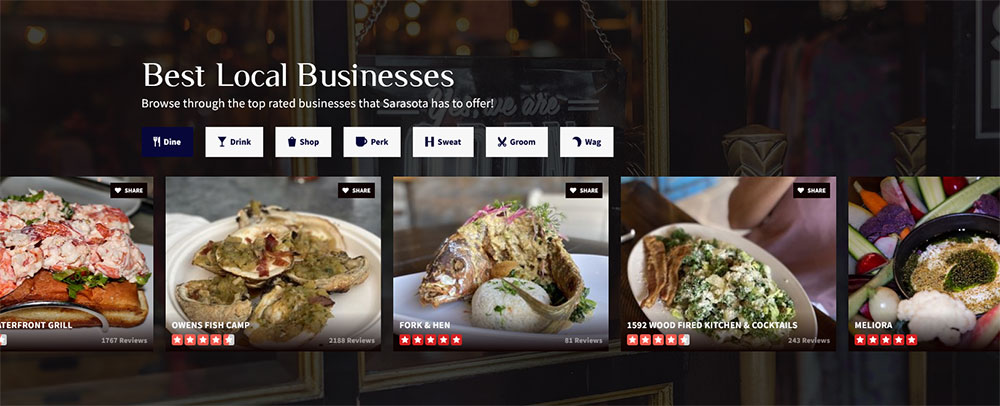 Jeff's Neighbourhood Guides are customized to highlight the hyperlocal businesses that he believes are most relevant to his clients.
Neighborhood Guides were the next heavy hitters added to Jeff's website. 
Jeff's Neighborhood Guides feature hyperlocal pages that deliver key details about the Serasota area. Within neighborhood guides, clients can toggle and see upcoming open houses, nearby schools, Jeff's recommendations for local entertainment, and more. 
AI-generated descriptions offer precise location-specific information without any extra work from Jeff. For even more client value and increased SEO, relevant blog posts can be easily connected to these guides through his AgentFire dashboard.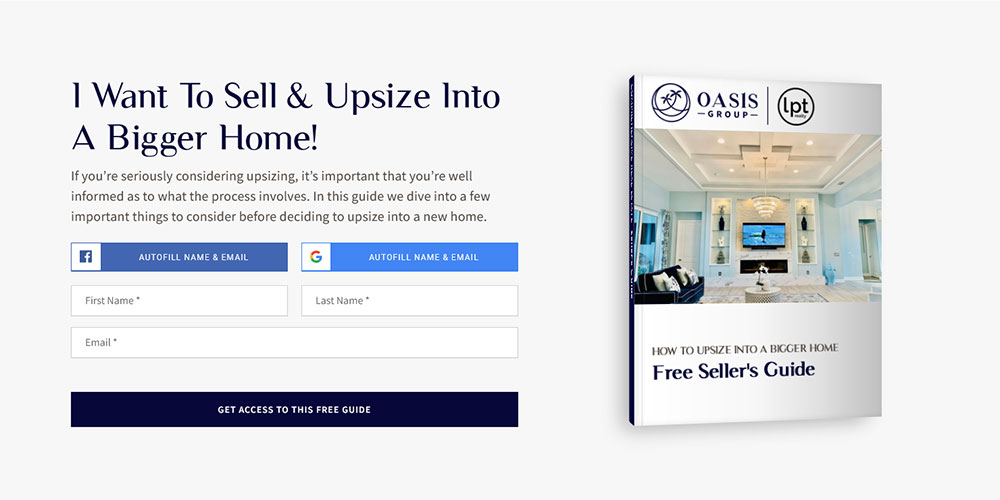 Buyer and Seller Guides are powerful lead magnets and unique introductions to what an agent can offer. By initially offering a value-packed guide, Jeff's prospects are more receptive to future communication from him.
Another very important part of Jeff's website success are his Call-To-Actions. 
Using AgentFire's 'Engage CTA' tool, we've been able to carefully design and place the CTA's that are most likely to convert on each individual page of his website. 
So for example, his buyer page features a buyer guide CTA – seller page features a seller-guide CTA – his blog features a CTA to sign up for the latest area updates – and virtually all of his pages feature a 'schedule a call' CTA that we've integrated with Calendly so that visitors can book time to speak with Jeff directly onto his calendar!
Let us give you a small taste! 🍭
Book a 30 minute demo with one of our super friendly product specialists, or sign up for a free 10-day trial so you can check out our dashboard and tools!
In order to keep his mounds of new clients and listings organized, Jeff understood that an amazing CRM was essential.
CRMs need to be set up and personalized to help you grow daily, not just maintain a plateaued level of success. This is especially important in new real estate businesses. 
New agents can become overwhelmed by the redundancy and intricate steps involved in getting and maintaining contact info, plus following up and other ongoing communications tasks.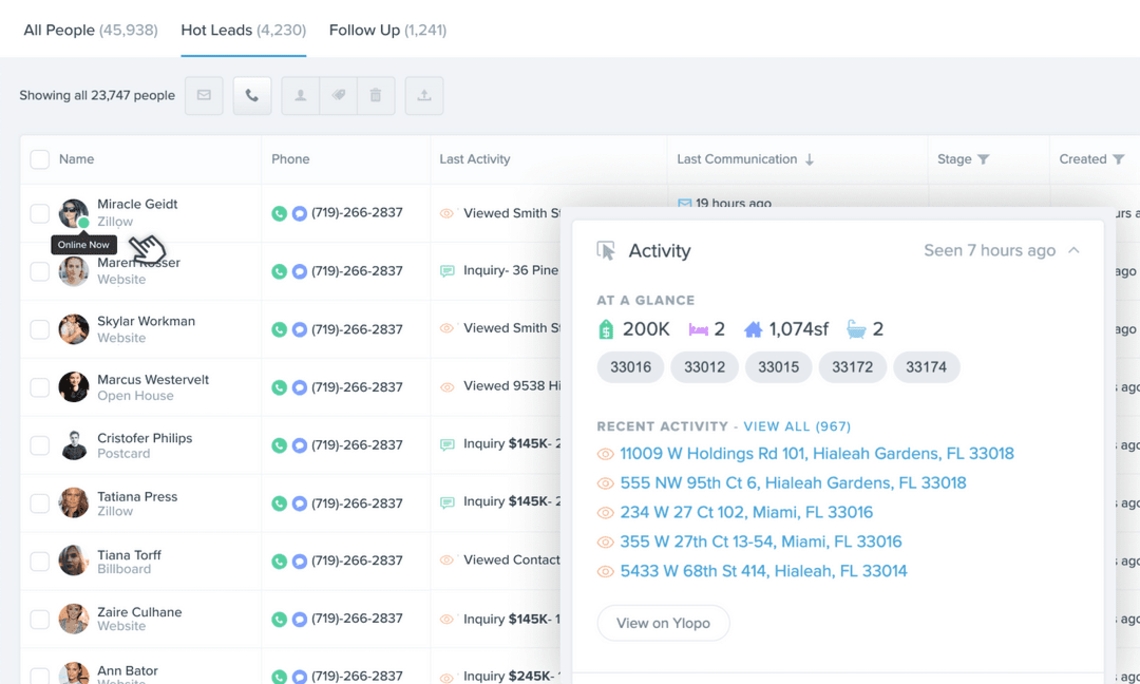 A modern CRM is the foundation of every lead generation and marketing strategy. AgentFire sites pair naturally with every leading CRM on the market.
High-quality CRMs make the difference between a consistent and organized stream of client interactions and a disorganized mess with leads constantly dropping off. 
Rather than bundling CRMs in our web designs, we connect with the top CRMs in the industry. This way, real estate agents get much more value for their spend than they would with a bundle solution.
Then, as soon as client contact information is added to a CRM, it's time to set up drip emails. 
AgentFire offers highly customizable drip email templates that deliver results for clients like Jeff. It's systems like these that help agents scale up (not just produce the same mediocre results).
The Oasis Group's Total Investment
For their primary website, Jeff purchased an AgentFire custom design, which costs $2499 setup and $149/monthly with IDX included.
2. Add Ons and Integrations
$4099 one-time, $257/month

By signing up with AgentFire, Jeff launched his real estate career with guaranteed success and automatically spiked to the top of one of the USA's most competitive markets.
In only one year, Jeff Bray and his team scored over $20MM in pending deals and 20 listings.
Plus, Jeff earned a reputation as the "unquestioned real estate authority" by new prospects. 
Pretty impressive for a beginner agent.
Ready to upgrade your real estate website?
Book a demo with AgentFire, where you'll meet with one of our super friendly product specialists to show you around, answer your questions, and recommend the perfect AgentFire package for you!