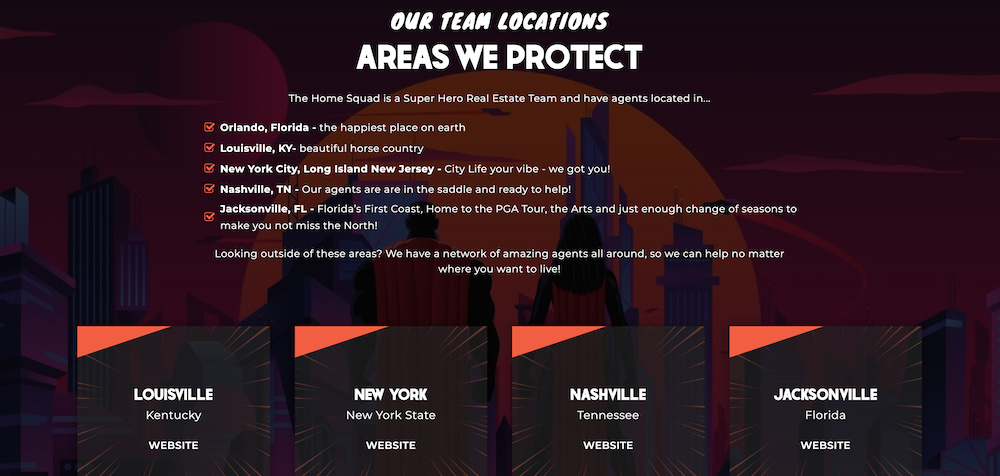 From 'Generic' to 'Completely Unique'
The Home Squad team is made up of bright and knowledgeable real estate specialists, serving several areas across the United States. Their mission is to make the real estate process simple and fun, help clients achieve their home property ownership dreams, and serve their hyperlocal communities with pride.
Mark came to AgentFire with very specific needs. He needed:
A highly-scalable team website solution
A complete PPC digital marketing strategy
The best CRM to maximize agent productivity & probability of leads converting to deals
Rather than go for a traditional all-in-one solution, he signed up for our brand new Trio package, which features an industry-breaking combination AgentFire for his websites, Dippidi for his digital marketing & PPC, and FollowupBoss for his CRM!
Below, you'll learn all the ways that Trio compares to a traditional all-in-one, and why we're the best option by far!
Let us give you a small taste! 🍭
Book a 30 minute demo with one of our super friendly product specialists, or take me to our pricing!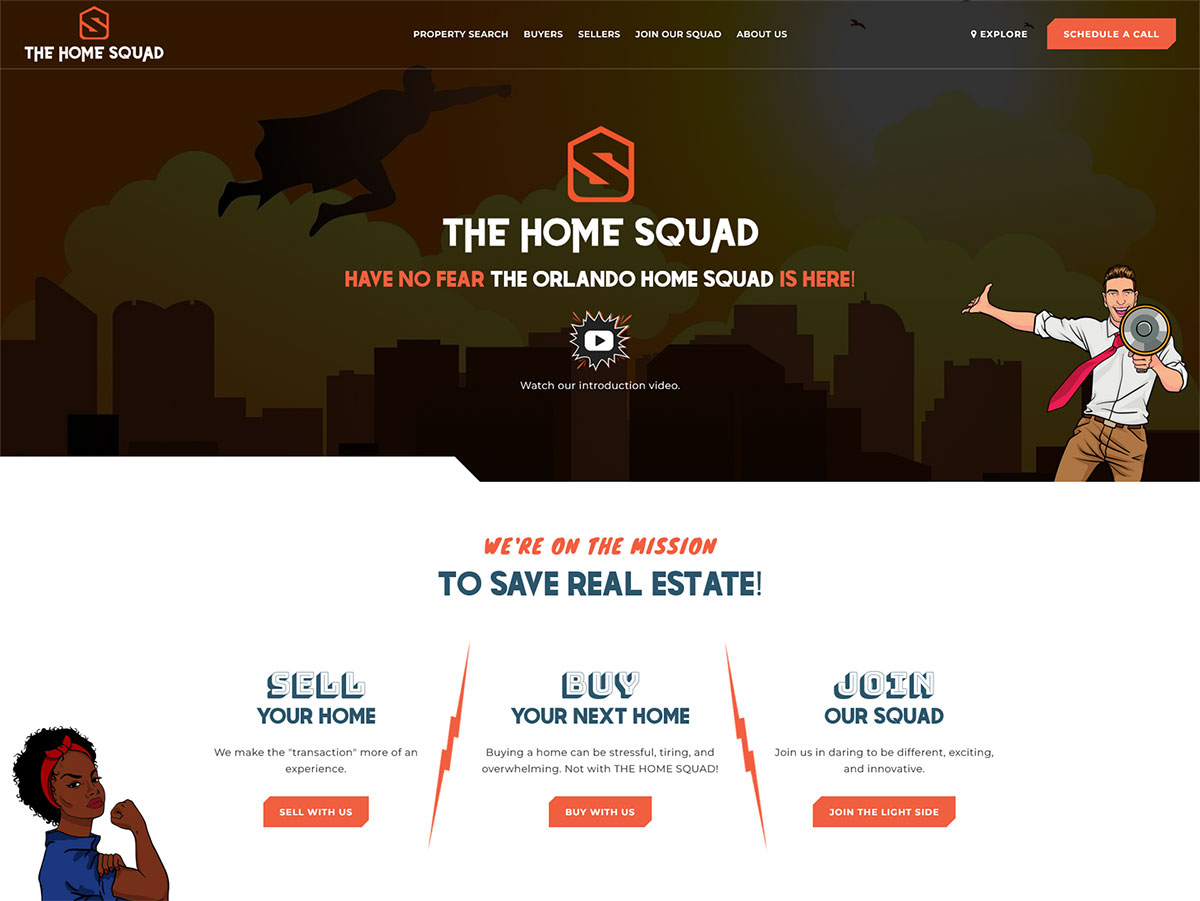 With that design complete and finalized, we then applied the same design to Home Squad websites in the four other markets they serve (Louisville, New York, Nashville and Jacksonville) for roughly $500/per website.
Then, to take things a step further, any individual agents within any of the Home Squad offices have the option to set up their own websites with AgentFire using the same Home Squad design, and at a greatly reduced price!
Unlike other solutions, the individual Team or Agent websites aren't watered-down sub-sites, but rather full-fledged AgentFire websites, which can be scaled however the team or agent wants!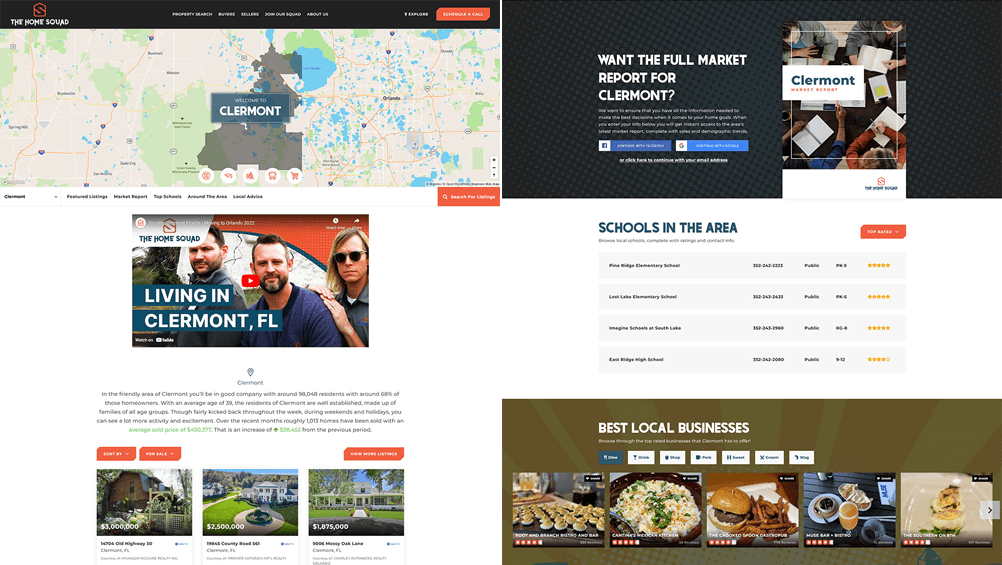 Neighborhood Guide pages are featured heavily throughout all of The Home Squad websites, as they help showcase hyperlocal authority with neighborhood pages that include new listings & open houses, market stats, photos & videos, school info & reviews, and even Yelp top local businesses!
To learn more about Neighborhood Guides (our #1 client favorite feature) click here!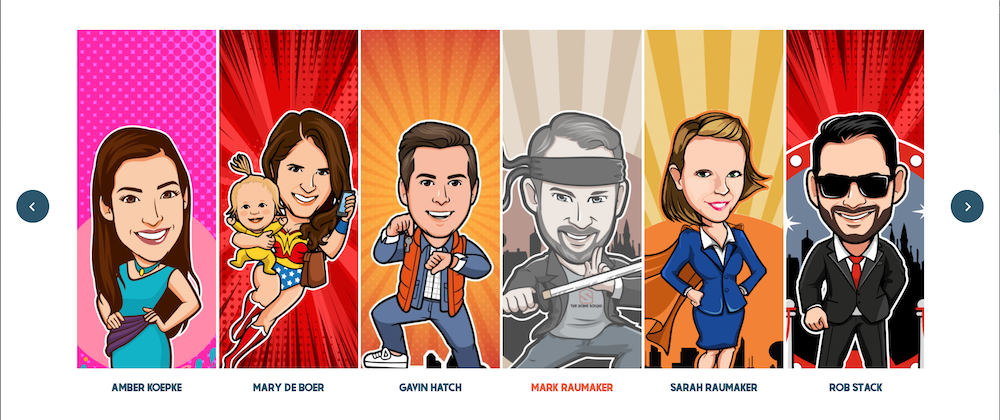 Mark's unique cartoon, superhero theme is unlike anything we've worked on or seen in his hyperlocal areas.
The Home Squad brand is clean, fun, expressive, and gives clients an idea of the enjoyable experience they can look forward to. Not to mention that it's totally customized for each agent. Every agent on The Home Squad's team has a unique avatar that they can use in their own local marketing material.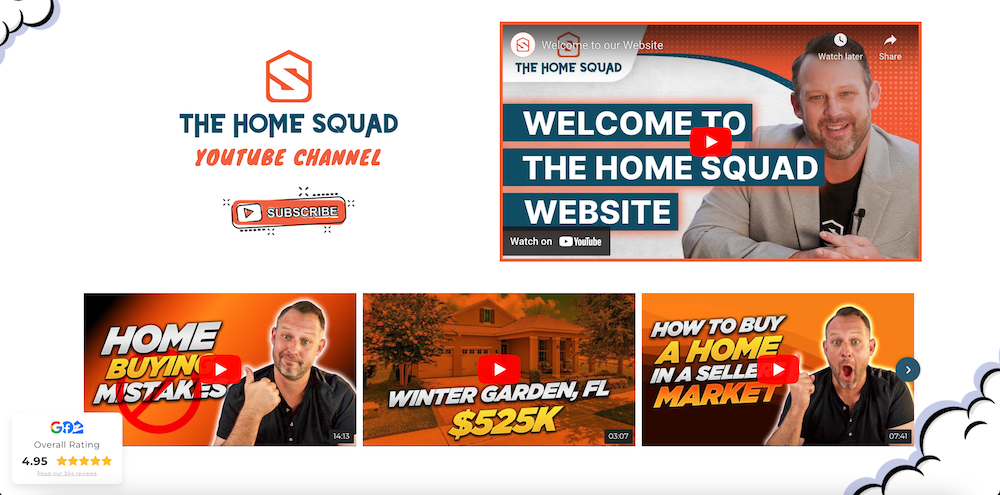 The Home Squad was on top of their social media. The issue was that they had a wide network and tons of social content, but a nearly non-existent online presence.
Now, previews to The Home Squad Youtube Channel are strategically placed below an interactive click map and buy/sell menus. Once clients have learned exactly what The Home Squad does and what localities they serve, they land on incredible Youtube content.
Mark and his team decided that the next best step was to find a top-knotch digital marketing service.
Dippidi put together a custom plan to generate new leads from Google, Facebook, and Instagram, as well as promote all of the Home Squad's listings and videos on social media.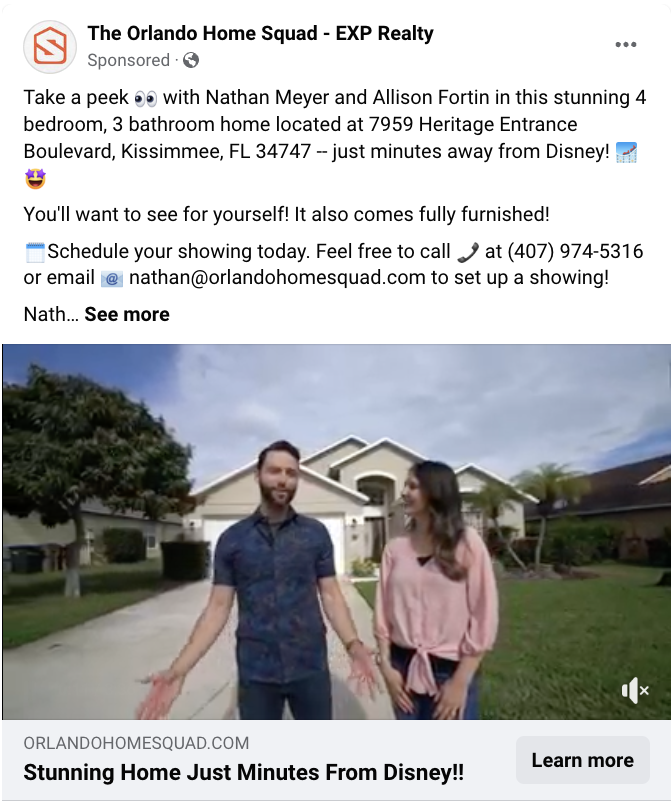 Dippidi focused-in on one of Mark's most efficient marketing techniques: remarketing.
Remarketing campaigns on Facebook and Instagram give The Home Squad multiple opportunities to convert website visitors into leads and stay top of mind with their database of existing leads and sphere of influence.
The secret is in Dippidi's flywheel approach: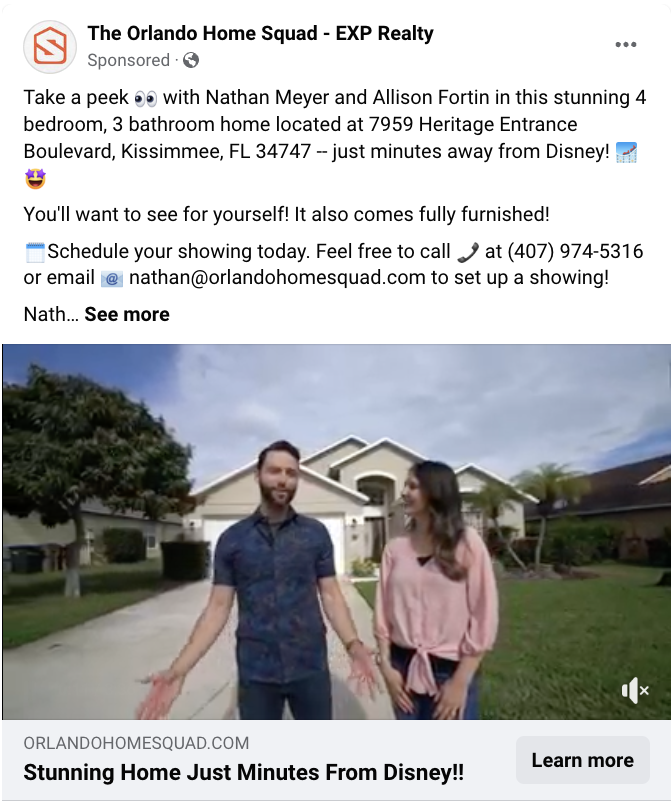 Unlike a marketing funnel model, the flywheel is continuously learning more about your business and taking actions that create growth.
Dippidi is more than just a digital marketing service. The leaders of Dippidi have a service background and are driven by the desire to enhance the experience for the client. It's all about becoming experts on their clients' needs so that they can serve better.
Let us give you a small taste! 🍭
Book a 30 minute demo with one of our super friendly product specialists, or take me to our pricing!
The final service Mark needed in his web stack was a powerful CRM that kept leads in the pipeline for the long-term. He found exactly what he was looking for with Follow Up Boss.
Mark uses several of the Follow Up Boss CRM features and especially enjoys the Follow Up Boss pixel. Any agent on the Home Squads' team can install the pixel and it'll let them know exactly who and how many people are coming back to the website.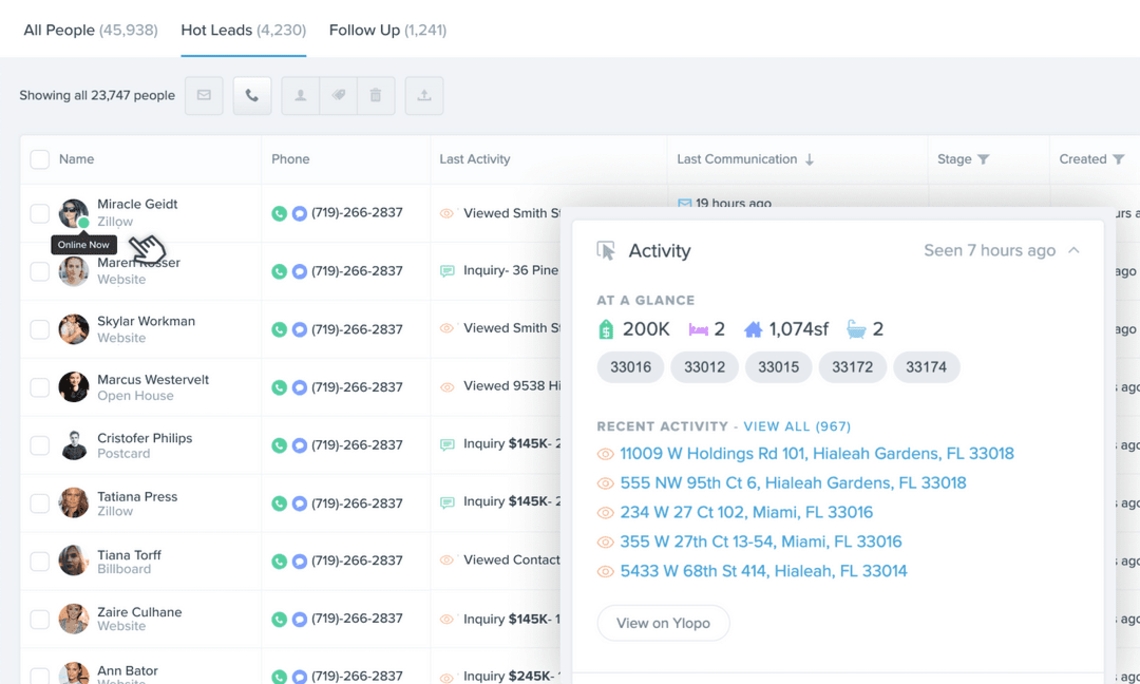 When he was getting started with Follow Up Boss, Mark turned to FUB community groups to find and share strategies for action plans. Action plans are customizable contact systems that can be divided by price, range, location, area, interests, referral source, and more. Each prospecting stage has unique, automatic notifications that tell agents when it's time to get in contact.
A high-quality CRM is what divides agents between those consistently establishing successful business relationships and those chasing down prospects.
Not only does Follow Up Boss integrate naturally with AgentFire websites to seamlessly connect web leads, it also pairs with G suite, Open API, and several other third-party applications.
The Home Squad's Total Investment
For their primary website, Mark had AgentFire build a custom design, which costs $2499 setup and $149/monthly with IDX included. Additional team websites are $500 setup per site.
2. Dippidi Digital Marketing & PPC
The Home Squad uses Dippidi's Lite Plan (which is discounted by 20% for Trio users), which costs $595/mo + ad spend.

Mark now has an established system that he knows is working for him around the clock and more efficiently than any other web solution. It's easy to get measurable results and local recognition with minimal input.
In weeks, the Home Squad generated thousands of leads with a qualification rate above 10%.
AgentFire, Dippidi and Follow Up Boss are both the highest-rated and Facebook-group-raved-about solutions in the field! By combining them, you get superior results, with superior service, at an unmatched cost!
Considering Trio for your team?
Book a demo with AgentFire, where you'll meet with one of our super friendly product specialists, who can evaluate your team needs & goals and recommend the perfect Trio setup for you!
You can choose the same package as The Home Squad, or build your own bespoke solution!
So what are you waiting for? Book a demo today!
Ready to upgrade your real estate website?
Book a demo with AgentFire, where you'll meet with one of our super friendly product specialists to show you around, answer your questions, and recommend the perfect AgentFire package for you!