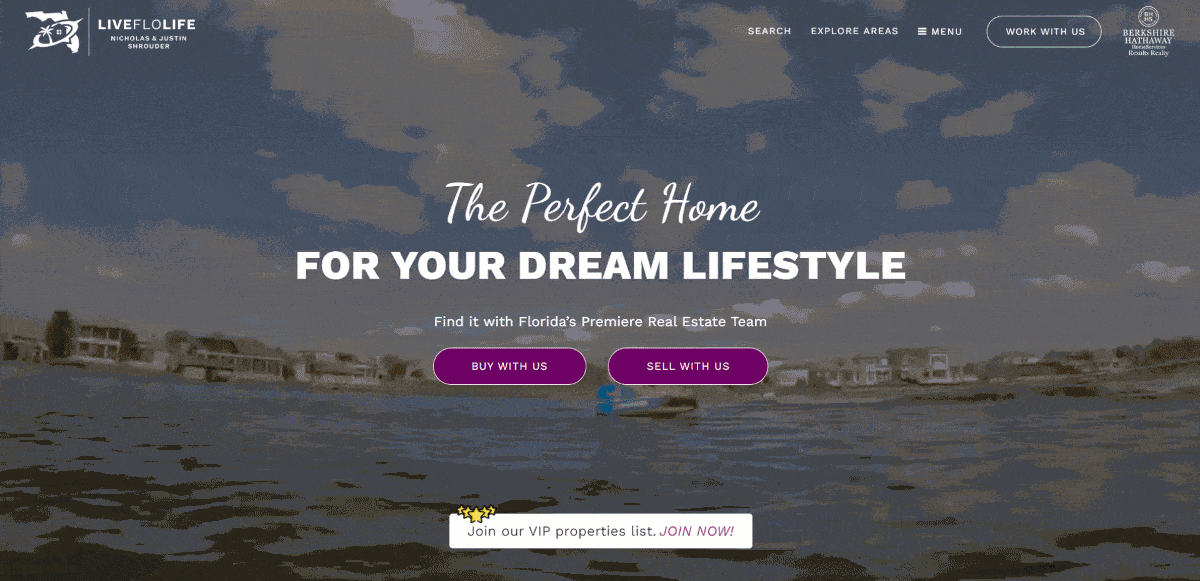 From 'Unknown' to 'Hyperlocal Experts'
Justin and Nicholas  Shrouder are the two brothers behind the LiveFloLife real estate team. The siblings dove into real estate at a relatively early age and have become infamous in their hyperlocal area for their expertise and vast knowledge of the industry.
The Shrouders approached AgentFire with 3 core needs:
Hyperlocal website
CRM
Marketing
Here is how AgentFire went above and beyond to create massive results for their business:
Let us give you a small taste! 🍭
Book a 30 minute demo with one of our super friendly product specialists, or sign up for a free 10-day trial so you can check out our dashboard and tools!
Each section of the Shrouder brothers' website was developed to highlight their expertise in the hyperlocal area they serve (Central Florida). For example, the professional video that serves as the backdrop on their home page gives clients an exact idea of what they can look forward to in Central Florida. On the same page, clear CTAs automatically engage users. In fact, the VIP Property List has proven to be one of the most effective lead generators in their overall business.

The Featured Areas Page gives clients access to amazing hyperlocal area info including Yelp local businesses, local school info, and even demographic and listing details. This attention to detail in their hyperlocal area has positioned the Shrouder brothers as prominent local experts.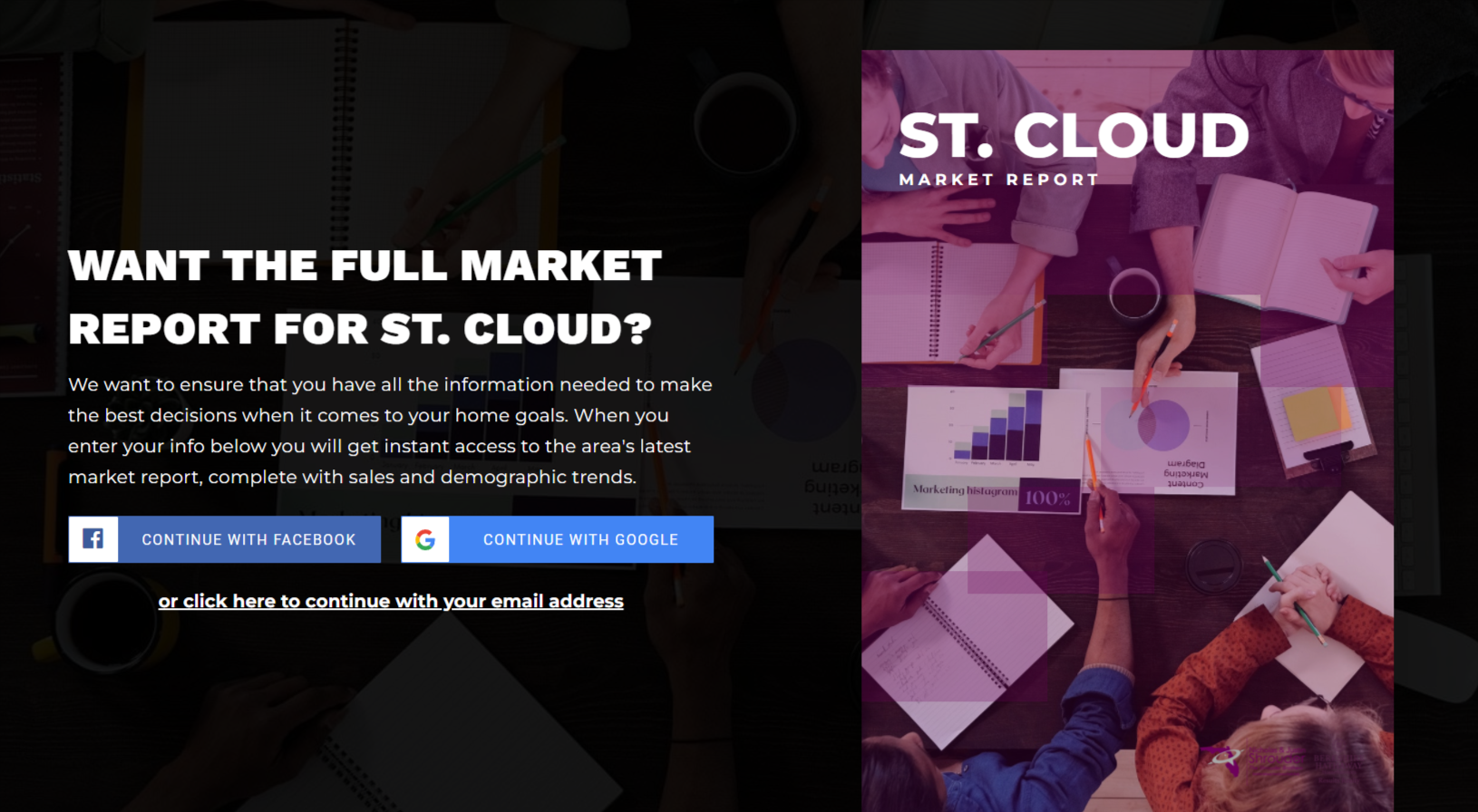 By clicking into each Featured Area page, clients gain access to a unique Automated Market Report. Automated market reports have not only become excellent lead magnets for the Shrouder brothers, but they are easily reused in social media posts and newsletters to ignite hot leads.

The Shrouder brother's AgentFire website is the central base of all their digital marketing efforts. Thier social media accounts and other marketing content draw clients back to their website and vice versa.
Next, the Shrouder brothers needed to drive more traffic to their website, and so they hired Dippidi.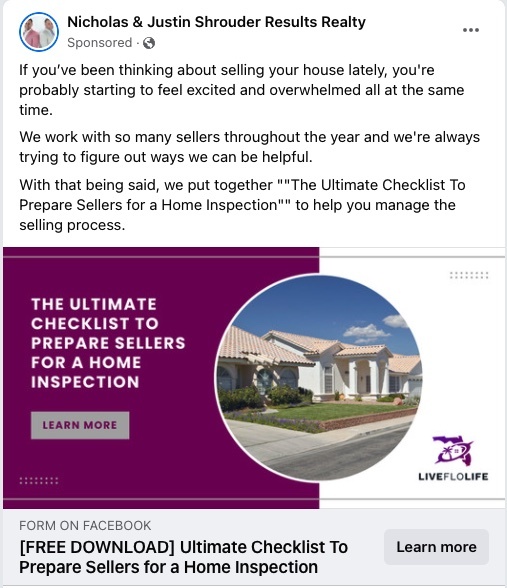 Dippidi managed everything the Shrouder brothers needed to create awareness and generate curiosity. This included hyperlocal blogs, Facebook and Instagram PPC ads, plus Google PPC and Local Service Ads.
The secret is in Dippidi's flywheel approach.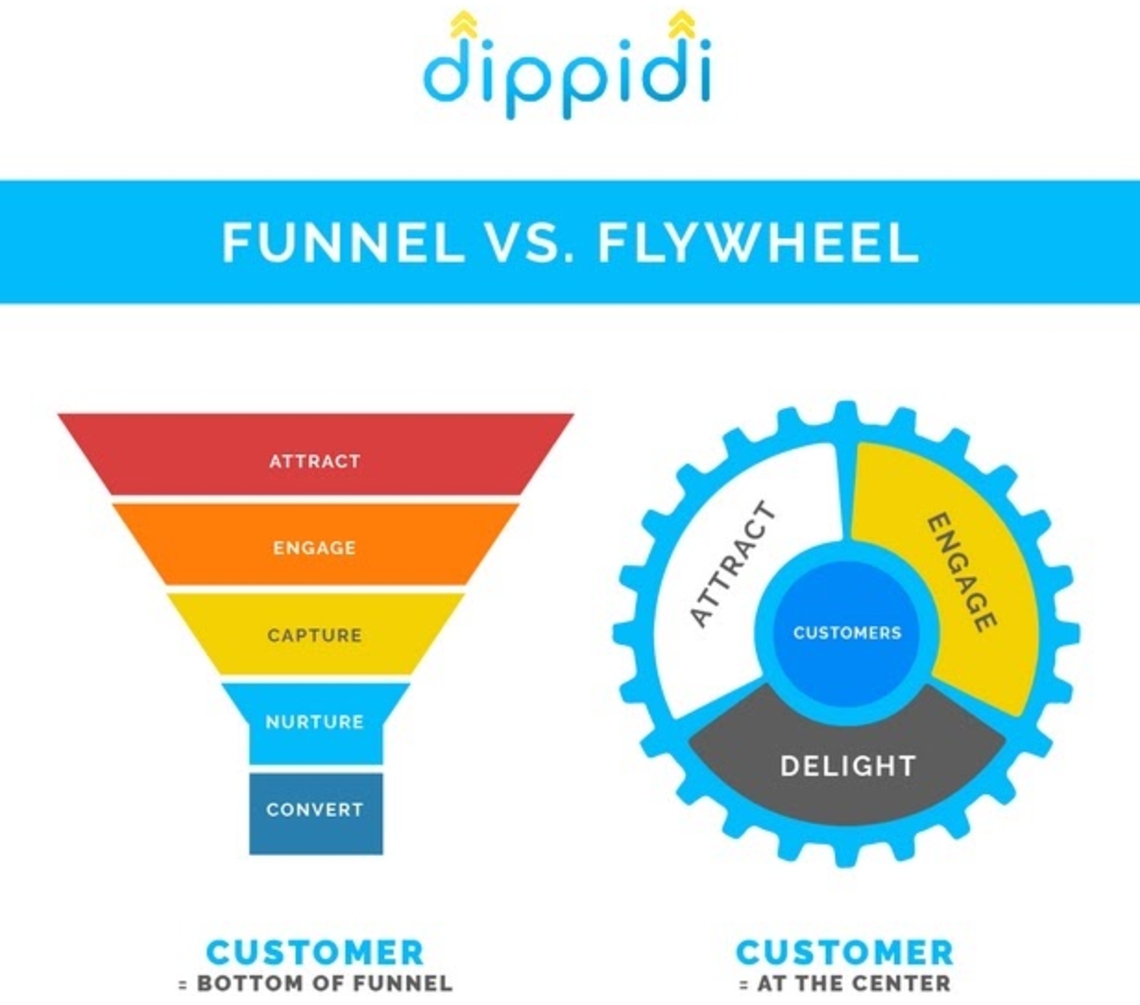 The client is always at the centre of Dippidi's marketing efforts. Unlike the marketing funnel model, which is static and limited, Dippidi's flywheel model is continuously taking action and gaining momentum for your business. The first step is thinking from the client's perspective in order to predict and deliver exactly what they need. Then, re-marketing, intentional followups, and other efforts to nurture leads and get referrals, are consistently put in action.
Let us give you a small taste! 🍭
Book a 30 minute demo with one of our super friendly product specialists, or sign up for a free 10-day trial so you can check out our dashboard and tools!
Finally, the Shrouder brothers needed a CRM that would optimize follow-up and ensure that every lead was guided smoothly through the deal-closing process. Followup Boss was an easy and natural choice.
The Follow Up Boss Pixel not only tells you where leads come from, but it provides you with their activity path. From here, it can prioritize your follow-up based on who was most recently active!
AgentFire websites pair easily with any of the top CRMs on the market. Our web designers will configure whichever CRMs our clients decide is best for them.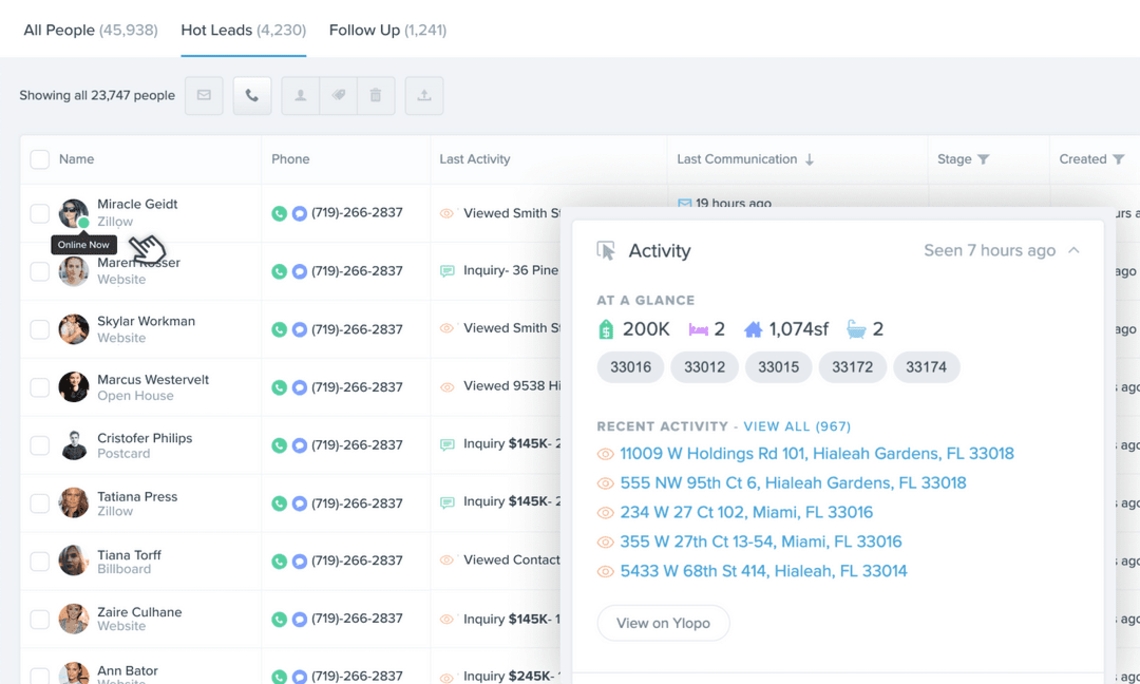 Once organized, the Shrouder brothers paired leads with Action Plans that seamlessly connected to their text messages, dialer, and email.
The Shrouder Brother's Total Investment
To acheive this level of success, the Shrouder brothers made the following investment:
The Shrouder brothers opted for the Custom Design (our highest level of design), which is $2499 USD in total, and included a dedicated senior designer. Our senior designer worked with the Shrouder brothers to deliver a homepage, 10 custom interior pages, and 3 full rounds of revisions to ensure that they were wholly content.
AgentFire clients have 3 levels of design: Custom, Semi-custom, and Express Setup.
Our Semi-custom Design option is perfect for clients who want some customization, but do not need to start from a blank page. With this package, clients choose from three design starting points: Blaze, Inferno, or Ember. From there, our designers will complete up to 8 hours of revision, tailored to the client's unique needs and branding.
The Express Set-up is the least hands-on option we offer. With this package, clients provide basic details such as the company logo, agent profiles, style choices, photos, and the areas they serve. Then, our designers step in and offer up to 3 hours of additional customization and  revisions.
With Dippidi they chose the 'Google PPC Package' at $425/mo + Ad spend.
Their Followup Boss package came to $69/mo per user (2 users).
Total Cost: $2499 one time, $438/month

"Give these guys 30 minutes to talk to you, let them show you what they've done for us. You won't say no. "
"We go into local business and everyone knows that we're the people because of what they see constantly on social media"
"They allow us to be as unique as we want to be. No other site looks like our site – and that's the biggest thing."
Since partnering with AgentFire & Dippidi, the Shrouder brothers have closed over 54 Deals and have a full pipeline!
The Shrouder brothers have a solution that is adaptable and scalable as their business grows – without any additional investment.
With an innovative AgentFire website and with Dippidi PPC marketing tools in place, the Shrouder brothers are enjoying the next level of success and recognition in their real estate business.
Want a Solution Like the Shrouders'?
Then book a free 1on1 Demo with AgentFire.
You'll be speaking with a product expert trained in best-practice for design, lead generation & SEO.
Unlike other solutions who try to force you into a box, we'll review your budget, goals & unique market to recommend the best package for you to capitalize on digital opportunities! 📈
Start small with an amazing website, or scale up to include extremely popular addons addons like custom designs, branding packages, clickable maps or integrate PPC and CRM like Graham did by adding Dippidi and FollowupBoss!
You deserve a world-class solution that has your best interests at heart. Read our reviews to see why 100's of agents ♥ AgentFire, then Book a Demo and see the difference for yourself! 
And if you'd like to watch the full webinar, click here!
Ready to upgrade your real estate website?
Book a demo with AgentFire, where you'll meet with one of our super friendly product specialists to show you around, answer your questions, and recommend the perfect AgentFire package for you!