A real estate direct mail marketing campaign sent at the right time, with the right offer, and sent to the right people can be worth the effort. Here's why.
In today's digital landscape, many real estate agents are under the impression that direct mail marketing is heading towards the same fate as the dinosaurs: extinction. 
But believe it or not, not only is print is very much alive, it has been making a bit of a comeback over the last few years.
This begs the question: should you be allocating your marketing dollars into a real estate direct mail marketing campaign?  
Well… it depends.
If you implement your direct mail campaign at the right time, combined with the right offer, and sent to the right demographic, then yes. It could be worth it.
So before you decide if direct mail is the right tool for your real estate marketing strategy, let's take a look at the pros of a real estate direct mail marketing campaign. And in our next article, we'll analyze some of the cons.

Direct Mail Produces High Response Rates and High ROIs
I'll be honest… when I first started writing this article, I didn't have high expectations for direct mail. Call it prejudice, or millennial technocentrism.
But research shows that direct mail campaigns surpass many digital marketing channels in terms of response rate and ROI.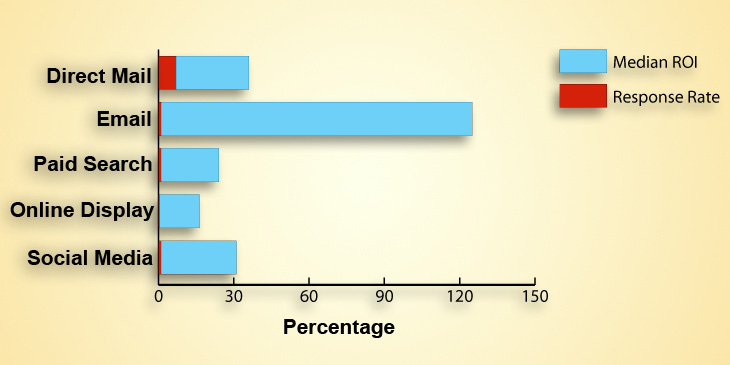 In fact, only 2 digital marketing channels have a higher ROI than direct mail: social media marketing and email marketing ?. That's pretty impressive if you ask me.
On the other hand, we can't forget that real estate is still local. Just because research shows that something works at a national level doesn't necessarily mean that it will at a local level.
You may have great success with direct mail if you cater to older demographics, such as those belonging to the downsizing market.
On the other hand, it may not be as effective if you work exclusively with younger, more tech-savvy generations such as the "first-time buyer" market.
You Can't Ignore Direct Mail Marketing Easily
It's very easy to ignore emails. As I write this sentence, I have 3,311 unread emails in my personal Gmail account. And — for better or for worse — I don't see that changing anytime soon. 
But 3,311 unread letters in my physical mailbox? Not bloody likely ?. 
Not only do our physical mailboxes have a limit on how much they can hold, but we also get important correspondence such as bills, Amazon packages, bank statements, more Amazon packages, etc. delivered to our mailboxes regularly. 
And since we fear to throw out something important or valuable, we don't just indiscriminately empty our mailbox. We make sure to go through all of our mail — even if it's just a passing glance.
Knowing that your prospects are going to at least see what you sent them gives you an excellent opportunity to get your brand noticed.
But to do that, it's not enough to just download some free templates and copy what every other real estate agent doing.
You need to get creative and put together an ad that stands out from all the other "samey" real estate flyers.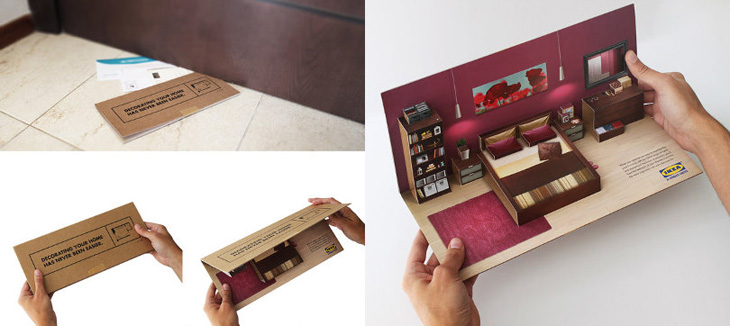 How? By using a combination of unique ad formats, bold colors, and striking sensory experiences.
Need some inspiration? Check out these Pinterest pins for some unique ideas you can steal borrow for your next mail campaign.
Direct Mail Complements Any Real Estate Marketing Campaign
Among marketing circles, there's a principle called the Rule of 7. It states that your prospects need to be exposed to your brand at least 7 times before they notice it enough to take any actions.
In order to get those 7 exposures as quickly as possible, a savvy real estate agent would use a combination of marketing efforts.
Think of it like a military campaign. A general doesn't just send out tanks or fighter jets to the battlefield. He uses a combined arms approach so that different unit types can help cover each other's weaknesses.
In the case of a real estate brand awareness marketing campaign, the brunt of your marketing efforts (and budget) could be carried by billboards and signs on busy streets, as well as TV and radio ads. 
These would expose your brand to a huge amount of people in your local area in the shortest amount of time. Think of these as your bombers.
Next, you could have a robust, digital marketing strategy. Through the use of social media, blog posts, Google and Facebook ads, etc., you can also reach lots of people in your area. But unlike traditional media, these efforts are far more targeted and intentional, and not nearly as expensive. Think of these as your infantry and tanks.
Finally, you have direct mail marketing. Through a combination of print ads such as "just listed" postcards, "local real estate stats" newsletters, or "nosy neighbor" invitations to an open house, you can reach people where they live. Think of direct mail marketing as your artillery cannons.
They used to dominate the battlefield but now serve primarily as support.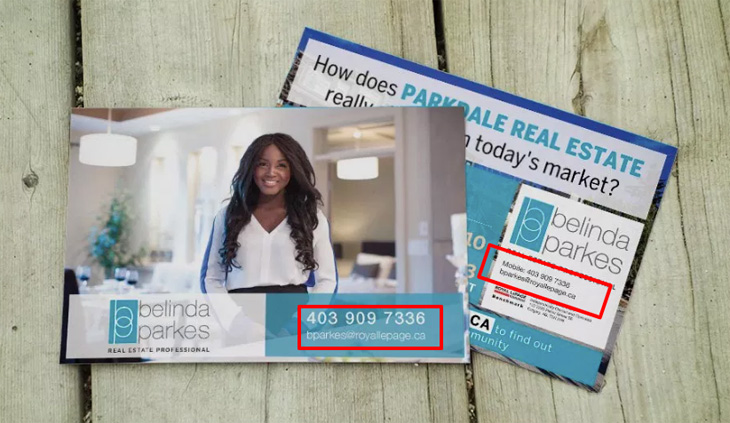 And just like any real-life battle can benefit from artillery support, any marketing effort can benefit from direct mail. 
Why?
Three reasons:
Even if your marketing efforts are primarily digital, a direct mail campaign can help direct your prospects to your website and social media by means of short-links 

(please STOP using QR codes… nobody uses them! ).

Direct mail helps you reach technologically-challenged people that you wouldn't be able to reach by digital marketing alone.

Even if your direct mail reaches technologically

proficient

people, you'll still be knocking out one of those essential 7 exposures to your brand. That's because, as we mentioned earlier, direct mail is pretty much guaranteed to be seen by its recipients, even if it's just a quick glance. 
Direct Mail is Memorable And Easy to Understand
According to a neuroscience study commissioned by the Canada Post, direct mail takes 21% less cognitive effort to process than digital marketing. And in post-exposure memory tests, those exposed to print ads had much higher recollection rates than when they were exposed to corresponding digital counterparts.
What does this have to do with real estate direct mail marketing campaigns?
EVERYTHING!
First of all, this research reveals that printed ads have a higher chance of sticking in your prospects' minds than digital ads.
Second, older demographics tend to be a bit more… shall we say… "technologically challenged." They still prefer traditional marketing methods and are harder to reach via digital marketing. 
But you can't ignore these folks. Not only do they need help buying/selling homes, but they also tend to be better off financially than the tech-savvy millennial crowd. Fail to reach them and you'll be missing out one of the most profitable demographics in real estate. 
Finally, unlike digital marketing, direct mail doesn't face any technical roadblocks… Everyone from Grandma Gloria to seven-year-old Susie understands what mail is.
Conclusion
There's still a time and a place for direct mail. It can be a very effective marketing tool if used at the right time and in combination with other forms of marketing.
On the other hand, direct mail does have a number of drawbacks that we'll cover in more detail on the next article.
Before deciding whether to do a direct mail campaign or not, make sure you do your due diligence, calculate your marketing budget, and see if it makes sense for your hyperlocal audience.
Comments? Questions? Running your own real estate direct mail marketing campaigns? We'd love to hear how it went for you in the comments below.
And if you found this article valuable and would like to improve your hyperlocal marketing skills, subscribe to our newsletter.
We send out value-packed articles like this one regularly in the morning. That way you can sharpen your marketing skills and learn new strategies over a delicious cup of coffee ☕.
And if you really want to optimize your hyperlocal real estate domination strategy, check out our Spark Sites (#1 rated for multiple years running!).
The best part is that you have absolutely nothing to lose thanks to our 10-day free trial!