The basic premise is this: Different people want different things. It's your job to understand what is valuable to them and then get that message in front of them.
Over the last year, I have seen an explosion in conversations around real estate agents using Facebook for lead generation.
I also see the same recurring questions: Is it really possible to generate consistently, high quality leads with Facebook? Or are you stuck with expensive lead sources like Zillow and Realtor.com?
The answer?
Yes - it is possible. We are using Facebook ourselves to generate thousands of extremely high ROI leads for our clients at AgentFire right now (projecting 2900% net ROI and above based on current ad spend and deals). So how are we doing it?
Niche Facebook Campaigns
The reason most lead sources are so expensive is that of giants like Trulia and Zillow dominating the search engines. They pay a lot of money to be there. That means you're going to pay a lot of money for their leads.
What is inherently flawed here (for you) is the process of generating and nurturing leads.
Relying on 3rd party lead sources guarantees that you have no control over who you target, where you target them and how (you also have no control over cost). This is what makes Facebook valuable and why we have seen incredible success.
Our Advertising Logic
What do you do when everyone else is marketing the same generic message over and over?
You go specifically of course. Provide context and value in a way other agents don't understand or know how to. Luckily for you, this is relatively simple to accomplish in 2017.
The basic premise is this: Different people want different things. It's your job to understand what is valuable to them and then get that message in front of them.
Campaigns We're Using 
We want our campaigns to be niche enough so they speak directly to a specific demographic - one that we're able to target (and test) with Facebook Ads. Here are some examples of our 'buyer leads' campaigns below.
Single Story Homes (Aka Ranch Homes, Downsizing, Bungalow's)
New Construction Homes
Starter Homes (for 1st time Homebuyers)
Homes in the Best School Districts
Homes with Garages
Homes with Pools
Golf Course Homes
Waterfront Homes
Think of basically any differentiating feature of homes available in your market. There are people right now that are interested exclusively in that property type/feature.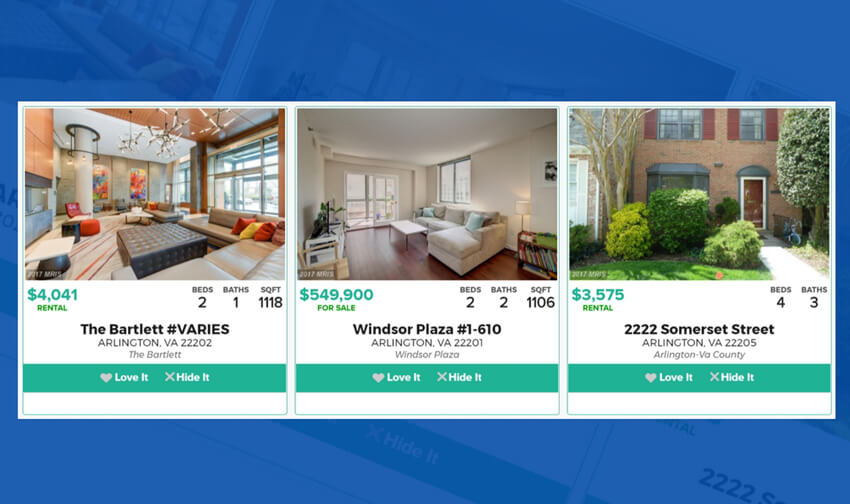 This is where you stop trying to speak to everyone - and instead blast your 'perfect audience' with a megaphone. An example of this is one campaign we recently set up: Single Story Homes with Garages in X Neighborhood (a desirable part of town).
What was the result of this campaign? We are paying $0.40 per click and less than $2 per lead.
And guess what? We're only targeting people who earn over $100,000 per year. In short - these are really high-quality leads we're acquiring for peanuts (we're even generating leads with incomes over $500,000 for less than $10 right now.)
How We Structure Our Ads
The team and I typically set up buyer ads as follows:
Facebook Ad
Landing Page
IDX Page OR Thank You Page
First we figure out what property type we'll be advertising in the ad. We then set up an IDX (property search) page on our website with the same criteria. That's where we send our audience to.
It's very simple but we have seen great results. On our seller campaigns (typically run with Seller Rebate offers and "we have buyers" messaging), we just change the landing page to include more info on the offer and then lead to a thank you page.
Single Story Homes Campaign Example
To give you one clear example of what we do when we set up new campaigns, I'll go over the exact ad copy and targeting we use (for a real client whose campaign is currently running!).
The Ad Copy
Below is one of the versions of the Single Story Homes ad we run. We are always testing the ad copy of course. That is one version we have found to be successful and are testing now.
The only thing that's changed is the location/page name/website name - to protect the privacy of our client.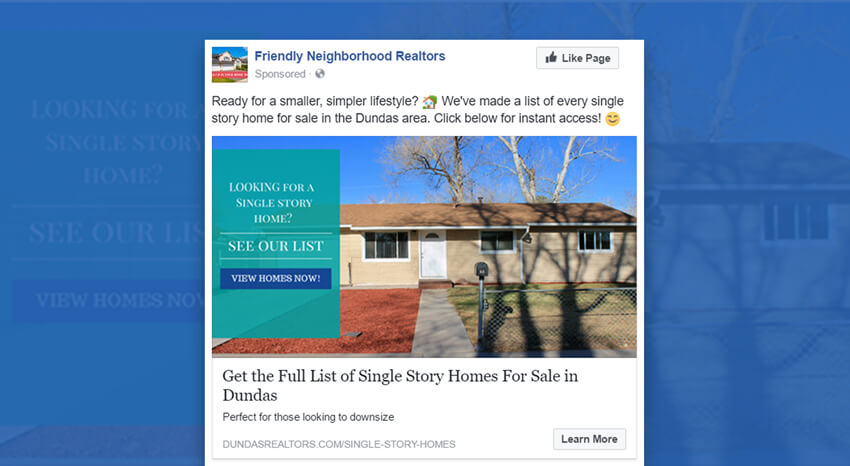 The Ad Targeting
Much of our ad targeting comes down to research/knowledge backed 'assumptions' about our audience and then tweaking based on campaign data.
NAR Research also comes in very handy. See their 2017 Home Buyer and Seller Generational Trends Report. This typically creates the cornerstone of our targeting on new campaigns until we have data to back up our decisions.
Below is the full list of targeting we typically set up for single story homes. Note: we are always split testing our ads to ensure we know what exact age groups and income levels convert best and allocating ad budget based on those results.
Location: Your desired area (not disclosing this for client privacy)
Income: $100,000+
Age: 55+
Gender: Female
Exclude: Real Estate Agents & Real Estate Brokers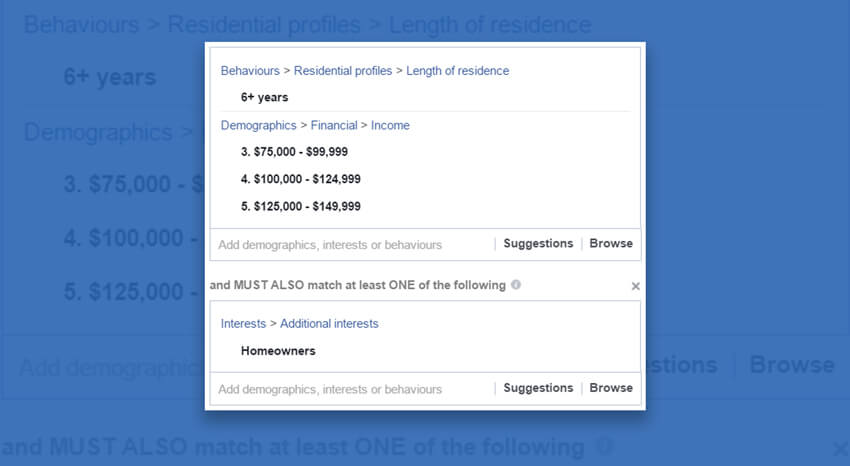 Each campaign always has some interesting findings. For example, for this client, we found that females converted the best. Their cost per lead was $4 while males were $20(!).
We took this data and set the ad to only target women. We have since re-launched a "male only" version with adjusted messaging to see if we can make that work as well; which by the way has already dropped our cost per lead down by 60%... It's all about testing!
In Conclusion
Our secret to effective Facebook advertising is all about niching down. Find specific demographics of people, looking for specific things. Once you know what's valuable to your audience, it's easy to make them an offer.
Remember to test as well! Test everything!
So - have you successfully generated leads with Facebook? If you have, let us know if you got any new ideas from this article. If you haven't, let us know how your tests go!
If you are an AgentFire client and want to FB Ads coaching or management - just send a message to [email protected]