Youtube Ads are a creative way to promote real estate listings and content. We'll look at how to design ads, choose the right ad format + more.
Is Youtube Advertising Right For Real Estate Agents?
Youtube advertising is a powerful and reasonably easy way to get a high ad ROI quickly. Most real estate agents forget that youtube isn't just a site to watch how-tos, it's also the world's second-largest search engine. Youtube has over 2 billion monthly viewers and over 200 million hours of viewed content. If you're considering Youtube advertising, you're already a step ahead. 
There is a huge market for real estate content from knowledgeable experts. If you don't already have a Youtube account, you'll need to get one set up. For some inspiration, check out The Best Real Estate YouTubers of 2023.
Your Youtube ads should be designed to reflect your unique offering and ideal clientele in real estate. The type of ad you choose, however, is based on your tastes and marketing goals. 
Types of Ads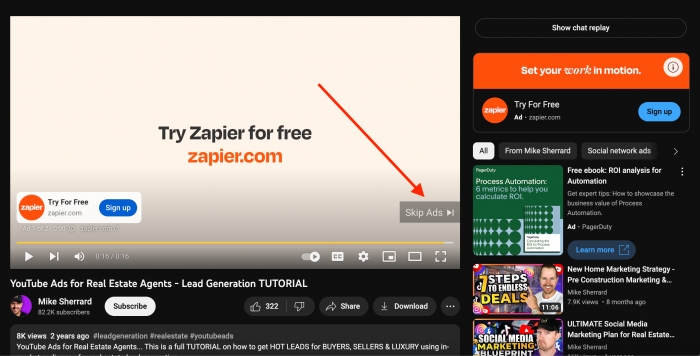 Skippable In-Video ads
These ads appear in the middle of the video and the viewer has the option to skip ahead after a few seconds (and are often called the

"pre-roll" or "mid-roll" or "post-roll")

. 

Since these ads are cost per view, agents will only play if viewers click into your link or watch the video for at least 30 seconds. If a viewer doesn't watch your ad to completion, you don't pay for it. 

On the left side of the Youtube video screen, viewers can see how long the ad is. On the right side, they have the countdown until they are able to skip the ad. 
Non-Skippable Ads
These ads appear in the middle of the Youtube video but they aren't skippable. These ads can run for up to 15 seconds.

Non-skippable ads are attractive because they are seen by the maximum number of viewers, however, it is crucial to ask yourself if it is worth the cost that comes with grabbing everyone's attention (interested or uninterested in your service)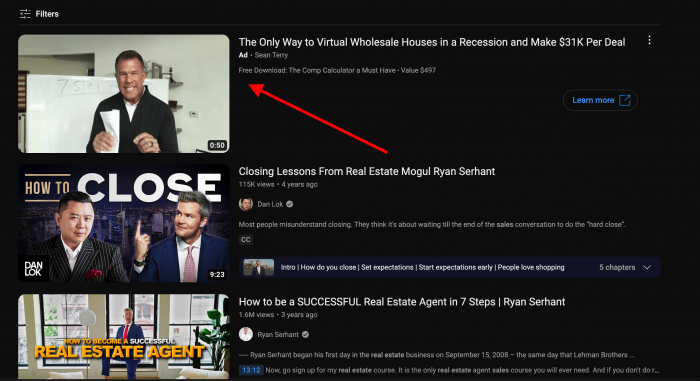 Discovery Ads
This ad format emphasizes targeted traffic. Your ad will pop up as a thumbnail with a title and description when someone searches for terms related to the keywords you're trying to rank for. Your ads will appear in related videos and you only pay when the ad is clicked.
Bumper Ads
These video ads play at the beginning or end of a video. They are six seconds or longer and are similar to non-skippable ads. 

Again, marketers will pay for every view with no guarantee that it will resonate with the majority of viewers.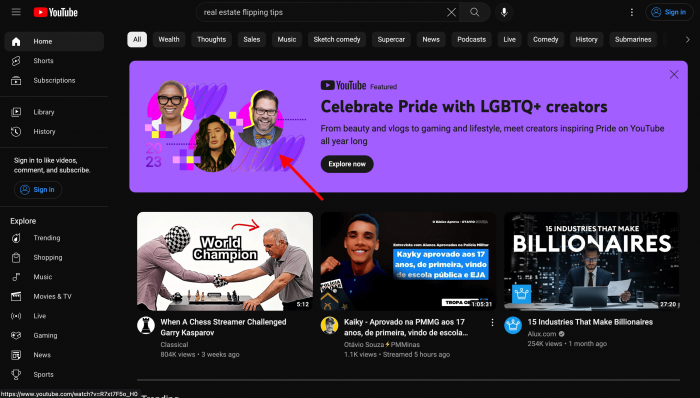 Masthead Ads
These ads are placed at the top of the Youtube homepage and play for up to 30 seconds, both on desktop or mobile. These videos start to play on their own with no audio. It is the viewers choice if they want to click the volume button to hear audio. 

In Youtube mobile, Masthead ads autoplay the featured video without the sound for the entire duration. You don't have the option to unmute it. But if you click the ad, you will land on the video page and see it as a regular video with sound.

While mastheads allow marketers to reach a wide audience, it isn't always the best for targeting specific audiences. 
Outstream Ads
These Youtube ads are mobile only and appear outside of the Youtube app. You'll find them on partner sites  or within another apps. They automatically play on mute and viewers have the option to click to hear the audio.

Outstream ads give the viewers the freedom to watch your ad or scroll past it.
An ad is considered viewed when somebody watches it for 2 seconds or more.
Companion Banner Ads
These are clickable ads that show up in the top right corner of your video. Users can click the ad at anytime can be redirected to the chosen url.
​​ The exciting thing is you can use display ads for free if you use them as companion banners combined with other video ads, including skippable in-stream ads, non-skippable in-stream ads, and bumper ads.
Non-Video Youtube Ads
Display Ads
These ads are desktop only and appear as images or animation on the top right corner of the Youtube page. Unlike video, display ads don't have a time limit or skip option and will stay on the screen. 
Overlay Ads
These are desktop only image and text ads that appear on the lower portion of your YouTube video screen. Overlays are similar to display ads, but they are more visible because they appear in line with the video. Viewers have the option to click out of the ad if wanted.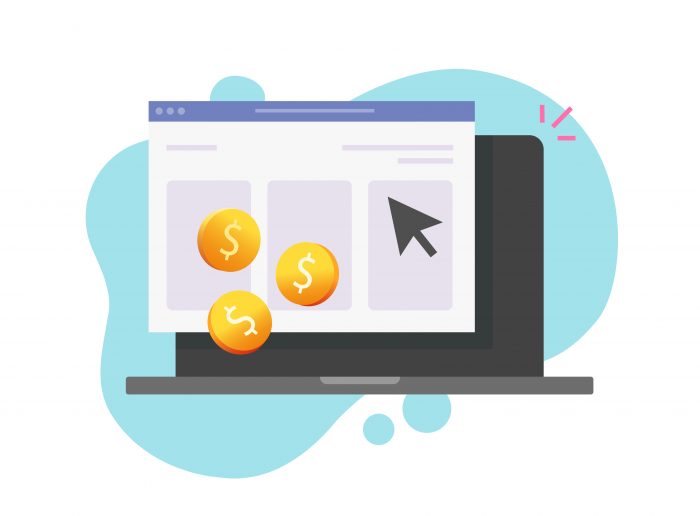 Cost 
The average Youtube ad cosr is between 3 – 30 cents per view. The cost of your ad will depend on as format, bidding, and ad goals. 
Target Cost Per View Bids
This payment method involves paying a price for each video view. 
Target CPM
This model allows advertisers to pay per 1000 views. You specify the average amount you want to spend per 1000 views. 
Target CPA
This style of payment allows marketers to pay each time an ad makes a conversion. It's up to you what the conversion is, whether it's gathering contact info or scheduling a phone call. 

 R

eports

show that 76% of people skip the ads as their second nature. 
How to Target Your Youtube Ads
As you begin your Youtube Campaign, you'll have the opportunity to specify your audience. How effectively your ad is targeted will determine if it gets in front of the right audience. 
Audience
Google ads will fill in audience suggestions if you have run a Google Ad campaign in the past (remember that Youtube is owned by Google)
Within audiences you can search within five different criteria:
Detailed demographics

Affinity and custom affinity

In-market, life events and custom events

Remarketing and similar audiences

Audience combination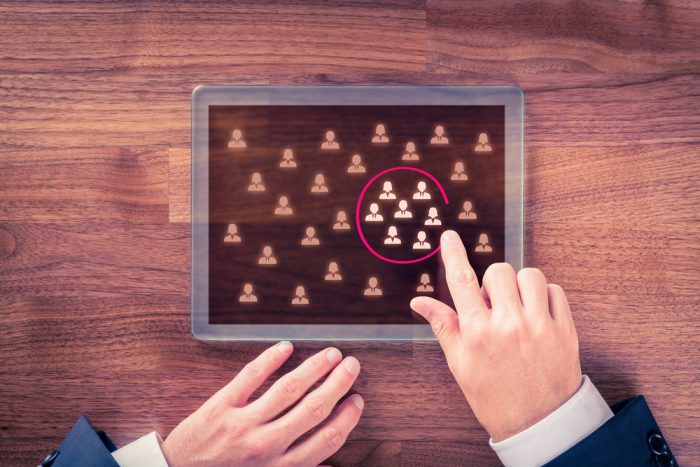 Demographic
Demographics allow you to specify your audience based on physical characteristics such as age and gender. Additionally, you can break it down economically by household income and family status. 
Measuring Youtube Ad Success With Analytics
Youtube's Brand Lift is a free tool that helps to measure the success of your video ads. Brand Lift focuses on metrics such as brand awareness and resonance with your audience. Brand lift can also help users create survey and get feedback on their ads from viewers. Google assists users in building relevance survey questions. 
Brand Lift will aggregate data such as:
Lifted users

Cost per lifted user

Absolute Brand Lift

Headroom Brand Lift

Relative Brand Lift

Baseline positive response rate

Exposed positive response rate
Get A Free Personal Demo
Ready to revamp your real estate marketing strategy and dominate your hyperlocal area? Our expert web designers will show you how. Click the button below for a free 30-minute demo of our AgentFire Spark Sites.
How to Set Up Your Campaign Step by Step
Step One: Upload Your Video. 
Upload your video, select your video file, fill in the title, description, thumbnail, and other details.
Step Two: Create a New Campaign. 
Login to your account, click campaign and select the "+" button to upload.
Then, select your campaign goals. 
Some relevant real estate options include:
Leads

Website Traffic

Product and Brand Consideration

Brand Awareness and Reach
Step 3: Choose Ad Type.
Ads can either be Display or Video. Subtypes give you the option of ad formats such as non-skippable, outstream, bumper etc. 
Step 4: Publish Your New Youtube Campaign.
This is the stage where you will name your campaign (for internal use only). Next, you'll choose the bid strategy that matches your needs. Then, you'll have a choice between choosing a daily spend amount or a campaign total.  
Step 5: Choose Your network.
Pick whether you want your Youtube ads to pop up on Youtube search results or Youtube videos. 
Step 6: Pick Language and location.
Because there's no use putting a Milwaukee real estate ad in Italian and shown in Thailand. 
Step 7: Target Your Viewers.
Carefully select demographics and audience selection.
Step 8: Choose topics.
Tick  relevant topics to display your ads with content on specific subjects.
Step 9: Select ad placements.
Step 10: Insert your Ad Video.
You can either search it from the search bar or paste the video URL. If you haven't yet uploaded your ad video, click the "upload your video" link.
Once your video appears in the search, click it to select.
Step 11: Configure Your Ad 
At last, you need to configure your video ad with URLs, CTA, and an image.
Once all the details are set, click "Create Campaign." and you're done! 
Once your first ad is launched, tools such as Google Analytics can help you measure its success. If you're unsure about which ads work for you, play around with the lower-cost options.
If you want more in-depth articles, tactics, strategies, and advice – subscribe to our newsletter. And if you want to dominate your hyperlocal real estate market, check out AgentFire's Web Designs, #1 rated for several years in a row.
And the best part? You can try out all of its amazing features for free with our 10-day trial.
Check out this article next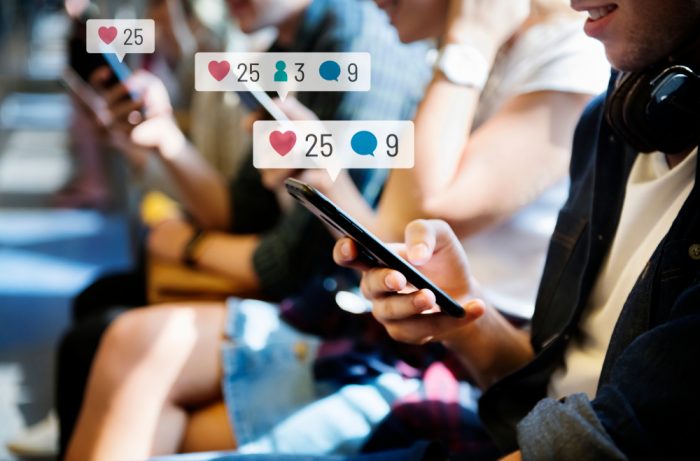 11 Important Real Estate Social Media Predictions for 2023
Making smart social media predictions can make the difference between sinking or swimming in the new social media landscape.  It can seem like a cons…