Your CTAs are small but powerful elements of your real estate website. The right CTA text and design can immediately. bring potential clients into your lead funnel.
What is a Call To Action?
A call to action is a short piece of content that combines smart design and copy with smart placement to lead viewers to a certain action.
Without a clear call to action, your real estate website will have a hard time moving viewers through your lead funnel and building up your prospective client list.
What Makes a Good Real Estate CTA (Call to Action)?
Think about any pop-ups or special offers you've encountered while browsing online: "Join our newsletter and get 10% off" or " Register with us to read this article". Which CTAs enticed you and which ones annoyed you?
The best real estate CTAS seamlessly catch your attention, don't ruin your reading experience, and are very action-oriented. A short, clear CTA has the power to begin a lifelong client relationship.
Purchasing or selling real estate is a life-changing decision, so your CTAs should always link to a longer lead funnel with the intent of gaining a new buyer or seller client. Consider the overall goals of your real estate business.
Clear Intent
Before you start drafting your CTA ask yourself: what do I want my website visitors to do? For example, if you are primarily looking to attract buyers, make sure your website is set up to offer helpful resources to buyers. For example, you can include a CTA that pops up on your home page with the text, "Download our 101 buyers guide now" which prompts visitors to share their email in exchange for your guide.
Most real estate agents have similar career goals, so look at the websites of real estate agents that inspire you. What CTAs are they using and do they entice you? Why?
Provides Value
What do your visitors get in exchange for following your CTA? Visitors will need the initiative to perform whatever action you have laid out for them. Effective calls to action are equal exchanges of value to the client and lead generation for the agent.
Exclusivity
Naturally, people want what they can't have. Exclusivity sparks a sense of urgency and curiosity that leads to faster action. Exclusivity can come in the form of limited product/service, exclusive discounts…
Some effective call-to-actions emphasizing exclusivity might sound something like, "Join 10000 other local subscribers" or "This booklet will make you more knowledgeable than the 38,000 renters etc."
Time Sensitive
As a real estate agent, you know a thing or two about the power of urgency. Call-to-actions that emphasize a short-term giveaway or deal are great tools to push clients who are hesitant to take the step.
Simple, But Delivers
Clarity is priority. Call to actions should be short and clear, precisely outlining what you want your viewers to do and what you are offering in exchange.
Your message should be persuasive (based on value) without being pushy or too sales-y. While it's important that text reads nicely, prioritize being direct by using action words. For example, subscribe, register, sign up, and share.
Segment Your CTAs By Audience
Most real estate agents have several different client profiles (such as buyers and sellers, people who are looking for their first home, clients looking to downsize after divorce, etc.). Consider making different CTAS for each of these groups. On your real estate website, use your web pages to guide your CTA content. For example, a seller-oriented CTA on your sellers page.
In PPC advertising and some social media networks, it is possible to carefully divide your audience by demographics, interests, geographical location, and more. Within these PPC or social media ads it will be much easier to target specific clients with strategically written CTAs. These CTAs can be written with exclusive offers only for that particular audience and using terms that are most familiar to them.
These CTAs can promote specific offers that each customer will find useful based on their needs.
Use Clear, Concise, and Straightforward Language on Your Real Estate Website CTAs
Specific words and action phrases emphasize decision, energy, and movement. Pull from his list when your CTA needs a bit of a punch:
Hurry
Quickly
Start access
Comment
Share
Visit
I'm in
Get it for free!
Start the free trial
Get me a house!
I'm ready to find my dream home!
Other text should be tailored to the goal of your CTA. If your prospect is trying to access your home valuation tool, try a CTA like " I'm ready to find my dream home" with an opportunity to share their email in exchange for using your tool. This gets them excited about what they're about to find and makes it more attractive for them to offer their email.
Remember that your client probably isn't a real estate professional, so keep the industry talk to a minimum.
Optimize CTAs for Mobile Devices
A large majority of your prospects will be accessing your website on their mobile phones. While it's important that every element on your website is mobile-friendly, your CTAs are especially important. If your CTA doesn't load properly on mobile, you'll miss the opportunity to bring a client into your lead funnel and potentially make a sale and long term relationship
Strategic Placement
Interactive and valuable CTAs should be posted throughout your web pages and digital, interactive marketing materials. Some examples include:
Email
Services page
Your real estate website landing pages
Contact pages
Videos
Social media profiles
Your Sales Funnel and Real Estate Call to Action
Your CTA is ultimately used to indirectly create and convert leads. Visitors need to understand what to do next and you need to assert that you are ready to deliver what they're looking for.
One of the weakest parts of an agent's real estate website lead conversion funnel is the call to action. The CTA is one of the earliest steps and perhaps most important step.
Design and Colors
Working with your real estate website designer will make sure that your call to actions are placed properly and frequently throughout your digital marketing content.
As an observer, you'll notice that every great CTA, including the examples above, have certain qualities that make them stand out and be efficient.
The CTA Link
The link or text box that you want clients to utilize should be easy to spot and not visually compete with other elements within your CTA. The goal is for this area to be the easiest and clearest to identify.
High-Quality Visuals
Aesthetic and professional-looking themes increase click-through rates exponentially. Work with your designer to choose your brand colours and work them into your many CTA designs. When appropriate, include a professional photo within a reasonable size.
Buttons
Graphic buttons are a powerful element within your CTA design that should standout in your design. Make sure that your CTA buttons are created by a professional who understands graphic design and marketing. Your designer will choose the button design that is attention-grabbing, has the right contrasting colors, and the best size to appeal to your clients.
Great Examples of Effective Real Estate CTAs
Our AgentFire designers are CTA masters who know exactly how to build CTAs to attract your ideal clients. Although you could do it yourself, not all of us are wordsmiths and professional web designers. You've worked hard to attract the right clients and obtain the perfect real estate site. The last thing you want to do is reuse the most common CTAs without making them your own.
Here are some great examples from our clients (some of them use our Engage CTA tool 😉)
After a brief, yet thorough introduction, Britney Sims give viewers the option of learning more or taking the next step if they've read enough information. The placement of this CTA works beautifully with the surrounding text. It indicats a logical next step, making it feel natural for the web visitor to click.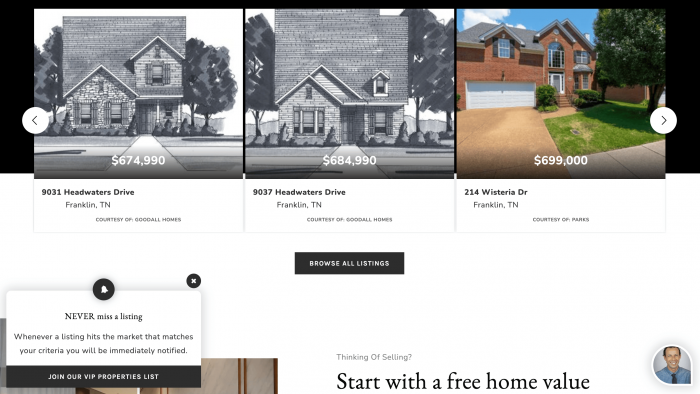 Browsing through listings, but have to log off suddenly? Lester Cook Real estate gives it web visitors the option of joining their exclusive VIP properties list to receive personalized matches. This CTA utilizes exclusivity and targeting to provide a valuable clients service in exchange for their contact information.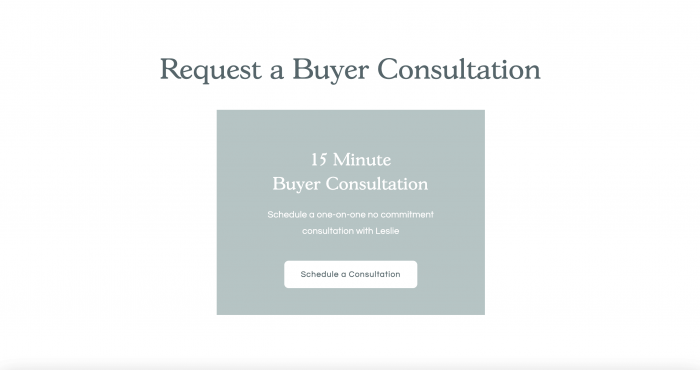 Simple is often better. Scheduling a consultation is a bigger request than simply subscribing to a newsletter. That's why our designers used a combination of simple design, muted colors, and clear text to make it less intimidating to book a meeting with this agent, Leslie Glazier.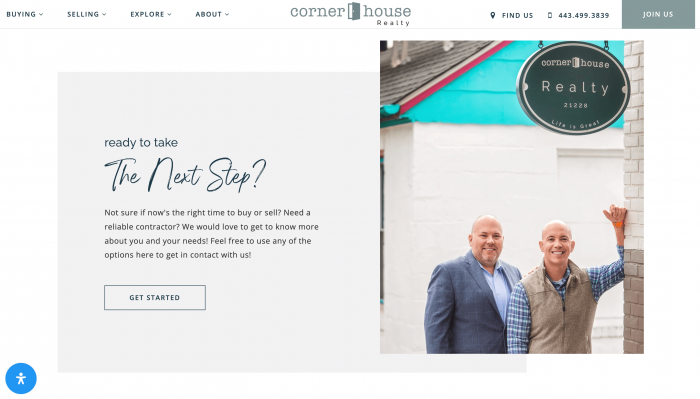 A real estate agent's job is to guide clients through a series of choices and steps. Corner House Realty's CTA shows that they are right beside their client, effortlessly leading them through the next steps to their dream home – even if they're not ready to purchase now. This text tone is encouraging, not pushy.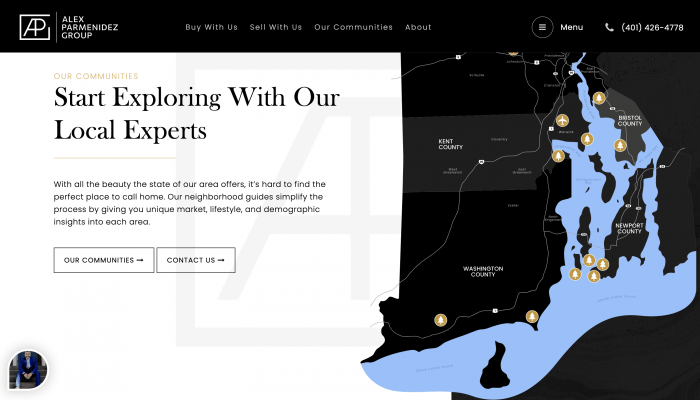 Alex Parmenidez shows the powerful of smart design in his CTAs. One path for a client to take is through the simple and prominent CTA buttons, however, they can alternatively click into an interactive ClickMap that will lead to other effective CTAs.
What Should You Avoid in Your CTAs?
These CTA mishaps may seem obvious, but they often go under the radar
Beautiful design with an unclear call to action: The goal is to start a ripple effect of action that builds a great agent-client relationship. Clear instruction is critical.
Your CTAs are boring: CTAs on your real estate website are always like an exchange. What can you offer clients in exchange for their contact information? Is it an informative phone call? City guide? Make that painfully clear in your CTA.
Your real estate marketing doesn't appeal to the visitor: Think about what you can do for your web visitors and not the other way around. This will clarify what your CTA should communicate.
Conclusion
Work with an AgentFire web designer to implement the right calls to action with the perfect text, design, and placement. Whether or not you decide to go it alone, as a real estate agent, it is important to understand how these elements work on your powerful real estate website.
As a real estate professional, your lead funnel can be months long (or worse). CTAs are often the first step to attracting your target audience and turning them into potential clients. Make your first impression count with intentional, well-thought-out CTAs.
If you want more in-depth articles, tactics, strategies, and advice – subscribe to our newsletter. And if you want to dominate your hyperlocal real estate market, check out AgentFire's Web Designs, #1 rated for several years in a row.
And the best part? You can try out all of its amazing features for free with our 10-day trial.
Check out this article next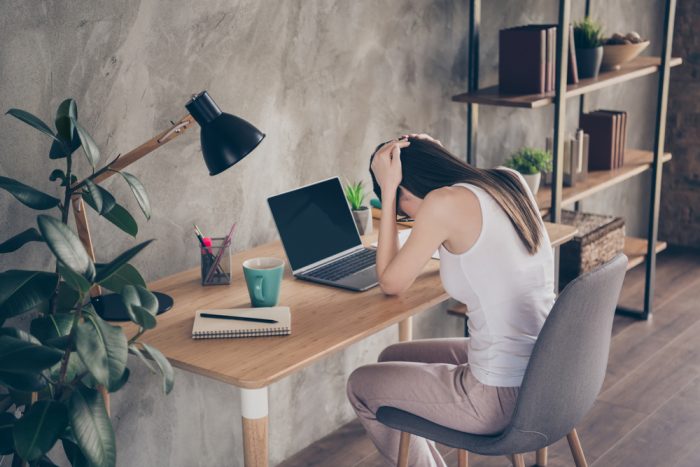 10 Email Marketing Mistakes Real Estate Agents Should Avoid at All Costs
Do your email marketing efforts feel like throwing spaghetti at the wall? Sometimes they stick, sometimes they don't… There's a chance you'…