Real estate branding is more than just a logo. Learn how agents and teams connect and communicate with their target audiences with this guide, complete with examples!
We've all heard the famous branding and advertising statistic: the average consumer sees an average of 10, 000 advertisements every single day.
To stand out, your brand needs to have a consistent presence that connects with your client. A strong, well-delivered brand cuts through clutter and commands engagement, not just attention.
The problem is that there is no concrete formula for success. The brand colors, messaging, or even realtors may be effective for one brokerage's audience and not another. The key is having a full understanding of how real estate branding works so that you can put the right tools in place for your team and yourself as an individual agent.
Core Components of a Real Estate Brand:
It's easy to summarize the physical components of a real estate brand, and there are many:
Logo
Slogan
Brand colors
Website
Mission statement
These are just a few of the core items that comprise your real estate brand. With the right resources, it's easy to develop these tools. However, it's up to you to understand how branding effectively connects with your ideal clients and why. That's what we'll cover in this article.
How Does Branding Differ Between Real Estate Agents and Teams?
Every real estate agent in North America is required by law to hang their license under a recognized brokerage. No matter what, your branding will be a part of a larger team branding image. Teams and individual agents will share most branding material, however, there are small, yet impactful differences between to how best to market a team and yourself as an individual agent simultaneously.
Team Branding
Team branding is about shaping the perception that the public has of your real estate team. Once a team brand has been clarified, members of your team are expected to live up to this perception in their daily work and habits. How do you collaborate on projects? What is your online brand image?
Your real estate brokerage is like the trunk of your overall branding structure, while individual agents are the branches. All realtors of the same brokerage are connected by the same values, but with their own slightly different, unique spin and visuals.
With a culmination of personalities and skills, there are bound to be some slip-ups along the way. When individual skill sets are bundled together in a team, one person's strength can make up for another's weakness. Then, weaknesses are addressed behind the scenes. On the other hand, one member's public shortcomings can affect the overall team image. It's crucial to have a brokerage branding guide with a set of recommendations and rules.
The trunk can only do so much. Since your brokerage represents an intangible company, it's much harder to convey a personality. This is where strong individual agent brands humanize a real estate business.
Individual Real Estate Agent Branding
A real estate agent's brand is an idealized, professionalized version of themselves that is created to best appeal to their unique client. For example, you may serve a niche market or specific client group within your brokerage.
This unique brand is more flexible and likely to fluctuate with time as client and market needs change. To maintain the right balance between individuality and team branding, real estate agents have to walk a fine line between promoting themselves and keeping their image in line with the larger organization.
For example, within social networks, agents can promote their unique hyperlocal area and local attractions using their headshot and the brokerage logo.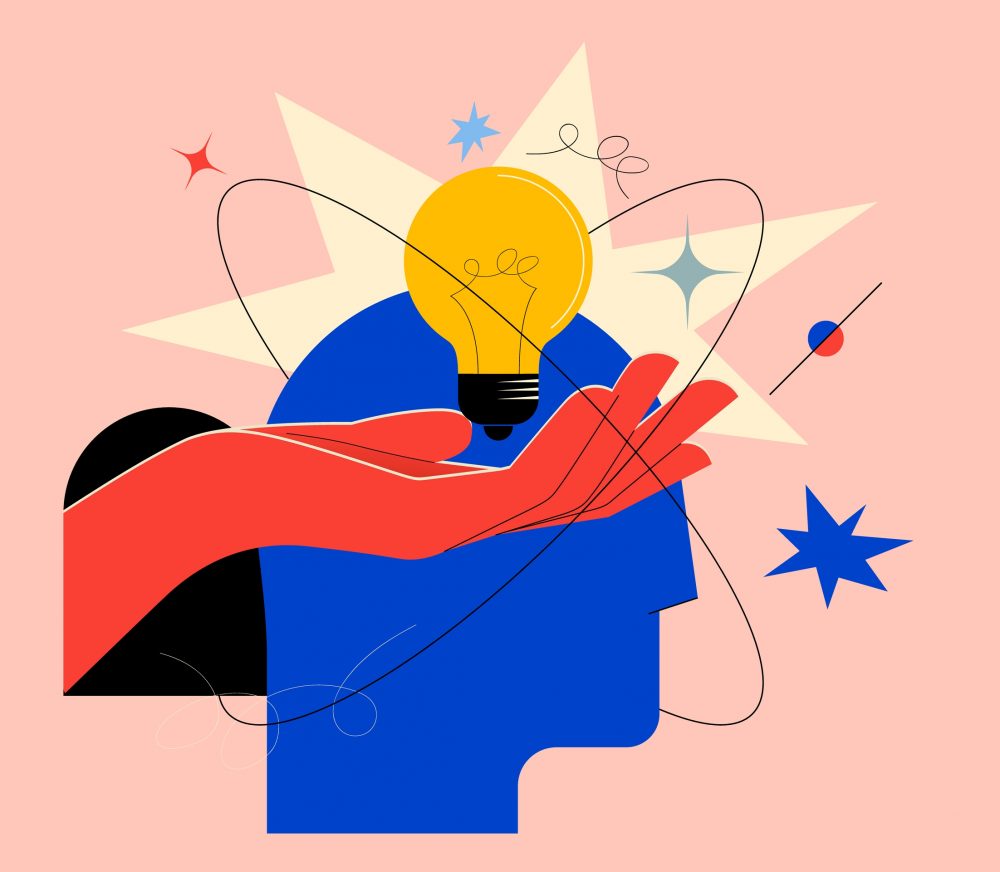 What Makes a Good Real Estate Brand
A "good" real estate brand is impossible to define until clients respond to it. These are the tips that we've found noticeably improve local recognition and uniqueness, generate more leads, and strengthen client trust.
A Consistent Brand Message
Your brand messaging is the voice of your business – what you want to portray and how. How do you want people to feel while interacting with you and after they've left? Effective real estate brands have a set of key messages and references for tone. These act as a framework that guides all internal and external brand communication.
Messaging includes everything written from your tagline to social media captions and marketing copy. It's the language and tone you use on your website and in conversation with clients. Any member of your team that writes any type of copy, should be familiar with your company language.  This is especially true when it comes to copywriters and marketing team.
A Bold Purpose and Mission
Your company purpose and mission fit hand in hand. Purpose is what you do and what you provide customers, while your mission is the larger goal you hope to achieve and the reason why you're in the real estate business.
Purchasing a home is highly personal. Customers want to know that they're working with like-minded professionals who have their best interest. You need to communicate your purpose and mission in a concise phrase that connects. Here are some questions to get you started:
Why did you get into this field?
What is your long-term vision?
What change do you want to see in the world?
Get the Hottest Real Estate Marketing Insights, Straight To Your Inbox!
Know Your Audience
As a realtor, you're lucky to only have a few main stakeholders: clients, prospects, industry contacts, your brokerage… You're not trying to appeal to everyone. Low-hanging fruit are the first to get picked for a reason. There are plenty of people already prepared to take the big leap or seriously consider it. Your job is to figure out what those people like, where they live, and what their goals are.
Following this copywriting trick: the "one customer" profile. The goal is to personify your ideal customer down to the last detail and get a clear look at exactly who you're marketing to. Start by narrowing down the foundation of your brand. Consider your ideal clients: are they investors, seniors, or single families? Then think about where they are located, what is their economic standing , interests, daily habits, and dislikes.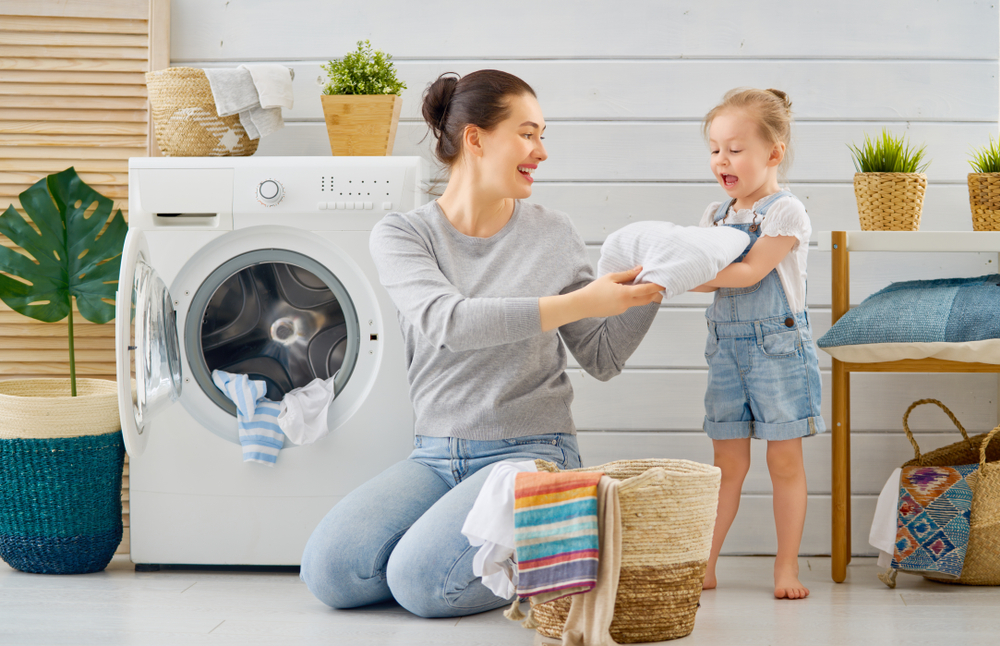 For example, if a tough-cleaning, all-natural laundry detergent wanted to market to its ideal clients, its "one customer" profile might sound a bit like this:
Mother of a large family (we'll call her, Jane). Jane is financial stable enough to purchase high-quality laundry detergent, but not enough to hire professional cleaning help. This individual values cleanliness and is not willing to sacrifice quality. She is in her late 30s to 50s and lives in an upper-middle-class neighbourhood. Jane is educated and values environmental responsibility and follows current news. She also values a good balance of quality, responsibility, and cost-savings.
How would this "one customer" profile look for your client? Possible new team member?
Visual Appeal
What comes to mind when you imagine the visual tropes of McDonalds'? If you didn't say a big yellow M and red background, I don't believe you. McDonalds' has incredibly strong visual branding that helps define its casual personality and all-American style.
The more distinct and clear your brand graphics, the easier it is for the audience to remember you. Your visual identity includes things beyond your logo, such as colors, fonts, and images. These visual cues will be displayed on your ads, business cards, social media, websites…pretty much anywhere you want to be recognized.
Humans have a primitive relationship to shapes and colors. With the right visuals, you can connect with others on a subconscious and conscious level and create a cohesive experience.
This is why it's best to work with a professional design team. Your brand is important, so don't fall into the trap of using a logo generator or paying an inexperienced designer to whip up a logo for $5.
Get A Free Personal Demo
Ready to revamp your real estate marketing strategy and dominate your hyperlocal area? Our expert web designers will show you how. Click the button below for a free 30-minute demo of our AgentFire Spark Sites.
H2: Real-Life Examples of Excellent Real Estate Branding
Not to toot our own horn, but we have developed some of the most distinct and effective digital brands for leader real estate agents in the industry. Here's a look at some top-performing AgentFire websites our design team has developed.
It's difficult to misinterpret what Modern and Maine is all about – and that's the point. The logo, colour scheme, and even slogan work in harmony and transmit the same message. The overall experience upon entering their website is clean, calm, modern, and neutral. No hard, graphic lines to be found. The branding evokes feelings of professionalism and references the natural landscape of Utah in the rustic imagery. Menu items are organized neatly with easy-to-read language that encourages people of every economic standing to feel comfortable. Notice that images of the team aren't features on the home page, putting the attention and the feel and experience of the web visitor.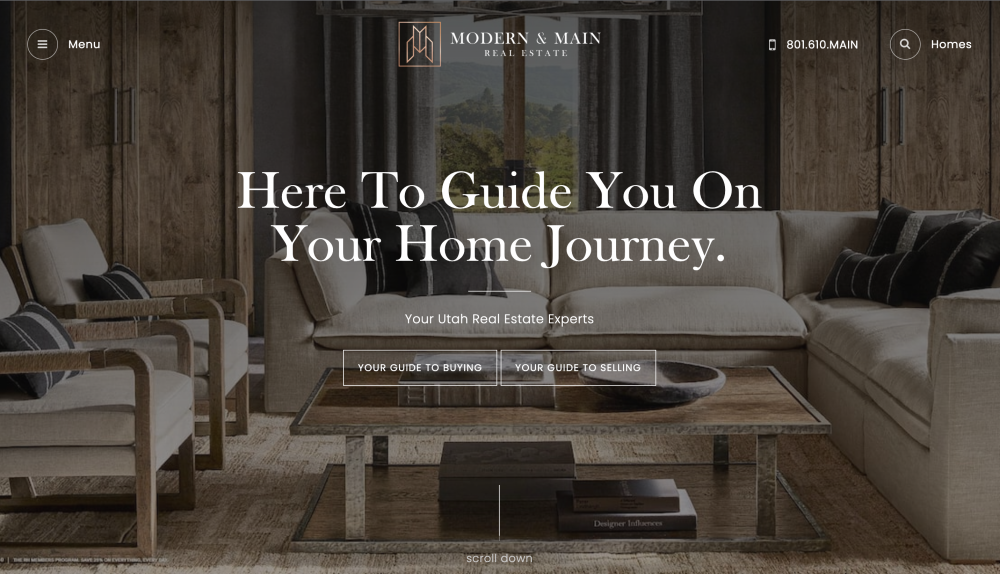 Do you see how each element of the brand works together to form a cohesive image?
On their social media materials, Modern and Maine carries over the same aesthetic and style. Viewers instantly know what page they're on and what they can expect to see.
Let's take a look at a drastically different take on team and individual real estate agent branding.
The Home Squad came to us with a desire to seriously differentiate themselves in the real estate market, and maintain a cohesive brand image across all five of their hyperlocal areas, with customized brands for each of the agents…phewf! Needless to say, we got it done. What better way to brand a team and its members than by branding it as a team and its members? The Home Squad has a fun superhero theme that fits their cause perfectly: one cohesive theme with room for agent customization. Each agent was given their own avatar and stylized website.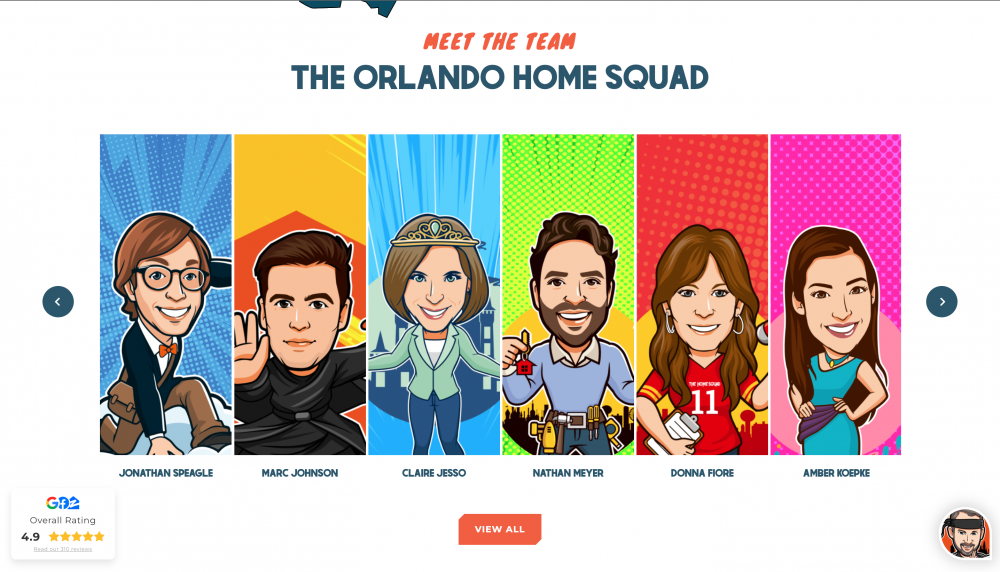 To provide further opportunity for differentiation, each agent has the option of adding any of our integrations to their site, even if it's not on the main brand website.
So You've Got a Brand. Now What?
Before you take action on building your brand, take advantage of industry tips to make the process a bit easier.
Expert 1: Competition
If you don't take the time to evaluate your competition, what they offer, and how your target client perceives them, how do you know how you stack up?
Pay special attention to your competition's name, logo, and slogan. What message does their branding convey? Is it more conventional, modern, luxurious?
Put together a Pinterest board with all of your favourite brand inspiration: homepages, logos, slogans, etc.
One of the most difficult tasks in branding is coming up with a logo and slogan that work naturally together. What strikes you about the logo and slogan pairings you see?
Expert 2: Overall Brand Experience
Your business personality should be infused in every part of your real estate branding. The personality is what humanizes your brand and makes it recognizable and relatable to your target audience. Brand personalities organically grow from the purpose and values that you support.
Think about it…
Nike's personality is strong and inspirational.
Disney is cozy, whimsical, and child-like.
Apple's personality is innovative, modern, and just a touch geeky.
The brand personality should organically grow from the purpose and values that you've embraced. This will make it easy to keep that personality consistent and relatable for your customers.
Every step from the first engagement to signing the final documents should feel congruent with your brand personality. To deliver a smooth and consistent brand interaction, all business processes and functions need to be designed to operate in harmony in order to deliver the service as promised. Here's the trick: if you can position your brand to set client expectations, you can meet client expectations every time – before, during and after their purchase.
Watch Our Free Digital Success Masterclass with Tom Ferry
Discover the leading digital marketing strategies that are changing the industry + live examples you can immediately put into action.
H2: How AgentFire Can Help You Find Your Real Estate Brand
As we've mentioned before, no web solution handles branding quite like AgentFire. In fact, we were the highest-rated real estate web solution of the past year! We know what makes a standout real estate brand and have built the tools to consistently create incomparable results for our clients. We suggest speaking one-on-one with one of our product specialist in a free demo. Until then, here's a peek at how we can get your real estate brand where it needs to be.
Your Website
Websites are the foundation – the bread and butter of a real estate brand and overall digital marketing strategy. Creating a mediocre website and leaving it out to dry is only going to work against you and damage your reputation. This is where your prospective and current clients will come looking for you.
Think of your website as a home base for your digital brand. This is where you want to put your best foot forward and show web visitors what they can expect in their interactions with you and your business. Even the smallest error, such as low loading speeds can make a prospective client skip to the next agent. Our designers work on real estate only, so we understand and combat common issues real estate websites suffer from. Plus we've designed a stack approach meant to cover every base of your digital real estate strategy. Even our smallest package features powerful marketing and SEO tools that turn your website into a lead-generating machine. Learn more about our web stacks.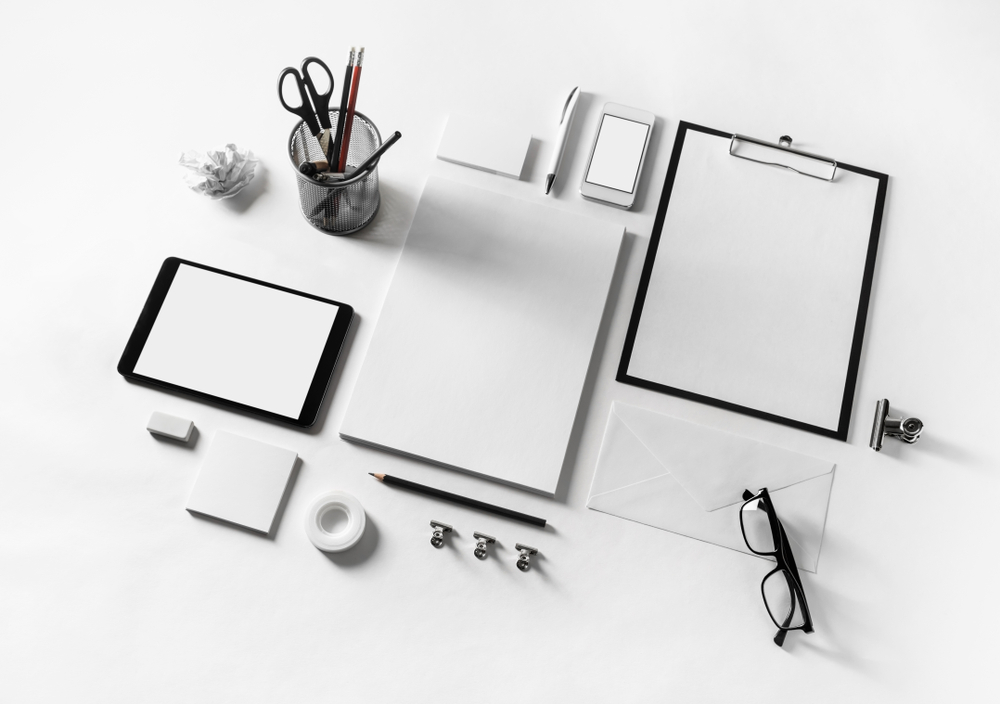 Logo and Branding Design
We should have told you this earlier but… we can build your entire visual branding. Yes, you absolutely should know what the keys are to successful branding, but some things are best left in the hands of professionals. Our team creates templates for every branding/marketing material your business needs and shows you how to format your logo for each piece of correspondence.
We can also work with an old logo you'd like to freshen up or integrate or develop something totally new. You'll work closely with one of our graphic designers until we get it just right. Learn more about our branding and logo packages.
Social Media Presence
There's a common misconception that you need to be glued to your social media profiles in order to get them to benefit your business, but that's just not true. In the hands of knowledgeable professionals, managing your social media advertising is easier than ever. Our partners at Dippidi build customized social media advertising plans that can include Facebook PPC, Google PPC, analytics and more. Each plan is made to fit your unique business and goals.
SEO Optimization
What does SEO optimization have to do with your brand? Well, if you can't get your brand in front of people who need it, is it really a successful brand? SEO optimization makes sure that all of the hard work you've put into your brand is appreciated by as wide and targeted of an audience as possible. Our Hike SEO integration enables agents to get hands-on and quickly optimize any form of digital contact for highest performance.
Get A Free Personal Demo
Ready to revamp your real estate marketing strategy and dominate your hyperlocal area? Our expert web designers will show you how. Click the button below for a free 30-minute demo of our AgentFire Spark Sites.
Conclusion
The truth is that most agents don't put as much time into thinking about their branding as they should. Your brand is what people. imagine, feel, and thin about when they hear or see your business name. It should encapsulate your purpose, mission, and overall experience of interacting with you.
A small investment in a graphic designer and time investment to understand how branding works, makes a massive difference in the success and public perception of your real estate business.
Your brand should grow and change with the market. Let your brand mission be the anchor that guides your business through these changes while staying relevant.
Check out this article next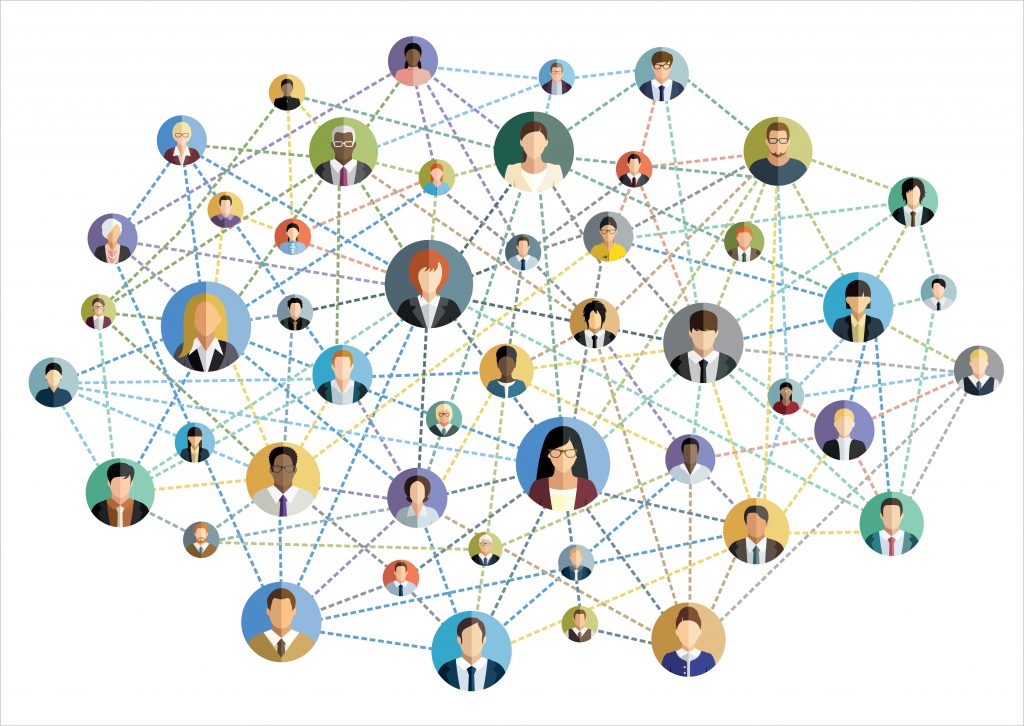 20 Foolproof Tips For Success At Every Real Estate Networking Event
If you're a real estate agent struggling with leads, there's a chance you're not making the most of your agent network. Your real estate agent n…