Social media is an absolute necessity in your real estate marketing. Learn how to get more people talking about your business in your social media channels.
The usage of social media and messaging platforms has skyrocketed in the last couple of months. 
But don't think that this increase in online traffic is going away once the COVID-19 crisis ends. Millions of people are successfully working from home, and even those that previously avoided technology like the plague now find themselves forced to use technology BY the plague.
But if you need more evidence as to why you need to get a social media strategy going, keep reading.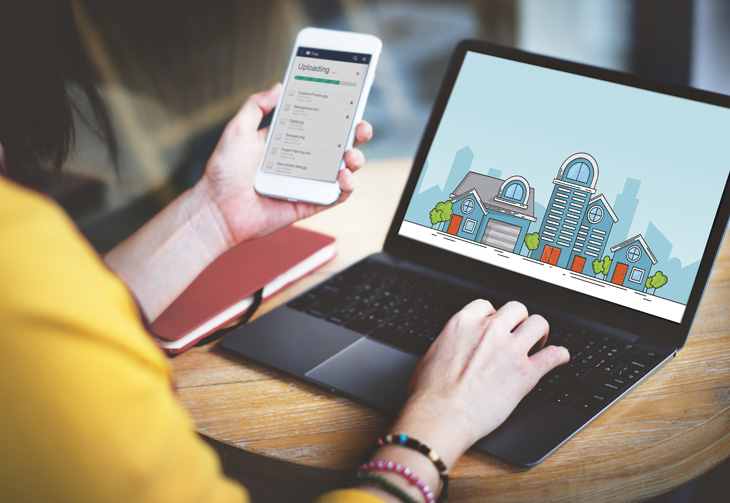 Why Should A Real Estate Company Use Social Media? 
According to a NAR report in 2018, there's already a huge amount of social media use among real estate agents. Around 77% of real estate agents use social media as a tool for their real estate marketing. And around 47% of real estate businesses say that social media results in the highest quality leads compared to other sources. 
And while these numbers seem quite high, the truth is that very few of them are actually using social media effectively. Sure, as a marketer, it pains me to see that. But this is actually good news for you personally.
That's because you have an opportunity to have your piece of the pie if you play your cards right, and have a solid plan.
Also, real estate social media presence is not an over-saturated market like the travel or fashion industries.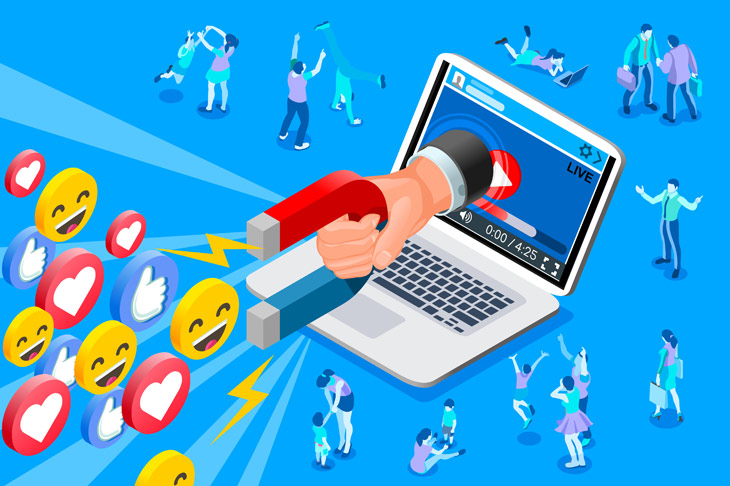 The Main Purpose Of Real Estate Social Media Engagement
It's easy to see why having an internet presence is more essential than ever. NAR reports that 99% of millennials, and 90% of baby boomers, begin their home search online. And for the majority of them, online starts with social media. 
Many real estate agents approach social media with the belief that it will instantly become a source of new leads and transactions. And while it's true that it can be a great source of high-quality leads, that shouldn't be the main purpose of social media engagement.
Get Our Pricing
Want to dominate your hyperlocal real estate market? Then you need to check out AgentFire's Spark Sites.
Click the button below to learn more about pricing.
The primary goal of a social media campaign is to improve your brand visibility and build relationships with your potential customers. Why?
Because even in the best of circumstances, the majority of people you reach WILL NOT be in the process of buying a home or even looking to buy. But just because they are not ready to buy TODAY it doesn't mean that they would NEVER want to buy a home. Housing is, after all, a need, not a want. 
Social Media is the place to be for brand recognition and building a relationship with potential customers. If you can give people a reason to follow your real estate business on social media by providing them content that's relevant to their life whether they're buying or not, you can guarantee you have a higher chance of winning them as customers when they need your service. 
Let's look at how you can stay at the top of people's minds and news feeds with your own real estate social media efforts. 
How To Use Social Media Marketing For Real Estate 
Study Your Audience Demographics 
First thing's first, dive into the data. Social media platforms have powerful tools to help you to understand your followers. Use them. Understand where your audience is, who they are and what they're interested in.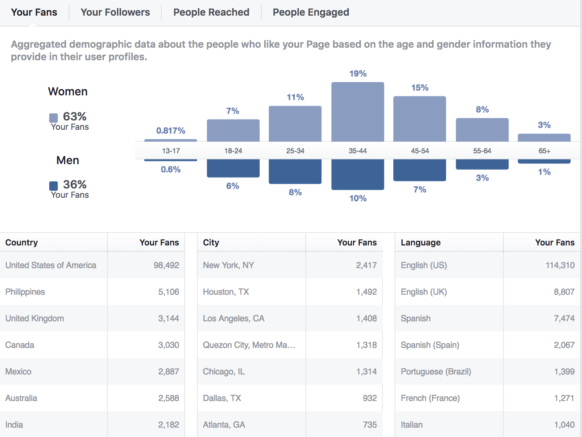 For example, if you have a Facebook Business Account (if you don't, here's an article to show you how), you'll be able to use Facebook Audience Insights to track not just who's liking your page, but also their age range, how engaged your followers up, what their likes are, and so forth.
All of this information will be a welcomed addition to your overall marketing plan and will enable you to create more effective content and ads, and help you find the right home for them.
This data can also inform your social media posting strategy, identify times of day that are best to post, content and content types that perform well and so much more. If you begin to read your social data, you'll see an increase in your figures because of it. 
Use Polls And Online Quizzes 
While social media metrics can help you get a clear idea of who your clients are, they don't always give you the exact data you're looking for.
Thankfully, there are 2 tools that can help you get that data easily: polls and online quizzes.
Facebook has a tool that lets you create polls easily, and get valuable information from your Facebook followers. 
Don't like Facebook's poll tool? Typeform lets you create interactive quizzes that can help build engagement and a greater understanding of your followers. 
This will enable you to create more engaging content in the future and will lead to quiz results that are shareable among your followers' community. 
At the same time, your polls and quizzes don't always have to be serious and clinical. You can also have some fun with it, and entertain your clients with it. Why not make a quiz about which haunted house is right for them?
Showcase Great Homes on Instagram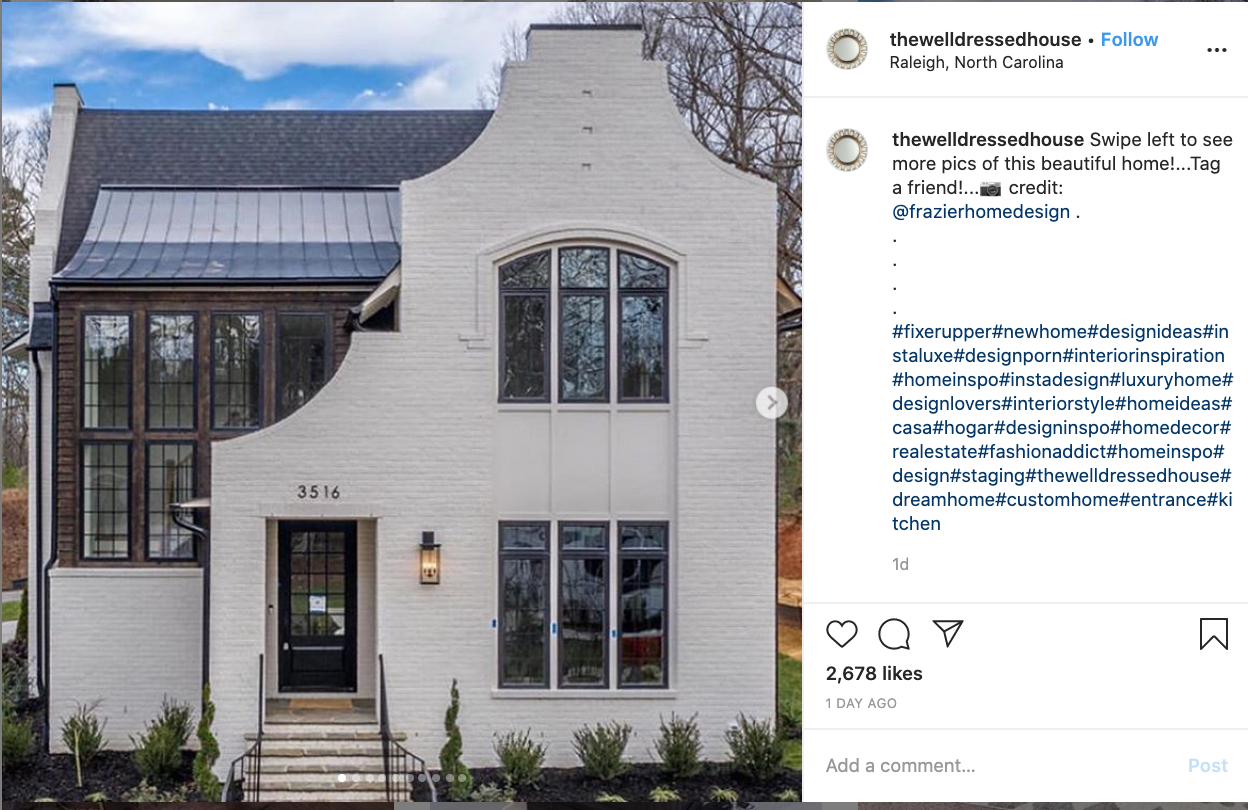 Instagram is the place to be for visuals and over 80% of Instagram users follow at least one business. Showcase your best homes on the channel, as well as the most beautiful homes for sale in your area (even if they are listed by someone else) and watch your engagement rise. 
If you're trying to go for reach and impressions to grow your account's reach, then don't be shy about using a hashtag chain, like in the example above. 
There's been a huge debate around hashtags and the use of them in recent years, but they still work and can help you win Instagram likes, comments, shares, and saves. 
All of these tactics will be beneficial in getting the attention of the Instagram algorithm. That way you'll appear more frequently at the top of your followers' feeds and relevant Instagram Explore pages.
Make Creative Social Media Virtual Tours
Great content is king, and property pictures sell homes. But in the current health crisis, it has become almost impossible to do formally routine tasks such as property tours.
But the great news is that thanks to technology, in-person tours are not 100% necessary anymore.
It's now possible to create property tours online and showcase your properties in the best possible light.
These tours could range from full-3D immersive experiences through 3D-tour solutions such as Matterport and Cupix 3D, video tours, or even simpler and less tech-intensive options such as carousel posts and interactive stories.
Sure, nothing will ever replace an actual in-person tour, but the alternatives available are actually not that bad.
Get Your Real Estate Business On Pinterest

Pinterest is an often-overlooked social network. But it should not be underestimated, especially in real estate. 
A few Pinterest statistics for you to mull over. 85% of women on Pinterest use it to plan life moments and 43% of those women plan on getting their ideal home within the next five years. 
With Pinterest having around 320 million monthly users, can you imagine the potential it can bring for your real estate company?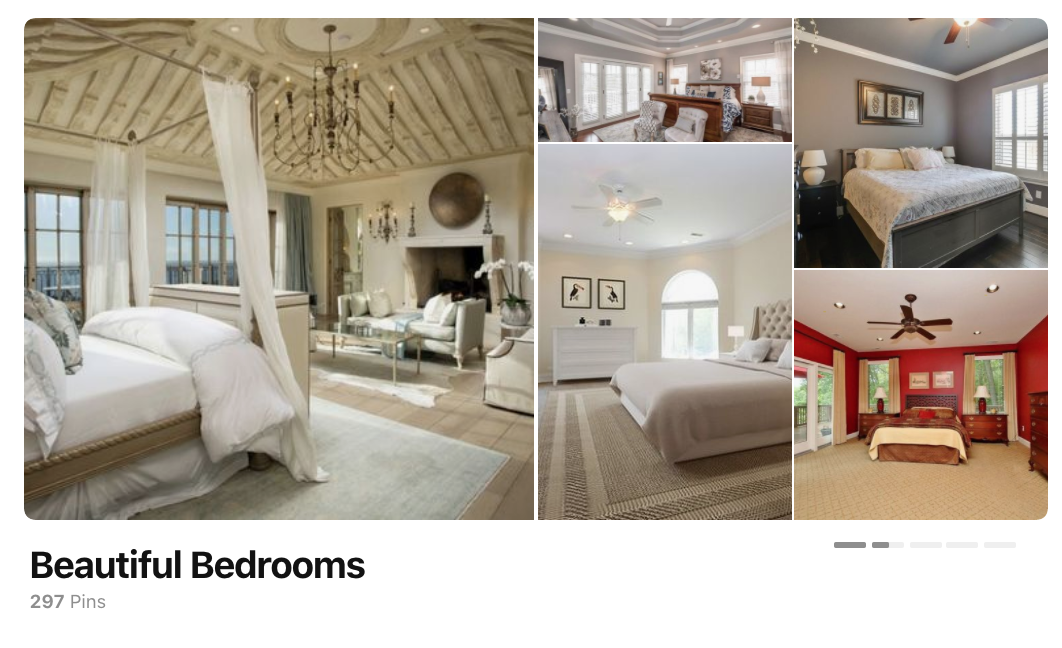 The key to Pinterest is consistency. Decide on the boards you want to create and consistently post to them. Use a strong hashtag strategy and you'll be reaching not only a whole new market but one that is more ready to use your service than those sitting on other social channels. 
Showcase Your Company Culture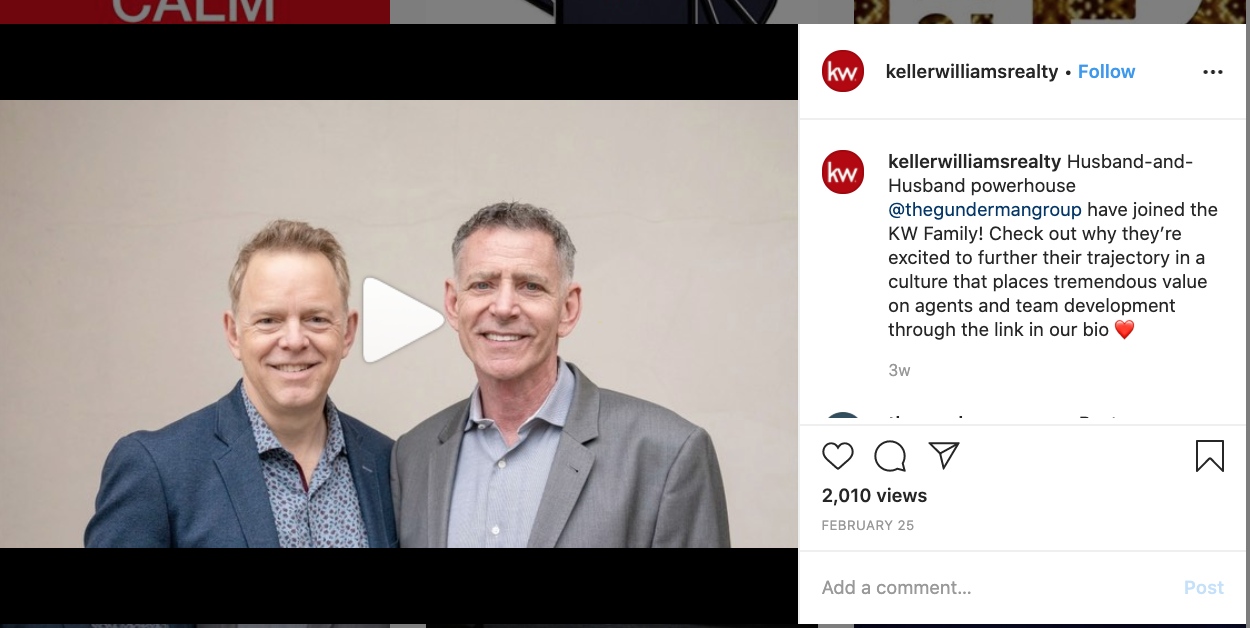 Buying a house is a big deal and buyers need to know they can trust your real estate business and your team. 
It's important to use social media to showcase your company culture. This will not only generate conversation around your brand but will build trust with the people that follow your brand. 
Company culture should be shown on all of your social channels but should always be delivered in a way that is unique to that channel. Consider stories for Instagram, staff feature posts for LinkedIn, live chats for Twitter and video for Facebook. 
Show that you are approachable, down to earth, and most importantly, a real human, not just a corporate construct.
It's Not All About Homes
We've hinted at it in our last point but let's go a little deeper now. Just because you're a real estate business doesn't mean your social media channels need to be endless streams of houses. 
There are other ways you can build your brand outside of this. Let's look at Remax for example: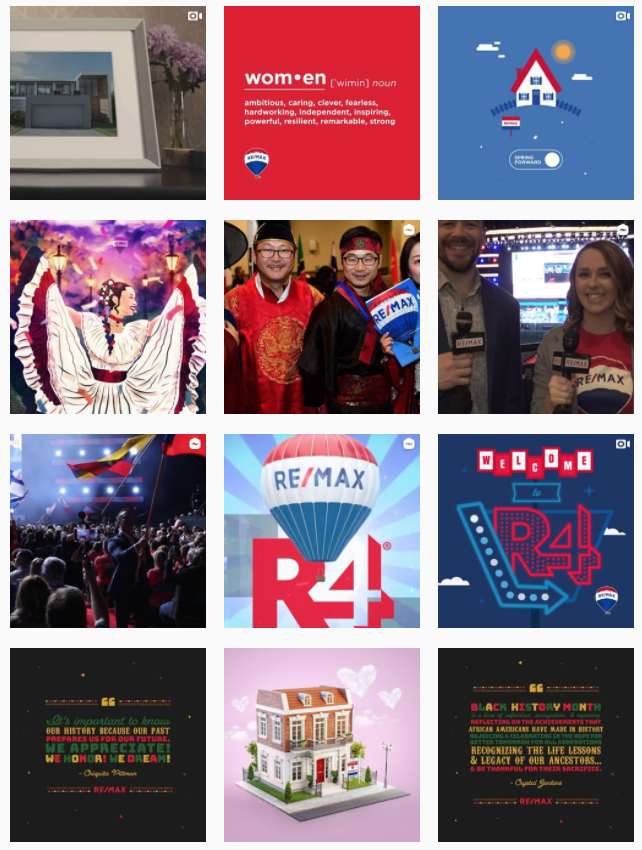 In an Instagram shot of 12 tiles – this being the maximum number of images you'll ever see on your phone screen when scrolling through an Instagram profile feed – we can only see two homes. 
Plus, these homes are not even real, they're quirky designs that are there to drive engagement and enhance the aesthetic of the feed. Consider doing the same with your own channels, keep what your posting varied and keep your followers engaged.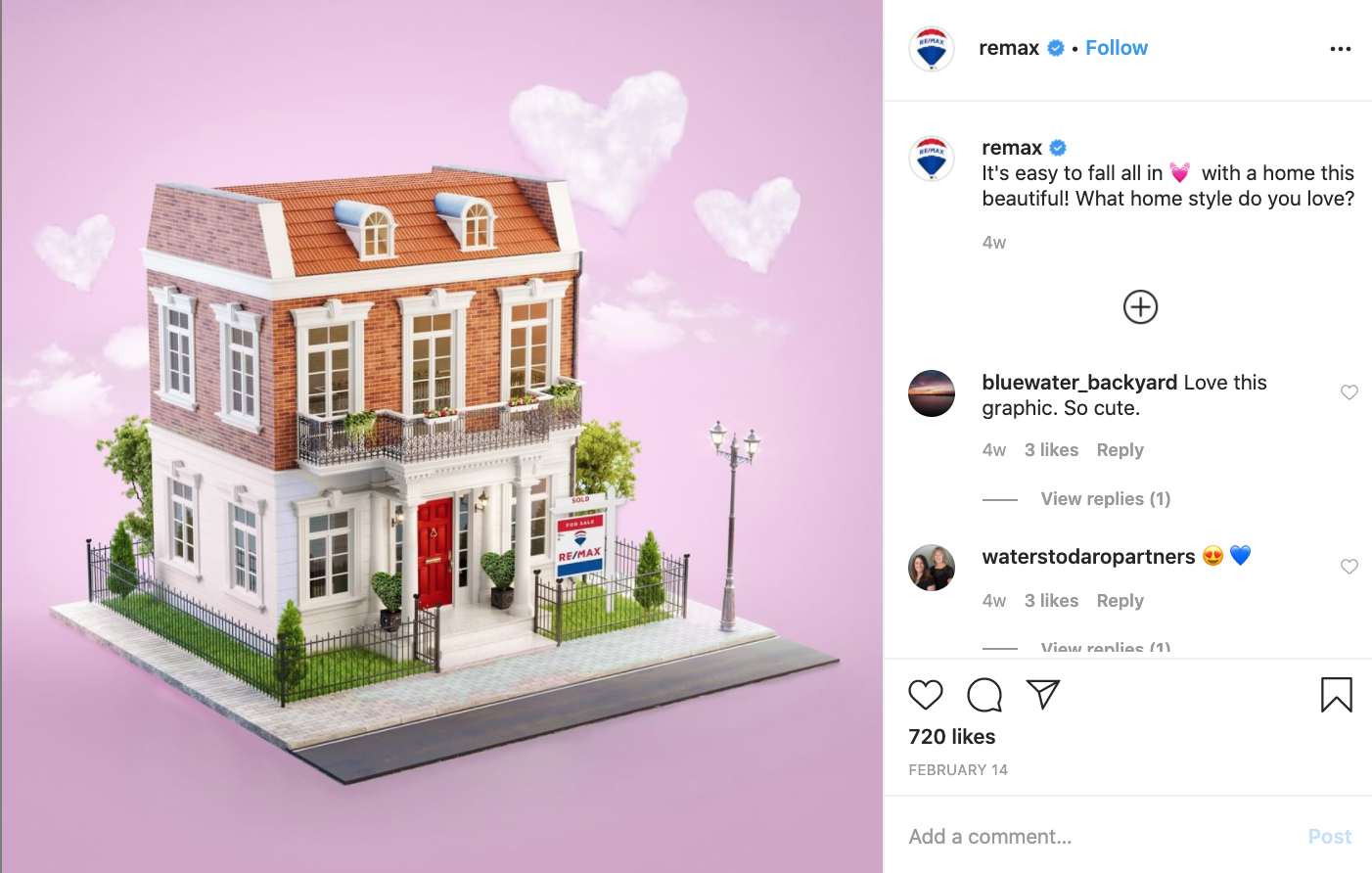 We'll Leave The Key Under The Mat
There you have it, your top tips to a successful real estate business on social media. I hope you've managed to find some takeaways here and can apply them to your own social media efforts. If you really want to get people talking about your real estate business, then remember to:
Deliver the right content in innovative ways 

Consider new social media channels

Adjust your content to your followers

Keep your content varied

Tell your business story & culture

Branch out of the home 
How would you rate this article? Leave a review in the comments 😁!
If you want to stay up to date on all of our free and valuable content,  subscribe to our newsletter. We publish valuable articles and guides such as this one regularly. That way you can constantly improve your marketing skills, and become a more effective real estate marketer.
And if you want to dominate your hyperlocal real estate market, check out AgentFire's Spark Sites, #1 rated for several years in a row.
And the best part? You can try out all of its amazing features for free with our 10-day trial.
Check out this article next
4 Key Steps for Insanely Effective Hyperlocal Facebook Real Estate Ads
Most real estate agents know there's a tremendous amount of opportunity within Facebook marketing. In fact, I've personally spoken with over 12…