Do you have clients that want a larger home? Help them understand what to expect with as little pain as possible with our free (and editable) upsizing guide. Our guide can be easily turned into a click magnet or informative pdf for your contacts in your sphere of influence.
In your real estate career, you NEVER want to have one-time only clients. When it comes to clients, your ultimate goal is to build long-term relationships in which you will serve your clients' real estate needs to come.
Why is that so important?
Because some of your first-time homeowner clients will want to upsize a larger home. Either because they have a growing family, or because they are doing well financially and simply want to live in a nicer home.
But as you know, upsizing to a larger home is not as simple as buying a first home. It's a complex process that involves selling your current home, purchasing a new one, and timing everything right so you can transition from one home to another.
This process is easier said than done. Which is why it's extremely important to educate your clients on the entire process and help them understand what to expect at every stage. That way they will be able to make the most economically wise decisions and help keep the process as painless as possible.
In order to help you educate your clients (and drive more traffic to your website), we put together the "Definitive Guide to Upsizing Into a New Home."
Our guide covers 8 major points to consider before your clients go through the upsizing process. From understanding the real reason why they want to upsize to putting together a plan of action BEFORE they jump into the process, this guide serves as a concise guide to help your clients be prepared for their up-sizing effort.
Just like our previous guides, we're making it available for you to download and edit as you see fit. We've even added prompts in the guide where you can add your own images and call-to-action. You can use this guide as a click magnet, a blog post, or turn it into a pdf that you can share with your clients or real estate leads.
To learn how to edit this guide and convert it into a pdf, check out this short tutorial.
Liked this article?
If you want to stay up to date with all of our latest real estate articles, and receive exclusive access to our seminars, subscriber offers and other goodies, subscribe to our newsletter.
Check out this article next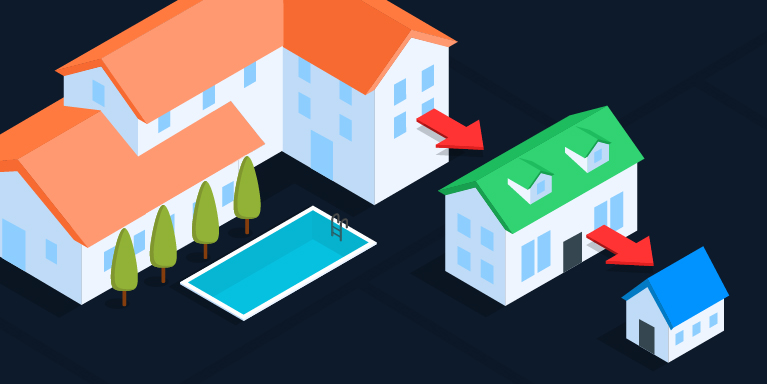 How to Downsize as Smoothly as Possible [free editable guide]
Downsizing has a lot of benefits. Lower housing expenses, less time spent on cleaning and maintenance, and potentially more time to do the things your…