Only a few months after its release, ChatGPT has already changed the way real estate agents do business. This is why it's made such a big impact and how to make the most of the tool.
ChatGPT is the artificial intelligence chatbot causing a stir in every tech-adjacent industry. Developed by San Francisco-based company, OpenAI, this tool gained hundreds of millions of users in just a few short months. Real estate agents were part of the early crowd to put ChatGPT to professional use.
What Makes Chat GPT Unique?
At first glimpse, the question arises – what's the difference between this tool and Google or any other search engine?
ChatGPT allows users to type in natural language prompts (questions) and receive conversational answers based on online information. Some responses are so human-sounding, that they can be copied and pasted seamlessly (not that we're encouraging this).
The bot records the tone and topic of your previous conversations, combined with scouring the web to give you the most uniquely useful answers. Similar to an encyclopedia, but better. With all of the human interactions it gathers y the second, the tool is constantly improving itself and becoming more accurate.
As with everything in life, there's a catch: humans aren't always correct. ChatGPT is known for occasionally giving off-the-wall answers in convincing language. Additionally, it is currently limited to data up to 2021. As a real estate agent, you should never accept every sentence AI gives you as correct. Always edit for accuracy.
How is Chat GPT Used By Real Estate Agents?
Chat GPT automates a wide range of repetitive tasks that are often a hassle for real estate agents.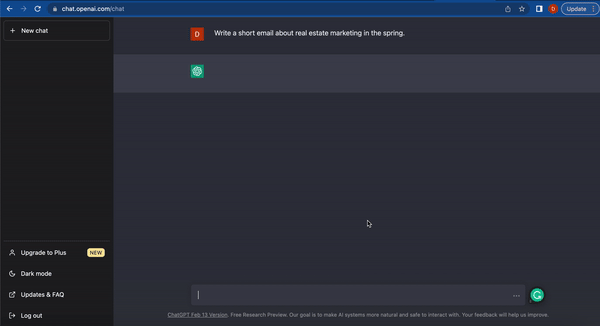 Real Estate Email Marketing
Having trouble coming up with a killer email subject line? Ask ChatGPT. It's as simple as typing in your request. For example, try  "Write a subject line for a marketing email about selling eco-friendly homes." To this prompt, ChatGPT delivered answers such as "Find Your Dream Home and Save the Planet: Discover Our Eco-Friendly Homes" and "Discover the Future of Sustainable Living with Our Eco-Friendly Homes".
Put these subject lines to the test with an A/B email test. Send half of your email list with one heading, then send the other half of your email with the other heading. Note which email received the highest opens and clicks, and let that give you an idea of what your next subject line should look like.
Text Message
Text messaging clients and professional connections can get tricky. A professional conversation through a casual medium makes it hard to distinguish which tone is appropriate.
Chat GPT can help you come up with professional responses in non-robotic-sounding language (ironic, we know). At the least, you'll know what you could write by asking the tool.
Create Effective CTAs
Every piece of your real estate marketing content should end with a CTA that encourages readers to take action. However, we can often get stuck in typing up repetitive requests. ChatGTP helps realtors by offering a few options for how you can improve your CTAs.
Get A Free Personal Demo
Ready to revamp your real estate marketing strategy and dominate your hyperlocal area? Our expert web designers will show you how. Click the button below for a free 30-minute demo of our AgentFire Spark Sites.
Outlining Client-focused Blogs
As a real estate agent who interacts directly with your clients, you should have a good idea of what they want. These relationships should be the first research point for your blog topics. On a slow day, however, ChatGPT can help you throw together a relevant blog quickly. You can even advise the chatbot on what perspective you'd like them to take while delivering the answer. For example, ask ChatGPT to " act as a realtor and give me tips on staging a home."
Lead Generation
ChatGPT may not be able to contact referrals on your behalf, but it can help you with your lead generation process.
For example, ask ChatGPT for relevant real estate SEO keywords to use in your next piece of online content. You can even specify for SEO keywords around a specific topic within the real estate industry.
Not sure what to write in your next campaign? ChatGPT will brainstorm a few ideas of copy that you can add. Try a prompt such as "write an Instagram caption to advertise a real estate listing in (property address)" to get a super precise result.
Provide Neighborhood Information
For general neighborhood information, ChatGPT could be an interesting resource. However, artificial intelligence has its limits and we have to keep in mind that the data maybe be slightly out of date or influenced by other opinions online.
Interested clients can use ChatGPT to ask about a neighborhood's amenities, past crime rates, schools, past sold prices, recreation centres, etc. This can speed up the process of choosing where to buy a property.
Improve Agent-Client Relationships
If you're not sure how to answer a client question about a specific real estate issue, ChatGPT is a resource that could help out. Imagine your client has a question about a mortgage payment. ChatGPT can give some well-research, location-specific feedback. Not sure if it the right time for your client to buy or rent? Chat GPT can offer stats on home sales in recent years.
If you choose to use ChatGPT as a resource for answering frequently asked questions, remember to double-check your answers if possible.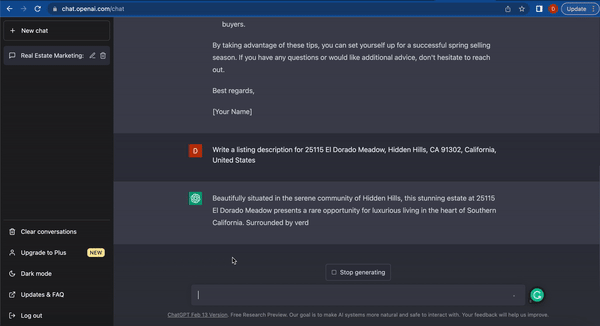 Write Property Listings
Not every real estate agent is a wordsmith. High-quality, well-written real estate listings are crucial to attracting the right clients, yet not many real estate agents have the necessary skills. ChatGPT can spice up listing for residential or commercial real estate. Type in the address and request a property listing. This tool will include information about unique qualities, amenities, location, and real estate market trends in the area.
Tips for Using ChatGPT
The more specific ChatGPT prompts are, the better answers it can spit out.
Avoid asking questions that are too broad (e.g. "What do clients want?")
Consider results as a starting point for further research.
Wrapping Up…
Let's address one major concern: ChatGPT won't replace real estate professionals anytime soon. In fact, the tool is helping agents automate repetitive tasks that can take away from their performance.
At this stage, artificial intelligence is making strides to minimize extra work and keep up with the growing need for reliable online content. Don't be afraid to integrate these tools into your daily practice. With caution, they can save real estate agents tons of time in the long run.
If you want more in-depth articles, tactics, strategies, and advice – subscribe to our newsletter. And if you want to dominate your hyperlocal real estate market, check out AgentFire's Web Designs, #1 rated for several years in a row.
And the best part? You can try out all of its amazing features for free with our 10-day trial.
Check out this article next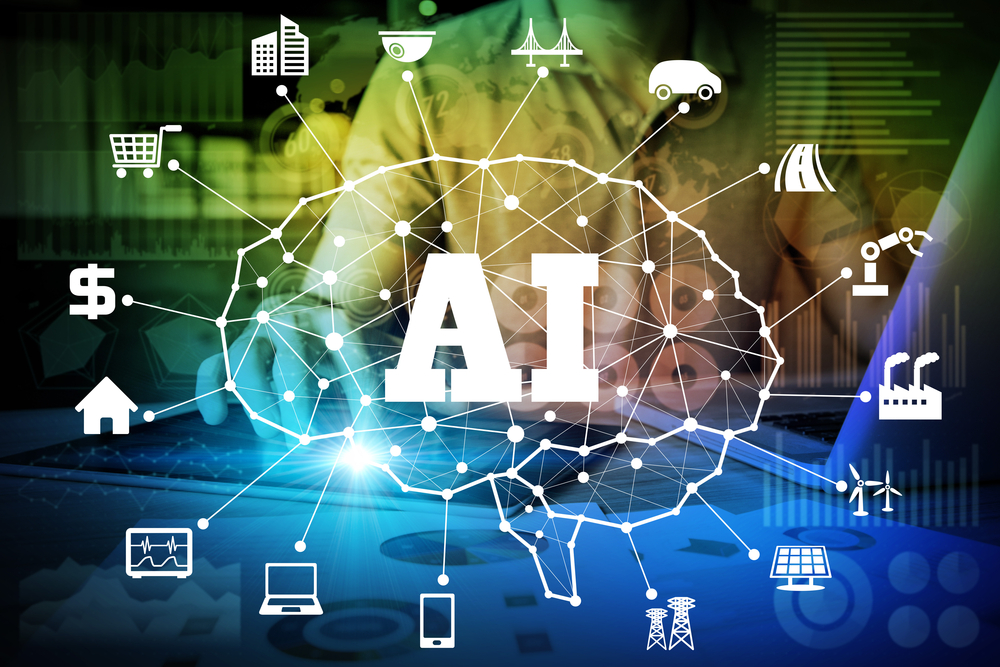 Artificial Intelligence and Real Estate in 2022
AI is already a well-utilized tool in real estate digital technology. In the last decade, artificial intelligence has been gradually introduced into e…