It's easy to score loads of free real estate leads with LinkedIn if you know where to look! Here are 7 steps to finding clients on Linkedin - free of cost.
There are few social media platforms that offer as great an opportunity for free real estate lead generation as LinkedIn. Although the platform now has tons of innovative paid features and simple features that are now only available with paid plans, you can find loads of free lead opportunities if you know where to look. In fact, just making sure you have the basic features set to the right setting and laid out in an informative, visually appealing way can set you miles ahead of other real estate agents on the platform.
Why use LinkedIn to Generate Free Real Estate Leads?
LinkedIn is the only leading social media platform that is business-centric (meaning it elicits a business mindset immediately for users). About 77% of LinkedIn users are 30 years old or up, earning at least $75, 000 a year, and 50% have a college degree. The LinkedIn demographic is the perfect representation of people considering or actively trying to purchase or sell a home – plus, you're much less likely to run into spammers or trolls than on any other platform.
With all of the demographic statistics pointing to LinkedIn as a key real estate lead generation strategy, it's hard to understand why more real estate agents aren't taking advantage of the platform.
It's a simple case of judging a book by its cover. Facebook, the most used social media platform at the moment, draws realtors in with its huge 2 billion person audience and rich ad opportunities. However, a larger audience doesn't necessarily mean a more engaged or active lead – quite the opposite. With less than a quarter of global users than Facebook, LinkedIn allows real estate agents to connect more intimately with their audience and as a result, the platform has been measured as 277% more effective than Facebook at generating leads. 
So how do you capture and nurture those quality LinkedIn leads? Read on to generate real estate leads on LinkedIn for free.
How to Get LinkedIn Real Estate Leads Step-by-Step
1. Bring Viewers to your LinkedIn Pages
First thing's first: How will people find your LinkedIn profile? Add your LinkedIn widget to your signature or on any marketing material you create. The basics include your email signature, the bios of your other social media accounts, and your websites, and landing pages. 
The aim is to put your LinkedIn profile front and center, so that it's easy and natural for people to follow you from the page they are on. Make sure that the color of your LinkedIn widget or icon stands out so that it won't be missed. 
With your AgentFire website, you can add your social media icons wherever suits you best. Take a look at some of our client's sites here.
2. Get Your Profile Together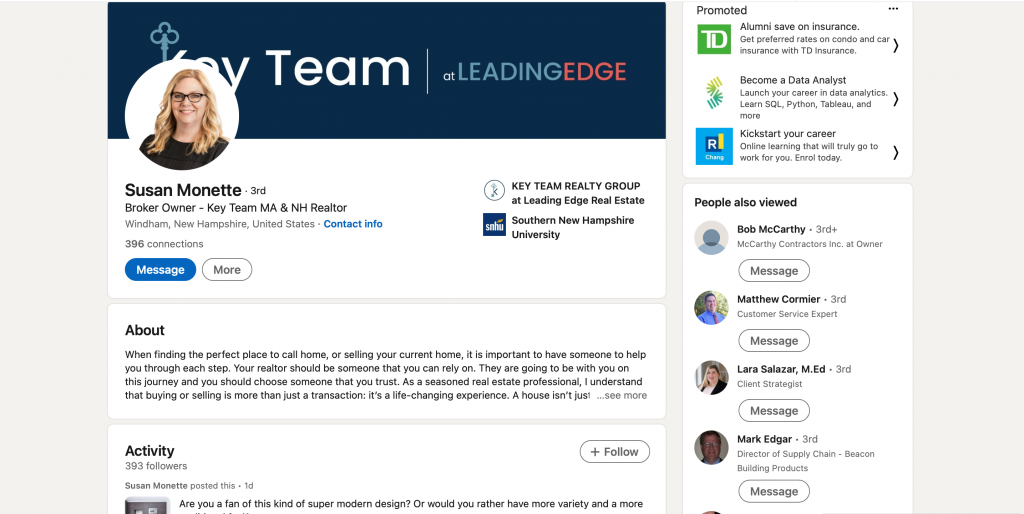 Business Accounts
When choosing your profile type, the safe bet is usually a business account. A business account will allow you to put your real estate website URL as well as links to your other social media accounts in your bio. The customizable personal summary is where you can get creative and write a couple of sentences about the areas you specialize in, why you're passionate about real estate, and a bit about your personal story. 
Next, you'll want to choose a professional-looking and captivating banner image for your header. Our client, Susan Monette, is a perfect example of a simple, yet effective banner using her branding theme and slogan. 
When potential real estate leads stop by Susan's page, they know exactly what she does, who she is and the type of content she posts (which gives more clues about the quality of her work and her interests). Imagine you are a prospective target client visiting your LinkedIn profile for the first time. What information would you be looking for? What type of profile would catch your eye? 
If you need a bit of help developing your brand look, talk to our web designers about our branding and logo integration. We'll take care of developing an overall customized brand and logo that you can plug into all of your marketing content.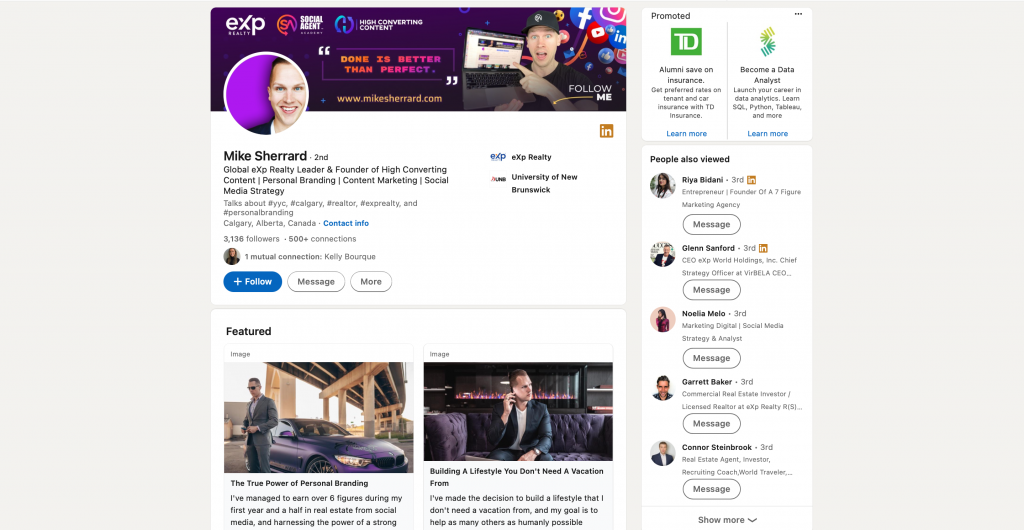 Creator Mode
For real estate agents who want to take thought leadership and social media influence to the next level, selecting creator mode would be a logical first step. For example, eXp real estate agent and real estate marketing influencer, Mike Sherrard, posts various types of content often with tons of engagement on each post, so creator mode definitely works to his benefit. 
The first noticeable change in creator mode is that the connect/message button is changed to a follow button and it is featured more prominently. Your posts are also positioned above your personal summary to encourage more content views. However, the most stand-out feature is the ability to go "Live" on LinkedIn, during which your profile banner is turned into your live video! When your profile is up and running, LinkedIn will also regularly suggest growth strategies based on your profile type to get you better results.
To decide which account type is right for you, ask yourself how much time you have to dedicate to your LinkedIn page, if you want to regularly create content, and what results you're looking for. If you would like to primarily reach out to hyperlocal 1 -1 leads, a company account will suffice. However, if influencer strategy is at the top of your digital marketing goals, creator mode could offer the extra view boost you're looking for.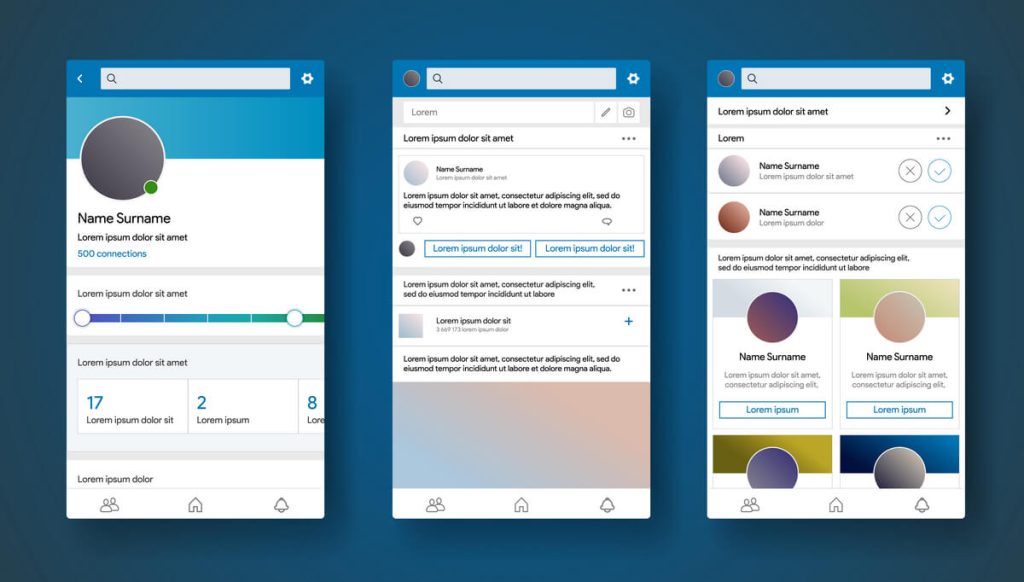 3. Find Connections
Start with low-hanging fruit. Pull contacts from your current CRM (email addresses make it easy to find profiles on LinkedIn and once someone accepts your invitation, send a quick thank you message and let them know that they can contact you and share your profile through LinkedIn. 
It's easy to dive into lead searches right away, but expanding your professional network is a great way to build credibility first. There are a few types of connections you'll encounter as you build connections with professional contacts. 
1st Connections: People you have directly connected with. 
2nd Connections: People who are in the network of people you are connected with. 
3rd Connections: People who are connected to your 2nd connections. 
With a free LinkedIn account, you'll be able to reach out to 1st and 2nd connections free of charge. 3rd connections are only available for paid users. However, you may be able to snag their email from their bio and connect with them that way. 
LinkedIn will automatically recommend people who have things in common with you such as the same graduate school, company, city, or job title. Sort through these connections and send a friendly message introducing yourself and why you'd like to connect with that person. 
You may want to connect with other agents in your hyperlocal area and build a great referral relationship. Consider also connecting with small businesses and local investors who may have local insight or offer partnerships, local recognition, or discounts. 
Advanced Search
When it comes to finding the specific leads, we suggest diving in with advanced search right away. LinkedIn advanced search will allow you to filter results based on city, school, profession, or company to find exactly the demographic you're looking for. 
Not only can you find targeted prospective clients, but you can do detailed research on potential clients already in your pipeline. 
When reaching out to a potential client, be honest and let them know that you are looking to connect with locals who may be on the home hunt. Personalize the message by mentioning something about their background or business that drew you to them. 
Be selective about who you connect with, as LinkedIn has set a limit of 100 connections per week. 
Do you want to improve your lead scripts overall? Check out this article: All you need to Know About Lead Scripts.
4. Join LinkedIn Groups
Did you know that LinkedIn has "groups" similar to Facebook Groups? In local groups you can find out a ton of details about LinkedIn members that  could be target clients. Income levels, links to their social media, and details about their lifestyles are common topics of conversation and they can help you pin-point who is ready to buy or sell. 
Search groups by name, local keywords, interest, location, and more. Within these results, use filters to narrow down the most relevant groups for you.When you first join a group, don't be a silent member. Introduce yourself and engage with other members' posts often. Staying top-of-mind is the name of the game here, so being an active and contributing member of the group is likely to garner more leads down the line than a ton of sales-y posts. After becoming accustomed to the group, connect with individual members you think are great potential clients.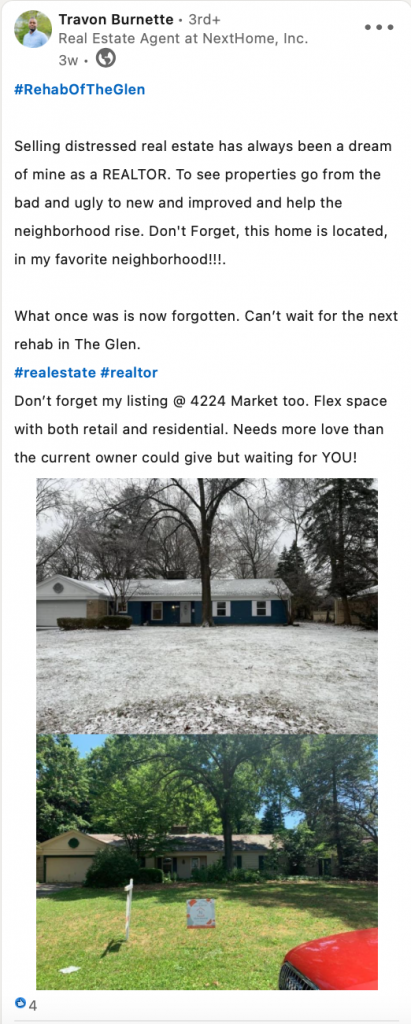 5. Focus on Targeted Posts
Posting often on LinkedIn is a super simple effective way to get in front of the right eyes. As a general rule: stick to professional, value-packed content on this platform (whether it is your own content or a repost). 
A few topic ideas for real estate agents looking to gather leads, include:
Just sold posts

Home decor tips

Local market reports

Client testimonials

Coming to the market soon

Aspirational listings

Links to your

landing pages
LinkedIn supports most post formats including url links (such as to a blog post or website), embedded videos, surveys, and plain text announcements. Mix up your post mediums and target audience to keep your connections or followers interested and engaged. For example, you could reuse a blog post about first-time buyers' tips, followed by a repost of a video from a hyperlocal news source a few days later. Check out this list of 25 Attention-grabbing Video Ideas that will grab viewers mid-scroll. 
Hashtags should be used sparingly. Hoping on to a trending topic by providing useful information, is a great way to get eyes on your content. However, hashtag cramming or using irrelevant hashtags just to get attention can damage your professional image on LinkedIn. 
Take a look at real estate agent Travone Burnette's recent LinkedIn post above. He uses hashtags sparingly, makes a personal connection, and refers to one of his listings in a way that is natural and enjoyable to read. 
No matter what type of content you post, be consistent (at least once a week is suggested). 
Get A Free Personal Demo
Ready to revamp your real estate marketing strategy and dominate your hyperlocal area? Our expert web designers will show you how. Click the button below for a free 30-minute demo of our AgentFire Spark Sites.
6.  Engage with Your Audience
The keys for engagement on LinkedIn are super simple: like, comment, and repost. 
However there are a few tips to make your engagement efforts standout:
Comment and like posts right after they are posted. The post creator is statistically 100% more likely to see your gesture and start a conversation if communicated with immediately after posting on LinkedIn. (

Bill Corbett Jr., President, Corbett Public Relations, Inc.

)

Like and love as many posts as you'd like, but commenting is a much more effective and actionable way to interact. 
Set a daily goal for posts you want to engage with. If you'd like to build your network quickly, 40 – 50 post engagements a day has been shown to be most effective (fitsmallbusiness.com)
7. Review Analytics 
So you've made all of the necessary changes to your LinkedIn presence, but you're not sure if it's paying off. Analytics will let you know exactly what has been working and what should be altered for better results. 
Use LinkedIn's Analytics tools to see links, clicks, impressions, and interactions with your posts. Keep a close eye on topics that spark interest. If you notice a trend, you'll know to implement those successful elements into future posts. 
In a more detailed view of the analytics page you can compare the number of impressions, clicks, views, reactions, comments, shares, follows and engagement rate (shown as a percentage) on each and every one of your posts! Play around with the dates and demographic info to see when and with whom your content resonates most. For a detailed view of how to use LinkedIn demographics check out the Youtube video above. 
In Conclusion…
LinkedIn can be a generous resource of quality, targeted real estate leads if you know how to use the platform correctly. While tons of paid features are offered that can help real estate agents generate leads, there are loads of nifty free strategies that get the job done
It all starts with your profile, building the right network, creating the right content, connecting with interested leads and nurturing the whole process with consistency.
Check out this article next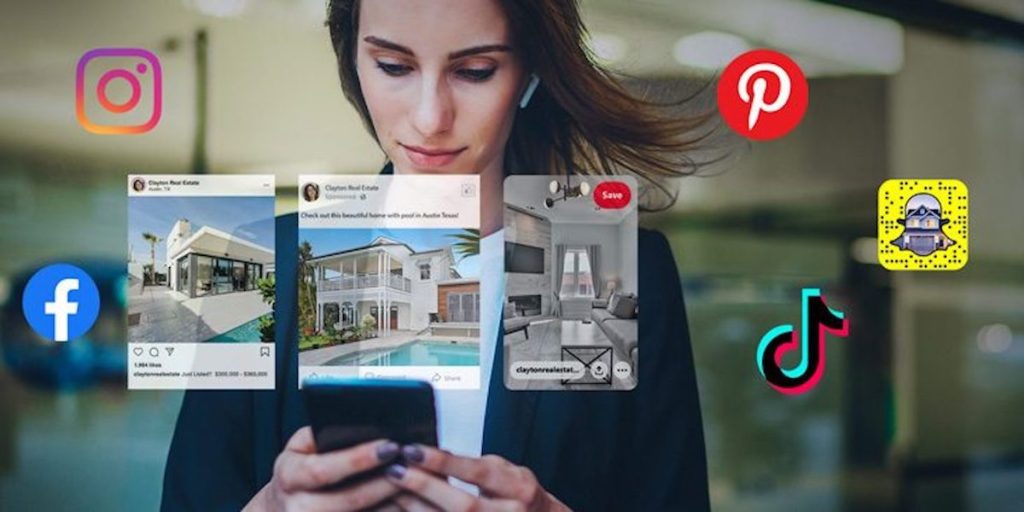 Real Estate Social Media Marketing in 2022: The Definitive Guide
Social media has completely changed the way we live our day-to-day lives. From viral memes, to instantly connecting with people around the globe in a …