Learn how to integrate Instagram into your digital marketing campaign with these 20, easy to follow (but extremely productive) tips.
So, Instagram is huge – we already know that. With over 1 BILLION active users, and has a user engagement 4 times higher than Facebook's, this is a social network that shouldn't be ignored by real estate agents.
Tons of top producing agents are using Instagram to boost their organic lead generation, reputation management, and even attract actual transactions. 
And with the current pandemic, the power of Instagram marketing has only increased. 
For this article, we have meticulously studied hundreds of top producing agents in the US and Canada, including our very own AgentFire clients, in order to come up with 20 simple but effective Instagram marketing strategies, you can implement right now.
And if that wasn't enough, most of these strategies won't even take you 5 minutes to implement.
Understanding the power of Instagram
Instagram, has an exceptionally high engagement rate and a very wide audience range, which makes it ripe for a myriad of marketing strategies. The data below should give you an idea of just how big Instagram is.
According to research data by Oberlo:
 Instagram's engagement is

4 times higher than Facebook's

 Instagram has over 1 billion active users.

 Young adults make up 71% of the user base.

 Users spend an average of 53 minutes per day on the platform.

 83% of users say they discovered a new product or service on the platform.

 Half of the users follow at least one business.
The data tells a fairly compelling story. You simply can't afford to neglect Instagram when such a highly engaged audience is within your reach. In the next section, I will discuss some of the ways you can use the platform to market your services in the most efficient manner.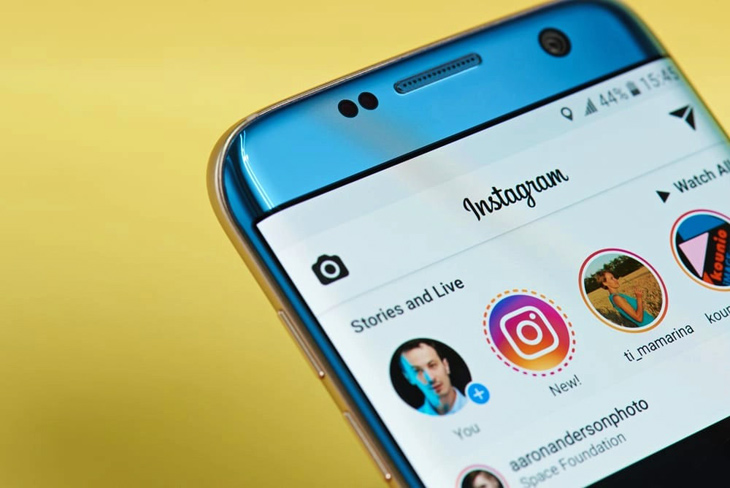 Instagram Marketing for Real Estate: 20 Simple Ways to Use Instagram Like a Top Producing Agent
Optimize Your Profile
1. Switch To A Business Profile
The first thing you should do with your Instagram account is to switch to a business profile. It's extremely easy and won't even take more than 30 seconds – here's a short guide on how to do it.
A business profile will give you access to insights about your audience and to the actual advertising suite, Facebook Ads Manager. Once you make the switch, other users will see a 'title' underneath your name.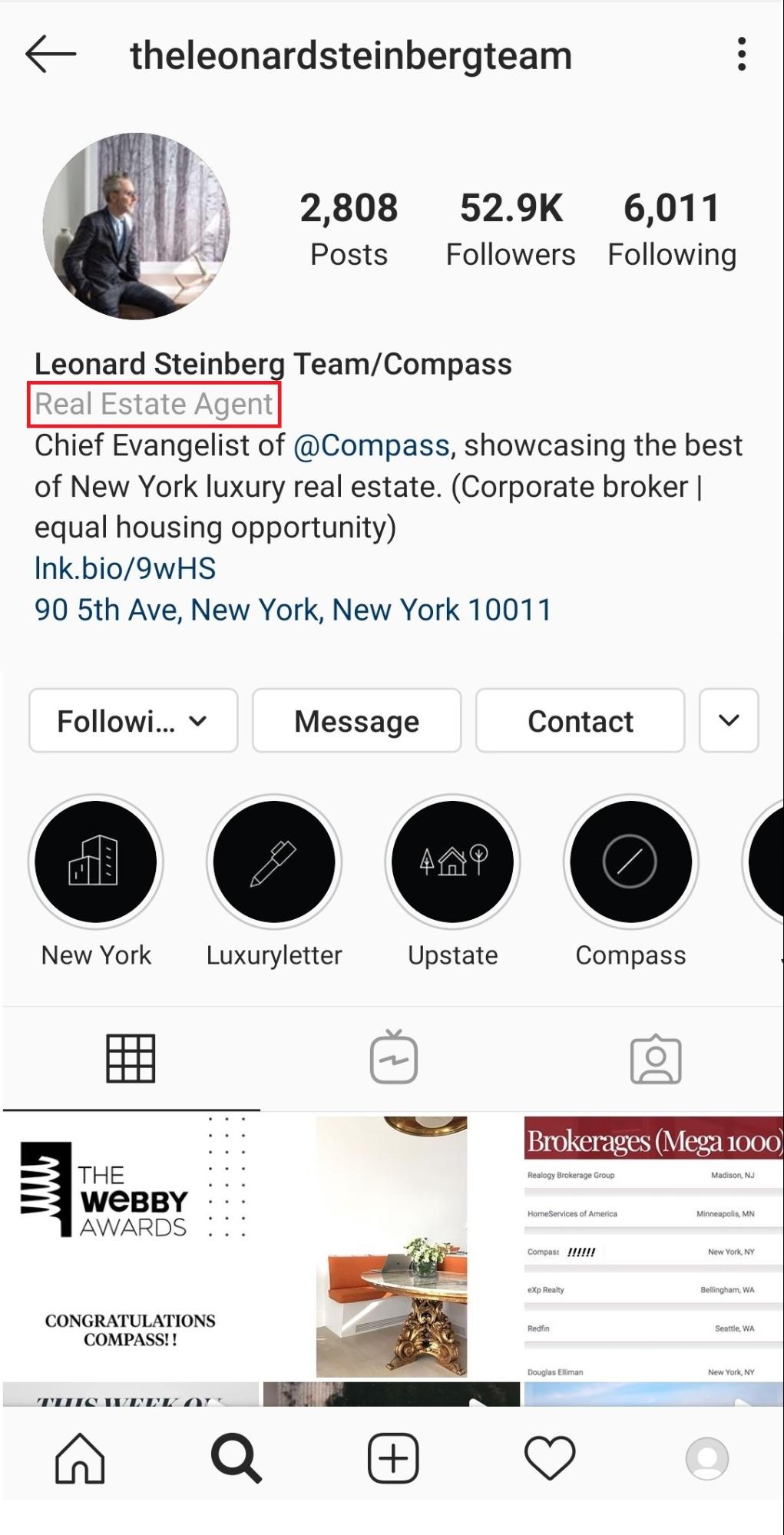 2. Have A Well-Written Bio
Having a well-written bio is important for 2 distinct reasons: first, it looks way more professional. 
Second, most users want critical information about you right away to make the decision of whether or not to engage. Having a gap-toothed bio will cost you potential clients.
Keep it clean and simple, and easy to read. Make sure you include:
Your Full name

The name of your real estate team (if you belong to one)

Your brokerage's name

License Number

Awards and Accolades

A link to your website or even a YouTube video of what you're all about
The link on Josh Altman's bio actually takes you to a YouTube video of his 'Top 10 Properties of the Week' series. So if you have a content strategy going on you might want to include it in your bio.

3. Have Action Buttons
Instagram allows business profiles to have action buttons, which allows users to interact with your business. Having these in place removes even more friction for prospects to get in touch with you or even set an appointment – it all happens within the app.
To add an action button, simply go to your profile and select Edit Profile, then under Public Business Information select Contact Options.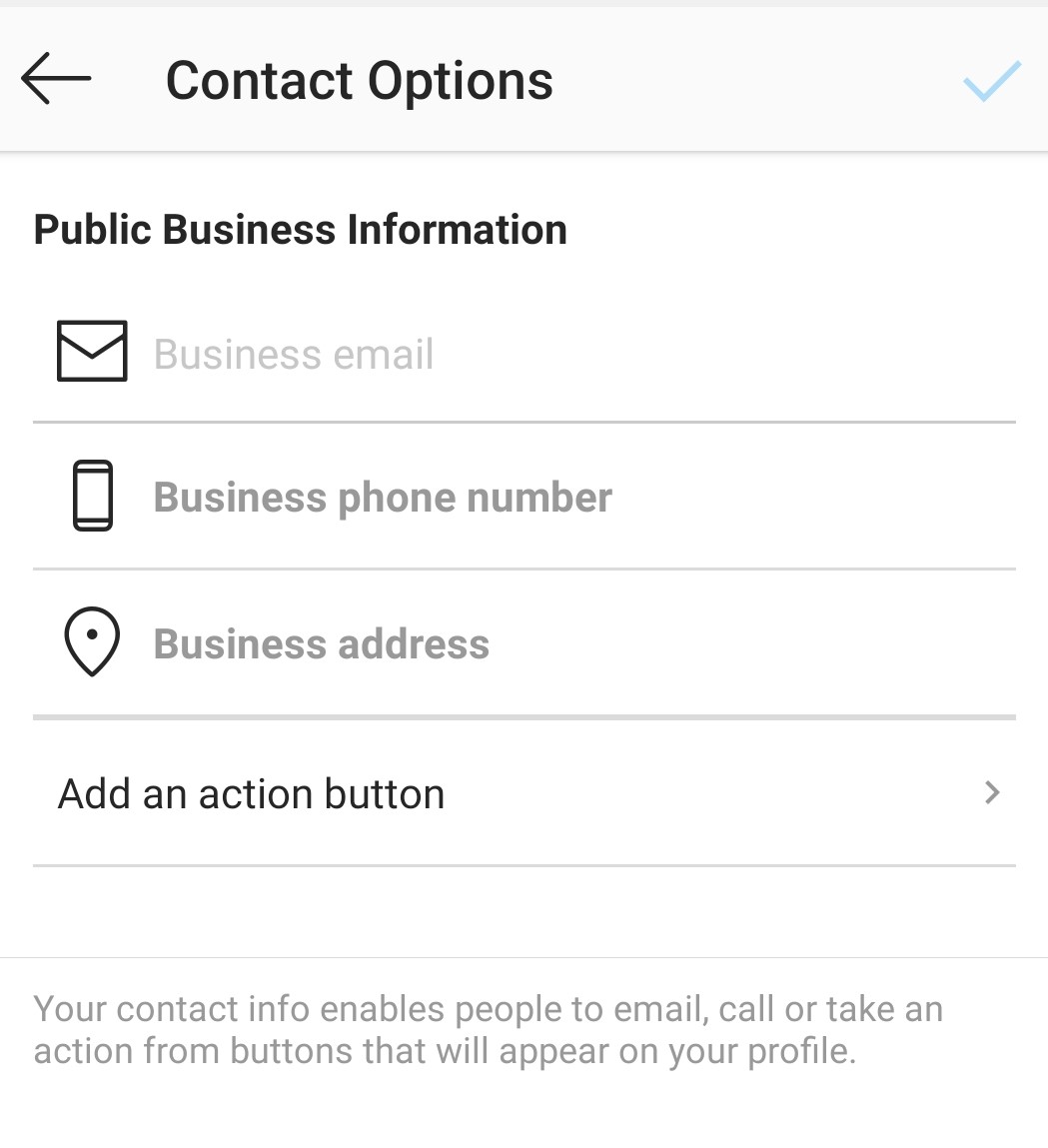 By filling in this information, the action buttons for Email, Call, or Message – if you use all three, they will be consolidated into a Contact button.
There are a couple of more advanced action buttons that are integrated with other apps such as for booking appointments and reserving tickets – but we found that most agents did just fine with the basics. 
Here's what it looks like on coach Dan Wood's profile: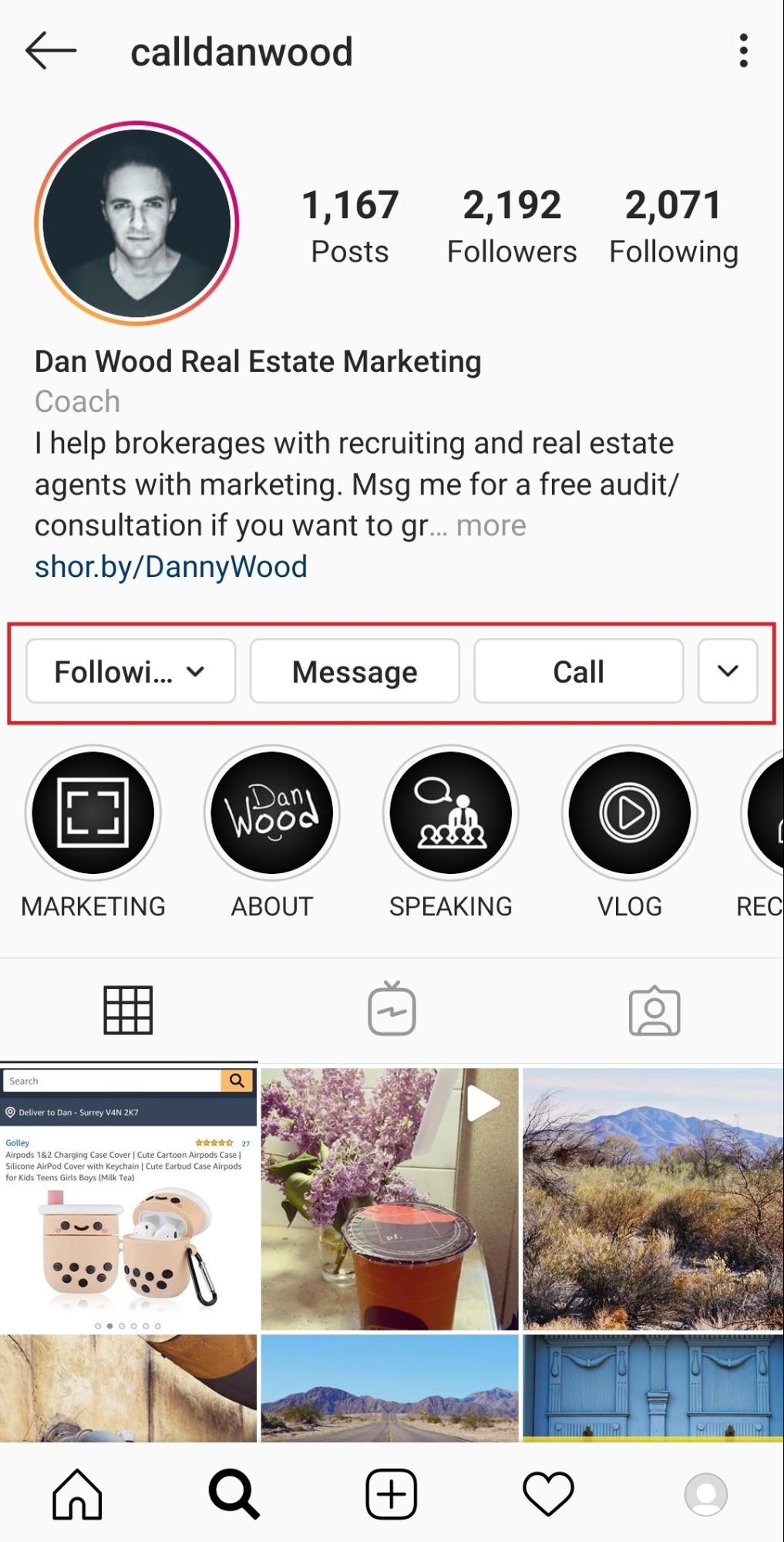 Highlight Your Current Properties
4. Display Your Listings On Your Feed
The most basic Instagram marketing real estate strategy that you could implement is to turn your feed into a sort of 'listings magazine' by featuring your current properties.
You're allowed up to 10 photos per post – perfect for showing off a property's highlight features. There are a couple of filters you might want to mess around with, but it's always good practice to keep photos as authentic as possible.
Chad Carrol's Instagram is an immaculate collage of luxury properties with an occasional classy portrait. That's how a top agent leverages social media.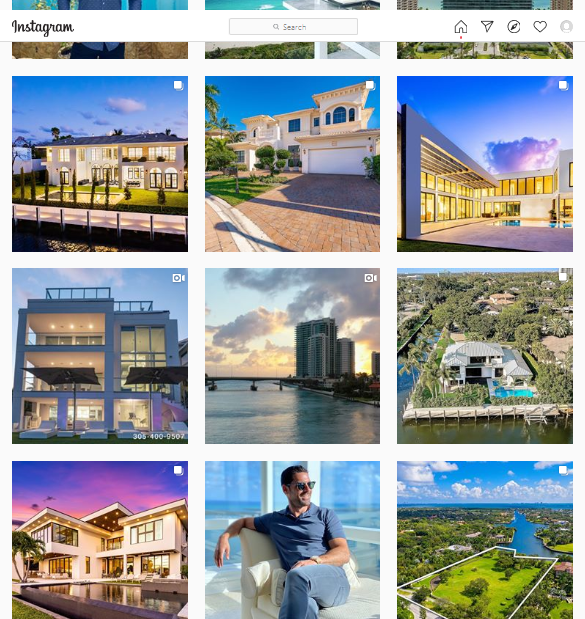 5. Highlight Your Listings with Instagram Stories and Highlights
An Instagram Story is a feature where you can highlight a photo or 15-second video for 24 hours – after that, the 'story' gets archived (make sure that feature is turned on!). You can have multiple stories in a day. Think of it as a visual counterpart to Twitter and Facebook's off-the-cuff status updates.
An Instagram Highlight is a collection of up to 100 current or archived Instagram Stories of your choice.
This is the Instagram account of celebrated industry leader Joyce Rey – and with over $4.5 BILLION in sales – her strategy is worth learning from. Each property has its own highlight, which opens to a slideshow of high-quality photos taken around the home via Instagram Story archives. 
Now here's the best part – when you view her highlights, you get a swipe up CTA. If you swipe up the 'See More' button below, it takes you to that property's page on her website, all without having to leave the app!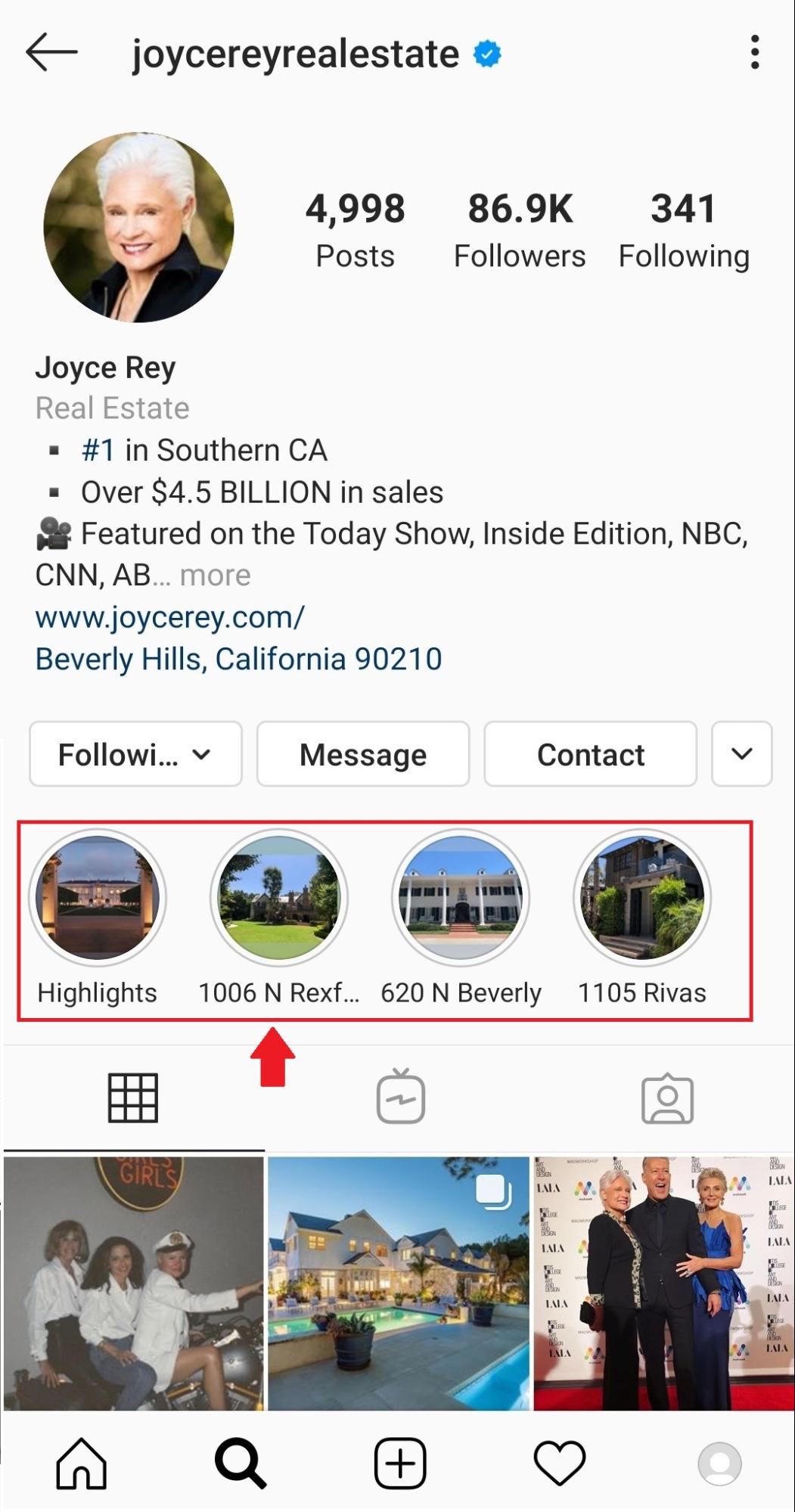 Not only is she able to broadcast her properties to her sphere, but she has essentially built a simple funnel to guide the prospect's journey to buying.
6. Use Videos To Enhance Your Posts 
According to HubSpot, social media posts that have video attract 48% more views.
Regular Instagram video posts have a limit of 60 seconds. But Instagram recently released IGTV – a feature for longer-form content and which has a limit of up to 60 minutes.
As we always say, there's a wide spectrum of production quality you can shoot for, but work with what you have.
Here are some ideas:
Upload a trailer of an upcoming virtual open house with regular Instagram Video

Film a property tour with IGTV

Take a short video of yourself giving a market update – just a simple clip recorded with your phone can be enough.

Talk about Covid-19 safety guidelines you're implementing into your property tours

Answer buyer's questions

Answer seller's questions
We have an example from another top agent, Mark Salerno, giving a minute-and-a-half tour of a property – with a couple of drone shots thrown in the mix (but that's optional if you don't have a drone).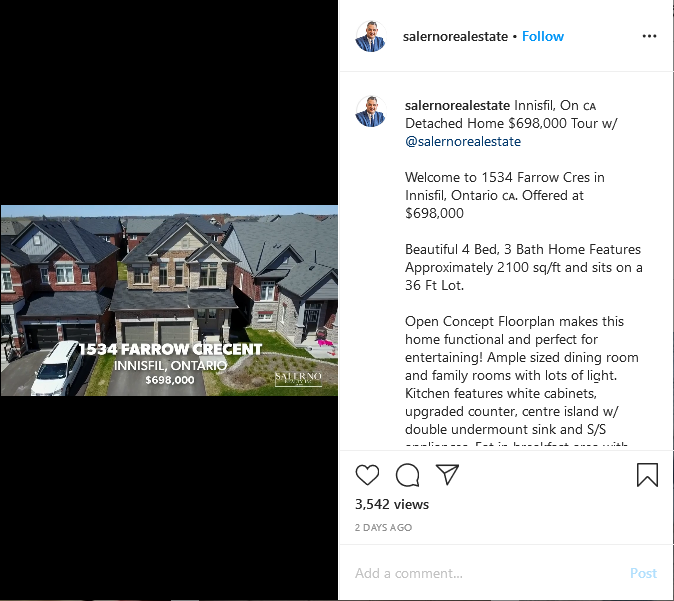 7. Host And Promote Virtual Open Houses
When the pandemic first hit, we scrambled together to get all the information we could on the strategies that we could share with our readers.
One of the most prominent strategies that we found to be used by the best agents and teams were virtual open houses. We wrote The Complete Guide to Virtual Open Houses so that our readers learn about alternatives to live showings and open houses.
Get Our Pricing
Want to dominate your hyperlocal real estate market? Then you need to check out AgentFire's Spark Sites.
Click the button below to learn more about pricing.
In the article, we boiled the process down into three key steps: Choose Your Format, Prepare, Promote. The good news is, this is perfectly applicable to Instagram:
Choose your format – Hold your virtual open house live or pre-recorded! Instagram Live is a great option if you want to answer queries in real-time or bounce back and forth between rooms on demand. 
Pre-recorded is better for those who don't yet feel too confident in front of the camera, want to focus on production quality or worry about connection issues.
Prepare –  Make sure you've memorized your scripts and made sure all your equipment is working – and for those going live, monitor that internet connection!
Promote – Promotion is really where Instagram marketing for real estate shines. If you consider the features we already discussed – Instagram Stories, Highlights, IGTV, etc. – you can get very creative. 
Here are some ideas:
Use Instagram Stories to broadcast a video of you teasing your upcoming open house, some high-quality photos of the property, graphic text with details of the event (you can use Canva for that)

Compile all those posts into an Instagram Highlight on your profile

Post a tour trailer on your feed using Instagram videos or IGTV

Post high-quality photos on your feed (you can have up to 10 images in a single post)
Here's an awesome example from luxury agent Scott McIntosh, where he posts a replay of a live virtual open house. You'll also see on his Instagram feed that he posted a video trailer of that same open house a few days earlier.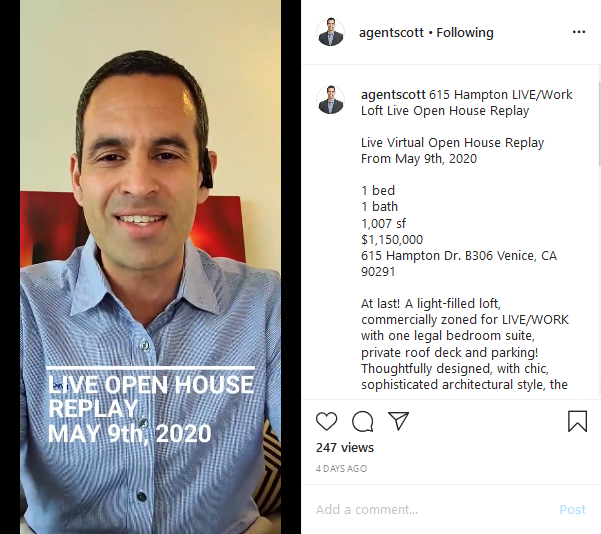 8. Tag People And Businesses
Just like Facebook, you can tag people and businesses in your posts. Tag your brokerage, your sphere, and third-party vendors like developers who might want to share the post.
This helps keep you front-of-mind in your sphere of influence. And you never know if any of them is in need of your services.
9. Add The Location Of The Properties To Your Posts 
Instagram's Location Tagging is similar to Facebook's Check-in. You can either use your phone's GPS or find the location using a search.
There are some benefits to doing this – the most important being that Instagram is still a search engine, and you can get more eyeballs to your listings for anyone searching locally.
For example, if someone searches 'house for sale' + [location], your listings should appear in the search results.
The location you chose will appear near the top of your post.
Promote your real estate business
10. Provide value to your followers 
Turn your data into visuals and share it with your followers. Now more than EVER, we need to be the knowledgeable guides for our clients and our communities.
There are loads of useful information you can turn into visuals – MLS data, unemployment rates, news on government stimulation, inventory updates, etc.
Tip: use Canva for an easy way to design visual posts. 
As Tom Ferry always says, "Become the Knowledge Broker in your market." Here's a beautiful example from top agent Banna Fakhoury:
11. Share Inspirational Content
Inspirational content is not only shareable content, but it's also just a really nice thing to do for the community right now. 
Ryan Serhant is basically both your realtor and your life coach, so he's got some great inspirational content that hits right at the heart of this pandemic. Ready, Set, Go!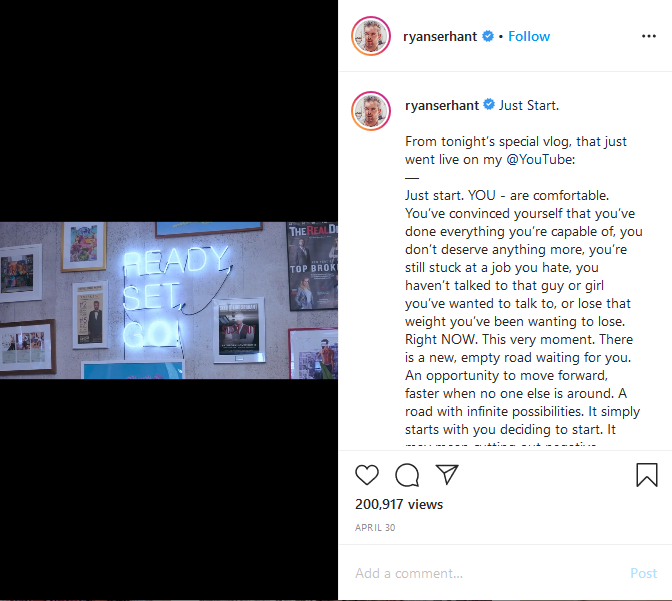 12. Share Client Testimonials
We already know how important client testimonials are – in fact, if you're a regular reader here at the Spark, you already know that we are in a 'review economy' and today's prospects come with expectations. 
There are several ways to share client testimonials with your Instagram audience. Here are some of the options that you should explore:
Reach out to one of your clients and ask if they can make a short video that you can share in your feed.

Share written testimonials in your Instagram stories.

Attach testimonials to posts that showcase your latest deals.
Here's a simple but effective example by top producer Abel Gilbert: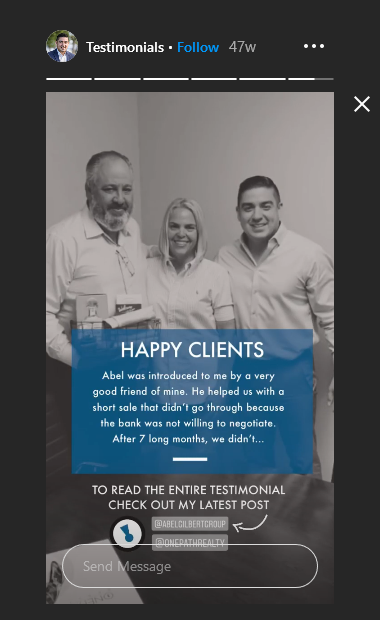 13. Showcase Your Success
Showcasing your success might sound like the absolute last thing you want to do right now, where many have had to file for unemployment.
But here's another way to look at it: By showcasing your success, you are showing the community that it is 100% possible to conduct a transaction today, all in compliance with Covid-19 safety guidelines.
You are showing them that the market is moving – it's not the end of the world. 
Here's a great post by Loida Velasquez, though I would add some text to the post that describes how they got it done.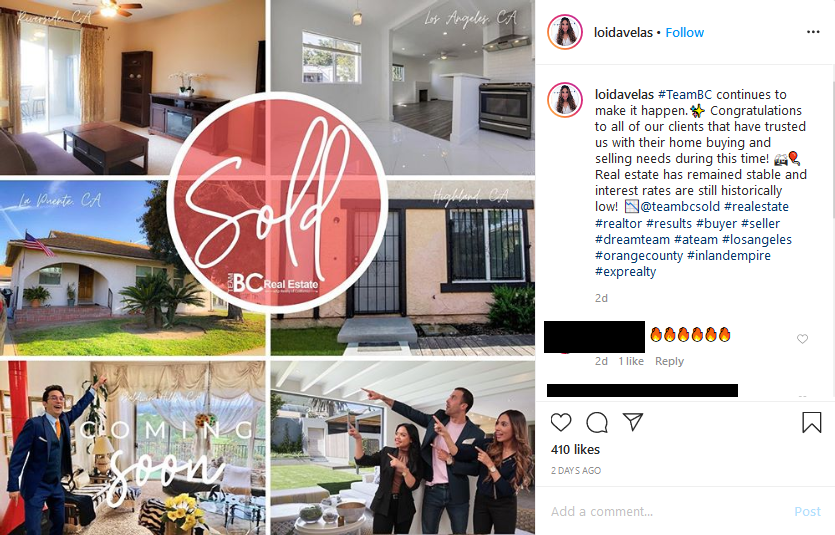 14. Focus On What Makes Your Properties – Or Even Your Neighborhood – Unique. 
Here's a fun way to spice up your feed. Aside from promoting your listings, why not promote your neighborhood?
Instagram helps you tell a visual story – what's your city's story? The inside scoop? What's something only a hyperlocal expert would know?
This example by Leonard Steinberg is an homage to the history of Park Row.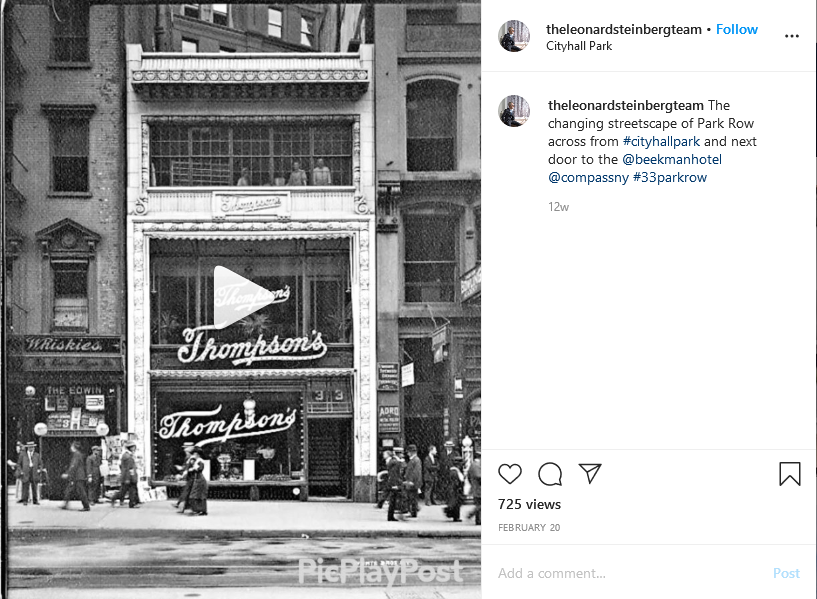 15. Share Other Users' Content
Another activity you can add to your feed is sharing other users' content. Think of it as curating information from reputable sources for the sake of your users. 
For example, Keeping Current Matters has its own Instagram account and they regularly upload valuable posts that you can share to keep your community informed.

16. Partner With Influencers
There might be a local influencer you could build a relationship with – whether that's someone well known in the community, or a fellow real estate knowledge broker. Today's more successful projects come from works of collaboration – it's no different with real estate and real estate marketing.
We know this is cheating since Ryan's basically an influencer himself, but hands down to him and Joe for bringing in YouTube legend Casey Neistat!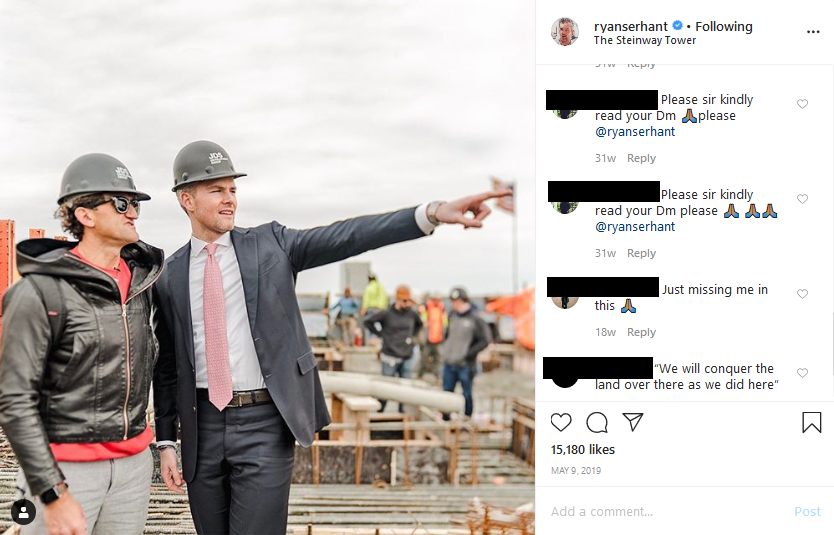 Launch Instagram Ads
17. Use Instagram's Insights Tool
If you already switched to a business profile, you'll get access to Instagram's Insights tool, which lets you view age, gender, and location data on your choice of posts, stories, or promotions. 
To access this feature, simply go to your profile and click the menu icon on the top right. The Insights tool will be second on the list.
18. Highlight Property Features With Carousel Ads
The carousel ad is one of the most powerful tools on Instagram. More importantly, it is the perfect ad format for real estate.
A Carousel ad displays a catalog-like row of images that users can swipe through, promoting an interactive slideshow of your best photos for the listing. Here's what it looks like on Facebook, which uses the same ads manager as Instagram: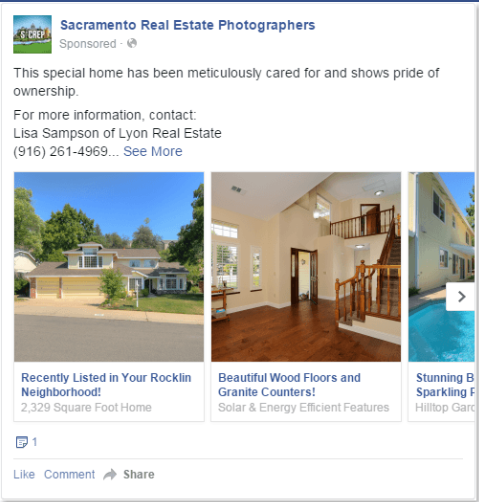 19. Launch Sponsored Ads
A sponsored ad is basically any organic post that you decide to pay to promote – you don't have to come up with any new creative, retype the text or reupload photos.
The post is boosted as is, and you get to keep all the existing engagement! This is a great shot of promotion juice for posts that are already doing moderately well.
20. Go Hyperlocal With Targeted Ads
Another great feature of the Instagram platform is its advanced targeting. When creating an ad, you are presented with a wide range of targeting options that pertain to location and specific demographic sets. This will allow you to build a custom audience that is more likely to engage with your services.
Targeting by location is especially important for real estate agents. It is worth noting that Instagram location targeting is extremely accurate and laser-focused since it employs both zip code and radius targeting.
The demographic should also be taken into consideration when you are creating a targeted ad. 
For example, luxury apartments should only be advertised to high net worth individuals whereas affordable rentals are generally geared towards young adults and lower-income families. The various targeting options that the platform puts at your disposal will enable you to narrow the audience down to a very specific group with a click of a button.
The bottom line
It should be clear by now that marketing your services on Instagram is a no brainer. Keep in mind that the techniques outlined above are only a fraction of what you can do. The large user base of the platform coupled with its advanced visual features makes the marketing possibilities virtually endless.  
If you want to stay up to date on all of our free and valuable content, subscribe to our newsletter. We publish valuable articles and guides such as this one regularly. That way you can constantly improve your marketing skills, and become a more effective real estate marketer.
And if you want to dominate your hyperlocal real estate market, check out AgentFire's Spark Sites, #1 rated for several years in a row.
And the best part? You can try out all of its amazing features for free with our 10-day trial.
Check out this article next
4 Key Steps for Insanely Effective Hyperlocal Facebook Real Estate Ads
Most real estate agents know there's a tremendous amount of opportunity within Facebook marketing. In fact, I've personally spoken with over 12…