In our last article, we talked about 4 reasons why you would want to have a direct mail marketing campaign. In this article, we'll take a look at 4 reasons why you wouldn't want to do direct mail.
There are some things in life that are awesome in principle but impractical in reality. 
Some music purists insist that vinyl records have a superior sound to digital formats. But if you want to enjoy music on the go, you grab your phone and headphones, not a record player.
Owning a house with a pool may seem luxurious and exciting. But unless you live in a place with a warm climate, you'll probably spend (a lot) more time maintaining it than swimming in it.
The same can be said about direct mail marketing in real estate. 
Sure, it can give your prospects a multi-sensory, personal and physical experience that digital marketing simply can't match. But unless you're willing to spend a lot of money and research time into making it work, you won't see any dramatic results.
Let's take a look at four reasons why you should think twice before implementing direct mail as part of your real estate marketing campaign.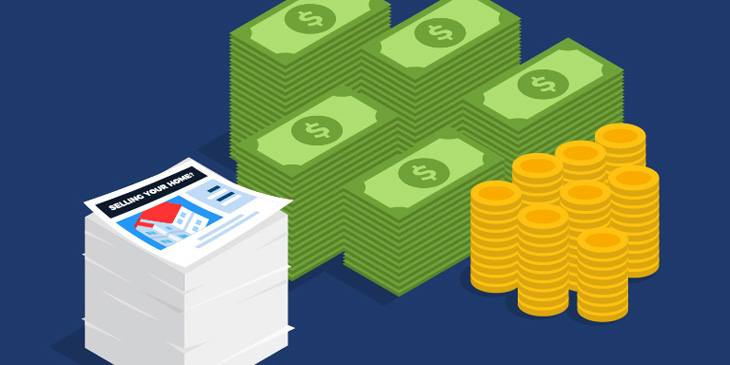 Effective Direct Mail Marketing is Expensive
When it comes to getting the best results for your direct mail campaign (or any other kind of direct marketing), you have to follow the 40/40/20 rule. 
40% of your success comes from your mailing list. 

40% comes from the offer you make.

20% comes from its design.
However, purchasing a high-quality mailing list, designing and printing your ads, and distributing them to mailboxes costs money. Sometimes a lot.
Although the actual cost of your campaign can vary significantly depending on a huge variety of factors, these are some rough estimated costs of each aspect of your direct mail campaigns.
| | | | |
| --- | --- | --- | --- |
| | Average Cost Range | Cheapest Option | Most Expensive Option |
| Graphic Design Costs | $0 – $150+ | Do it yourself | Hire a graphic designer |
| Copywriting Costs | $0 – $150+ | Do it Yourself | Hire a copywriter |
| Mailing List Cost | $0 – $5+ per contact | Use your own mailing list. | Buy a response list |
| Printing Cost | $0.03 – $10+ per piece | Postcards | Unique Marketing Merchandise  |
| Delivery Cost | $0.35 – $5+ piece | Postcards | Parcels |
While it's true that you could lower your direct mail marketing costs by doing the copywriting yourself, using some free ad templates (yuck ?), and putting together your own mailing list, you still have to consider your printing and delivery costs.
If you were to print 3,000 postcards at a cost of $0.50/piece, and deliver them to 3,000 addresses, at a postage and delivery cost of $0.50/piece, it would cost you $3,000.
Assuming you already have an email list, how much would it cost you to send out 3,000 emails? (Heck, how much would it cost you to send 30,000 emails?)
With the right newsletter service provider… anywhere from $0 to $15.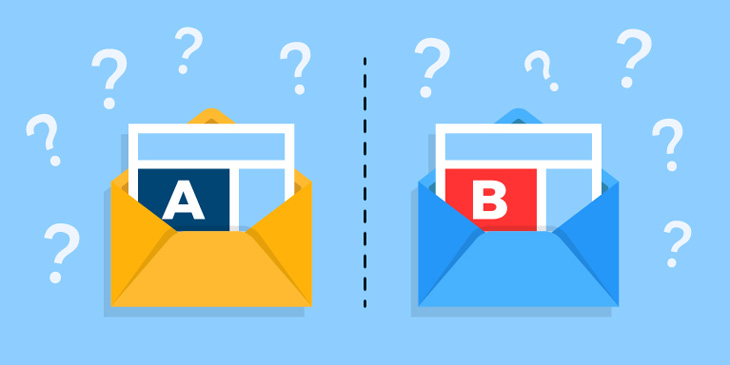 Direct Mail Marketing Is Harder and More Expensive to Split Test
Split testing (also known as A/B testing) can be defined as a marketing experiment wherein you 'split' your audience to test a number of variations of an ad and see which one performs better.
In other words, you take 2 identical ads, you change a single variable on one of them (such as color, call to action, font, images) and leave the second one unchanged. Then you send each ad to half of your mailing list.
And finally, you study your ads' response rate to see if the change made a difference.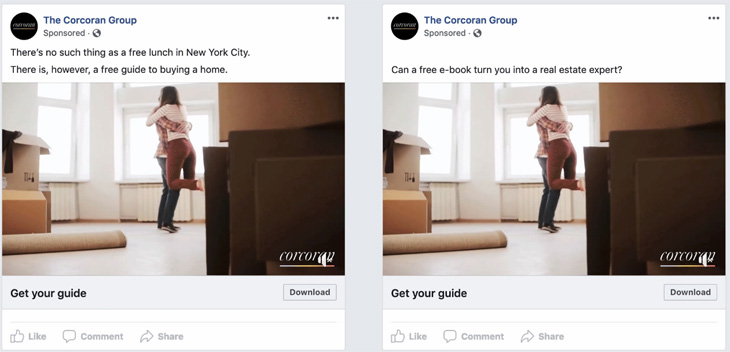 Split testing is used by marketers across all industries. The usefulness of a split test comes from its ability to improve your marketing efforts by using real data, instead of just relying on speculation or gut instincts.
Split testing is very easy and quick to do with digital marketing. It's now a relatively standard feature that most newsletter or ad testing services offer. And it really does make all the difference when it comes to finding which marketing paths are most profitable. 
That's not the case with direct mail.
Every modification you make requires a reprint, and potentially the services of a graphic designer. Both of these cost money and eat away at your ROI.
And to make matters worse, it can also take weeks or even months to measure the effectiveness of your split test on printed ads ?.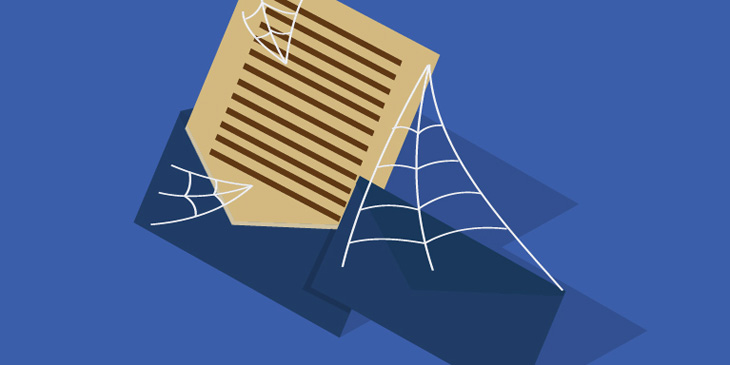 Mailing Lists Are Often Outdated
Unless you create and curate a physical mailing list yourself, there's a good chance you're going to buy a mailing list from the same companies that every other realtor is using (Experian, List Source, etc).
Not only are most of these lists overworked, but there's no way of knowing whether the names and addresses are up to date.
You could be wasting a good chunk of your ads on people that are not even remotely interested (nor qualified) to buy/sell a home, or on households that get bombarded by your competitors' direct mail and are sick of them.
While it's true that you would run into similar problems with email lists, these don't usually hurt your wallet as much, because the cost of sending a mass email blast mail is negligible.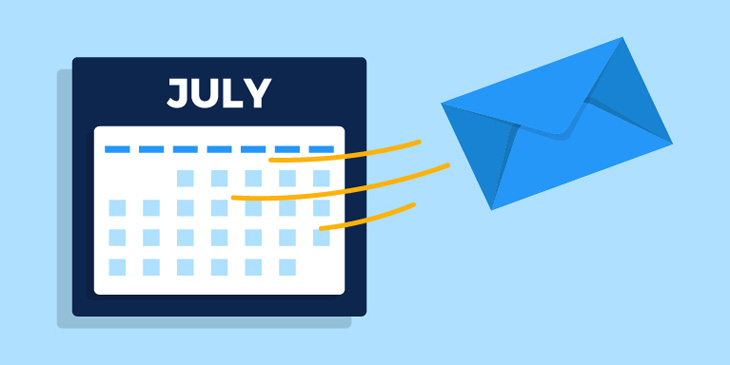 Direct Mail Marketing Campaigns Need Consistency
If you ever watch TV or YouTube videos, you may have noticed that you keep seeing the same ads over and over. That's not because marketing companies get a kick out of annoying you; they do so because consistency and repetition works (remember the Rule of 7?).
Consistency is key to direct mail's success. You're not going to get a lot of leads if you only send a single email blast to, say, 1,000 people. That's not because direct mail doesn't work. Real estate is simply a numbers game.
And it makes total sense when you think about it. Most people only buy one or two homes in their lifetime. The statistical odds that you reach any given person on the EXACT moment they are ready to buy a home is very, very low.
It's not enough to send out a single direct mail blast and call it a day. You may need to keep sending your direct mail out for at least a few months before you start seeing tangible results.
As you can imagine, this means spending a lot of money for a long time.
So unless you already have enough cash to keep you afloat throughout your direct mail campaign, you might be better off doing other, more affordable forms of marketing. 
Conclusion
Like we mentioned in our last article, there's still a time and a place for direct mail. It can be a very effective marketing tool if used at the right time and in combination with other forms of marketing. On the other hand, it's also expensive, especially when compared to digital marketing.
If you're going to do a real estate focused direct mail marketing campaign, make sure you do your due diligence, calculate your marketing budget, and see if it makes sense for your hyperlocal audience.
If you liked this article and want to keep improving your hyperlocal marketing skills, subscribe to our newsletter.
We send out value-packed articles like this one regularly in the morning, so you can learn new marketing strategies while you procrastinate plan out your day over a delicious cup of coffee ☕.
And if you really want to optimize your hyperlocal real estate domination strategy, check out our Spark Sites (#1 rated for multiple years running!).
The best part is that you have absolutely nothing to lose thanks to our 10-day free trial!
Objections? Disagreements? Good or bad experiences with direct mail? Let's take the conversation to the comment section ?.